[Editor's note: Although Seeking Alpha targets coverage of stocks and ETFs that trade on U.S. exchanges, we have made an exception for the University of Bath student competition.]
By Piers Brennand-Francis, Aaron Webber, and Ben Evans
Who are BrainJuicer (AIM:BJU)?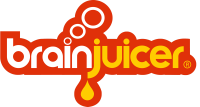 BrainJuicer Group PLC is a London-based market research company. It was founded in 1999 with the aim of reinventing market research, and has been listed on the Alternative Investment Market (NYSEMKT:AIM) of the London Stock Exchange since December 2006.
BrainJuicer's business model focuses on taking concepts from behavioural economics, psychology, and decision science and applying it to marketing, branding, and research. In the words of founder and 'Chief Juicer' John Kearon;
"Market research at its best is mind expanding & profit enhancing. At worst, it's a 120 page insurance policy heavy on numbers, light on insight and usually dead on arrival."
So BrainJuicer attempts to make market research "mind expanding & profit enhancing" rather than merely dull and technical. Though this is only a qualitative judgement, the company is widely heralded as the most innovative in the industry, winning numerous awards. Provided it keeps to this reputation, it will likely be capable of tackling the constant and rapid dynamic changes facing the market research industry.
At the forefront of behavioral research, it regularly outputs research connecting modern psychological advances with their market applications. Building upon the work of Nobel winning psychologist Daniel Kahneman among others, BrainJuicer disregards the standard industry metrics and instead studies quick, emotional and instinctual responses, dropping the questionable assumptions economists make about human rationality. Are we strictly logical beasts? Or are we ruled by emotions and ultimately lacking in the time or effort to extensively consider every decision? The answer is clear for all to see, argue BrainJuicer.
Experts in all things viral - look no further for the force behind Three's famous dancing pony TV advertisement - BrainJuicer believes three F's lie at the key core of advertising success: Fame, Feeling and Fluency. Fame addresses how readily a brand comes to mind without prompt in a consumer decision, Feeling considers if people hold any emotional preference towards a company and Fluency covers how recognisable a brand is. Using these factors, a rating is assigned regarding the current strength of a client's market position, with 5 stars being awarded to those in prime position and entitled to the label of 'Famous'. BrainJuicer claim that with the current models they've built from the three F's, they would have been able to predict Tesco PLC's declining share price in 2014.
In the ever changing advertising landscape, new challenges regularly arise. The latest obstacle for companies is Ad-Skipping, not to be confused with Ad-Blocking software; a different challenge entirely. Skipping can be any behaviour where the viewer watches the start of an ad but doesn't make it to the end for whatever reason. These challenges are very much from the 21st century, so ancient marketing concepts prove ineffectual in tackling them.
This is where the company's adaptability sets it apart, behavioural research offers ready solutions whereas typical theories have no answer to brand new problems. For example, when researching a pet food advert directed at a YouTube audience, they discovered that a well placed puppy bark at the fourth second of an advert made a watcher less likely to skip the advert, an option that becomes available from the fifth second.
BrainJuicer offers companies Brand Tracking, Strategy and Execution based on their System-1 inspired operating system. There is now also an increased emphasis on the company's innovative quantitative products including Predictive Markets and FaceTrace which test concepts and measure emotional responses to various communications to consumers.
As seen below, BrainJuicer is starting to consolidate itself as an international player in a market dominated by larger orthodox companies that are slow to react to new pressing challenges in the industry. The company's international expansion will only continue as its ideas continue to gradually become the new mainstream thinking in this industry.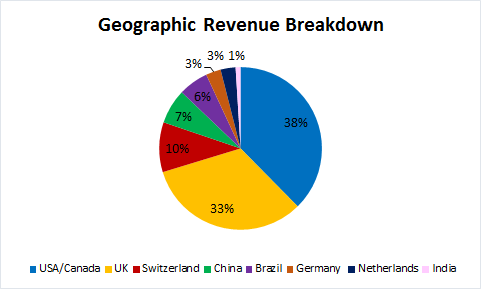 (Source)
The Industry for Market Research
On a quantitative front, the Market Research Industry has seen a lot of growth and changes in recent years and is projected to continue its expansion. The closely-related overarching media industry, for instance, saw 3.1% growth in 2014, and is expected to increase by 16.1% from 2014 to 2019, according to Marketline. Moreover, the digital media industry is growing far more rapidly, with 13.8% growth in 2014 and an expected 132% growth from 2014 to 2019. Since these industries are inextricably linked with BrainJuicer, you should be holding a position to take advantage of this steady growth.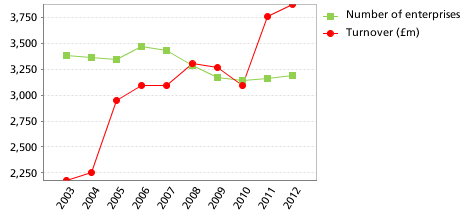 As seen above, the market research industry itself has seen significant top-line growth for some time, whereas the number of enterprises has actually seen a small decline.
This data is all in line with rational qualitative assumptions. Successful firms must know their consumer, and so the market research industry will always hold value in its ability to help firms understand their customers to a higher degree. Hence, as the economy grows and the media industry as a whole grows, the market research industry will grow likewise.
As advances in modern psychology continue, it is advantageous to hire the best and boldest market research firms to keep an edge. As it stands, BrainJuicer's competitors have not yet taken full advantage of this research, allowing the company to capitalise on growth on this front.
In recent years, the media and advertising industry have been put under constant pressure by new changes coming from multiple angles. Ad-Skipping and Ad-Blocking are imposing a new dynamic on the industry and, especially as the digital media industry grows, it is becoming more and more profitable to find new answers to these problems. The firms in the market research industry which are able to best adapt to these changes will see the most growth alongside the digital media industry in the coming years.
Competitors
BrainJuicer competes successfully with leading international market research groups, including Nielsen, Kantar and Synovate. When compared to the market as a whole, BrainJuicer shows better value than its London-Listed industry competitors with regards to most comparables.
| | | | |
| --- | --- | --- | --- |
| Comparables | BRAINJUICER | YOUGOV | CELLO GROUP |
| Share Price at 04/04/16 (BJU.L) | 320 | 137 | 92.5 |
| Market Cap (£m) | 39 | 143 | 79 |
| Net Income (£m) | 3 | 5 | 3 |
| P/E | 12.6 | 29.6 | 26.2 |
| P/B | 4.2 | 2.1 | 1.1 |
| EV/EBITDA (2015A) | 7.8 | 12.5 | 11.1 |
| EBITDA Margin | 19.9% | 10.8% | 4.5% |
| EPS (£) | 0.21 | 0.05 | 0.04 |
| ROE | 35.80% | N/A | 4.30% |
| GRIT 2015 Most Innovative Rank | 1st | 22nd | N/A |
(Sources: SimplyWallSt, ThomsonOne, Greenbook, Yahoo Finance)
YouGov (AIM:YOU)
YouGov is another AIM-listed company and has a central vision focusing on participation from consumers. This means that it conducts its research using online opinion surveys. They use active sampling which focuses on "the quality of the sample, rather than the quantity of respondents." Yougov's focus is thus on collecting the best sample for its opinion polls rather than applying behavioural sciences for its market research.
Cello Group (AIM:CLL)
Cello Group is also AIM-listed and is split into two distinct businesses: Cello Health and Signal. Cello Health focuses on the healthcare industry whereas Signal takes a broader focus. Signal's central vision is more closely tied to that of BrainJuicer and has a focus of "humanising brands". Both Signal and BrainJuicer take a "Behavioural Science" approach and have teams working on innovation within the market research industry. Though Signal is similar to BrainJuicer in its focus, on a qualitative level it does not seem to have been as successful at establishing itself as innovative, placing only 22nd on the GRIT "Most innovative companies in market research 2014."
Financials
FY2015 has been a significant year of transition for BrainJuicer. The group has seen a 42% decline in volatile consulting and qualitative revenues, while revenues from the group's key quantitative products have increased by 17% this year. This has meant that the group retains its consistent revenue and profit growth and manages the move to and expansion of new revenue streams that have major scope for growth in the future. The sharp decline in qualitative revenues is not too much of an issue because these revenues typically come from large one-off projects whereas the new expanding revenue streams are more consistent.
The group has also seen strong revenue growth from the U.S. of 21% in FY2015 offsetting stagnant European markets and contributing to the 2% increase in Total Revenue since FY2014. Typically, as an early-adopter of new technology and innovations, we see the U.S. as a major growth opportunity for the company in the coming years, increasing the 38% of its revenues that already originate from the region.
With a Current Ratio of 2.4 and a cash balance of £6.4m at the end of FY2015, BrainJuicer's balance sheet remains robust. This allows plenty of scope to fund new initiatives leading to increases in the top line, such as System 1, the company's new creative agency. BrainJuicer's distinctive internal culture naturally limits M&A opportunities and the company's capital-light business model has led the management to return most of the cash to shareholders. Continuation of this trend could see the share price rise. BrainJuicer also increased their dividend for the second consecutive year by 5% to 4.5p this year with a dividend yield of 1.5%, underlining the health of the firm's balance sheet and commitment to return cash to shareholders.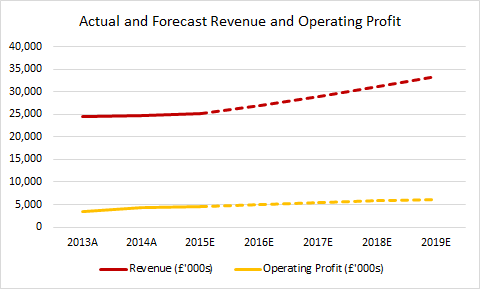 Strengths
Expanding Market: Online media and particularly video is already in the process of a massive expansion. According to a new eMarketer report 68% of US marketers plan to increase their digital video budgets next year. Secondly, as of 2014 people now spend more time watching online media than on wider social media, spending just short of 2 hours per day watching video content compared to 'just' 40 minutes on Facebook. Millennials are now spending more time watching shows on digital devices than traditional TV screens. BrainJuicer is well placed to benefit from this megatrend, as a well reputed expert on viral video advertising.
Expanding Reputation: Growth in core quant products (Ad testing, Brand Tracking, Predictive Markets) was very healthy throughout 2015, seeing a 17% rise in gross profit. In the financial report, Chairman Ken Ford implied a restructuring of focus away from relatively flat and minor loss making services to focus on these core quantitative products. In a business that prides itself on being progressive, quickly identifying and cutting any deadwood is encouraging to see. Secondly, having entered the US market in 2010, BJU seems to have finally consolidated its position and is starting to forge some real progress. Throughout 2015 US Revenue grew 21% and Operating Profit was up 19%. This progress in the most saturated and competitive market for market research bodes well for the prospects of the company as a whole.
Innovation: BrainJuicer ranked far ahead of its competitors as being the most innovative market research firm on GRIT 50 Most Innovative Companies Survey (for the fourth year running), ahead of Google and well ahead of Cello Group and Yougov. When compared with two similar industry competitors, Yougov and Cello group, BrainJuicer outcompeted these firms in most respects. Alongside the technical data in support of BrainJuicer, the company has enjoyed reams of awards, including but not limited to: The Aura for Trusted Advisor, Ignite Advisory Group's Top B2B market research company list, and the ESOMAR excellence award for best paper.
Existing Intellectual Property: As it takes time to build tools and a large normative database of emotional metrics to calibrate the results of market testing, BrainJuicer believes smaller copy-cats would find it difficult to compete. On the other hand, larger competitors such as Nielsen, Millward Brown, and IPSOS may have a tendency to simply pay lip service to the growing body of evidence surrounding emotional decision making, but remain unwilling to change their core business model. Conversely, BrainJuicer would appear to be consistently on the vanguard of behavioural science research, producing frequent reports and studies connecting the behavioural sciences to market research. Although this is a purely qualitative assessment, it is supported by BrainJuicer's standing and recognition in the industry as compared to its competitors (GRIT #1 most innovative market research firm).
Strong Shareholder Returns: As shown below, BrainJuicer's shareholder returns are strong. After finishing the year with £6.4m of net cash, the company is likely to return much of this to shareholders through special dividends and buy-backs as has been the case in the past.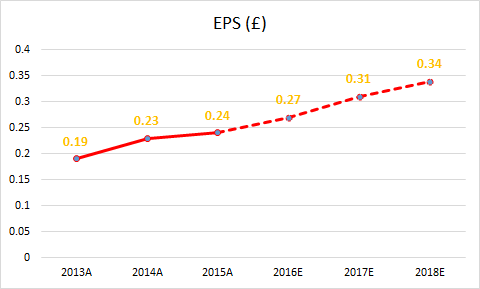 Stockopedia Quality Rank: BrainJuicer has a score of 99/100 on Stockopedia.com's StockRank Quality indicator. The company started this indicator in 2013 and since then, small-cap stocks in the top quintile for the Quality Rank have returned 32% against 15% from the FTSE All-Share.
Weaknesses
Limited Parameters: Focus is limited to 3 parameters: Fame, Feeling And Fluency. BrainJuicer ignores other important factors such as price, utility and information about the product. In a market that is both rational and emotional, then perhaps rationality should not be completely disregarded. It may be argued however, that BrainJuicer acknowledges the rationality argument but simply prefers to try and capitalise on the opportunities it feels the emotional System-1 thinking offers.
Lack of Liquidity: BrainJuicer is a small undercovered stock which offers benefits but also drawbacks. Average monthly volume in the last twelve months has been just 300,000 and so bid-offer spreads can be high. This caused the sharp drop in share price in February this year.
Opportunities
Client Budget Allocations: BrainJuicer's consensus-challenging business model and products mean predictable mild skepticism from large clients. BrainJuicer's clients, who tend to be the largest in the FMCG industry, spend a lot on market research but the share on BrainJuicer is small. BrainJuicer strives to back its claims with research, even writing research papers on past clients. This could encourage higher budgeting from clients in the future. Due to BrainJuicer's relatively small size, even small increases in these budget allocations would have a large effect on revenues.
Innovative Solutions: Although various problems such as ad-skipping currently beset the advertising industry, these challenges could pose an opportunity for more adaptive and innovative firms such as BrainJuicer. Devising strategies to tackle these problems would likely be very profitable, and BrainJuicer is well positioned to solve them.
System 1 Creative Agency: Recently, BrainJuicer founded 'System 1', what it calls a creative agency. Although this is very much in its infancy and isn't trading yet, from what we know it will be more of an advertising agency as opposed to consulting on advertising strategy. System 1 (related but not to be confused with Kahneman's work) is expected to incur £0.3m in start up costs, but is also predicted to break even by year end, according to Cannacord Genuity. Although only a minor step, System 1 is an indicator that BJU is restructuring away from deadweight revenue streams.
Threats
Competition: Many consider the market research industry to be saturated, particularly in the US where almost 40% of BJU.L's revenue originates with many of its direct competitors being much larger firms. In recent years, more traditional marketing analytics agencies have been attempting to catch up with the behavioural science focused market research BrainJuicer has been pioneering. For example, Cello Group's Signal company has been pushing services such as "humanising brands." This turn of events is somewhat double edged, because on the one hand, competitors are attempting to copy BrainJuicer's successful methods, which as mentioned before, is difficult and takes a lot of time, but on the other hand it affirms BrainJuicer's business practices.
Radical Ideas: Typically, accepted wisdom is that more educated and informed individuals tend to make more informed and rational decisions. This may cause some potential clients to choose a competitor over BrainJuicer, believing their target market to make fewer instinctual decisions than BrainJuicer claims. Although, this is a key cause of the rise of Behavioral Economics and related fields. Research conducted by Ariely, Tversky and Kahneman would suggest more informed and highly educated people actually show the same cognitive bias as everyone else and this lends credence to BrainJuicer's methods. This is also an opportunity for BrainJuicer in the future as these behavioural theories become more accepted and mainstream, potentially broadening BrainJuicer's market.
Valuation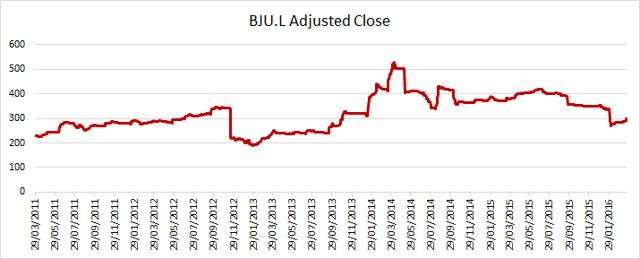 The U.K. Media sector as a whole has outperformed the FTSE 100 over the last 12 months. However, the sector is still down by just over 1% (with the FTSE falling over 10%). Over this time period, BrainJuicer has fallen 21.3%, mainly as a result of material de-rating in Q1 2016. This is an inherent risk in a stock such as BJU.L where the average monthly volume has been just 300,000 in the last twelve months and bid-offer spreads can be high.
However, this offers investors an attractive entry point, particularly as undercovered stocks such as BrainJuicer tend to outperform larger more liquid stocks. According to Yale University researcher Roger Ibbotson, less traded stocks returned an average of 16% per year in the period 1972-2013, compared to the most liquid, returning 11%.
As the figure below shows, relative to its peers BrainJuicer shows signs of undervaluation. The stock's PEG ratio is also just 0.8, suggesting BrainJuicer can reverse its recent negative trend and outperform the market in the short to medium term.
We have set our price target to 490p. This implies a significant discount of 35%. The price target comes from our conservative discounted cash flow analysis which uses a WACC of 9.6% and Terminal Growth Rate of 1.2%. Our analysis also gives an implied EBITDA multiple of 9.7x. This is in-line with consensus estimates with the mean market price target being 495p.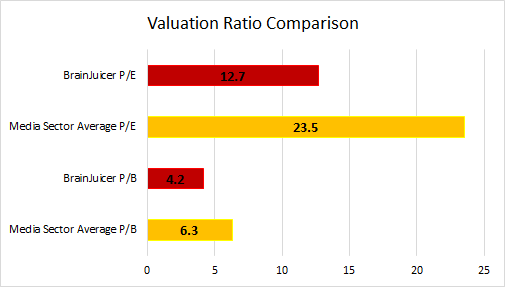 Summary
We are recommending a long position in BrainJuicer. The most innovative player in a growing market, the company continues to place a higher emphasis on its most consistent but profitable revenue streams in quantitative solutions. With a robust balance sheet holding no debt and a strong track record of returning cash to shareholders, the stock has potential for significant growth earnings over the medium term.
The company may suffer from a lack of liquidity but this should not trouble the long term investor. The company is well placed to take advantage of the shift from television to online media and the opportunities in solving problems in new market dynamics that this brings. In time, this will be represented in the share price and our implied discount of 35% now offers a very attractive entry point.
Disclosure: I/we have no positions in any stocks mentioned, and no plans to initiate any positions within the next 72 hours.
I wrote this article myself, and it expresses my own opinions. I am not receiving compensation for it (other than from Seeking Alpha). I have no business relationship with any company whose stock is mentioned in this article.