In my last article I spoke about the ten rules I use to screen for stocks and I identified General Motors (NYSE:GM) as a potential investment opportunity.
Since then GM has gone up by around 8% and our model has identified another excellent opportunity in the form of Gilead Sciences (NASDAQ:GILD).
Gilead Sciences has fallen around 16% from it's 52-week high and we think most of the bad news is reflected in the share price. Thus, we agree with our back-test model and think Gilead is set to outperform.
Our Model
It's important to note at this point that our model is based on historical simulations using the powerful simulator from portfolio123.com. The rules are based on value investing principles and have shown significant outperformance in historical tests, as shown by the chart below.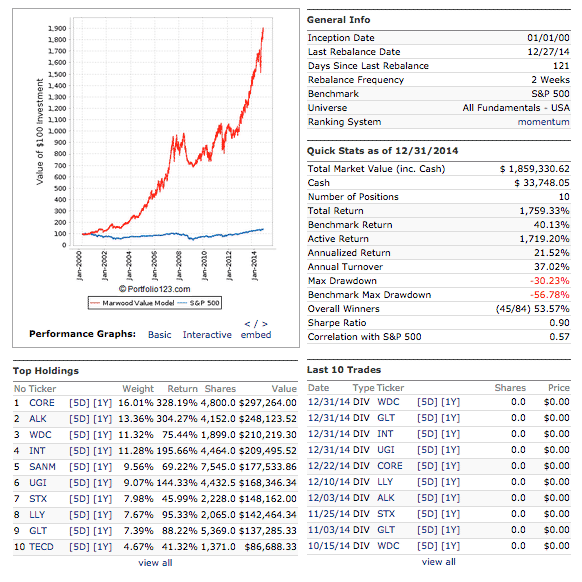 This week we scanned over 7,000 stocks and our strategy found 14 possible candidates. Gilead Sciences stands out as one of the best of those and trades at less than 10 times recent earnings.
Now our scan has identified GILD, I will now look further into the company and reiterate why we think Gilead is a buy at this price level.
Continued Improvements
First of all, Gilead's diligent work on boosting their range of medicines has brought them into the 21st century and positioned them as an important figure in the pharmaceuticals business. This has given the company a strong reputation both from within the industry and from the outside looking in.
Along with their investments in HIV and Hepatitis C drugs, they have bolstered a range of other medicines, making improvements across the board.
This is supported by excellent profit margins which have been established as a result of a small sales team, cheap manufacturing techniques and careful research and development methods.
Wide Moat Territory
As a result of all of these efforts, Gilead is heading into wide-moat territory and looks set to continue on this path, especially with its suite of high performing drugs such as Viread and Truvada that help make up its $10bn HIV franchise. In terms of competitive threats, while negotiated discounts have increased, patients seeking treatment has similarly increased - the pharma firm look set to retain a majority of the market.
Gilead serves almost 80% of treated HIV patients in the United States and 60% of those treated worldwide. They have excellent strong points in the single-pill formulas and have maximised sales of the tenofovir molecule present in Viread, Truvada, Atripla, Complera, and Stribil. Key patents are set to expire in 2018 and newer products on the market could provide stiff competition and pressure on the HIV franchise approaching 2021.
However, moving ahead, Gilead is well placed to maintain its competitive lead. While it was criticized for its acquisition of Pharmasset, thought to have been overpriced at the time, it resulted in the firm owning the industry leading Hepatitis C drug; again putting them in a very strong position.
Equally, in buying Pharmasett, it highlighted an ability to recognise the value of Sovaldi and how it ranks in terms of safety and efficacy compared to other drugs treating Hepatitis C. Alongside this is Gilead's use of tenofovir, which is a key ingredient in the company's flagship HIV regimens. The result of this leading research capability is that Gilead has a multi-billion dollar product, is leading the pack in all-oral treatments of Hepatitis C, which looks set to continue up to 2029. This is despite competition from other big pharma firms such as Merck and AbbVie.

Img Src: Gilead.com
Risks
Despite Gilead's notable strengths moving further into 2016 and ahead, there are a number of causes for concern. First off there have been lower sales displayed by Zydelig, and there might be royalty payments to Merck to deal with.
On top of this there is simply the fact that huge revenues of $33bn in 2013 will be hard to beat, so real growth will be difficult to achieve. Equally, in line with posting such good figures, sales on their medicines for hepatitis likely peaked in 2015, meaning decline is likely, perhaps to around the $7.5bn mark. Like its hepatitis products, the HIV treatment sales will likely peak around 2018, to just short of the $12b mark. Also the TAF based regimens that currently perform very well could see strong competition from generic formulations.
Another risk to consider is confidence in the drugs they produce themselves. If they no longer continue to be seen as effective or safe compared to its older drugs or competition, sales could be impacted negatively.
On top of this is that Government purchases account for around 60% of HIV product sales, so retaining that relationship and product efficacy is crucial to maintain this. Another concern is that patents are due to expire on its top HIV treatments as of 2021 which will could hamper sales massively if they don't manage widespread switching to newer products.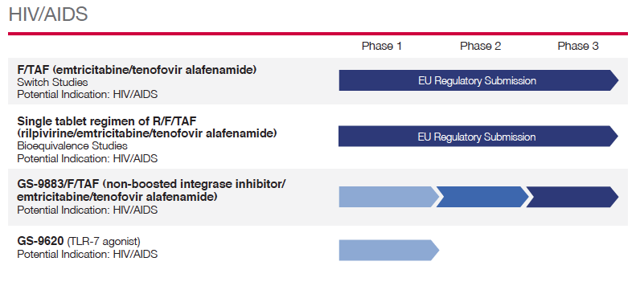 Img Src: Gilead.com
In addition you have general increasing healthcare costs and therefore potential pricing pressures. After paying a premium for Myogen and the failure of Darusentan, there is greater pressure on the performance of Letairis. Equally though the expensive acquisition of Pharmasset has proved a boon for Gilead, reporting great revenues of $19bn.
Bad News Priced In
Despite this, share buyback should easily be enough to mitigate margin pressures, leading to small annual declines in EPS and approximately 7.2% capital cost to Gilead. Overall, systematic risk to Gilead shares isn't hugely concerning and we think much of the risk has already been priced into the share price, with the stock down around 16% from it's 52-week high.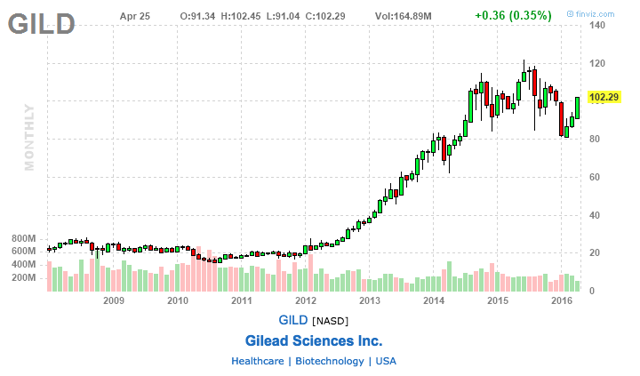 Importantly there is no real reason to believe that Gilead's stellar strategies won't continue well into the future as their infrastructure and management remains largely in tact. The decisions made to date that have established Gilead will hopefully be repeated - decisions such as the acquisition of Triangle in 2003, and the successful bet on Pharmasset.
It's important to note that while the then CEO John Martin stepped down in March, he will still have a say in Gilead's future as he will remain on the board, albeit switching from a Chairman to Executive Chairman position. With his 20-year history with the company and his strong background in anti-retrovirals, his continued presence is a positive sign. Added to this, further continuity in management is seen in John Milligan taking up the CEO position, promoted from COO.
Recent decisions to boost share repurchases has also been an encouraging sign of management's dynamism and they will surely be well placed to deal with risks to Gilead's prosperity and to build on its position as a leading pharmaceutical company, perhaps indeed by exploring growth areas such as in blood cancer and immunology.
Another Winner
All in all, we believe our model has come up with another winner in the shape of Gilead Sciences.
The stock has been moving up over the past few weeks but still trades at less than 10 times current and forward earnings. We think there is still plenty of upside left on the table and see plenty of good things ahead for Gilead Sciences.
Disclosure: I am/we are long GILD.
I wrote this article myself, and it expresses my own opinions. I am not receiving compensation for it (other than from Seeking Alpha). I have no business relationship with any company whose stock is mentioned in this article.