Company Description
Mallinckrodt Pharmaceuticals (NYSE: MNK) is a specialty biopharmaceutical holding company that bought over the years a couple of different business. It was spun off from Covidien (COV) on June 30th 2013.
Currently it has a major revenue base from Athcar Gel a bio-derived ACTH product used mainly in infantile spasms, originally marketed by QuestCor (acquired in 2014). This business only accounts for 30% of revenue but is the main reason to short as cited by Citron Research.
The Catalyst For Mallinckrodt PLC
The purchase of QuestCor Pharmaceuticals for $5.6 billion back in 2014 propelled MNK to make a large amount of free cash flow as mentioned by a previous article. However, with the bundled debt Mallinckrodt also set itself up for longer term manipulation by short hedge funds seeing that it could go the way of Valeant (NYSE:VRX).
Despite being positive about the future of Mallinckrodt we would like to start our analysis by looking through the lens of shorters to highlight the risks. Just a simple reading of the latest quarterly report illustrates that total assets are significantly higher than liabilities (including long term debt). Almost $6 Billion dollars more assets as filed in the books ( as seen below), but the company is barely valued more than this amount with a market capital hovering around $6-7.7 Billion in the last few weeks.
Assets

Current Assets:

Cash and cash equivalents

$

521.9

$

365.9

Accounts receivable, less allowance for doubtful accounts of $6.0 and $4.7

485.9

548.5

Inventories

284.9

281.8

Deferred income taxes

116.3

142.7

Prepaid expenses and other current assets

215.6

207.3

Current assets held for sale

0.8

299.9

Total current assets

1,625.4

1,846.1

Property, plant and equipment, net

993.0

991.3

Goodwill

3,645.2

3,649.4

Intangible assets, net

9,491.7

9,666.3

Other assets

284.0

251.0

Total Assets

$

16,039.3
Liabilities and Shareholders' Equity

Current Liabilities:

Current maturities of long-term debt

$

21.9

$

22.3

Accounts payable

118.2

133.0

Accrued payroll and payroll-related costs

79.6

103.7

Accrued interest

72.7

80.2

Accrued and other current liabilities

592.5

517.4

Current liabilities held for sale

3.4

72.8

Total current liabilities

888.3

929.4

Long-term debt

6,409.6

6,474.3

Pension and postretirement benefits

114.9

116.7

Environmental liabilities

72.0

73.3

Deferred income taxes

2,999.0

3,132.4

Other income tax liabilities

109.8

121.3

Other liabilities

253.1

245.5

Total Liabilities

10,846.7

11,092.9

Shareholders' Equity:
[source Morningstar Report Service 1st quarter 2016]
The reason for this low price, is hidden in Goodwill and Intangible assets. Indeed Goodwill can easily be adjusted to zero in a downturn. In the next few years, all we need is a couple of quarters of sales misses and long term debt maturing to potentially threaten shareholder value. In such a situation MNK would need to raise capital and/or sell profitable sub-business like HP Athcar, at a discount. The board currently does not foresee this happening and so it is happy to repurchase MNK shares. It is hard to foresee problems when, for over a year, the company has consistently beaten earnings estimates[Yahoo].
MNK's Debt/Equity (123.86%) is a little high relative to the industry average (88.40%) but it can be reduced with the sale of non-core assets like nuclear medicine business. If the board want to think long term, they should pay down debt. In the words of a former Intel (NASDAQ: INTC) CEO Andy Grove, it does not hurt to be paranoid in business and worry about bad days, as they eventually always come. Only the best companies survive and then thrive through business down cycles or catastrophic events. The good news is that Mallinckrodt looks set to both buy back shares and pay down debt while emphasizing organic growth by selling non-core assets like nuclear medicine.
Non-core assets include MNK's global medical imaging segment which sells contrast media and delivery systems used in computed tomography ("CT") and magnetic resonance imaging ("MRI"), as well as nuclear imaging agents. Global medical imaging has a presence in approximately 50 countries worldwide and its sales mix is more globally diversified compared with specialty pharmaceuticals. Global medical imaging generates approximately 11% of company revenues and is a stable business but it is non critical and has little overlap with the pharma side of the group. Furthermore, some of MNK's generic drugs business can also be considered non-core.
Valuation
According to experts, Mallinckrodt Nuclear Medicine business is worth at least $800M while it produces just 11% of MNK's revenue. According to Bloomberg, the company is looking to sell this unit, and is likely to achieve a price of up to $1billion dollars. At it's current higher price of approximately $65 per share, MNK has an Enterprise value of $13.3 Billion and a market value of a little over $7 Billion. If it sells 11% of revenue for $1 Billion, that would value the entire business at under $10 Billion if all of the groups had the same operating margin, but the cost base for this group is much higher due to wide international activity. Many of Mallinckrodt's other businesses are higher margin and despite the controversy there has been no significant reduction in sales for HP Athcar, instead sales have grown. That unit, which MNK bought for under $5.7 billion, today can be sold for more or are least the same value. If all of MNK's products had the margin of HP Athcar, MNK should be trading at over $19 Billion( 5.7B*1/0.3). HP Athcar is under Mallinckrodt Brands group which includes many brands including cancer therapies from Therakos. In our estimate, a total sum of the parts would value MNK at over $13 Billion at bargain prices and this does not include the fact that the business has been growing for many years ( long term CAGR is in the low double digits) and they now have a research division and a product pipeline.
Andrew Left and Citreon Research have been bearish on QuestCor for many years running and they have consistently been wrong on what counts: sales and FDA withdrawal of approval. Therefore, we believe a purchase of MNK shares at around these prices has very little downside and significant upside particularly if debt is lowered.
Our Technical Analysis
When deciding purchase entry points, we rely on proprietary combination of standard chart indicators. Technically, before the recent rise above $65, MNK share prices looked rather weak trading below the 20 day exponential moving average as well as the 50 day moving average. The last six months trading shows strong support at just below $60. Our analysis was based on Figure 1 below, and you can see how the stock has bounced back from the $55 position we took last month in Figure 2.
(TA Figure 1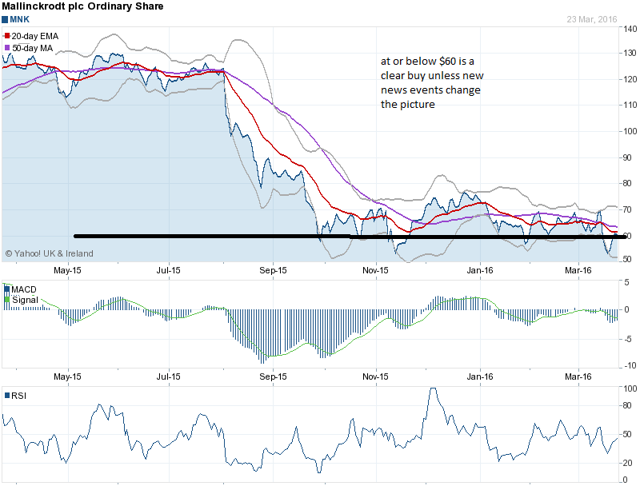 (TA Figure 2 -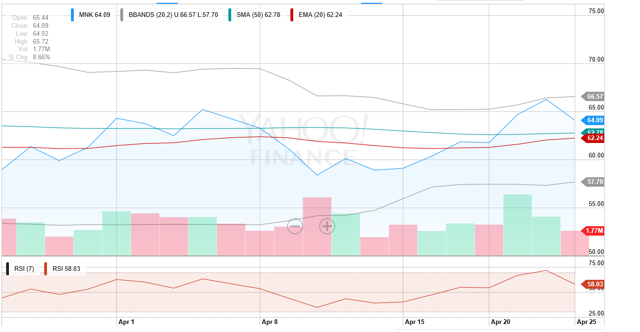 A good trading strategy should also consider contrarian indicators such as insider trading activity and percentage of shares shorted. The insider activity over the last 6 months is on the sell side. The dollar amount of insider trading is tiny fraction of the total number of shares held, thus it is not as bearish as it would otherwise appear. Another good contrarian indicator is the 20% rise in short interest in the last few months and no sign of a fall in actual business performance.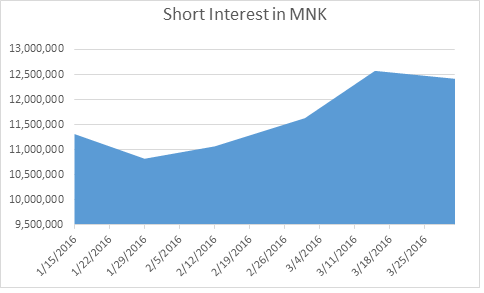 Conclusion
Despite the recent rise, Mallinckrodt is trading at less than 8x next year's earnings and the year after. Mallinckrodt core business is intact and is trading at prices which equals a pessimistic sum of the parts. A pessimistic valuation insulates Mallinckrodt from any potential negative developments as long as the board is careful in spending borrowed money.
Technically, looking at the charts Mallinckrodt have risen above moving average , indicating a potential turning point in share prices.
The board should consider reducing debt rather than buying back shares.
A pending sale of the Nuclear Medicine business could help reduce risk of longer term shareholder damage by reducing debt.
We are in the midst of forming a new investment company Davum Capital. The central thesis of our firm is to trade using proprietary algorithms and knowledge of biotechnology and frontier markets to make market beating returns as we have been doing privately.
Disclosure: I am/we are long MNK.
I wrote this article myself, and it expresses my own opinions. I am not receiving compensation for it (other than from Seeking Alpha). I have no business relationship with any company whose stock is mentioned in this article.
Additional disclosure: We may dispose of any positions without notice.