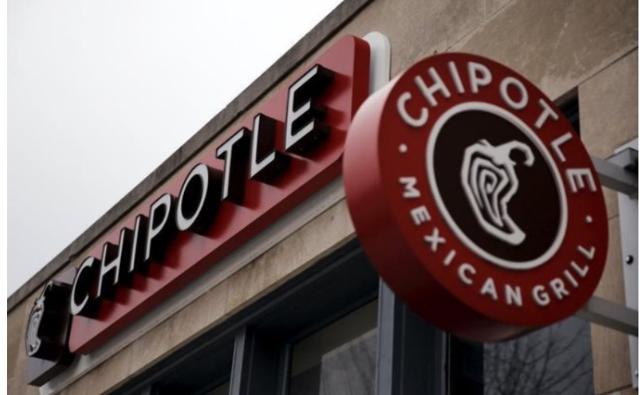 Earnings Expectations
On Tuesday, April 26, Chipotle Mexican Grill (NYSE:CMG) is expected to post its first-ever quarterly earnings loss anticipated to be $-1.06 per share according to Zacks based on 14 analysts' forecasts.
Consensus Recommendation

Courtesy of the Author
The chart below reflects share value carnage from a year-earlier when profit per share was $3.88. But the impact of last year's string of E.coli and norovirus outbreaks, attributed to unsafe food, has hammered company financials.
Share values have tumbled with declining revenues. A 52 week high of 758.61 in August has fallen to 443.10 as this is written on April 25 for a decline of 315.51 per share, a loss of 41%.
Chipotle chart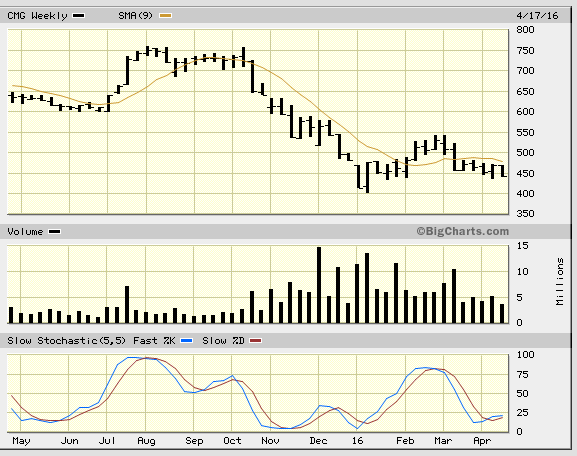 Courtesy of the Author
Factors Weighing Down Expectation
Continued factors weighing down on Q1 profits are higher costs related to marketing promotions, food and labor. Free food has been used as an impetus to lure customers back.
Revenue is expected to decline 20% to $868.5 million. Same-store sales have been bleak:
January down 36.4%
February down 26.1%
March first two weeks down more than 20%
Has the Bottom been Reached?
This is a very important question for a restaurant chain that has been immensely profitable in the past and has the potential to bounce back. JPMorgan analyst John Ivankoe noted April 14 that the food scare has cost Chipotle "three years of earnings growth."
Stephens analyst, Will Slabaugh, wrote that the firm has "little doubt that CMG will return to positive (same store sales) growth by Q4 2016 or Q1 2017." But Stephens maintains an underweight rating and a 375 price target for now.
Interim Concerns
Deutsche bank's, Brett levy, has a sell rating for Chipotle at this time. He points to the following concerns:
Labor cost over-spending
Low store productivity gains
Company's market and promotional approach
Clearly, these are elusive questions in the present moment and will require time to resolve. Levy summarizes his sell rating by stating the following:
"Despite the company's long-term growth potential and historically high restaurant-level returns, CMG's current issues are pressuring sales/earnings and represent risk to shares. We believe this limits the likelihood for any meaningful stock price recovery in the near term.''
"Burrito Peak" Concerns
Beyond the E.coli outbreak which devastated earnings, there has been a concern that the company's growth rate cannot be sustained. For example, during Q4 2013 same-store sales rose 9.3% from the previous year.
This was followed by a comparable growth rate that accelerated quarter after quarter until peaking at 19.8% in Q3 of 2014. But same-store sales fell to 16.1% in Q4 of 2014 and the to 10.4%; 4.3%; 2.6% and -14.6% during the four quarters of 2015, respectively.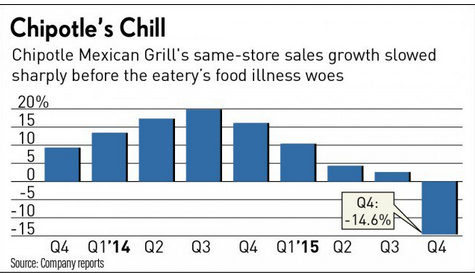 Takeaway
It appears that investors believing in a future comeback for CMG will take a hard look at the Q1 earnings report and share price movements that it produces.
Volume with share value increases is the key to institutional buying and an important signal that there is market conviction of a turn-around. Going forward, other important variables to consider are increases in same-store sales and additions to the product line to better compete with other restaurant chains.
However, bear in mind that Chipotle faces a long road ahead during which it must regain customer's trust and prove its restaurants are safe places to eat.
Disclosure: I/we have no positions in any stocks mentioned, and no plans to initiate any positions within the next 72 hours.
I wrote this article myself, and it expresses my own opinions. I am not receiving compensation for it (other than from Seeking Alpha). I have no business relationship with any company whose stock is mentioned in this article.