Introduction
This article is my 19th installment in a segment called "Buy on the Drop?" where I choose a stock that recently experienced a large decrease in price and give a recommendation on whether investors should "Buy on the Drop" or not. This is a recurring segment, so if you enjoy the article, "Follow" me to see more. You can read about my previous installment discussing Valeant Pharmaceuticals (NYSE:VRX) here.
Monday Massacre
Perrigo Company (NYSE:PRGO) longs might be rethinking the investment after shares lost 18% of their value on Monday. PRGO was initially down 11% pre-market when the board decided not to contest long-time CEO Joseph Papa's decision to depart for the top position at Valeant Pharmaceuticals. Losses deepened after the company announced Q1 and full-year guidance that did not impress.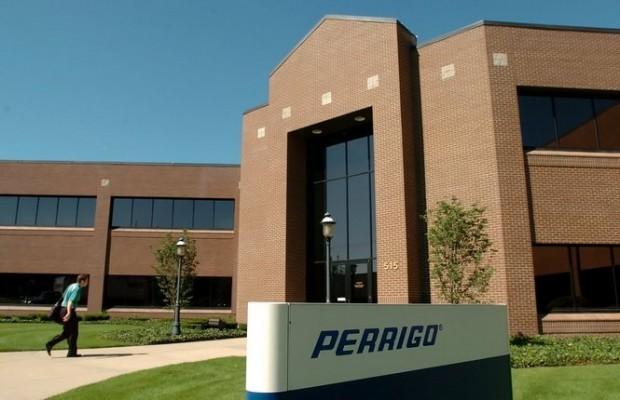 (Perrigo's Headquarters in Allegan, Michigan)
Mr. Papa had been the CEO of Perrigo for 10 years and is credited with successfully guiding the company and its shareholders through a hostile takeover bid by Mylan (NASDAQ:MYL). The $26 billion offer, which is more than 50% higher than PRGO's current market value, was successfully rebuffed as Papa thought Perrigo had more shareholder value as an independent company.
If that's true, then at a $17 billion market capitalization, Perrigo should be heavily undervalued. Let's see if we can't come to our own conclusion.
The first question to answer must be: how significant is the loss of Joseph Papa? A change in CEO is more significant for some companies than for others, and there is no absolute answer in this type of situation. For instance, if Elon Musk, the CEO of Tesla Motors (NASDAQ:TSLA) resigned tomorrow, the stock could lose more than 50% of its value. In contrast, if the CEO of a well-established company like Ford (NYSE:F) resigned tomorrow, the stock might see slight weakness, but would be generally unfazed by the news.
As I said, Joseph Papa has been at the helm for Perrigo for 10 years and led the company through some rough waters. I think it's natural that shareholders would get attached to an active executive like Papa and would lose confidence in the company if he departed. I would guess that this was the case Monday. A CEO resigning in order to take another position is not in itself a reason for investors to worry, especially considering the job Papa is taking. I'm sure Valeant is paying him very good money for his services, more than he could ever hope to get as the head of Perrigo.
It remains to be seen how the new CEO, John Hendrickson, will deal with the new headwinds facing the company, which I will go into in a bit, but the uncertainty alone is not nearly enough to justify what the market did to PRGO on Monday.
A more quantitative reason for the stock's losses Monday was the company's guidance for Q1 and full year. Perrigo issued a profit warning for the fiscal year and expects full-year earnings of between $8.20 and $8.60, well below the $9.52 consensus estimate. The company cited "industry and competitive pressures in the sector." Not very encouraging. Increased regulatory scrutiny over drug pricing has applied pressure to drug companies across the pharmaceutical industry. Perrigo's warning also caused shares of other companies in the generic drug market such as Mylan and, to a lesser extent, Allergan (NYSE:AGN), to drop.
While the company is under pricing pressure, even at the midpoint of Perrigo's lowered guidance, full-year earnings would be $8.40 a share and the stock's forward P/E ratio would still be a lowly 11.8, well below the industry average. However, valuation metrics are only as good as the estimates they utilize, so how realistic is the EPS range Perrigo gave us?
Management obviously knew they were dropping a bombshell by cutting EPS guidance so significantly, so it stands to reason that they did not try to sugarcoat things. I expect the estimate to be conservative and for Perrigo to record full-year EPS within the range management released. Pricing pressures might take the cherry off the sundae, but Perrigo still has plenty of revenue and profit potential going forward.
I think PRGO is undervalued at current levels, and I will probably buy some call options this week. The market is overreacting to the departure of Joseph Papa and the profit warning. With that said, investors should keep an especially close watch on the company into the near-term future as there is some uncertainty of which to be wary of. Personally, I will be keeping an eye on the new CEO, Perrigo's margins, and the general trends in the generic drug market as a whole.
After weighing the risks and potential upside, I rate Perrigo Company stock a Buy on the drop.
My question to you, the reader, is:
What do you see for the future of Perrigo? Is Joseph Papa's departure a significant event or is it being overblown by the market? Feel free to leave a one-word answer or long-winded tirade in the comments section below.
Thanks for reading!
Disclosure: I/we have no positions in any stocks mentioned, but may initiate a long position in PRGO over the next 72 hours.
I wrote this article myself, and it expresses my own opinions. I am not receiving compensation for it (other than from Seeking Alpha). I have no business relationship with any company whose stock is mentioned in this article.