International Business Will Dwarf Domestic Business
For the first time in the history of the company, international wholesale revenues surpassed their domestic counterparts. This can be attributed to great success in Europe and extreme growth in Asia. David Weinberg, CFO and COO of Skechers (NYSE:SKX), believes the growth will continue and has planned accordingly. The current European distribution center is undergoing expansion and is set to become a 1 million square foot facility by completion in the second quarter. Europe has grown to be the company's second-largest market outside the United States.
Europe is trailed by Asia, which posted a 94% growth rate for the quarter, fueled by triple-digit gains in China. Weinberg remains exceptionally bullish on China, stating in the call that, "With a 169 Sketchers retail stores, an extremely strong e-commerce business with high double digit growth and approximately 1,380 points of sale we believe there is still tremendous opportunity across China". China remains a huge growth catalyst, as both Nike (NYSE:NKE) and Adidas (NYSE:ADS) also vie for market share there. Besides China, the growth outlook looks positive across the board. Weinberg further detailed the company international growth, saying, "Our combined wholly owned subsidiary saw a net sales increases of 46.1% in the quarter. For the quarter every subsidiary with a comparable period reported double digit gains with Japan, Canada and Spain having the highest on a percentage basis and the United Kingdom, Germany and Canada having the largest dollar gains".
Now that international revenues make up a significant portion of revenues, currency fluctuations will be a much larger factor moving forward. During the first quarter, Skechers faced negative foreign currency translations which "impacted gross margins by approximately $9.3 million or $0.05 per diluted share". For a company that reported earnings of $0.63 per share, currency headwinds caused nearly an 8% decrease in earnings.
Don't Expect A Knockout Second Quarter
This has little to do with performance and all to do with yearly comparisons. The second quarter of last year saw a large increase in sales due to the timing of several large orders. Orders from the first quarter were pushed into the second quarter, while several Q3 shipments were pulled into Q2 as well. This made for inflated revenues in last year's second quarter, which will cause YoY comparisons to mask Skechers' actual growth in the next quarter. So, while Skechers could still surprise and beat the estimates, don't let the YoY growth fool you into thinking the company is slowing down in terms of growth.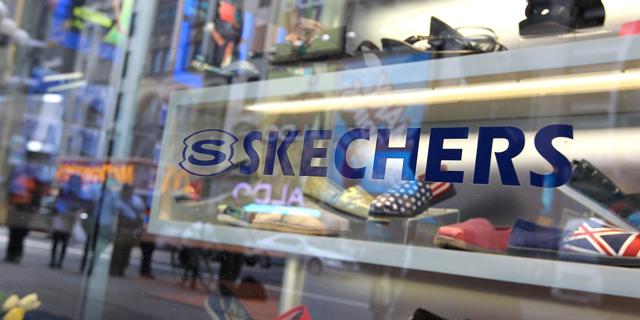 It's Hard to Find A Bad Number
Other highlights include:
First-quarter gross profit of $432.2 million, compared to gross profit of $332.5 million in the first quarter of 2015.
Worldwide store comps of 9.8%.
Plans to open approximately 55-65 more stores in the year, including 20-25 stores during the second quarter.
160-165 third-party Sketchers branded stores slated to open in 2016.
A slight increase in gross margins to 44.2%.
Administration expenses decreasing as a percentage of sales YoY.
The tax rate did increase to 28.1% for the quarter compared to 23.7% last year, but management expects the rate to drop to between 22-25% for 2016.
I encourage you to follow me for future publications on a diverse array of public companies.
Disclosure: I am/we are long SKX, NKE.
I wrote this article myself, and it expresses my own opinions. I am not receiving compensation for it (other than from Seeking Alpha). I have no business relationship with any company whose stock is mentioned in this article.