The SunEdison (SUNE) saga has come to a tentative close with the filing for Chapter 11 bankruptcy protection last week. This tale has provided investors with many lessons and is an excellent case study of how quickly the fate of a company can change.

At its peak last summer, SunEdison was valued at nearly $10 billion. The company had been on a massive merger and acquisition spree in an attempt to become the world's largest renewable energy company. On July 20, 2015, the company hit an all-time high of $33.45/share in intraday trading. But then the market turned on SunEdison, and it began its gradual march lower.

Source: Morningstar
But the collapse of SunEdison was not preordained, as some contributors on Seeking Alpha have recently claimed. The various ex post facto analyses that have come out do no provide the necessary context for its collapse, nor is there a clear understanding of cause and effect.
Having closely followed the SunEdison saga and written about it extensively, I do not believe the collapse of SunEdison was inevitable. In fact, the collapse of SunEdison occurred primarily because of its inability to follow through on its proposed acquisition of Vivint Solar (NYSE:VSLR).
Although SunEdison had many other problems related to liquidity issues, lawsuits, and bad management, the fundamental turning point for SunEdison came in March when Vivint Solar terminated its planned merger with SunEdison.
In hindsight, the termination of the merger sealed SunEdison's fate, especially because Vivint Solar promptly decided to sue SunEdison for the full value of the original $2.2 billion deal. Given that Vivint Solar probably could have won its case in court, this major legal headache would have continued to linger over SunEdison like the sword of Damocles - unless it got Chapter 11 bankruptcy protection.
But had the Vivint deal gone through, it is quite possible SunEdison would not have filed for Chapter 11 bankruptcy protection, especially since it apparently only needed $300 million to continue its operations for this year. An added benefit of that deal would have been bringing in Blackstone as a major equity partner; that could have helped to potentially turn the company around.
Unfortunately for SunEdison and its investors, the deal fell through and proved to be the straw that finally broke the camel's back. SunEdison failed and a company that was once valued at nearly $10 billion only 9 months ago is now valued at around $100 million and trades on the OTC marketplace.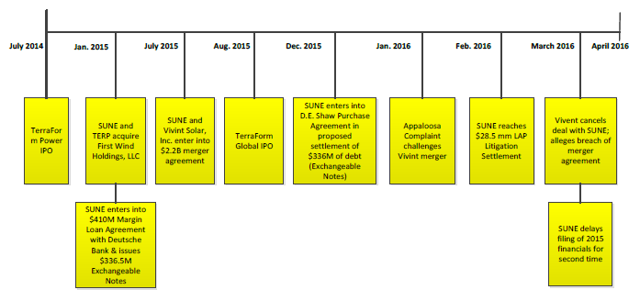 Page 31, SunEdison Ch. 11 Bankruptcy Protection Filing
Given all that has transpired with SunEdison's spectacular collapse, now is the time to understand and reflect on its failure so that investors can make better decisions in the future.
In an article last week, I asked contributors and commenters to discuss major lessons that they have learned from this saga. All contributors and commenters provided useful insight worth considering, and I encourage people to read through that piece as well. In this piece, I'll highlight the importance of always doing your own due diligence. Through this reflective process, I hope investors are able to gain deeper insight into both my investment philosophy and how we can all make smarter investment decisions.
Due Diligence
As an investor, a significant portion of my actively managed portfolio consists of energy companies. Energy companies have experienced a high degree of volatility since 2014 and continue to face numerous challenges. But commodity traders also know that the next major energy market will be renewables. In fact, according to one report, $367 billion was invested in renewable power in 2015 alone. Although many companies in the renewable energy sector are just now starting to take off, it remains very much an industry still in its infancy. This is why the oil and gas majors generally continue to ignore this sector, though some companies like Total (NYSE:TOT) are beginning to look at renewables more seriously.
For long-term investors, the renewable energy sector appears to have tremendous potential. Not only are renewable energy sources better for the environment, but strong renewable energy companies could bring outsized returns. Hence, it is an important sector that investors need to take seriously and look for deep value opportunities.
I've been watching and investing in the sector since 2012 and continue to look for deep value opportunities. Last summer, I watched SunEdison jump to new heights before falling during a serious correction in August. However, investors should remember that the broader market sold off heavily last August because of concerns with the Chinese economy. As fear began to subside, a lot of companies began to rebound including SunEdison. At the time, I looked for attractive investment opportunities and decided to take a closer look at SunEdison.
Back then, I didn't really know too much about SunEdison. So I was beginning from scratch and I began to do my own due diligence to see whether or not it would be a good investment opportunity.
As part of my due diligence, I look for information in a variety of places. I try to use as much data - both qualitative and quantitative - to arrive at an objective assessment of a company. I try and use as many varied data points as possible to come up with an assessment. I do this because I have never found a universal model that works to explain everything, nor do I think 10-Ks or 10-Qs provide the whole picture. Although a lot of investors believe numbers tell the whole story, there is a lot more to investing than just knowing how to read a balance sheet.
One useful data point that I use is other investors. I've found Seeking Alpha to be a good place to begin researching companies I'm interested in learning more about. Although some investors prefer analyst reports, I've found that a lot of analyst reports are hit or miss. I have often found Seeking Alpha to be a more valuable resource for analysis than any analyst reports.
As a case in point, analysts covering SunEdison have consistently been wrong. Last September, Deutsche Bank came out with a research note arguing that SunEdison is a buy and had a $28 price target on the company. Looking at the analyst predictions from September paints an egregiously bullish perspective: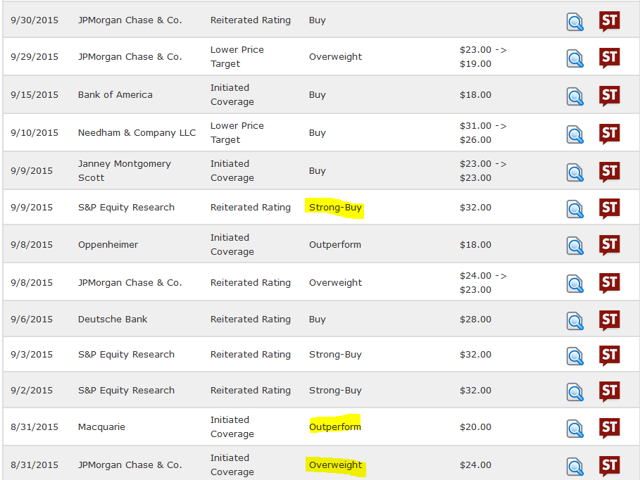 Source: Marketbeat.com
It appears obvious in retrospect that these analysts were dead wrong. However, at the time, many of these analysts believed that SunEdison would be able to manage all of its many liabilities and outperform in the long run. But I don't always believe what analysts say and I do my own due diligence so I dug deeper.
Although I still paid some attention to what analysts were saying, I looked more carefully at what contributors here on Seeking Alpha were saying about the company.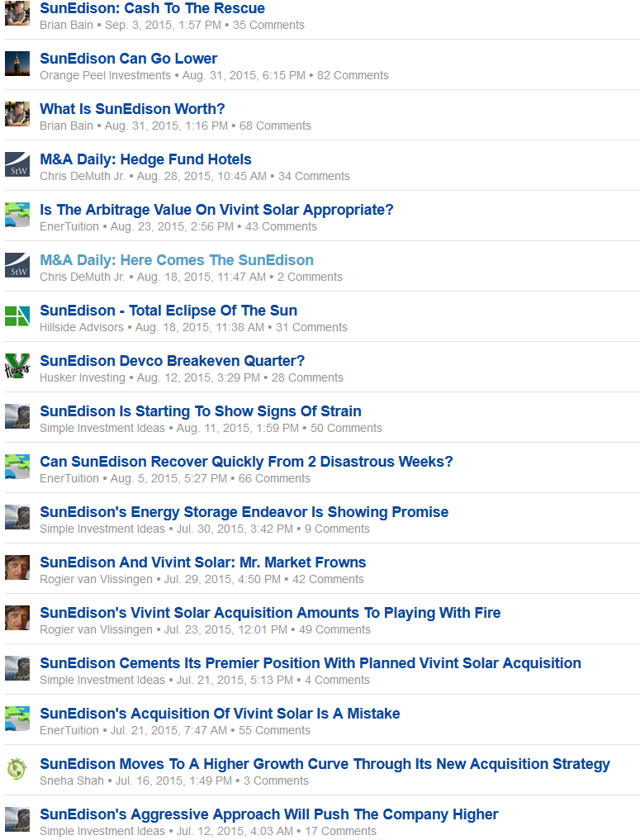 In the two months between July 12 and September 3, there were 17 SUNE focus articles published on Seeking Alpha. Based on these articles, I constructed a chart to visualize the recommendations made by contributors:
| | | | |
| --- | --- | --- | --- |
| Buy | Sell | Avoid | No Recommendation |
| Simple Investment Ideas (3) | | Rogier van Vlissingen (2) | Chris DeMuth Jr. (2) |
| EnerTuition (3) | | Orange Peel Investments (1) | Simple Investment Ideas (1) |
| Brian Bain (2) | | | |
| Husker Investing (1) | | | |
| Sneha Shah (1) | | | |
| Hillside Advisors (1) | | | |
Although the specifics of each article were different, there are a few aggregate points worth considering.
First and foremost is the overwhelming bullishness towards SunEdison on Seeking Alpha. This fell neatly in line with what other analysts were saying. Even though contributors like EnerTuition were highlighting problems with the Vivint deal, most maintained a bullish overall outlook. In short, the prevailing investor sentiment was strongly in favor of SunEdison.
Next, there were some authors who began to highlight problems with SunEdison and why it should be avoided. However, only 3 out of the 17 articles published during this time encouraged investors to avoid the company because of the problems it faced.
Finally, zero contributors recommended shorting the company. In spite of a massive decline of over 50% in its share price and short interest at over 1/3 of outstanding shares, there were no contributors on Seeking Alpha that recommended shorting the company.
So it was in this environment that I began to take a deeper look at the company.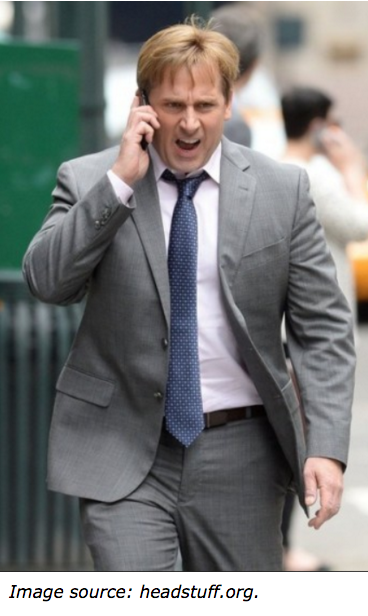 As I've noted above, whenever I invest I look at a lot of data points to inform my strategy, both conventional and unconventional. As investors will note, my pen name is "Short/Long Trader" because I will go short or long depending on what the data shows. Although some investors are philosophically opposed to betting against companies, I tend to take a more relativistic approach like that of Steve Carrell in The Big Short. In that movie, Carrell's character recognized the inherent problems with the housing market and decided to bet against the collateralized debt obligation bubble.
But by betting against this bubble, he realized he was betting against the American economy. Although this was an unsavory position to take, it fit his understanding of the underlying problems that existed and he, as a rational investor managing money for his company, had to deal with this reality. Therefore, based on this reality, he had to go short.
The 2008-2009 financial crisis fundamentally transformed my outlook on the markets. Even though I've been investing since the 1990s, have watched the tech bubble burst, and saw the post-9/11 recession, the 2008/2009 financial crisis was something else entirely. During that time, the only investors who outperformed the market were those who bet against it.
Up until that point in my investing career, my investment philosophy was heavily influenced by Buffett, Munger, and Lynch. As such, I followed a 'buy-and-hold' strategy whenever possible and looked to find those hidden ten-baggers. In fact, many of the 'buy-and-hold' companies I purchased during that time ended up outperforming in the long run. But I also made a lot of mistakes that ended up offsetting other significant gains.
As an example, I bought Starbucks (NASDAQ:SBUX) in August 2006 after a summer selloff that I felt was unwarranted. I bought it when it was trading at around $30/share (this was several years before its stock split). Then I watched over the next several years as this investment tanked. In 2009, I capitulated and sold my entire position for $8/share.
Around this time, I felt like the buy-and-hold strategy was not enough. After all, I had bought the best companies in each sector and watched as my portfolio sunk deeper and deeper into the red.
But then I decided to divide my equity portfolio in half. I put half of my portfolio in a marginable account and began shorting companies with flawed fundamentals. The other half of my portfolio stayed in a buy-and-hold-forever account.
In 2009, my marginable account outperformed my 'buy-and-hold' portfolio by double digits. Granted, the market was a mess back then, and short-sellers were still feeding off the frenzy of the Great Recession. But I realized that using a balanced strategy of going short and long on different companies in different portfolios would be the best investment strategy for me overall.
Consequently, whenever I look at a new company for investment purposes, I take a completely agnostic approach when first evaluating it. I try to go begin my research with as few preconceived ideas as possible and purposefully try to avoid the tendency to fall into the category of "Yes, I want to absolutely buy this stock" or "Yes, I absolutely want to short this stock". Instead, I plow through the data and then come up with a conclusion based on my own diligence.
This brings me to SunEdison and September 2015. I looked at a lot of data points and realized that the market had gotten it wrong on SunEdison. Hence, I wrote a ~3,500 word article titled, The Case Against SunEdison. In that piece, I made a careful argument that SunEdison should be avoided or sold short because of share price manipulation, debt and liquidity issues, and broader weaknesses in the energy sector.
The piece came out of my own due diligence and conviction based on experience. It was the longest piece I've written here so far, but its length was necessary for me to unpack the rationale behind my decision to go short. It was a way for me to present my own due diligence and convince myself to go short, which I subsequently did.
Although that piece did not have the 100+ comments that has become standard now on coverage of SunEdison, there were some interesting comments made on the article. One in particular stands out: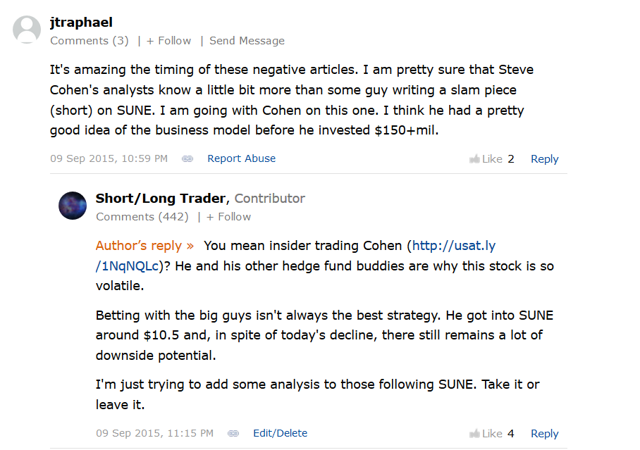 I honestly feel bad for jtraphael because he was convinced that Cohen's analysts were more in the know than "some guy writing a slam piece". He likely lost money on SunEdison like many others because too many people outsourced their due diligence to others. Over and over again people would cite big hedge fund managers as reasons to invest in SunEdison. I mean Cohen, Einhorn, and Tepper can't all be wrong, can they?
Unfortunately for bulls, not only were they all wrong, but they were all spectacularly wrong. I had read Einhorn's bullish investment presentation on SunEdison in which he used a sum of parts analysis to come up with a $30+ price target for SunEdison. But for all of his investing prowess, money, and analysts, he called it wrong on SunEdison.
In this particular case, "some guy writing a slam piece" happened to be right. Of course, I've been wrong about plenty of other investments and continue to regret mistakes I've made investing (I still can't get myself to buy Starbucks' shares to this day because of my royal screw up in '09). But the fact of the matter is that in this particular case, I conducted my own due diligence and what I realized from this is that shorting SunEdison made a lot of sense. Hence, why I went short and this proved to be one of my better investments in 2015.
At the same time, I became invested in the ongoing conversation here on Seeking Alpha. I continued to write pieces against SunEdison with the primary aim of curbing the irrational exuberance that I continued to see.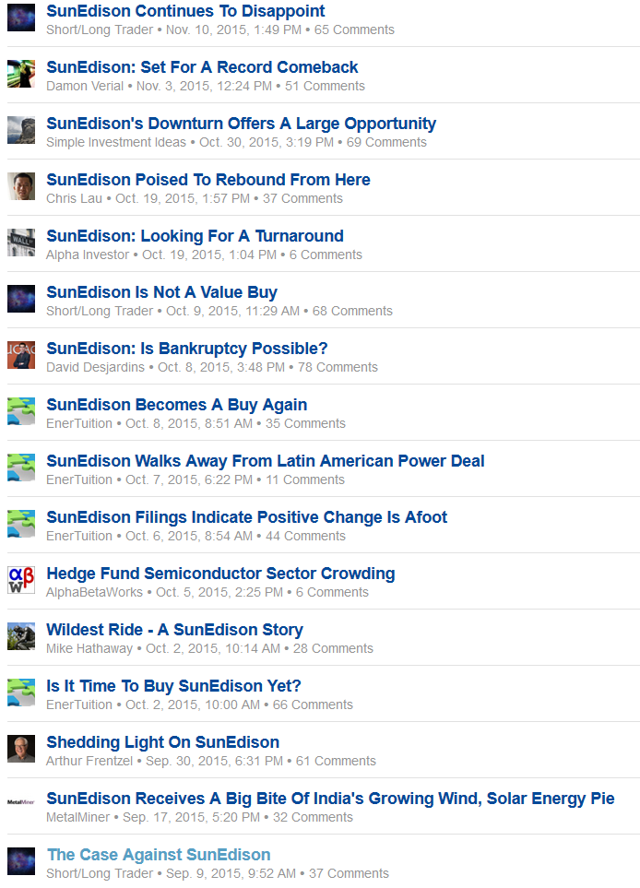 As an investor and contributor on this site, I want people to make money. Hence, I also want to make sure people don't lose money if they can help it. So I try to add my two cents and people are welcome to take it or leave it. But in the two months following publication of my first piece, investors again heard more bullish sentiment with criticism coming only from me and an undergraduate student (smart kid!) named David Desjardins.
Although I'm sure these contributors were trying to make the best assessments possible, the long case could not hold up to the many contradictions with SunEdison. While this does represent a mistake by contributors on Seeking Alpha, most were just as wrong as broader market analysts. Again this represents a failure on the part of the big investment titans and analysts and highlights how valuable information can stem from sources that people otherwise might ignore.
Then came SunEdison's disastrous Q3 report. I continued to warn investors about not taking a position in the company. But by mid-December coverage and interest in SunEdison exploded.
A Shift
From the middle of December until the middle of February, I sat back and watched how numerous contributors fought over whether or not SunEdison would survive and its possible long-term outlook. I didn't want to add to the cacophony of coverage and hence continued to watch from the sidelines.
But by mid-February, developments with the company made it appear that it could potentially turn around. When SunEdison began to trade in the mid-$1 range, I began to recommend long call options for high-risk tolerant investors. I did so because SunEdison appeared to be following through on its plans to strengthen its balance sheet, especially since it had paid down a $95 million margin loan, renegotiated its deal with Vivint Solar on more favorable terms, announced that it extinguished $336 million of its 2020 Exchangeable Senior Secure Notes, and secured a second-lien loan of $725 million to help provide liquidity while also completing a dilutive exchange deal that was said to have reduced debt by $738 million.
Although I was firmly in the bear camp until February of this year, these developments looked promising. I also began to think there could potentially still be value left in SunEdison. Since I had read Einhorn's presentation from 2014 about how SunEdison could achieve a price target of $30+ based on a sum of parts analysis and I saw a similar sum of parts analysis by Random Analyst, I figured SunEdison was still worth something in spite of all of the problems it faced. Although I did not share the optimism of either Einhorn or Random Analyst, I did think that there was some value left in SunEdison. At the time, it appeared that SunEdison would complete its merger with Vivint Solar and then it would begin to improve its liquidity position. At the same time, its yieldcos, TerraForm Power (NASDAQ:TERP) and TerraForm Global (NASDAQ:GLBL), would continue to operate and generate cash available for distribution. SunEdison would eventually get a portion of this cash if both yieldcos continued regular distributions and it looked like its cash flow would be much improved by 2017.
But I also recognized that SunEdison's management team was terrible and it had a byzantine balance sheet that made little sense. At the same time, the speculator crowd got into SunEdison and things kept going from bad to worse.
Looking back at my decision to purchase long call options and my recommendation for high-risk tolerant investors to do the same did not work out. But given the lower capital invested in call options and the fact that - for me at least - I was only investing part of my prior earnings from SunEdison, it provided a risk/reward level that I felt comfortable taking. Never did I recommend buying shares in the company, but I thought a small speculative play could be still be worth it. My hope had been - as I mentioned in a previous piece - that SunEdison was only going through a Hurricane Sandy type event where things could eventually be rebuilt. Unfortunately for SunEdison and its investors, it turns out this was a Hurricane Katrina.
Conclusion
Charlie Munger noted in a 2007 commencement address at USC Law School that one should "learn to maintain your objectivity, especially when it's hardest." As investors, this is crucial advice to remember, especially when conducting due diligence.
No one has full ownership of the truth, nor can anyone predict exactly what will happen next with a particular company. But we all can evaluate evidence in our own ways to come up with the best possible investment strategy for success in the long run.
The company that I've written the most about here on Seeking Alpha is SunEdison. I've learned quite a bit from this experience and I hope other investors have as well. Going forward, I intend to present more of my own due diligence here on Seeking Alpha for companies in both of my portfolios as well as other companies that I'm looking to invest in.
Ultimately, what matters most on this platform is a quality exchange of ideas. A quality exchange of ideas will help lead to better long-term investment outcomes for all involved. As this saga comes to an end, investors should remember to always do their own due diligence before investing. Doing your own due diligence is critical because sometimes the best and brightest can spectacularly fail.
Disclosure: I am/we are long SUNE, GLBL.
I wrote this article myself, and it expresses my own opinions. I am not receiving compensation for it (other than from Seeking Alpha). I have no business relationship with any company whose stock is mentioned in this article.
Additional disclosure: I am long SUNE through call options. I fully expect to see the call options expire worthless in January 2017. I intend to use them as a tax write-off next year. Positions may change at any time and investors are reminded to complete their own DD before investing.
Editor's Note: This article covers one or more stocks trading at less than $1 per share and/or with less than a $100 million market cap. Please be aware of the risks associated with these stocks.