On Thursday night, April 21, 2016, Boston Beer (NYSE:SAM) reported underwhelming Q1 2016 results, with revenue down 6% YoY and earnings of $0.53 per diluted share. Volumes, at 834K barrels, were down 6.2% compared to Q1 2015. Weakness stemmed from Sam Adams and Angry Orchards branded products, offset modestly by positive growth in the Twisted Tea and Coney Island brands.
Management took down full-year FY 2016 earnings guidance from a range of $7.60 to $8.00 to $6.50 to $7.30. Full-year depletion guidance range was also reduced and is now guided minus 4% to plus 2% from mid-single digits growth. The midpoint of gross margins was also reduced by 1% to 52%.
At face value, the only positive aspect of the report was that 450K shares were retired through buybacks (YTD through April 15). Not surprisingly, in knee jerk fashion, short-sighted investors rushed for the exits. Share volume was quite brisk at 955,000 shares for a company with an available float of 9.336 million Class A shares.
As Boston Beer is my second largest holding, and my cost basis is $207 (as I am big believer in full disclosure), I decided to write an update. Moreover, I have written a few prior bullish SAM articles here on SA, so I owe the readers an update. As a long-term investor, I am not losing any sleep over Boston Beer. In fact, although I have no dry powder, my Dad is taking advantage of the sell-off and adding to his position.
I read the analyst earnings call twice and wanted to share my thoughts.
Here are the highlights and SA Link to the call:
I will paraphrase one of Caroline Levy's, from CLSA, questions about competition and why SAM lost market share when, in the words of Mr. Koch, the better beer and craft space appears healthy measuring both sales and inventory levels.
Jim Koch's response:
Yes, that's probably a reasonable expectation. I think I've actually been on record that there could be as many as 10,000 craft breweries in the United States, up from roughly 4,500, 4,800 open today. I think what we will begin to see maybe a bit sooner than that two or three-year horizon is the distribution channels beginning to close up as distributors and retailers kind of run out of space for craft beer.

So I think the gating mechanism will probably be retailers reaching the point where adding more tap lines does not add to their craft beer sales. And we may be closer than the two or three years on that one. I believe the latest publicly available data is that craft beer has kind of peaked at 30% to 40% of the volume in on-premise accounts and then I believe the first quarter was basically flat in on-premise accounts. So we may be fairly close to that saturation point, though our draft surveys from distributors over the last roughly year have indicated that at least in the past year, the number of draft lines on premise has gone up very roughly something like 10%.

And that's certainly an issue for a very widely distributed brand like Sam Adams because it means that the pull per draft line is down 10%. Maybe even 13% since on-premise volume in beer is off 3%. And I think in off-premise accounts there's still room to expand the shelves and the selection in some types of accounts. Liquor stores even, supermarkets, less though in convenience stores. So the short answer I guess to your question is the number of craft breweries may well continue to grow at a fairly strong rate, but the number of craft breweries that will enter into the distribution in a meaningful way will probably not grow as fast as the new entrants tend to rely on volume out of their taprooms rather than getting space on the shelves.
My take is that strong competition is a net positive, as it is a catalyst for enhanced industry innovation. Mr. Koch fully acknowledges the competitive landscape and didn't blame the sales miss on factors like the weather. So in the short term, the terrain will continue to present challenges, but longer term Boston Beer continues on its innovate trajectory. A testament to this continuous innovation is the Nitro Project.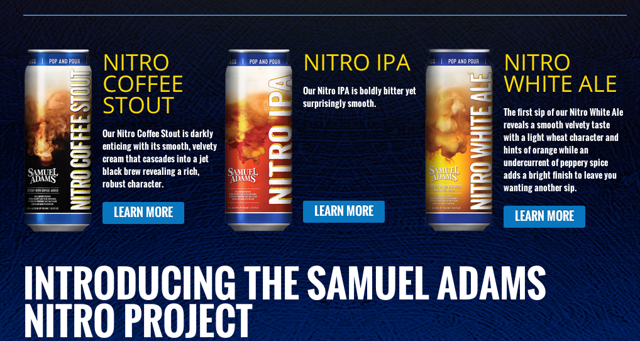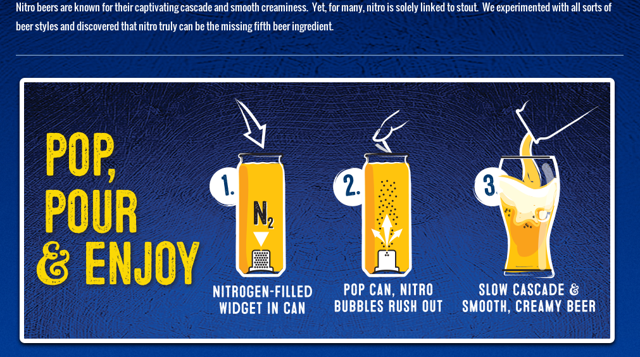 Here are Mr. Koch's comments on the Q1 call about the Nitro Project.
Yes. The major new brands within the Sam Adams portfolio are the three beers of the Sam Adams Nitro project. And they are very innovative. There's really nothing out there within craft beer like them. They are nitrogenated, rather carbonated, and they come in a 15-ounce can that contains a nitrogen capsule, also known as widget. So that was something that took us almost three years to figure out, implement, source from overseas, et cetera. So it's a fairly new concept, and I think it will build momentum but not as fast as something like Sam Adams Rebel IPA did, because that was a major new entrant from the number one craft brewery in a well-established and rapidly growing category.
Another item that I wanted to discuss from the call was Boston Beer's top three priorities outlined by Mr. Koch.
1) Strengthen the Sam Adams and Angry Orchard brands
2) After doubling their capacity over the past five years, they are now focusing on operational efficiencies in 2016 and beyond.
3) Continue to drive innovation.
In terms of the earnings miss, there is inherently high operating leverage in the brewing space, especially when your cost structure is geared for certain volumes and utilization rates. So, in the short term, when volumes slip, earnings get dinged. The company is well aware of this situation and mentioned targeted $50 million in operating efficiencies over the next nine to eighteen months. Moreover, Q1 has historically been the weakest volume quarter during the calendar year.
So there was nothing longer-term alarming mentioned during the call or within the reported results in Q1 2016 or over the prior two quarters; outside of slower growth, driven largely by more competition in the form of more "pull line" at bars and restaurants and retailers devoting more shelf space to competing craft beers. As Mr. Koch said on the call, it is very difficult for a smaller craft peer to gain a national presence and to scale up outside of exhibiting some regional strength. Moreover, he discussed the topic of Anheuser-Busch Inbev (NYSE:BUD) distributors. Given the dynamics of how distributors make money, it is hard for any craft competitors to pierce these channels.
On the second question about the AB distributors, we have a relatively small share of AB distributors. I've always been very concerned about the greater ability of Anheuser-Busch InBev to influence their distributors because they often have 90%-plus of the gross margin generated in an AB wholesaler. So we are - I don't know the exact number. If I had to guess, it's something like, I don't know, 10%, 15% of our volume is AB distributors and probably equally important. If we're in an AB distributor now, that is going to be an AB distributor that is probably not as dependent on AB as the average one in their network is. And that's also going to be an AB distributor that has had our brands for 10, 20, even 25 years. So they have a history of operating independently and doing what's best for their business rather than responding to pressure from AB.
Finally, I want to remind readers and fellow investors that somehow the market is choosing to ignore the multiples that other brands are receiving, when they are sold. According to Nomura, Japan's largest brewer, Asahi paid 21.5 times EBTIDA for the assortment of brands acquired from SABMiller. As I mentioned in prior pieces, Constellation Brands (NYSE:STZ) paid north of 8X FY15 sales for premium craft brewer Ballast Point last year.

Source: Reuters
Wall Street Consensus Estimates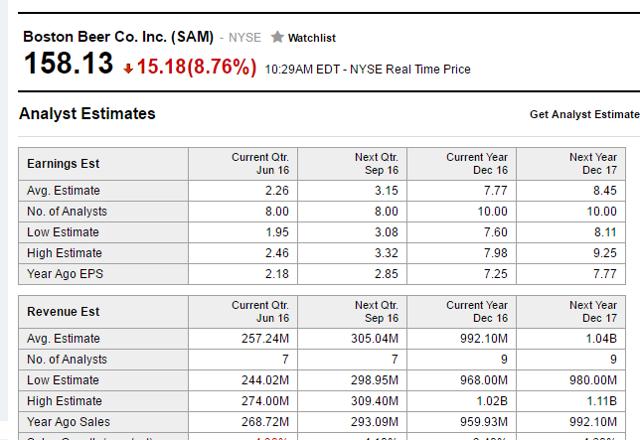 Source: Yahoo Finance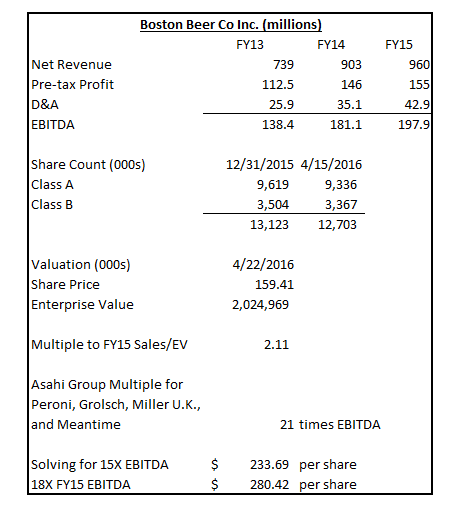 Backup EBITDA data from SAM'S FY15 10-K


Disclosure: I am/we are long SAM.
I wrote this article myself, and it expresses my own opinions. I am not receiving compensation for it (other than from Seeking Alpha). I have no business relationship with any company whose stock is mentioned in this article.