Introduction
If there is one lesson to learn from information technology, it is that there is no limit to how far it can go to make human lives as convenient as never before. An avid example of this phenomenon is the widely developing telemedicine industry with Teladoc (NYSE:TDOC) at the heart of it. Having read the recent article about TDOC from the Institutional Investor Magazine (2016), I decided to have a closer look at the company, its financials, the industry, and, last but not least, its valuation.
From what will follow, the readers will understand why I believe Teladoc is currently undervalued.
Thesis
I strongly believe that focusing not only on the company but also on the landscape it operates in is a valuable approach to help any prospective investor make a more informed investment decision, which is what I will implement in this section. However, to commence the analyses, it is essential to accurately define what the industry is for Teladoc. According to the company's initial registration form filed for last year's IPO (S-1, 2015), Teladoc is a telehealth company.
Unfortunately, the telehealth industry is both too young and represented by only one public company, which happens to be Teladoc itself. Additionally, Teladoc is not a healthcare company per se; rather, it is a platform enabling patients to seek medical consultation from physicians. As a result, I am more inclined to view TDOC as some sort of healthcare information technology, or even an internet company, as seen by MIT Technology Review. This approach will be important when we discuss margin assumptions, for example, because, for lack of any data related to the telehealth industry, a proxy will form the necessary basis.
As already mentioned above, the telehealth industry the company operates in is relatively young. Even though it all started out some 40 years ago (American Telemedicine Association, 2016), it was Teladoc that shaped the industry the way we can see it today. Not surprisingly, the success of the company attracted much attention not only from its customers but also from the competition, leading to the formation of about 15 telehealth service providers in the USA alone (and this number is likely to rise, as the industry grows and its profitability improves), with such names as American Well, Doctor on Demand, MDLive, CareClix, and MeMD.
Furthermore, apart from legal and regulatory restrictions in some states (though, mostly strict rather than prohibitive), there are few barriers to entry for potential new firms. Despite this competition, however, the industry has an attractive growth potential of more than $3.6bln for the US market alone and medications and consultation services only (for more details, see the discussion of revenue growth assumption in the valuation section below).
To compare, the revenues of Teladoc (which is the industry leader) stood at only $77mln in 2015. The company is well positioned to exploit this potential, given its 14-year-long experience of operations and considerable investments in the growth base, such as a 168% increase in its headcount in 2015, primarily due to the establishment of the call center, considerable base of physicians and behavioural health professionals of 3,000 to support telehealth visits (with more than 820 thousand active physicians in the US alone, there is substantial ability to growth this figure, should it be necessary) and continuing investments in technology and development (nearly flat at 18% of yearly net revenues in each of the available 3 years of operations data).
With regard to the telehealth visit service the company offers, it is important to consider whether clients have any substitutes to choose from, especially if Teladoc fails to provide the anticipated service. First, clients may switch "e-visit" with a traditional visit to a doctor. Second, they may simply substitute Teladoc's e-visit with that of one of its competitors. Given the telehealth industry's cost advantage relative to the traditional (physical) healthcare visit (on average, a single telehealth visit across all providers costs around $40-$60 versus $100-plus office visit and $1,000-plus emergency room visit), the former point is going to lose its impact as the telehealth industry grows and as patients realize that most of their visits, except for special cases, can be treated by a telehealth provider.
The latter point, on the other hand, is of greater threat to the company, and especially so, because there are few switching costs, which for Teladoc can be measured in terms of a year - a typical contract length (in October, for example, the company has been reported to have lost $1.5 million worth of expired contract from a health-insurer Highmark to its competitors). For now, however, the industry is not saturated for this issue to be critical, and given the pace of growth, client churn can be expected and does not pose a real threat.
Valuation
As in my previous article, I will use the three-stage Free Cash Flow to the Firm (FCFF) model to value TDOC. Similarly, I will first provide the analyses underlying some of the most important assumptions I made in the model, which can be thought of as key three drivers of the company value:
1) Growth, defined as the growth in the rate of sales, for Teladoc is related not only to the rate it charges its customers for the so-called "per-member-per-month" (PMPM) subscription access and visit fees but also, and more importantly, to the number of members and visits (the latter, in turn, depends on the utilization rate).
Apart from its main source of revenues, there is also great potential to generate sales from marketing data analytics of population health across the US, which the company gets in real-time thanks to its health providers working off of a single platform (Institutional Investor, 2016). By the admission of the company's CEO Jason Gorevic,
Over the last couple of years, we've been able to chart the course of the flu season across the country and see where it's peaking and how severe it is.
To be more conservative in my projections, I will ignore this potential source of revenue and focus on the core engine of the company's sales.
For the next 5 years, I will assume the revenues to grow at 55%. From year 5 to year 10, this rate will linearly decline to the perpetual growth rate of 1.79% (end-of March 2016 10-Year Treasury note rate). To check the validity of the assumed growth rate, we can look at how projected revenues at the end of a 10-year horizon compare to the potential size of the industry.
To put it into perspective, I will ignore the fact that Teladoc offers a wide range of services, ranging from non-emergency medical issues to dermatological conditions to behavioural health issues, and focus only on two simple reasons of carrying out a telehealth visit - prescription refill (this reason is supported by an independent survey conducted by Harris Poll for American Well) and consultation.
According to the Centers for Disease Control and Prevention, there are about 31,269 thousand medication and consultation visits to a physician annually in the US. According to the survey by Harris Poll, 64% of respondents (a nationally representative sample) are willing to have a video visit with a doctor. Taking the aforementioned figures as well as considering the fact that an average American visits a doctor about 4 times a year (Statista, 2014) and each e-visit currently costs around $45, we can calculate the approximate revenue potential of that small segment of the telehealth industry (hence, the use of the word "partial" below):
Partial Revenues = 31,269,000*64%*4*$45 = $3.6bln
These assumptions imply there will be about 20 thousand e-visits per year, and even though Teladoc's capacity currently stands at 3.65 thousand (10-K, 2015), the platform is highly scalable, further signifying this assumption as both realistic and implementable at a higher scale.
To compare, my revenue assumption in year 10 is $1.88bln, indicating a 52% market share for TDOC. This is a conservative figure, given Teladoc's market leading position and especially when taking into account the fact that only medication and consultation visits were considered.
2) Target profitability is defined simply as the pre-tax EBIT margin (though adjusted for operating leases). Since the company's current and historic EBIT margin is not meaningful (operating profit has been negative), my earlier assumption of the industry proxy is a valuable guide to what this target rate should be approximately for Teladoc. According to the 5-year US (since TDOC's operations are in the US only) industry average figures I compiled from the current and historic data provided by Damodaran, median pre-tax operating margin for the healthcare information and technology sector is 12.85%, while for software (internet) sector it is at 18.84%. Given the above-average growth and profitability potential of the telehealth industry as a whole as well as its linkage to IT and internet (with corresponding profitability figures mentioned above), I will assume target profitability rate for the company to be 15%.
3) Efficiency of growth is computed as the ratio of sales to capital and allows calculating the size of reinvestments (net capex plus working capital) the company makes to support future growth. Once again, proxy industry 5-year median figures are valuable in forming assumptions. Healthcare IT sector (Damodaran, 2016) posted 1.24, software (internet) ratio stood at 1.21, and Teladoc's own sales to capital figure was 1.14 for the year 2015. So as to not underestimate the level of reinvestments TDOC will need on its development path, relative to the abovementioned industry proxies, I will use a lower (i.e. company's own) ratio of the three presented.
The table below presents the FCFF model valuation summary: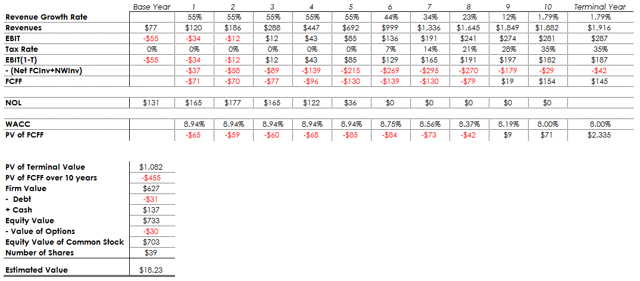 As can be seen, the estimated value is around $18, which implies that at the current price of about $12, there is an upside potential of approximately 52%.
As I already mentioned in my previous article, this estimated base value lies on a range of possible ones, given a change in the aforementioned input parameters. Following my previous logic, I conducted a Monte Carlo analysis, as a result of which I estimate there is around a 65% chance the current stock price is undervalued. This outcome further signifies the proposition that the stock is currently trading below its intrinsic value.
Variant View
Much of Teladoc's ability to generate future revenues depends on how successful its fee structure proves to be. In short, there are two contract types for potential clients: (1) PMPM subscription fee structure with unlimited visits and (2) a small monthly subscription access fee with contractually defined cost for each visit. Currently, in excess of 80% of the company's revenues are generated through subscription fees. As such, the key to the success of this revenue scheme is member utilization rate, which, though rising, stands at only 4.72%, 3.69%, and 2.05% as of 2015, 2014, and 2013 year-ends, respectively. Furthermore, higher utilization rate in 2015 versus 2014 contributed only 45% to an improvement in total visits (the other 55% are attributed to an increase in the number of members), compared to 77% between 2014 and 2013 year periods.
Moreover, one of Teladoc's major competitors MDLive has a less sophisticated fee structure based on a per visit payment of $49 and no subscription access fees (other competitors have a similar structure). Should TDOC's foresight turn out to be wrong, it is questionable the company will manage to generate double-digit growth in revenues and may even fail to retain key clients, once their typical yearlong contracts expire.
To avoid this scenario, it is important for the company to engage with its clients more thoroughly, promote member utilization figures, and show them the access fee they pay for a 3,000-physician network is valuable and worth it.
Conclusion
The outcome of this report is that I currently view Teladoc's stock as undervalued with as much as 52% of price appreciation in the future. The catalysts for materialization of this analysis are continuing strong growth figures of reported sales, at least for the next 5 years, and improving (and positive) operating profit margins.
With all this knowledge of the company's prospects in mind, we can finally consider what possible choices investors and traders have at their disposal:
1) Current shareholders should consider holding the stock, in anticipation of a likely price appreciation. Since markets can be inefficient for extended periods, this price appreciation may not be immediate, at least not until the aforementioned catalysts materialize. For those investors who considered selling the stock and may now be puzzled over what next step they should take, given the conclusions of the current report, I would suggest sticking with the stock but limit their "fear factor" by selling out-of-the-money call options at strike prices around the valuation point of $18 (this will allow collecting the premium, while the stock price is below the target, as well as participate in stock appreciation and ultimate sale, once written options are exercised).
2) For prospective investors, this is an opportune moment to buy Teladoc's shares, especially when taking into account the fact that prices have substantially declined since last summer. Once again, to limit the risk inherent in direct stock purchases, some may consider implementing a long call or bull spread option strategies. While this is a viable and less costly alternative, these strategies suffer from time decay, meaning options may expire before stock price adjustment. Since I take a long-term view on the stock, any bull-based option strategy is not something I would personally recommend.
3) Traders should avoid trading in this stock based on the conclusion of my analyses simply because of their short-term horizons, as opposed to the long-term view I take on this stock.
Disclosure: I/we have no positions in any stocks mentioned, and no plans to initiate any positions within the next 72 hours.
I wrote this article myself, and it expresses my own opinions. I am not receiving compensation for it (other than from Seeking Alpha). I have no business relationship with any company whose stock is mentioned in this article.