The automakers have been disrespected by the market for some time now as the entire sector has traded at ludicrous valuations. This, despite the fact that car sales are flying and that the companies themselves are producing handsome profits in the process. General Motors (NYSE:GM) certainly fits that bill as the stock has been trading for what I'd consider a multiple that is fit for a company that is heading out of business, as detailed back in February. The company produced a tremendous first quarter but the market seems to have shrugged it off; what are we to do now?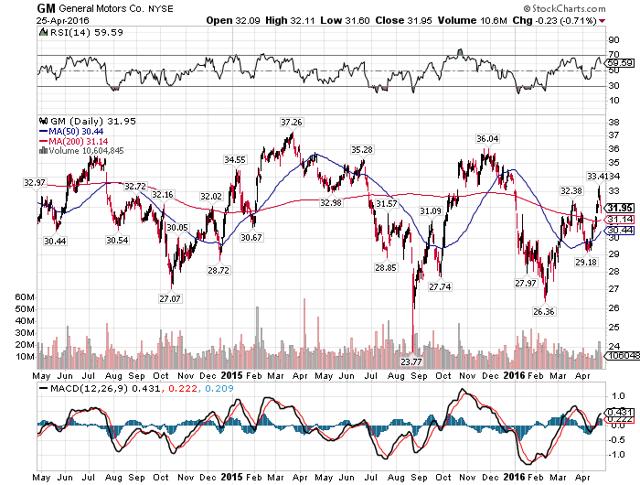 The entire auto sector has been in a bull market fundamentally for some time now but as you can see from the chart above, this has not contributed to success for GM shareholders. Ford (NYSE:F) and Fiat Chrysler (NYSE:FCAU) look much the same as investors don't seem to care how strong the industry or company-specific results are; all of these companies trade for rock-bottom multiples.
GM's Q1 was tremendous any way you slice it. Total revenue was up 4.5% as strength was seen in a variety of places. In addition, the total gains in Q1 revenue far outpaced the +1% analysts have for the entire year. GM continued its string of strong revenue performances in Q1 and the broad-based strength is something to smile about for longs.
More importantly, GM's profit levels soared in Q1. Revenue gains are fine but the automakers are not torrid top line growth stories and never will be. However, gaining scale and leveraging existing cost bases can produce outsized profit growth over time, something GM demonstrated in Q1. GM's preferred operating profit metric - adjusted EBIT - showed tremendous gains in Q1. The gross number rose from $2.1 billion last year to $2.7 billion this year as its percentage of revenue moved from 5.8% to 7.1%. That's an enormous move and if GM can sustain these sorts of gains on its fixed costs - all signs point to that occurring - we could see GM's profit levels rise at double digit levels irrespective of any revenue gains that will take place. This is the story with GM; profit levels are still at the point where there is upside and that is why GM should move higher.
GM is like Ford in that it is predominantly a North America story; while both operate in many places throughout the world, the ex-NA business is quite small for both. Fortunately, GM's NA business is flying and produced record Q1 EBIT of $2.3 billion. That's a relatively modest improvement over last year's Q1 but even so, the results speak to the fact that GM is getting stronger, not weaker, as the stock price would suggest.
In addition, the South American and European businesses achieved better results than last year's Q1 as the Europe business actually broke even. South America was very close to breaking even but as these money-losers get out of the way of the NA business, GM has more room for its consolidated profit to continue rising. Removing the anchors of the international businesses such that they at least break even is key to GM's continued profit growth. Europe achieved that in Q1 so we'll look for SA to do the same thing later this year.
GM's strength - its SUVs, trucks and crossovers - continue to do very well. That's not only key for revenue generation - as these vehicles carry higher sticker prices than passenger cars - but also carry higher margins as well. GM lives and dies by the success of its bigger vehicles and with continued strength in those categories as well as persistently low fuel prices, it would seem the strength is going to continue. The fact that gas prices continue to remain at low levels with no end in sight means GM should be very well positioned for continued growth in the higher end, larger vehicle categories. That presents some upside potential on sales and margins this year.
The fundamental picture certainly improved in Q1 but what about the stock price? Analysts raised estimates for this year following the Q1 report and rightfully so; the fundamentals we've discussed warrant that kind of move higher. And with the flat stock price, GM is now trading for just 5.7 times this year's earnings. This, despite the fact that EPS is expected to rise in the double digits and that adjusted EPS rose from 86 cents last year to $1.26 in this year's Q1. The pieces are certainly in place for GM to beat those numbers this year as the international businesses continue to improve and gas prices remain low. I think there is upside to basically flat revenue growth for this year and that means upside for EPS as a continued mix shift towards larger vehicles drives both.
While GM's 4.8% yield isn't quite as high as it was last time I visited the stock, it is still certainly within the upper echelon of dividend stocks. The yield is enticing and quite safe at this point as GM has loads of excess liquidity despite the fact that the auto business is notoriously capital-intensive. The dividend is here to stay and that means that if you're looking for yield, you can do much worse. But now that analysts are beginning to catch on that GM is an earnings growth story again, I don't think we'll get another chance to buy GM at a 5.5% yield. As a consolation prize, 4.8% is still quite desirable.
GM is still stuck in its multi-year range but as investors continue to digest its strong results and examine its robust yield, the breakout should come to the upside. Recent momentum is strong and with GM firing on all cylinders, we could see a run at $40 later this year with a strong Q2 report. GM has a rare combination of strong profit growth, ridiculous valuation and nearly 5% that is difficult to replicate and that makes it worth a look for your portfolio.
Disclosure: I am/we are long GM.
I wrote this article myself, and it expresses my own opinions. I am not receiving compensation for it (other than from Seeking Alpha). I have no business relationship with any company whose stock is mentioned in this article.