A compelling story came out of Australia for Anavex Life Sciences Corp. (NASDAQ:AVXL), which caused the stock to move up 16% on Monday. In addition to one Alzheimer's patient regaining the ability to paint, another was able to play the piano once again after being treated with ANAVEX™ 2-73. These feel-good stories resonate with investors like myself who like to invest in speculative biotech companies.
Unfortunately, these types of exciting speculative investments have burned me in the past. What I have learned about investing in these early stage biotech and healthcare companies is it's not so much about the science - but about who is funding the company - that determines where a stock price is headed. After looking into the main financier of AVXL, I avoided buying the stock and actually went short as I am confident that any price increase will not last.
This article is not about the science nor about past supporters or detractors of the company. The science is compelling enough to support an early stage biotech stock with a market cap in excess of $200 million. Over a year ago, I wrote an article about Novogen Limited (NVGN) and its experimental cancer drug with equally compelling science and a feel good story coming out of Australia. The company's very own CEO at the time tried the drug on himself. While AVXL is further along with a Phase 2a study and NVGN is pre-clinical, I believe the market cap of AVXL that's more than five times larger than NVGN fairly reflects that.
There may be something to AVXL's science, but in this weak biotech market, many companies that are years away from a marketable product with heavy financing needs in the short term are trading at low market caps as investor speculation has become far less euphoric than it was a year ago. There is no reason to think that AVXL should be exempt from that. If even the most bullish investor can agree that the fastest track to marketing approval is realistically at least $100 million and a few years away, then Anavex will be highly reliant on the capital markets with a cup-in-hand until then unless a partnership can be reached.
This is where the investment thesis falls apart for AVXL. The company requires a lot of cash and is not going about it the best way for long-term shareholders. According to the latest 10-Q for the period ended December 31, 2015, here are the terms of the $50 million financing with Lincoln Park Capital Fund, LLC:

Other than the 179,598 AVXL shares submitted upfront to LPC as a "fee" for agreeing to this deal and up to 89,799 shares prorated for the amount of $50 million it actually purchases, this deal appears to be pretty upbeat in tone. The company "at its sole discretion" may direct Lincoln Park Capital to purchase up to 50,000 shares of common stock on any business day. The conclusion for many longs was that LPC must have done its due diligence in order to commit $50 million to AVXL under what appears to be very favorable terms for the company. Well...
Here is a news release from Nephros, Inc. (OTCQB:NEPH) on July 27, 2015:
Nephros...announced today that it has entered into a purchase agreement with Lincoln Park Capital Fund, LLC ("LPC"), a Chicago-based institutional investor. Under the terms of the purchase agreement, over a 36-month term, Nephros will have the right and the sole discretion to sell to LPC up to $10 million worth of shares of Nephros common stock in amounts as set forth in the agreement. Nephros will control the timing and amount of any future investment and LPC will be obligated to make purchases in accordance with the agreement.
This agreement is almost word-for-word the same as AVXL's and yet it hasn't worked out so well for NEPH as the stock has tanked from $0.64 to $0.26 since then. Now that's just one OTC stock, but if you do a search on the terms "Lincoln Park Capital Fund" and "sole discretion" for the past year, you can see several financing deals undertaken by the firm in the same spirit as AVXL and NEPH:
In addition to AVXL and NEPH, Lincoln Park Capital took part in eight other financing deals in the past year for a total of $206 million. Lincoln Park Capital Fund must have an incredible cash resource available to be able to buy $206 million worth of stock at the sole discretion of ten different companies. Especially since nine of those stocks have dropped in price since they were announced. Right... RIGHT?
The more logical argument is that no investor in his/her right mind would invest like this. Lincoln Park Capital Fund does not plan to invest $50 million into AVXL based on solid due diligence and excitement over the company's intellectual property. The financing that AVXL and the rest of these companies undertook with LPC is toxic or at least dilutive in that shares are meant to be spread into retail hands as soon as possible. Lincoln Park Capital is not an "investment fund" in that it seeks to hold long-term investments. It's a fund that makes its living finding companies desperate for financing then offers money at terms for which it knows it can easily profit through arbitrage by selling them on the market as quickly as possible. The more deals it signs, the more incentive it has to churn through volume of stock quickly, rather than hold massive amounts of stock.
Lincoln Park Capital also has incentive to short a company's stock. After all, if a company can pick and choose when LPC is to buy, it's better for the firm to get it at a lower price rather than a higher price, especially if it can cover some of its short position with newly issued shares. Looking at three comments from the Ripoff Report, the fund has been accused of short selling, including by one person who by the tone of the message appears to be a company executive who unwittingly did a deal with LPC back in 2012:

The sample size of three angry company executives or shareholders complaining on a website dedicated to uncovering shady business practices is hardly enough evidence to suggest that this is definitely LPC's business plan. But the method followed by LPC is not important to the thesis of this article. All we need to know is that Lincoln Park Capital is a firm designed to profit from arbitrage of cheap shares through dilutive and potentially toxic financing, not through long-term investment, and that business plan consistently leads to major share price declines for the companies that get involved.
One could say that maybe my sample size of ten companies throughout the past year is not exhaustive enough, but I assure you that anyone who wishes to do the research on LPC's past transactions will not dig up anything that entails a positive future for AVXL's stock price. Adam Feuerstein, a known critic of AVXL, has written about Lincoln Park Capital in a 2014 deal with Galena Biopharma, Inc. (GALE) and listed off several companies that also dropped in stock price after financing with LPC. GALE currently trades at $1.40, which is actually a fairly benign 26% drop from $1.89 when the financing with LPC was first announced 18 months ago. Perhaps AVXL's involvement with LPC was a signal for Feuerstein to have a short bias against the stock because he is well aware of the pattern when this fund gets involved.
Going back to the data that I have collected, the chart below summarizes the ten deals along with the market cap, the amount of financing proposed in each deal, the stock price the day the deal was announced and where the stock closed on Monday along with the percentage return: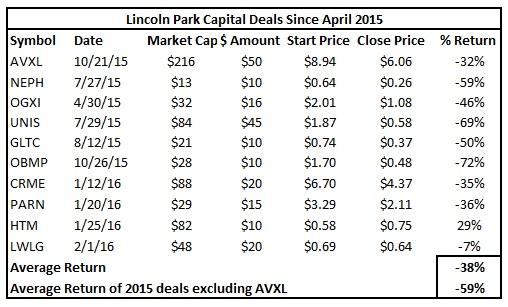 Two trends should be quite disturbing to AVXL shareholders. First, while the deals done in 2015 may have had a short-term spike in the stock prices for the companies involved a day to a couple of months after the financing was announced, they all have dropped quite significantly since. While the average return on the ten stocks are -38%, that average is boosted by the recent deals in 2016 where those four stocks haven't had much of a chance to tank yet. The five deals struck from April to October 2015 excluding AVXL have averaged a drop of 59%. AVXL's -32% is at risk of going a lot deeper into the red as time goes on.
The second trend is that of market cap. AVXL has a market cap of $216 million, which is more than double that of the next largest company on that list. The nine other companies average a market cap of $47 million, nearly five times smaller than AVXL. The market, which is 75% held by retail shareholders (only 2.8% of the float is held by institutions), is telling AVXL that it should be above resorting to Lincoln Park Capital for funding. This is a fund that specializes in financing nano-cap and mostly OTC companies. If AVXL management is behaving like an OTC company, then perhaps it is due for a 50% or greater shave in its market cap to reflect such behavior.
If AVXL's intellectual property is so great, why does the company have to resort to vulture capital financing?
Judging by comments I have seen on other articles, supporters of AVXL are going to rebut the argument I have presented here by talking about the science. I've seen a few comments where longs claim to know better than the market. Perhaps some of them are in the medical field and may be well versed in Alzheimer's Disease. This is all well and good, except if AVXL's intellectual property is so great, why has it had to resort to LPC for funding? There are three reasons, which I can think of:
The company's IP is not compelling enough to attract real institutional investors.
The company is naive and doesn't know what it is getting into.
The company knows exactly what it is getting with LPC and is seeking financing from the fund anyways.
None of these three choices are particularly great ones for longs. The news about the elderly Alzheimer's patients regaining abilities once thought to be lost forever as described in the first paragraph of this article has gotten the retail market engaged in the story, but as mentioned previously, institutional ownership of AVXL is only 2.8%. If the science had true basis beyond a very experimental stage at this point, the company should have been able to attract a real biotech venture capitalist to invest at least a part of the $10s of millions needed to keep the clinical trials and research going. The company's inability to do so speaks to the lack of interest in its IP from big money.
Perhaps AVXL could get real investors if it sought them out, but maybe the company is naive and has once again chosen LPC to rely on funds just like it did in 2013. This option, while better than a lack of interest from the market, would show the inability of management to lead the company. Outside of the lead scientists, the executives' sole responsibility is to raise funds at as favorable terms as possible to feed the hungry beast that is Alzheimer's research. It's not like the company executives have anything else to do like forecast revenues or manage costs at this stage. Settling for LPC financing when other options may exist is a complete failure of management, if that's in fact the situation that has occurred.
The third option may have merit based on LPC's track record and AVXL's past relationship with the fund. As part of the deal, LPC is required to buy 50,000 shares in a day upon AVXL's request, as long as LPC didn't buy shares the previous business day. This leads well into other people's accusations that the company is involved in orchestrated pumps of the stock price. Hey, if you're trying to pump the stock, there's nothing like having an option to force someone to buy some shares out of treasury in a day "at any price" to try to build up cash reserves! As shown above, short-term pumps on other LPC-funded stocks have consistently been erased soon thereafter, with new 52-week lows not far behind. We know that LPC isn't in business to lose money, so it's going to pass on its high-priced shares forced onto it to retail shareholders as soon as possible.
So this relationship with LPC suggests to me that AVXL is either naive, trying to set up a pump or if it has truly exhausted all other possibilities and has had to unwillingly resort to LPC for financing, it shows that the science is not compelling enough to interest big money biotech investors. None of these three options support a bullish outlook on AVXL.
When a company uses vulture instead of venture capitalists, the quality of its technology doesn't matter. As long as the company is cash flow negative, capital will be needed. And if capital is garnered only through LPC which has proven to be very dilutive, the stock is not going to go anywhere but down in the long term.
I am short (through a long put option position) not because I dislike the potential of the science, but because the financier AVXL has chosen to deal with has consistently destroyed value for long-term shareholders of many other companies. It's absurd to think that AVXL will be some magical 1 in a 100 exception to the Lincoln Park Capital trend. The 16% bump seen on Monday due to the performance of AVXL's miracle drug will probably be short-lived. I expect AVXL to be trading at $4 or less by the end of the year.
Disclosure: I am/we are short AVXL.
I wrote this article myself, and it expresses my own opinions. I am not receiving compensation for it (other than from Seeking Alpha). I have no business relationship with any company whose stock is mentioned in this article.