Introduction
I don't think Barrick Gold (NYSE:ABX) needs any special introduction as even the non-mining investors do know the company as one of the to go to names in the precious metals sector. Barrick had to navigate through a difficult 2014 and 2015 as its high debt load had to be dealt with. The company has now released its financial results of the first quarter of this year, and that provides me with an excellent opportunity to review the operational results as well as the situation on its balance sheet.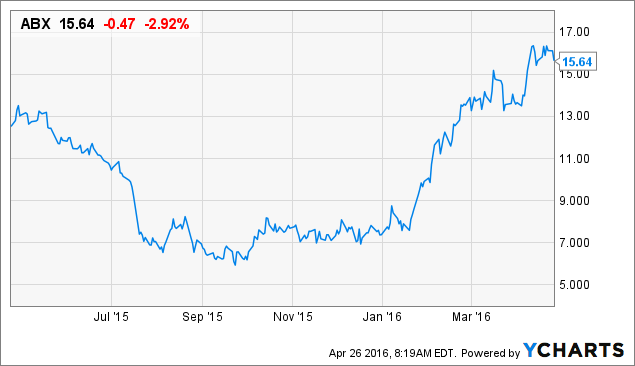 ABX data by YCharts
The lower fuel costs and increased efficiency boosted the operating margin
Barrick Gold's first quarter seemed to be pretty decent as the company produced 1.28 million ounces of gold at an AISC of $706/ounce. Especially the all-in cost is a very positive surprise as this is much lower than expected due to 'ongoing operating and capital cost savings'. However, you should keep in mind this will be a one-time event, and the AISC will very likely increase by in excess of 10% in the remaining three quarters of the year.

Source: press release
The full-year guidance has also been updated; the production guidance remains unchanged at 5-5.5 million ounces of gold but after an excellent first quarter, Barrick has now reduced the AISC guidance to $760-810/oz (from $775-825/oz). If I would use the lower end of this guidance as base case scenario, the average AISC in the next three quarters would increase from $706/oz in Q1 to $778/oz. Still doable, but keep in mind the margin will contract a little bit.
The total revenue in the first quarter was $1.93B, resulting in an EBIT of $325M. That's 20% lower compared to the same quarter in the previous financial year, but in Q1 2016, Barrick's expenses increased by $139M due to a forex loss of $139M, pushing the bottom line into the red territory as the net loss attributable to Barrick's shareholders was $83M or 7 cents per share.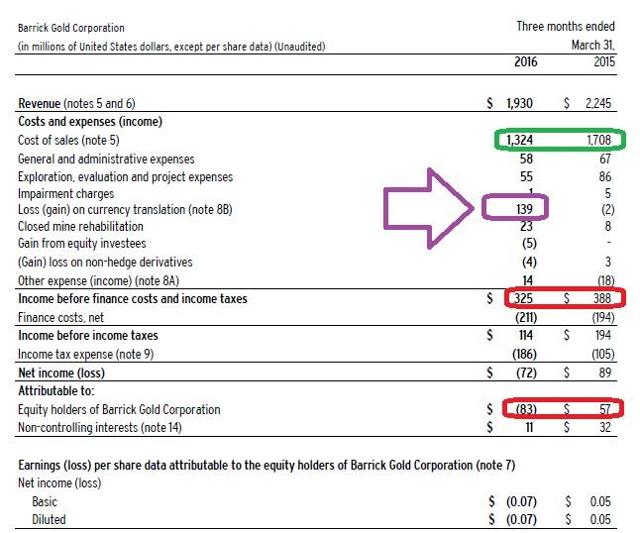 Source: financial statements
If this forex loss had been avoided, Barrick would very likely have posted a positive financial result and a net profit for the first quarter of this year. That's actually a very encouraging sign and as Barrick hasn't broken down its 'cost of sales' into expenses that have effectively been made and depreciation/depletion, I was very anxious to see how the company's cash flow statement looked like, as I was expecting a substantial amount of positive free cash flow (compared to the net loss).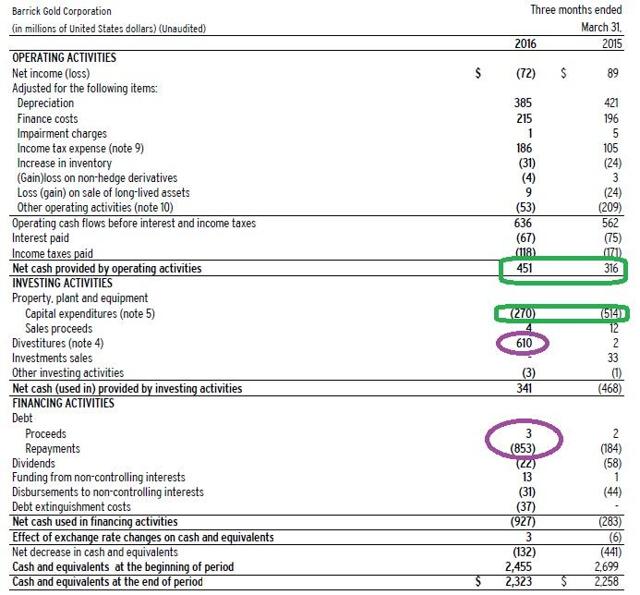 Source: financial statements
And, well, Barrick's situation definitely improved. The operating cash flow increased by more than 40% to $451M and as the capital expenditures fell by in excess of 40% as well, Barrick was free cash flow positive in the first quarter. Whereas Q1 2015 resulted in a net cash outflow of $200M, Barrick generated a positive free cash flow of in excess of $180M in Q1 2016. That's indeed a pretty good result and as Barrick also reported a $610M cash inflow from the sale of some US-based assets to Kinross Gold (NYSE:KGC), I did expect the net debt position to remain under control.
How is the debt situation evolving?
And indeed, that was definitely the case. As of at the end of the first quarter, Barrick Gold reduced its net debt to approximately $6.8B, which is a decent improvement compared to the net debt of $7.5B as of at the end of last year and the $10.4B at the end of FY 2014.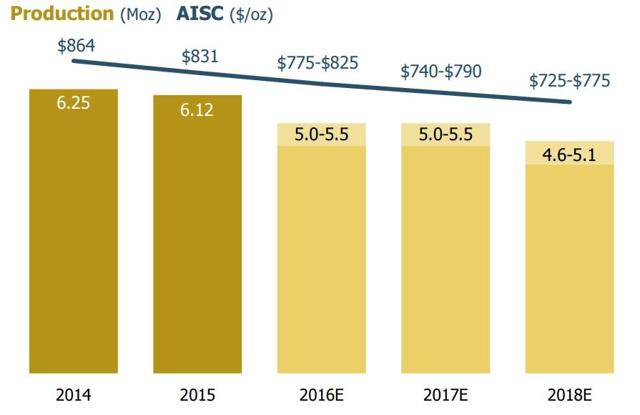 Source: company presentation
As the EBITDA in the first quarter was almost $700M, it does look like the net debt/EBITDA ratio will come in below the 2.5 on a full-year basis, and as the net debt should continue to decrease on the back of the free cash flow in the next three quarters (slightly boosted by a higher gold price as well), I wouldn't be surprised to see the ratio to fall towards 2 by the end of this financial year.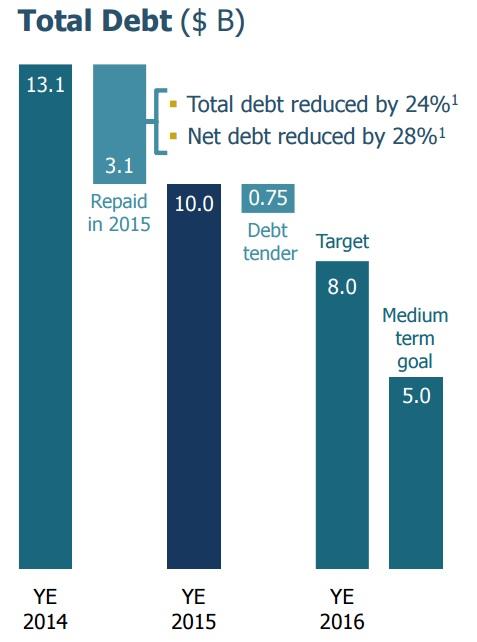 Source: company presentation
So it does look like in just two years Barrick Gold will have slashed its debt by 40% to less than $6B and this will reduce the total amount of interest expenses as well. After the company's program to reduce the net debt in 2015, it is now already saving $180M per year on interest expenses, and this cost saving will increase towards $225M (or even higher) by the end of this year.
Not only will this provide a substantial boost to Barrick's free cash flow, it also has an important impact on the fully-loaded production cost per ounce of gold. After all, on a production rate of 5 million ounces of gold, slashing the interest expenses by $225M per year results in the company being able to reduce its cost per ounce by $45!
Investment thesis
Barrick Gold is still moving in the right direction, and the market has rewarded the company by seeing its share price double in the past few weeks and months. The share price seems to be stabilizing now at around $15-16/oz, and this does seem to be relatively fair (and even a little bit expensive) based on the current gold price.
The continuous reduction of the net debt is a very positive feature, and Barrick Gold is currently gaining back the credibility and trust it had lost in the past 24 months.
Disclosure: I/we have no positions in any stocks mentioned, and no plans to initiate any positions within the next 72 hours.
I wrote this article myself, and it expresses my own opinions. I am not receiving compensation for it (other than from Seeking Alpha). I have no business relationship with any company whose stock is mentioned in this article.