On December 5th, I published my first article on Boston Beer (NYSE:SAM). In that article and in subsequent articles, I made two theses clear on why I was negative on the fundamentals of the business. The first was that the hard cider category was a bubble in the process of bursting. Because Angry Orchard is the largest brand in the cider category (58% market share) and it is the brand that built the renaissance in the category, I expected this to hurt Boston Beer.
Anecdotally, I was cursed at on Twitter (NYSE:TWTR) by an actual cidery for my bearishness on the category. If I would have made such statements in 2014, they would have ignored me because sales were growing exponentially. I think it's a sign sales were beginning to weaken, so they lashed out at me. I highly doubt anyone read my articles and changed their drinking patterns (this is what I was accused of doing).
The second thesis was that Sam Adams would lose market share because of the increased level of competition. You can see I was correct in both theses by simply looking at the stock's performance in the past few months. Since I made my original recommendation to sell Boston Beer, the stock is down 25%. I remain bearish on Boston Beer because of the creative destruction of capitalism. Boston Beer was part of both the creation of the craft beer category and the hard cider category being as successful as it has been. This created a first mover advantage. What was good for craft beer was good for Boston Beer. Now there is too much competition and it is eating into Boston Beer's volumes.
As a consumer products firm, you don't want your customers to be interested in trying new things. You want them to be loyal and not put much thought into their choices. This is why a firm like Colgate (NYSE:CL) has great brand strength. When I go to the store, I don't put much thought into which toothpaste I buy. I personally always choose Crest. However, when I go into a bar, I always want something new. Judging based on my experience as a bartender, I'd say that those who drink a product like Bud Light are very loyal, while those who drink Sam Adams want a more flavorful beer and are constantly trying new products.
While it is nice from a modeling perspective to predict the hard cider category will stabilize and show moderate growth over the next few years, this isn't how changes in tastes work. A drinker isn't going to go from having four Angry Orchards per month to three per month. They're going to go from drinking four Angry Orchards to zero Angry Orchards and four hard sodas. The hard soda category will last a few years before a new category catches on.
Boston Beer was in an amazing situation with Angry Orchard because it drove changes in consumer taste. However, it cannot control the consumer forever and will have to chase consumer patterns by discovering what is popular and bringing products to market in that category. This is why Boston Beer has a smaller market share in hard soda than it has in hard cider. Coney Island Root Beer is not making up for the declines in Angry Orchard (this is also because it's a smaller category).
Looking at the numbers, Angry Orchard sales declined 10% YoY in December, which is seasonally a strong month. In the first 13 weeks of the year, Angry Orchard had a 14% decline in sales YoY. This year-over-year deceleration of sales while maintaining market share indicates rapid declines in the category. I expect this decline to continue until at least the fall where it begins to face easier comparisons. It's difficult to predict consumer tastes, but I don't see a reason for a turnaround. As you can see from this Google Trends chart, hard cider is experiencing lower peaks.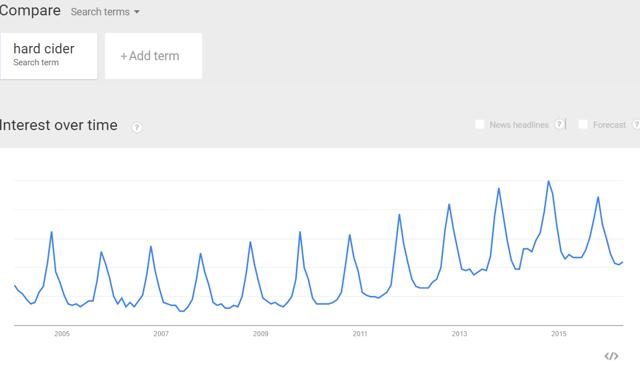 Instead of trying to rekindle a category that was a fad, Boston Beer must try to get ahead of the next trend that comes after hard soda. I think the high sugar content in hard soda will make it out to be an overall smaller fad than hard cider in terms of peak market share and total time of accelerating growth.
The 2016 attempt at creating new buzz around a product was the launch of the Nitro products, which have smaller bubbles, which supposedly make for a smoother tasting drink. After reading about this product for my last article, I was not excited about it. I felt it was a gimmick more than an amazing new initiative. You can have Jim Koch tell you about the three years of research and development that went into creating the widget for this product, but the proof is in the sales data. The firm said the ramp up in sales has been slower than expected. With a soft initial launch, I don't expect this to be a major product. The key part of the success of the hard cider category fad was getting new drinkers to try the product. If new drinkers aren't interested in trying the product after a few weeks after the launch, I don't see it ever catching on.
The one new product that has hit the sweet spot in the market was the Sam Adams Rebel Grapefruit IPA. This category of fruit-based IPAs is growing rapidly. Boston Beer needs to scrap the nitro project and focus on this category with as much research and development as possible. It's best if management tries to follow along trends in the midst of trying to create new ones in order to avoid having down years when their new initiatives don't work out.
I would compare Boston Beer to Netflix (NASDAQ:NFLX) in the sense that Netflix needs its new movies to be hits or else it has a huge sunk cost in content creation. With the advent of the internet, the competition with Netflix is endless. With the advent of microbreweries, the competition with Boston Beer is also endless.
Moving back to Sam Adams, its volumes are declining because the number of craft breweries is expanding exponentially. According to Jim Koch, the number of craft breweries is currently between 4,500 and 4,800 and he expects it to reach 10,000 over the next two or three years. This means the competition will be fierce over the medium term and Sam Adams won't be able to regain its market share footing.
However, according to Koch, the retailers and distributors are running out of space for new products. Craft is now peaking at between 30% and 40% of volumes as retailers have found that adding an additional tap line doesn't add to sales. This may be the saturation point, but through Boston Beer's surveys it found that the number of lines increased by 10% while the sales per line are down by about 13% which is bad for Sam Adams.
This is consistent with how capitalism works. Craft breweries responded to the demand for new types of beer. Sam Adams was able to capitalize the most on this trend because when it first started it had large market share. Then over the next few years, starting in about 2009, the rapid acceleration tore into Sam Adams' market share. Now we're getting to the point where the demand has been met effectively by supply and the additional new breweries are going to have to fight for a static amount of market share. This is why the average sales per line have begun to decline.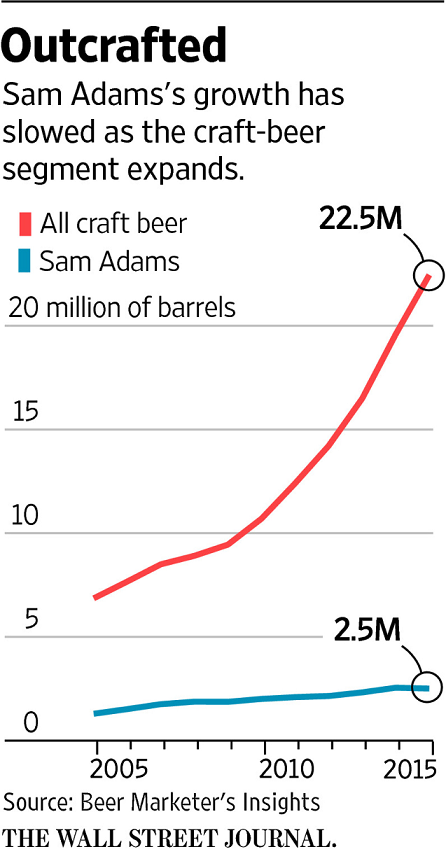 The individual players in the market have not yet responded to the indicator total demand has given it. This is a classic case of the latest movers in the marketplace having the highest failure rate as the trend matures. I think most of the 5,000 additional players in the space will fail. Then there will be more stability in the market and Sam Adams will stop losing market share. With the experience it has in creating new products, it should be able to turn around the business. The key is to see at what point the number of new breweries stops increasing.
There is certainly a 'coolness factor', which needs to be understood. While starting a brewery is a boring and repetitive process and has a lot of regulatory hurdles, it still is a very enticing business for young entrepreneurs to get involved with. After all, the reason why the craft category is so popular to begin with is people are passionate about the beer they drink.
The bottom line looked ugly for Q1 as net income of $7 million was a $6.7 million decline from last year. The press release didn't even have what Q1 income was in 2015 probably because it looked so bad. The reason why the comparison was so bad was because the firm had planned on much higher sales meaning it raised its fixed costs to sell through more product. Q1 is the slowest quarter, so these higher fixed costs had a very negative impact on the firm. The company has plans to go through a restructuring to lower costs this year. This is code for saying the sales are so bad it has to re-adjust the business.
Jim Koch compared this time period to the late 1990s where the firm used the decline in sales to focus on running the business more efficiently. This allowed gross margins to increase from 51% in 1999 to 56% in 2000. While I have faith the firm will be able to increase margins again, the key will be if the sales once again bounce back. I think they may bounce back in two or three years when the amount of competition declines. I don't believe Angry Orchard will even reach its peak again, but the company can survive this impact. I also believe in a year or two the Coney Island Root Beer will also peak as the hard soda fad ends. I would avoid Boston Been stock for at least the rest of 2016.
Disclosure: I/we have no positions in any stocks mentioned, and no plans to initiate any positions within the next 72 hours.
I wrote this article myself, and it expresses my own opinions. I am not receiving compensation for it (other than from Seeking Alpha). I have no business relationship with any company whose stock is mentioned in this article.