When February's Existing Home Sales were reported last month, I proposed that the very disappointing result was likely anomalous. Given various bits of evidence and my experience and familiarity with the phenomenon, I thought the significant stock market turbulence and decline to start the year caused a negative feedback loop that stalled consumer spending in February, especially for major purchases like homes. Well, March's Existing Home Sales data was reported last week, and it produced a much improved result. Given the level of fear that pervaded through financial markets this past winter, I believe it is probable that the stock market's strong recovery this spring is serving to reinvigorate consumer spending now. Most importantly, for the whole of 2016, we expect housing to continue to expand and sales to continue to increase for a multitude of reasons.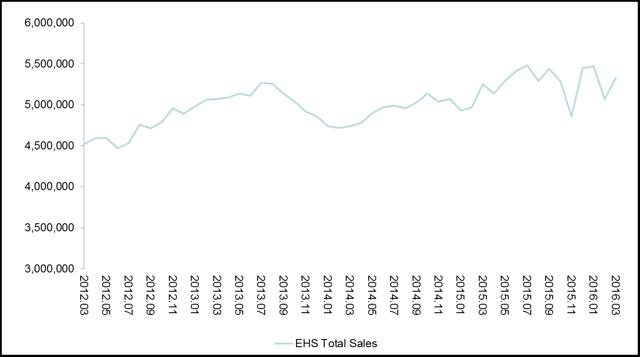 Monthly Home Sales from NAR Statistical Data
March Existing Home Sales were reported last week, and they showed a stark improvement over the disconcerting data reported in February. The annual pace of existing home sales increased 5.1% month-to-month, to 5.33 million. You can see in the chart here that sales rebounded from an extraordinarily low reading for February.
There were two relatively recent tangential dips in sales activity, one in November 2015 and another in February. We exposed the November anomaly for you in this report, Be Unfazed by the Existing Home Sales Slip. That extraordinary month was the result of new regulation and the drag it placed on activity as market participants adjusted to it.
In my report, Existing Home Sales Collapsed in February - Why You Can Rest Easy, I presented my theory about the negative feedback loop that I believed was responsible for drag more recently. The stock market started 2016 with a severe shakeup, and stocks marked a significant and concerning low in the first third of February. It may seem distant now, but at the time concerns were so acute that negative interest rate monetary policy (NIRP) was being debated by media and the market, not to mention congressional members and the Chair of the Federal Reserve. By the way, that discussion only exacerbated matters, and when it was finally dispelled, stocks could begin their march higher to this year's highs touched just last week.
The February dive in existing home sales was not as sharp as in November, but it was still highly concerning, with sales falling to a pace of 5.07 million (revised last week from 5.08 million reported initially). In our report last month, we suggested that as stocks recovered into the spring, home sales data should as well due to the fundamental supports we saw within even last month's existing home sales report. We noted also that economic data, namely consumer spending, should improve broadly speaking. That has not necessarily been the clear cut case across all data yet, but I expect that as we push forward, it will be. Housing data, anyway, has supported our view for the true and better state of affairs for the asset class.
The National Association of Realtors (NAR) stated the sales recovery was led by rebounds in the Northeast (+11.1% month-to-month) and Midwest (+9.8%), which were the same two regions hardest hit in February. We offered up the possibility in the last report that weather might have played a role somehow as well, and certainly the result this month would seem to at least keep that possibility alive. However, it's also notable that the New York and Chicago areas are the centers of the financial markets, and each were shaken by the trough marked for oil, commodities and stocks in February. Many jobs are tied to the financial markets in one way or another in New York and Chicago, sometimes indirectly, and this leads to an acute sense of awareness of financial market performance in the two regions. That in turn could impact consumer behavior, especially when financial markets performance is extreme, as it was in February. Lawrence Yun, Chief Economist of the NAR, seemed to agree with my point of view this month, stating,"… a segment of would-be buyers at the upper end of the market appear to have been spooked by January's stock market correction." Back in February, the NAR made no mention of this possibility, but appears to agree with my assessment today.
Last month, the NAR speculated that tight housing inventory might have been behind the period's soft sales, but we noted that inventory actually increased in February on a national basis; perhaps there were regional variations. It certainly is possible that it is taking prospective buyers more time to find a home that they like given tight supply. However, that does not necessarily show up in the national numbers, given that properties stayed on the market for just 47 days in March, a decrease from 59 days in February and 52 days in March of 2015. Tight inventory simply supported faster sales of homes that came to market in March, whereas in February that was not the case.
Like in February, in March, we saw inventory continue to increase. In March, the increase was by 5.9% to 1.98 million existing homes available for sale, which was still 1.5% lower than the prior year period. Unsold inventory was at a 4.5 month supply at the current sales pace, whereas in February it was 4.4 months.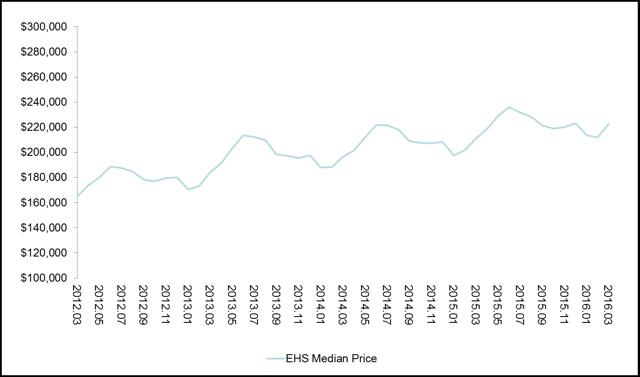 Monthly Median Prices of Home Sales from NAR Statistical Data
We explored the possibility that tight supply had finally pushed home prices to a breakpoint where they were possibly turning away prospective buyers. But I suggested last month that we would be able to tell this if we saw home prices plateau near-term. In March, however, the median home price for all existing home types increased by another 5.7% year-to-year, to $222,700. March marked the 49th consecutive year-over-year price increase. Importantly, we can see in the chart here that prices increased against February's levels as well. If prices decreased sequentially we might be able to make this case, but what we see here instead is seasonality.
Sample of Housing Relative Shares
SPDR S&P Homebuilders (NYSE: XHB)
iShares US Real Estate (NYSE: IYR)
D.R. Horton (NYSE: DHI)
K.B. Home (NYSE: KBH)
J.P. Morgan Chase (NYSE: JPM)
Wells Fargo (NYSE: WFC)
MGIC Investment (NYSE: MTG)
Radian Group (NYSE: RDN)
Investors Title (NASDAQ: ITIC)
Home Depot (NYSE: HD)
iShares Mortgage Real Estate (NYSE: REM)
Invesco Mortgage Capital (NYSE: IVR)
New Residential Investment (NYSE: NRZ)
It appears seasonality and/or the negative feedback loop phenomenon were responsible for the dip in activity in February, and so investors can rest easy. More importantly, real estate investors can look to the realities of the economy and the real estate market for justification to expect continued growth. The labor market is as healthy as it has been in a decade, and the rising cost of rental units is increasingly making the case for home ownership. Plenty of pent-up demand exists for housing in America because of the last decade, and banks are finally freeing up capital beyond government regulations to allow them to lend more freely. Mortgage rates remain at historical lows despite the Federal Reserve's plans to tighten monetary policy. And despite recent variability in GDP forecasts, growth continues to be projected for America. As a result, I believe real estate investors can continue to expect and plan for a healthy and robust industry in 2016, with ongoing growth in housing. As we have seen here, the February dip in activity was anomalous and the true state of housing is in America is good. I cover the real estate market closely and invite interested parties to follow my financial column here at Seeking Alpha.
Disclosure: I/we have no positions in any stocks mentioned, and no plans to initiate any positions within the next 72 hours.
I wrote this article myself, and it expresses my own opinions. I am not receiving compensation for it (other than from Seeking Alpha). I have no business relationship with any company whose stock is mentioned in this article.