On Monday, Valeant Pharmaceuticals (NYSE:VRX) announced that it has named Joseph C. Papa as its next Chairman and CEO to succeed J. Michael Pearson at the beleaguered drug company. Papa resigned from his position as Chairman and CEO of Perrigo (NASDAQ:PRGO) on Sunday after nearly ten years as the company's CEO. Perrigo has since separated the roles of its Chairman and CEO and has appointed Laurie Brlas and John T. Hendrickson, respectively to these two critical positions. Brlas has been a long time board member at Perrigo and currently serves as the EVP and CFO of Newmont Mining (NYSE:NEM). Hendrickson has been at the company since 1989 in increasingly senior roles and has most recently served President of the firm. Shares of Perrigo sold off by 15.5% on Monday as investors are certainly troubled by the departure of Papa as he has been pivotal in the company's recent strategy including the company's 2013 inversion/merger that redomiciled the firm to Ireland while also successful fending off Mylan (NASDAQ:MYL) in its hostile pursuit of Perrigo. This executive transition announcement comes just one day before Perrigo's annual meeting and investors are clearly wary about this major change. Hendrickson clearly has experience with the firm's operations and history, however time will tell if he is ultimately as successful as Papa has been. In conjunction with an overall weakness in the pharmaceutical sector, shares of Perrigo have fallen by 46.9% over the past year and hit a new 52-week low on Monday.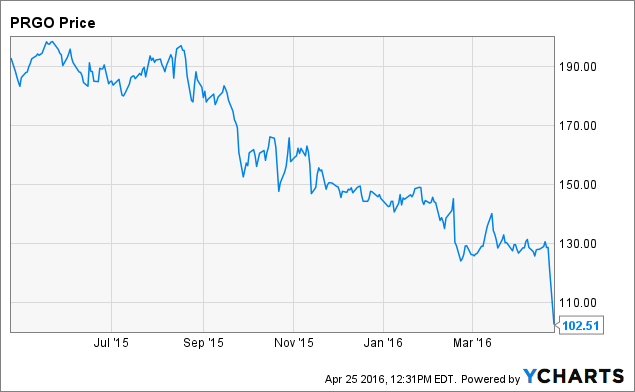 In conjunction with the company's executive transition announcement, Perrigo announced preliminary Q1 2016 results as well as FY 2016 guidance. For 2016, Perrigo sees adjusted EPS coming in at between $8.20 and $8.60 per share which represents healthy growth from 2015, but is materially different from non-adjusted guidance. Before adjusting for certain items, Perrigo anticipates that EPS for 2016 amounting to between just $4.09 and $4.49 per share. The major discrepancy involves the required amortization of intangibles acquired as part of a previous transaction as well as smaller restructuring charges and losses in businesses classified as held for sale. The firm plans on reporting full Q1 2016 results on May 12th and this should provide further clarity on the company's operations and vision.
Perrigo has experienced rather unpredictable financial results in recent years and the company trades at a meaningful valuation premium to its peers. Looking at both TTM PE and EV/EBITDA ratios, Perrigo is more expensive than a number of comparable firms.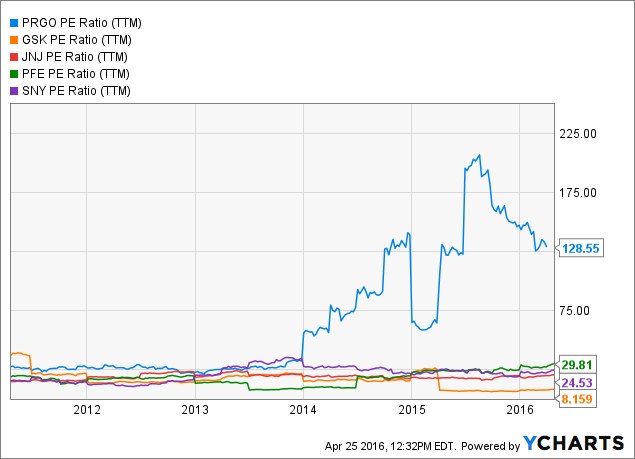 PRGO PE Ratio (NYSE:TTM) data by YCharts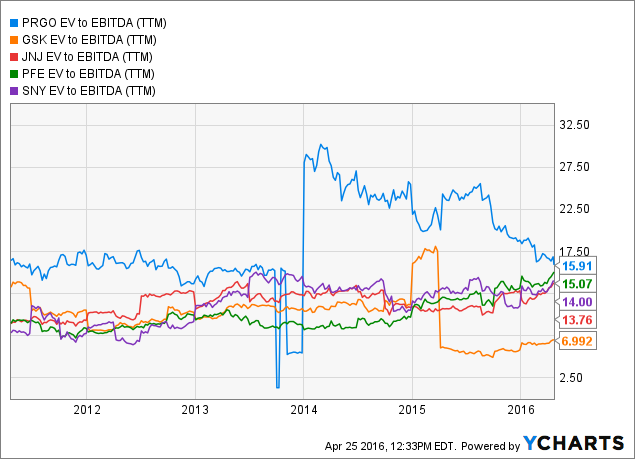 PRGO EV to EBITDA (TTM) data by YCharts
While Perrigo's recent results are likely not indicative of the firm's potential, recent guidance is somewhat encouraging. Excluding the aforementioned one time charges, the company's 2016 results should remain solid and represent healthy growth from its 2015 results. Furthermore, looking at the company's TTM cash flow from operations paints a more representative as the company's results have been significantly impacted by non-recurrent charges.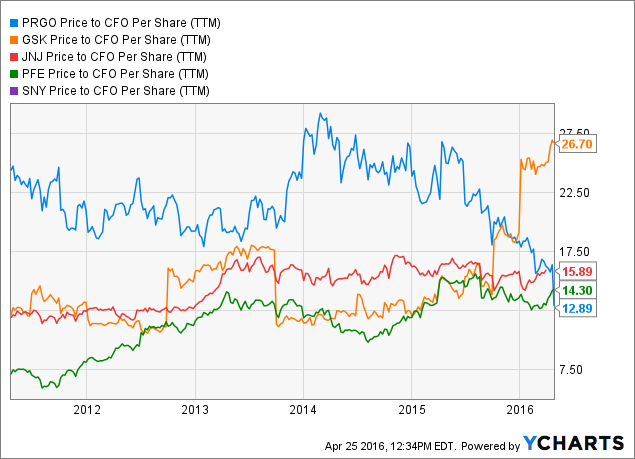 PRGO Price to CFO Per Share (TTM) data by YCharts
Perrigo has been effective in building a number of key and recognizable brands in the OTC health market and is targeting a number of key areas for expansion. One major advantage that Perrigo has to its peers is its attractive domicile including much lower tax rates than in the United States. Inversions like the one that Perrigo completed in 2013 have come under intense pressure in recent weeks stemming from the US Treasury's newly announced regulations that have ended Allergan's (NYSE:AGN) planned merger with Pfizer which I discussed in an April 5th Seeking Alpha article.
While Perrigo is currently in a management transition and continues to fully integrate the operations from various M&A deals, the company remains a risky investment. Recent earnings results have not been fully indicative of the potential of the business but at the same time risks remain as to whether Perrigo will be able to produce strong earnings and cash flow. The firm will provide more guidance with its upcoming full Q1 2016 earnings release and this should give investors a better picture of the company's recent results. Perrigo's results remain clouded by recent charges, however if the firm is able to continue to produce healthy cash flow and underlying business momentum, shares may ultimately be able to reverse their downtrend.
Please follow my ongoing Seeking Alpha publications by clicking on the Follow button next to my name at the top of this article. Thanks
Disclosure: I am/we are long AGN.
I wrote this article myself, and it expresses my own opinions. I am not receiving compensation for it (other than from Seeking Alpha). I have no business relationship with any company whose stock is mentioned in this article.