Tesla Motors (NASDAQ:TSLA) is one of those companies that somehow manages to separate the overwhelming majority of onlookers into two categories. The mantras of these two groups are "it's going to the moon" and "it's going to zero." Yes, there are those who fall somewhere in the middle, but they are few and far between. There is a certain fervor that surrounds Tesla and its stock that is fascinating to behold.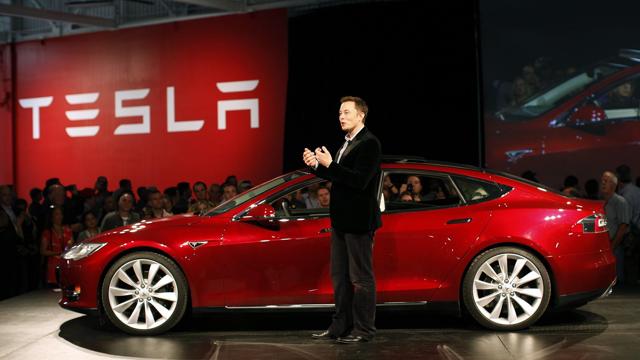 Yet this fervor sometimes leads to the subversion of reality in the interest of proving a point, or perhaps in the interest of confirmation bias. Regardless, in this article I would like to attempt to clear the air on one issue in particular that I have seen mentioned numerous times by those in the latter of the two groups I described above. This issue is a familiar one for those who are following the Tesla saga, and is a point that infuriates bulls, who perceive it as disingenuous, and empowers bears, who believe it is the focal point of Tesla's lack of stability. That issue is Tesla's profitability, specifically the claim that the more cars the company sells, the more money it loses.
In this article I will detail why I believe that argument to be bogus and how Tesla bears have been disingenuous about the issue at hand.
Increased Revenue = Less Profit?
To begin the analysis of the argument that Tesla loses money for every car it sells (therefore implying that the more units Tesla ships, the lower its net income goes), I will first try and construct the bear argument without setting up a straw man.
The first I heard of this argument was when Reuters published a piece on their site, with the title proclaiming "Tesla burns cash, loses more than $4,000 on every car sold," which, yes, sounds very bad. Losing $4,000 on every car sold is indeed a less-than-sustainable business strategy. It was after the Reuters article that I really began to see the argument being made on a regular basis. And if you're an investor weighing your options on Tesla stock, then of course you're going to short it. The more they sell, the more they lose! Sounds like a recipe for disaster.
Yet, while I've seen the argument being mentioned many times, I've never seen it successfully withstand any meaningful counter-argument. After taking a look at the Reuters article, it becomes apparent why that is.
Reuters calculated a $4,000 loss per Model S sold by dividing Tesla's operating loss of $47 million by its Q2 2015 Model S unit shipments of 11,532, which comes out to a about $4,075 per car. However, comparing operating loss with unit shipments is almost completely irrelevant. As anyone who has taken a business course can tell you, operating expenses, which usually include selling, general and administrative expenses, are predominantly fixed figures in regards to units sold. Yes, they do correlate with number of unit sales to an extent in general, but in the automobile market, that correlation is miniscule.
A more fitting metric to use would have obviously been gross profit, which is the revenue left over after all the costs of producing that revenue have been subtracted. Unlike operating expenses, cost of revenue is highly variable and correlates directly with unit sales. And in the three full years of financial statements since the launch of the Model S, (2013, 2014 and 2015) Tesla has recorded a gross profit of $2.26 billion. Yes, that's a positive number.
While gross profit is all fine and dandy, it's only relevant if it translates to bottom line results, right? Well that hasn't been the case. Tesla has recorded a net loss of $1.25 billion over the same time span. Well, hey if gross profit isn't boosting profit, maybe you should short TSLA. Not so fast.
To recap, we have now reviewed Tesla's gross profit and its bottom line for the past three fiscal years. While the argument of losing money per every car sold didn't hold up under scrutiny, the reality remains that Tesla isn't making any money. To get the full picture, let's take a look at Tesla's operating expenses and see the void into which the company is seemingly shoveling its profits.
The answer is two different categories of expenses: Selling, General, and Administrative (SG&A) and Research and Development (R&D). These two expense groups make up a majority of most companies' expenses. Retail chains tend to spend most of their operating expenses on SG&A while biotechnology companies tend to pour their resources into R&D. Far from being negative indicators, increasing spending to SG&A and R&D are signs that a company is growing in size and looking toward the future.
Here's a chart that shows Tesla's SG&A and R&D expenses: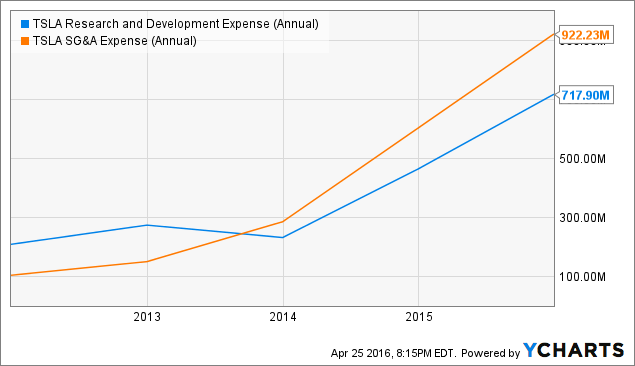 TSLA Research and Development Expense (Annual) data by YCharts
The spending explosion is evident. The huge increase in R&D is likely a function of Tesla's ramp up for the Model 3. R&D will remain a large part of the company's expenses because it has competitive advantages now, but other companies are surely looking for ways to emulate and perhaps improve on Tesla's technology. Staying ahead of the game is essential for survival.
The increase in SG&A is to be expected considering Tesla's ramp up of the Gigafactory and its massive growth in general. This expense category will likely stay constant or grow gradually, though it is highly dependent on Tesla's future performance. Success means more hiring and SG&A spending. Failure means job cuts.
The word "expense" might trigger an initial negative reaction, but let us not forget the context. Expenses help companies succeed just as much as, if not more than, revenue does. Tesla's gross profit over the past three fiscal years of $2.26 billion pales in comparison to operating expenses of $3.23 billion. And perhaps that means forgoing short-term profits, but I have always been an advocate for long-term success over short-term appeasement of the market.
Sure, Tesla could cut back on the hiring and research into new technology to make a quick buck every quarter, but that would likely come at the cost of compromising future growth prospects. For investors that view the market through the lens of metrics and fundamentals, this strategy likely seems like nonsense. They would likely say something along the lines of "Let profits fuel future growth! Equity offerings dilute shareholder value!"
In most markets, that might be a viable strategy. But in the automobile market, and especially the fledgling electric vehicle market, Tesla knows it has to put the pedal to the metal or risk annihilation. Perhaps going too fast risks annihilation as well, but better to go out in a blaze of glory than in a puff of irrelevant smoke.
I'm of the opinion that if Tesla cuts its expenses for short-term profits to please the market, the company will die and be thrown in the trash bin with all of the other companies that balked at ambition and went silently into the night. Luckily for TSLA longs, Elon Musk sees the big picture. Short-term pain for long-term gain is the name of the game. And to this point, I think Elon has played it to perfection.
If the last few paragraphs felt dramatic, I apologize. Sometimes finance gets me excited. Regardless, I trust that this article provided some insight into Tesla's financial situation and sufficiently put to bed the "Tesla loses money on every car it sells" issue. I know that I have not but perhaps I've given some of you the ammo with which to combat the issue wherever it arises.
My question to you, the reader, is:
What do you think about Tesla's current financial strategy? Do you think Tesla should cut back on its expenses and try to eke out some profit, or do you think it should maintain the rapid spending in order to foster future growth? Let me know in a one-word answer or long-winded tirade in the comments section below.
You can follow me on my author page or at the top of this article. Thanks for reading!
Disclosure: I/we have no positions in any stocks mentioned, and no plans to initiate any positions within the next 72 hours.
I wrote this article myself, and it expresses my own opinions. I am not receiving compensation for it (other than from Seeking Alpha). I have no business relationship with any company whose stock is mentioned in this article.