Brace yourselves dear traders, today is only the second of a heavy-duty week of earnings, the first of the Federal Reserve's two-day confab and the burning question of whether it raises interest rates (many analysts think not). What direction will the markets take in reaction to all that as well as global issues?
If the fall in Treasury prices is any indication, analysts are indicating stabilization. Treasury prices tumbled for the sixth straight session on Monday and pushed the 10-year yields to their highest level in a month. At the open, they were just above 1.9%.
Going into the session, the markets were trading narrowly higher amid mixed earnings news. The earnings highlight of the day will be Apple's (NASDAQ:AAPL) earnings report. The results, initially scheduled for late yesterday, won't hit the tape until after the close today. How were those iPhone sales?
Some analysts looked at yesterday's downturn as a pause ahead of a number of blue-chip stocks reporting earnings that could generate bigger moves in either direction. All three major market benchmarks retreated, moving off their lows up until the final minutes of trading. The Dow Jones Industrials' (DJIA) lost 27 points that would have kept it just above that psychological 18,000 level. Energy stocks sucked power out of the S&P 500 (SPX), which slipped nearly 4 points. The energy sector's 1.1% decline was in tandem with a 2.5% pullback in the price of crude oil, which fell to $42.65 a barrel. The Nasdaq (IXIC) gave back 10 points.
Among other earnings reports that might impact markets, the social-media troika of Twitter (NYSE:TWTR), today after the close, Facebook (NASDAQ:FB), after tomorrow's market close, and LinkedIn (LNKD), after Thursday's session end, will give us a look-see at the world of exchanging every little bit of information we deem important.
And what's up with consumer-shopping habits? Amazon (NASDAQ:AMZN) and EBay (NASDAQ:EBAY) can offer a peek at that after today's close, while oil giants Chevron (NYSE:CVX) and Exxon (NYSE:XOM) can help us learn about the troubles plaguing the industry when they report ahead of Friday's market session.
Until then, the buzz is on the Federal Reserve and what side of the dove-hawk aisles its members fall. Will they or won't they raise interest rates? If the CME's FedWatch tool can be believed, the chances of a hike are at a big fat zero. So far, there's only a 23% chance of a rate hike at its next meeting in June and the likelihood of an increase doesn't inch above 50% until November. But all that could change after we hear the tone of Wednesday's announcement and Chair Janet Yellen's stance. Is she still a dove? And how deep is the divide between those committee members wanting to step on the interest-rate pedal and those who don't?
There's also a meeting of the Bank of Japan on Thursday, with some analysts forecasting that it will push its key interest rates deeper into negative territory. How will that affect markets here and abroad? The dollar retreated on what some analysts described as profit-taking ahead of the central bank policy meetings in both countries.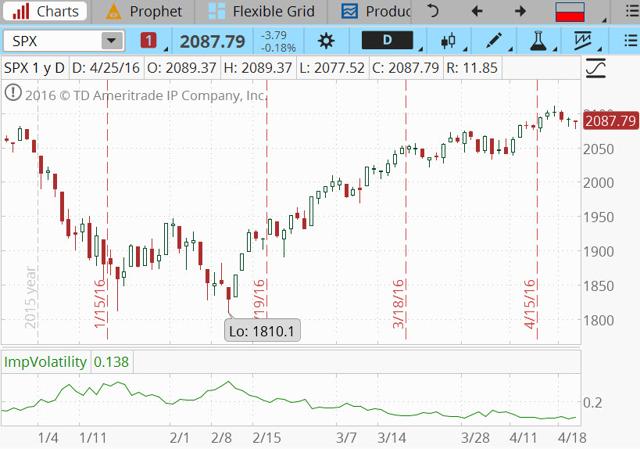 Figure 1: Which Way Next? The S&P 500 (SPX), plotted through the end of Monday on the TD Ameritrade thinkorswim platform, has rallied sharply since its lows of early February. But the index slipped again Monday for the third straight day amid a heavy week of earnings and the two-day Federal Reserve meeting. Data source: Standard & Poor's. For illustrative purposes only. Past performance does not guarantee future results.
Growing Gannett. As media heavy-hitters struggle with coming to terms-and identifying-new business models, Gannett Co. (NYSE:GCI) made an unsolicited, public offer to bring the Tribune Publishing Co. (TPUB) under its umbrella Monday. The offer, valued at about $814 million with a hefty debt assumption, put a fire under TPUB shares, which gained 53% on Monday. The cash offer values TPUB's shares at $12.25 a piece, which represents a hefty 63% premium to Friday's closing price. GCI's interests stems from the desire to fill "a number of geographic gaps," GCI said Monday.
TPUB said the $12.25 offer was "well below" a year ago and that the new management team put in place in recent weeks "has not had time to really put their strategy into effect," an unnamed source told the Chicago Tribune Monday.
Disappointing Durable Goods. U.S. companies do not appear to be investing in the economy, according to today's miss on orders for durable goods, the government reported. Orders rose an anemic 0.8%, well short of Wall Street's expectation of a 1.9% gain. Consumed with worries about an uncertain economy-stronger dollar, flimsy global growth-companies don't appear to want to invest their profits and cash in capital equipment. What needs to happen to get that going?
Ending Saudis "Addiction to Oil"? That's the plan, according to Saudi Arabia's Deputy Crown Prince Mohammed bin Salman, a young prince who wants to shake up the kingdom's economic mix. At press events Monday, the prince laid out a vision of economic reforms that would transform the kingdom into a global investment power, according to Reuters. By raising capital through a 5% initial public offering, it will lessen its dependence on oil. "We will not allow our country ever to be at the mercy of commodity price volatility or external markets," Reuters reported Prince Mohammed said at his first news conference with international journalists. Earlier, he told al-Arabiya TV news station, "We have developed a case of oil addiction in Saudi Arabia." Reuters noted there were few details of the plan and that this wasn't the first time a high-ranking official attempted to reform the kingdom's economic future.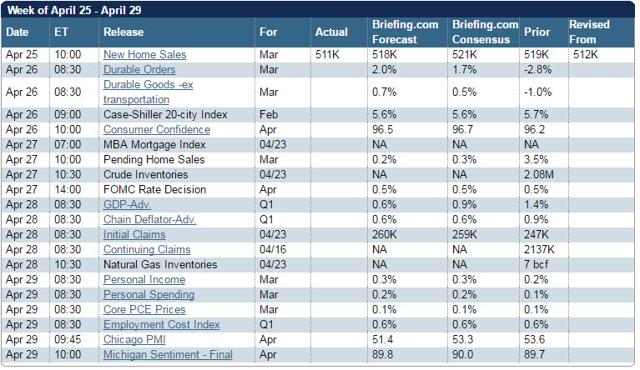 Figure 2: Economic Agenda. This week's U.S. economic report calendar. Source: Briefing.com.
TD Ameritrade® commentary for educational purposes only. Member SIPC.
Disclosure: I am/we are long AAPL, TWTR, FB.
I wrote this article myself, and it expresses my own opinions. I am not receiving compensation for it. I have no business relationship with any company whose stock is mentioned in this article.