The past two years have been nothing but painful for oil investors. Due to a glut in the world's oil supply, the per-barrel price of oil has fallen drastically from the low $90s in the summer of 2014 to the low $30s at the dawn of 2016, now hovering at about $40 per barrel (Source: Oil-Price.net). In the past 2 years, the energy sector ETF Energy Select SPDR (NYSEARCA:XLE) has fallen from $93.42/share to $66.47/share, a loss of almost a third of its value.
Due to the carnage that the oil industry has undergone in recent years, there are ample opportunities for shrewd deep-value investors to profit handsomely from certain oil companies, many of which are trading at steep discounts to what they should be worth in terms of historical valuation, growth, quality, and/or dividends. One diversified midstream oil company, Genesis Energy, L.P. (NYSE:GEL), is deeply undervalued in all of these respects..
Genesis Energy is a mid-cap company, structured as an MLP and valued at $3.8 billion as of the time of this writing (Source: Finviz). It is involved in the midstream oil space, treating, shipping, and handling crude oil both before and after refining. It is diversified across many midstream operations, including oil transportation using tankers, trucks, and railways, oil storage terminals, and sulfur processing operations. Interestingly, Genesis further diversifies its business operations and decreases waste by creating sodium hydrosulfide (NaHS) from the sulfur removed from the oil it processes and selling it to a wide variety of companies that use it in their operations, such as copper miners, paper producers, and leather tanners, among others. Comprising 60% of its profits, however, is Genesis's pipeline division. The company owns 830 miles of onshore pipelines for transporting crude oil and carbon dioxide, and a further 2,600 miles of offshore pipelines, primarily used to service deepwater oil producers (Source: Genesis Energy Investor Presentation February 2016).
According to my analysis, Genesis provides excellent total return potential, as it currently yields 7.78% yearly - a yield that I believe to be perfectly safe, as I will go over shortly - and assuming a reversion of its current P/E of 8.74 to one of 15 (generally considered to be a fair valuation for an average company), it has the potential to gain 72% in unit price. By this estimate, Genesis's unitholders stand to gain roughly 111% within the next five years. In fact, this is a conservative estimate, given that many converging factors could help it fuel strong growth in the near future. If the company's earnings can grow by 7.5% yearly over the next five years, which I believe to be a reasonable estimate (the reasons for which I will go over later in the article), the five-year potential return for its unitholders grows to 159%.
The quality and sustainability of Genesis's distributions are quite rare among MLPs. GEL's distributions can even hold their own against the dividends of normally structured companies in terms of quality and reliability despite the fact that the MLP structure strongly lends itself to unstable distributions due to the necessity of large payouts. Genesis has been able to raise its distributions each and every quarter for over a decade, a distinction held by only 18 of the 152 total American companies structured as MLPs (Source: David Fish's CCC List). Genesis has a total 42 consecutive quarters of distribution growth, 37 of which have been 10% or greater year over year. One of the reasons for this unusually strong distribution growth is due to the fact that Genesis owns its general partner (as opposed to other MLPs that must let their general partners, which are separate financial entities, take significant portions of their cash flows). Due to this, Genesis is free to use its cash flow fully as it pleases, both to reward unitholders and internally to grow its business.
Of course, the best of dividend or distribution track records are worth nothing if the companies behind them cannot sustain them. However, Genesis has proven itself to be very disciplined about its distributions, favoring sustainability over high current yield. Genesis's Q3 2015 distribution had 1.42x cash flow coverage compared to the 1.0-1.1x coverage usually recommended as a minimum for MLPs, proving it to be quite safe at current levels. This will also leave Genesis with extra cash to use in its goal to reduce its long-term leverage ratio to 3.75x from its current 5.15x, which will both increase free cash flow going forward and make it safer from short-term downturns, a win-win for unitholders. Genesis's distributions are at a sweet spot right now: they are both quite large due to the company's unfairly depressed unit price, as I will go over in the next paragraph, and they are well-covered, sustainable, and poised for future growth.
Just as a falling tide can lower the best of ships, many companies in the oil business have had their share prices strongly affected by the fearful, frenzied selloff in the oil industry. While the February-April market rally has raised Genesis's unit price by quite a bit, it is still down by close to 40% over the past two years. At its lowest point, unit price hovered in the low-$20s, from the mid-$50s two years ago (Currently, unit price is hovering in the low-to-mid $30s). Usually, such a sell-off would be indicative of either plummeting profits or looming dangers at a company. This is the case for many oil companies (particularly in the upstream space) right now as their profits, which are closely linked to the price of oil, have dropped like stones and some of the more leveraged among them are teetering on the brink of bankruptcy. However, as a midstream company, Genesis's profits are not nearly as volatile. Midstream companies charge on the volume, rather than value, of the oil they ship and handle. As upstream companies keep on pumping - sometimes by higher than usual amounts in an attempt to keep profits at pre-2014 levels - most midstream companies, including Genesis, are operating in business-as-usual conditions while their share or unit prices drop like stones all the same. Let's take a look at Genesis's earnings per unit, and compare that data to its unit price, over the past four years.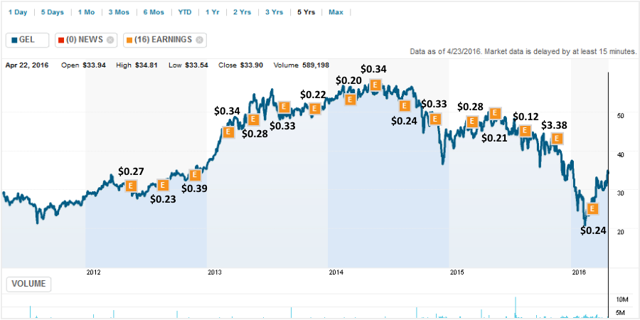 (Source: Reuters)
The average earnings per unit for Genesis from Q1 2012 to Q1 2014 was $0.30, and the average earnings per unit from Q2 2014 to Q4 2015 was $0.26 when adjusted to remove the outliers of Q2 and Q3 2015 earnings (Q2 earnings were so low - and Q3 so high - due to a major acquisition that I will go into with more depth in the next paragraph). The average is lower by about 13%, sure, but when compared to the aforementioned unit price drop of nearly 40%, there is a very clear discrepancy between Genesis's perceived and fair values that provides a strong potential for capital gains in and of itself in the near future. All that is needed is a growth catalyst to close the gap, and Genesis has quite an impressive set of catalysts underway as we speak.
Over the past year, Genesis has been focused on expansion in the Gulf of Mexico and has been working with Enterprise Products Partners (NYSE:EPD) to achieve this. Most notably, Genesis has acquired Enterprise's offshore pipelines and services division for $1.5 billion in July 2015 (Source: BusinessWire). The primary growth catalysts for Genesis result from this deal, with GEL now owning:
The 500,000 bbl/day capacity Cameron Highway (CHOPS) pipeline that connects Gulf of Mexico deepwater producers in the Green Canyon production area, containing an estimated 2.5 billion recoverable barrels of oil, to onshore refineries in Texas City and Port Arthur, TX (Sources: Cameron Highway Oil, Offshore Technology, Bureau of Ocean Energy Management).

The 115,000 bbl/day capacity Southeast Keathley (SEKCO) pipeline that connects the Lucius production area, containing an estimated 300 million recoverable barrels of oil, to a junction platform in south Marsh Island, LA, where it connects to the Poseidon pipeline (Source: BusinessWire).

A 64% interest in the 350,000 bbl/day capacity Poseidon pipeline that connects deepwater and outer continental shelf producers in various regions off the coast of Louisiana to Shell Pipeline tankage in Houma, LA, connecting carriers in St. James, LA, and the Auger Pipeline (Source: Poseidon Oil).
The recent acquisition of these new assets has significantly enhanced Genesis's cash flows, which will certainly help it to further its already impressive distribution growth streak into the future and achieving its goal of deleveraging itself. While Genesis did use debt to acquire these assets, raising its leverage to its current rate of 5.15x, debt is historically cheap now due to low interest rates, and it was smart of the management to take advantage of that when it could to make a large acquisition, especially in July when U.S. interest rates were still at zero.
However, the timing of Genesis's acquisition is certainly not the entirety of its strategy. Genesis is well poised to see strong growth from its assets in the future, which will both act as a catalyst for unit prices to reach a more fair value (and indeed grow with the company), and help GEL produce large cash flows to use to easily achieve its goals in the future. Currently, Genesis's network of Gulf of Mexico pipelines is operating at far below its capacity.
The CHOPS pipeline currently has a volume of 175 thousand bbl/day compared to a capacity of 500 thousand bbl/day.

The SEKCO pipeline currently has a volume of 76 thousand bbl/day compared to a capacity of 115 thousand bbl/day.

The Poseidon pipeline currently has a volume of 269 thousand bbl/day compared to a capacity of 350 thousand bbl/day.
Genesis's Gulf of Mexico pipeline interests from before the Enterprise deal are facing similar situations:
The Odyssey pipeline currently has a volume of 101 thousand bbl/day compared to a capacity of 200 thousand bbl/day.

The GOPL pipeline currently has a volume of 10 thousand bbl/day compared to a capacity of 39 thousand bbl/day.
Here we see the core of Genesis's Gulf of Mexico expansion strategy. All of its Gulf offshore pipeline assets are operating well under capacity now, but have the potential to skyrocket in terms of volume of oil transported in the near future. Many oil companies, such as Exxon (NYSE:XOM), Shell (NYSE:RDS.A) (NYSE:RDS.B), and BP (NYSE:BP), have considerably ramped up Gulf of Mexico deepwater oil production recently with many new, large-scale projects underway (Source: Wall Street Journal). With higher production levels in the Gulf, these oil supermajors will need to move large volumes of oil from their offshore rigs to onshore refineries. Given Genesis's extensive pipeline network, it will likely be responsible for transporting much of this oil. The five primary Gulf pipelines listed above that Genesis either owns outright (CHOPS, SEKCO) or owns stakes in (64% of Poseidon, 29% of Odyssey, and 23% of GOPL) currently transport 631 thousand bbl/day, but when running at full capacity, they can transport 1,204 bbl/day, close to a 100% increase in volume. All of these factors together translate to both very strong growth for Genesis in the near future and very high distributions for unitholders for the long term.
When all of these converging factors are added together, I see in Genesis a very intelligently-run, high-quality company with both attractive, consistent distributions and high growth ahead while at the same time trading at a bargain-bin price. While Genesis has been dragged through the mud in recent years alongside the rest of the oil industry, I am confident that its unitholders will be very well rewarded over the long term.
Disclosure: I am/we are long GEL, RDS.B.
I wrote this article myself, and it expresses my own opinions. I am not receiving compensation for it (other than from Seeking Alpha). I have no business relationship with any company whose stock is mentioned in this article.