On Tuesday morning, Capital Product Partners (NASDAQ:CPLP) announced its Q1 2016 earnings which, amongst other things, included an announcement of a distribution cut of 68.6% from its most recent distribution rate to a new annual distribution rate of $0.30 per unit. This news sent units of the shipper down by over 26% in early trading as investors had relied heavily on the partnership's distribution for both income and a statement of management's confidence in the underlying business momentum. The company cited a weak financing market as well as the ongoing restructuring of Hyundai Merchant Marine as reasoning for the need to reduce its distribution to a more sustainable level. In the associated press release management also note that it anticipates that it will maintain this new annual $0.30 distribution level through 2018.
For Q1 2016, the partnership produced $0.08 per unit in net income which is in line with Q1 2015 and the new distribution is now much closer to the underlying results of the partnership. Furthermore, as is custom in the shipping business, the company records heavy, non-cash depreciation costs. Along with this, the company achieved modest cash flow from operations growth which is encouraging. Capital Product Partners maintains a rather lean and versatile balance sheet and has a manageable amount of debt relative to its assets. The distribution cut will likely result in shareholder turnover and is concerning given the weak financing market, however Capital Product Partners maintains a strong contracted backlog with limited near term expirations which should give investors more confidence. The biggest risk to the company's ongoing operations is the restructuring of Hyundai Merchant Marine and the potential for contract termination which could force the company to re-market the vessels that are currently under attractive contracts to Hyundai Merchant Marine. Recent developments on this front have weighed on units of the partnership and fallout from Hyundai Merchant Marine's financial troubles continues to present a risk to Capital Product Partners.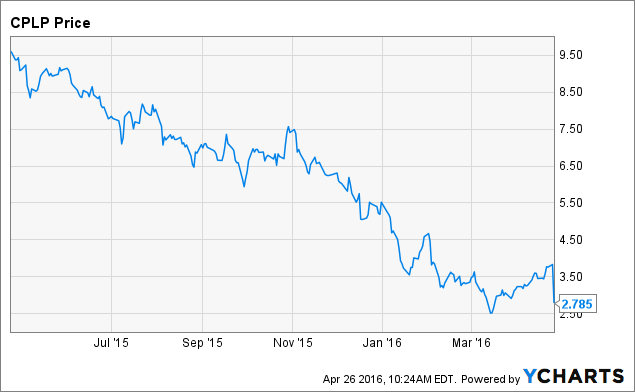 CPLP data by YCharts
While Capital Product Partners' management has discussed a weak financing market, the company has taken steps to put it into a position to raise capital. In late March, the partnership filed an initial prospectus shelf offering for $500 million of common units, preferred units with a final version of the prospectus filed on Tuesday morning. While a sale of common units would likely not be an attractive financing option given the latest unit sell off, this shelf offering provides an avenue for the partnership to sell preferred units or debt securities. Management also noted the concern for the amortization of its credit facilities and noted the following:
"In the context of high capital costs and a potential decrease in revenues, one of our credit facilities has started amortizing in the first quarter of 2016, while our three other credit facilities will start amortizing in the fourth quarter of 2017. As a result, we are due to repay approximately $175.5 million of debt during the period between the first quarter of 2016 and the end of 2018"- Capital Product Partners Press Release
This will have a meaningful impact on the partnership's financial results in the coming years and it's unclear what sort of alternative financing Capital Product Partners has at its disposal outside of the shelf offering.
One key point about Capital Product Partners' fleet is the long term nature of its contracts with limited near term expirations. Out of the partnership's entire fleet, there are only five charter expirations for the remainder of 2016 (including April). This gives management a high level of confidence in future planning, however the ongoing issues surrounding Hyundai Merchant Marine present a significant risk.
Hyundai Merchant Marine has come under significant financial pressure as it has become evident that the South Korean company's debt load is unsustainable relative to its business results. The firm is in ongoing restructuring talks and major risk remains to Capital Product Partners' contracts with the beleaguered shipper. As of the most recent fleet update, Capital Product Partners has five container ships on contract with Hyundai Merchant Marine under separate twelve year contracts that all expire in 2025. The rates of each unit amount to $29,350 per day which represents an attractive charter and highly predictable source of revenue. If these contracts were to be terminated early as the result of a major restructuring at Hyundai Merchant Marine, Capital Product Partners would be in a tough position. This remains an ongoing and major risk to Capital Product Partners and it will be important to monitor any ongoing developments with Hyundai Merchant Marine.
Units of Capital Product Partners have sold off significantly in Tuesday's trading session as investors are clearly concerned by the major distribution cut despite decent financial results. The company's new distribution level is much more sustainable given the weak financing market and ongoing risks and still represents a yield of 10.6% based upon recent prices. Predictable contract revenues should give investors confidence in Capital Product Partners. Risks remain and this has been expressed in the major sell off that the partnerships' units have seen in recent months. Capital Product Partners is a potentially risky investment, however if the Hyundai Merchant Marine problems settle without a contract termination or amendment, unitholders should be rewarded.
Please follow my ongoing Seeking Alpha publications by clicking on the Follow button next to my name at the top of this article. Thanks.
Disclosure: I/we have no positions in any stocks mentioned, and no plans to initiate any positions within the next 72 hours.
I wrote this article myself, and it expresses my own opinions. I am not receiving compensation for it (other than from Seeking Alpha). I have no business relationship with any company whose stock is mentioned in this article.