In my recent series on the best-performing value strategies, we saw that the majority have outperformed since 2000. Buying low EV/EBIT companies has been the highest-returning strategy during this time period. However, most equal-weighted value portfolios with consistent buy and sell rules will beat the market.
Until recently, that is.
In this article, we will begin by quantifying recent value strategy underperformance. After that we turn to the question of why value strategies have failed recently.
Backtests of Value Strategies Since 2014
Value strategies as a whole have suffered for about the past 5 years, with particular underperformance since 2014. Let's begin with backtests of the two most common value ratios: Low P/E and low P/B.
Starting on Jan 1, 2014, we generate an equal-weighted portfolio of the 100 lowest P/E companies from the Russell 3000, and rebalance annually: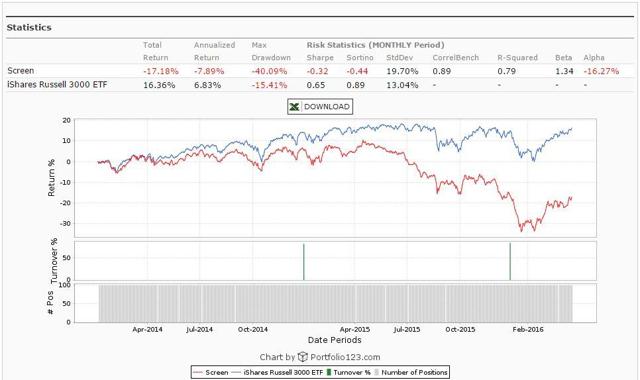 Those investing in low P/E companies would forfeit the benchmark's 16% total return during this period, taking instead a 17% loss.
Compared to low P/B returns, however, this 17% loss would appear favorable: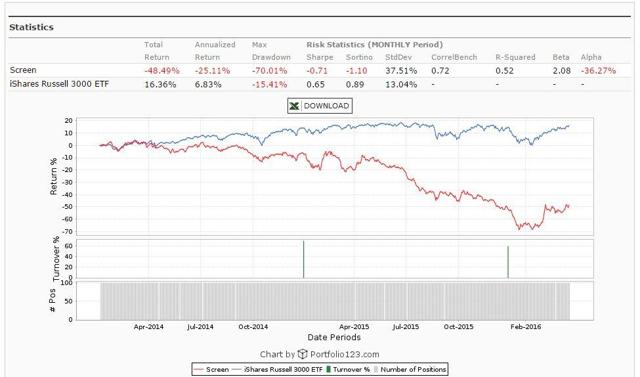 (Credit to Portfolio123 for the backtest results.)
In investment writing, the strongest adjective normally used to describe results is "unsatisfactory." But it seems more accurate to say that the low P/B strategy got demolished.
Comparison of Recent Results for All Value Strategies
Let's put the P/B and P/E results in context by looking at the performance of the other value strategies considered in this series.
Recent Performance of Value Strategies

| | | |
| --- | --- | --- |
| Strategy | Annualized Return Since 2014 | Lost to Index Since... |
| Price to Book (P/B) | -23.9% | Before 2000 |
| Net-Net | -22.4% | 2008 |
| Price to Tangible Book | -21.3% | 2010 |
| Price to Earnings (P/E) | -7.6% | 2010 |
| Magic Formula | 0.1% | 2011 |
| Share Buybacks | 2.0% | 2012 |
| EV/EBIT | 4.6% | 2011 |
| Piotroski F Score | 4.7% | 2014 |
| Low Short Interest | 6.2% | 2014 |
The Russell 3000 had an annualized return of 7.0% since Jan 1, 2014. This means that each value strategy underperformed the index during this time period. Interestingly, the equal-weighted Russell 3000 also underperformed relative to the cap-weighted index.
The third column of the above table shows the maximum recent period such that the strategy underperformed relative to the index. For example, the P/E ratio has lost to the index since 2010. This means that from Jan 1, 2010 until April 20, 2016, the low P/E strategy has had a lower total return than the Russell 3000. If we switch the start date to Jan 1, 2009 or earlier, then low P/E beats the benchmark.
The majority of value strategies have been losing to the index for 4 years or longer. The most extreme case is the P/B ratio, which has underperformed for well over a decade.
Why This Failure?
First, it's important to note that value investing encompasses much more than mechanical strategies. Value investors seek to purchase companies trading at significant discounts to their intrinsic values. This can be accomplished with a statistical approach. But it can also, of course, be done through careful assessment of individual companies.
Even if common mechanical value strategies have stopped working, that would not imply that value investing as a whole was no longer a market-beating approach. There are certainly value investors who have done well in recent years.
With that said, there are two primary possible causes for the recent failure of the mechanical strategies.
Effectiveness Decrease. There are no guarantees in the financial markets. Successful trading strategies, both short-term and long-term, may become ineffective.
Take low P/E as an example. It is possible that more and more investors realized they could achieve market-beating returns by mechanically buying the lowest P/E companies. With time, the remaining low P/E companies actually have correctly low earnings multiples based on the likelihood of declining future cash flows. This particular market ineffiency -- ability to generate alpha through low P/E -- gradually disappears.
Many more investors now have access to backtesting tools; have read about the returns from simple value strategies; and are familiar with the Magic Formula. The result of this increased investor knowledge could be a permanent long-term decrease in the effectiveness of simple value strategies.
Short-Term Anomaly. Few strategies exhibit constant outperformance. Value strategies have outperformed to greater or lesser extents in previous periods. The recent results may simply be an example of temporary underperformance.
It is, after all, a minority of investors who buy and sell mechanically. The cheapest stocks tend to be unappealing to most investors, who seek strong, growing companies and are willing to pay a premium for them.
In the Tweedy, Browne paper, What Has Worked in Investing, the authors give the example that the NCAV discount approach underperformed the market for a multi-year stretch while still significantly outperforming over longer periods.
The recent value results may therefore be a temporary phenomenon, with strong results likely in the coming years.
Conclusion
Mechanical value strategies have underperformed for much of the previous decade, with particularly poor results since 2014. Balance sheet investors have done the worst during this period: Mechanically buying low P/B companies and net-nets are the strategies that have suffered the most.
High F score and low EV/EBIT are two of the value approaches that have held up the best recently, although these strategies still lost to the market since 2014.
The primary explanations for this value underperformance are a long-term decrease in the effectiveness of mechanical value strategies, or a temporary anomaly.
I believe it is a combination of these two factors. The popularity of value investing and increasing knowledge of investors have likely decreased -- to some extent at least -- the effectiveness of the simple strategies.
Over long periods, however, I believe that most value strategies will still beat the market. This recent 5-year period is small compared to the many decades that such strategies have been used succesfully by investors Graham, Schloss, and Greenblatt.
This article will have no disclosure at the bottom as no specific stocks are discussed. But for what it's worth, I am still significantly invested in mechanical value strategies.
Disclosure: I/we have no positions in any stocks mentioned, and no plans to initiate any positions within the next 72 hours.
I wrote this article myself, and it expresses my own opinions. I am not receiving compensation for it (other than from Seeking Alpha). I have no business relationship with any company whose stock is mentioned in this article.