Introduction
Every week, we closely monitor net speculative positions on the COMEX as well as ETF holdings inasmuch as the historical economic behavior of gold prices suggests that over a short-term horizon (<3 months), gold prices are largely influenced by changes in the forward fundamentals, reflected in changes in net spec length and ETF holdings.
In order to analyze more clearly the changes in net speculative positions on the COMEX and ETF holdings, we have decided to standardize the data by showing those changes in tonnes.
Speculative positioning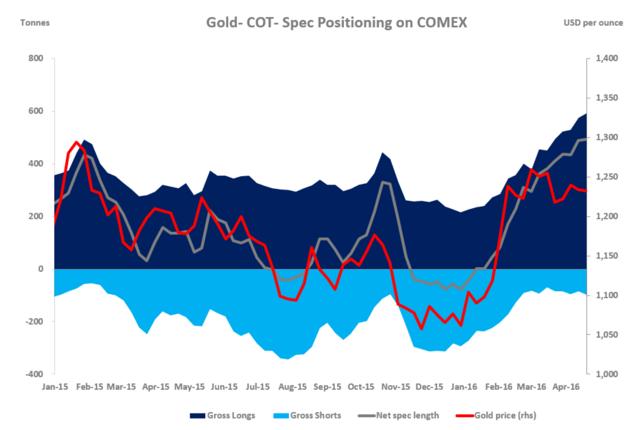 Source: CFTC.
Gold. According to the latest Commitment of Traders report provided by the CFTC, money managers, viewed as a relevant proxy for speculators, raised marginally their let long position in the week ending April 19. Over the period covered by the data (i.e. April 5-12), gold edged 0.47 percent lower.
The net long fund position now stands 493.59 tonnes, up 4.20 tonnes or 1 percent from 489.39 tonnes last week.
The improvement in spec positioning was essentially driven by long accumulation (+17.47 tonnes w/w) that was partly offset by a re-engagement of shorts (+13.27 tonnes w/z).
The net long fund position is at its highest year-to-date level and at its highest level since late February 2012.
Gross longs: longs continue to remain convinced that gold will push higher in the next month or so, thereby willing to take on additional risk despite the fact that gold prices have failed to reach a fresh 2016 high since 2016. We continue to believe that the elevated size of the gross long position (dark blue area) should deflate at some point in the second quarter. Still, the speculators' tendency to overshoot leads us to understand that further increases in bullish bets are possible in the near-term horizon
Gross shorts: the gross short position (light blue area) fell sharply in the first quarter of 2016 to reach an extremely low level judging by historical standards. In this context, further pressure from short-covering should remain muted in the near-term. More interestingly, recent disappointing gold price performance seems to have prompted money managers to re-engage in the short-side. This trend could continue in the coming weeks, we feel.
Finally, as we noted last week, we are worried to see that gold prices have remained muted since March despite the sharp increase in the net speculative length. Indeed, while net speculative long positions have risen massively by 1970.70 tonnes or 67 percent since March 1, gold prices have edged 0.50 percent lower.
Looking ahead, we expect the net spec length to start falling at some point in May because the speculative positioning is clearly overstretched on the long side. In this regard, a consolidation in gold prices seems to be likely as selling pressure from the Comex should not be offset by buying pressure elsewhere, we feel. Having said that, we the upward trend could remain intact in the second quarter because net long speculative positions could remain at an elevated level through the second quarter of the year, reflecting brighter fundamentals in the gold market.
Investment positioning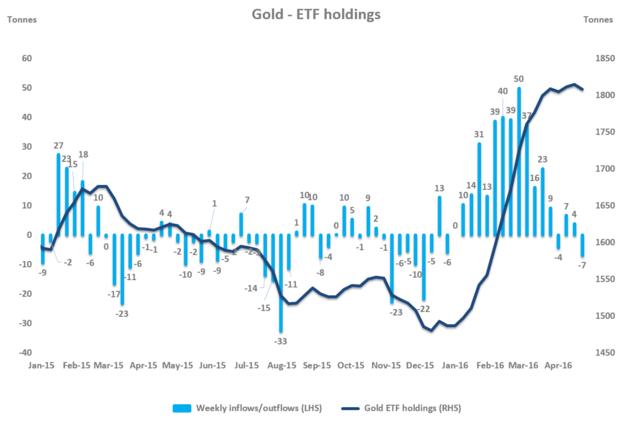 Source: FastMarkets.
Gold. ETF investors sold gold last week (April 15-22) for the first time in three weeks. Total ETF holdings amounted to 1,806 tonnes as of April 22.
ETF investors sold a total of 7.07 tonnes of gold over April 15-22 after buying 3.87 tonnes during April 8-15 and 6.65 tonnes during April 1-8. In this context, they remain slightly net buyers of gold for April in the tune of 7.04 tonnes, which is considerably smaller than what they accumulated in March (+61 tonnes), February (+185 tonnes), and January (+74 tonnes).
In the year-to-date, investors are net buyers of 327tonnes of gold, in sharp contrast with their net selling position of 118 tonnes in 2015.
Should investors be worried about the recent fall in gold-ETF demand?
In a nutshell, we think the answer is no in the sense in which it is too early to draw relevant conclusions. Over the past two weeks, the financial markets have enjoyed a noticeable risk rally. Although the fundamental backdrop has not improved materially, it seems that the recent signs of stabilization in the Chinese economy has calmed investors' worries, which in turn has prompted financial players to rebuild risk-friendly positions.
According to the latest raft of Chinese economic data, the second-largest economy grew at an annual rate of 6.7 percent in the first quarter of 2016, imports and exports rose at a stronger pace than expected in March, new loans in yuan rose in the first three months of the year, and capital outflows and the downward pressure on the yuan slowed noticeably. Although the rebound in the Chinese economy is likely to be temporary, these latest signs were sufficient to fuel a risk rally. Broad equities have risen markedly, with US equities close to their all-time high levels, most commodities have continued their upward trajectory, especially oil despite the absence of agreement among leading oil producers over a production-freeze, while broad credits have continued to enjoy a rally.
Against this backdrop, we are not surprised to see a fall in safe-haven demand because investors are unwinding their risk-unfriendly positions like gold. But two points need to be made here. First, ETF selling in gold triggered by stronger risk appetite has been so far extremely modest compared with ETF buying driven by stronger risk-aversion, which leads us to understand that investors continue to be attracted by gold to protect their portfolio against tail risk. Second, the sharp risk rally could not be sustainable, we feel. Taking a look a volatility metrics, the VIX - a measure to gauge investor fears - has fallen to an extremely low level, which could mean that the financial markets have become too complacent. This could therefore result in the resurgence of risk-aversion, which in turn would provoke renewed gold ETF buying.
Investors will focus on the April 27 FOMC meeting and the April 28 BoJ meeting.
About the Fed, investors expect no rate increase at this meeting but we note that Fed members have become increasingly divided regarding the appropriate monetary policy in the current environment. As a result, the Fed could experience difficulties to express its message clearly to the market, which in turn could shake investor sentiment and result in a surge in volatility in the financial markets and boost gold demand in the process.

Source: UBS.
About the BoJ, the market expects additional stimulus measures from the BoJ so there is a risk that the Japanese central bank under-deliver. In this case, the dollar could fall sharply against the yen, which could be supportive of investment demand for gold.
Looking ahead, we expect ETF investors to continue to boost their holdings in the near-term, although we acknowledge that the pace of their buying should be 1-smaller than in the first quarter of the year and 2-highly dependent on the degree of risk-aversion.
Spec positioning vs. investment positioning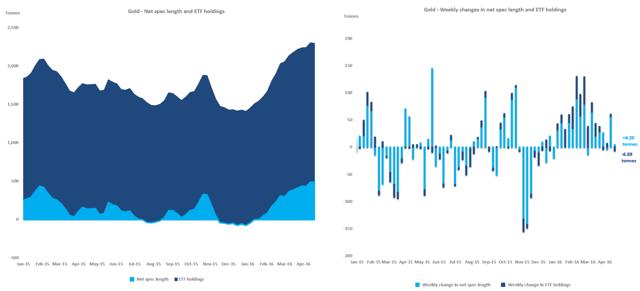 Source: MikzEconomics.
SPDR Gold Trust ETF (NYSEARCA:GLD) positioning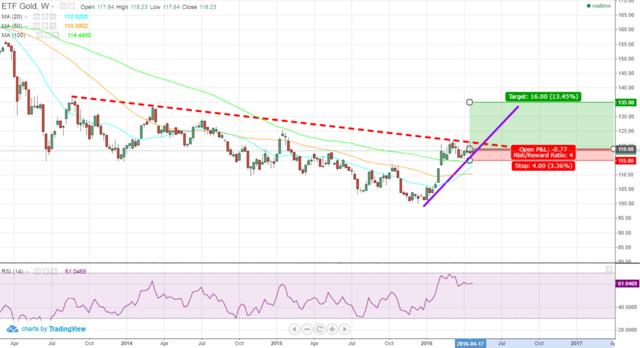 Source: TradingView.
GLD remained broadly unchanged in the week ending April 22, down just 0.06 percent, unable to sustain gains realized in the first half of last week.
We maintain our short-term bullish bias, arguing that GLD could push further higher in the second quarter.
We decided to implement a long GLD position last week (see our article) at 119, with a tight stop loss slightly below the recent low around the 100 DMA (115), with a target profit at 135. Such a trade would provide a reward-to-risk ratio of 4, which is greatly skewed in our favor.
Alternatively, some traders could wait a little further that GLD breaks clearly above its downtrend line (red) to play a potential breakout.
But we believe it is only a matter of time before GLD moves sharply higher. We expect a resurgence of risk-aversion in May, which should exert strong upward pressure on GLD.
Having said that, we continue to expect some weakness to re-emerge in the second half of this year and we believe that great short opportunities may arise from the third quarter of the year.
To sum up, we are bullish in the near-term and in the second quarter but bearish the second half of 2016. Over the long-term (i.e., 5+ years), we remain friendly toward GLD due to its healthy fundamentals, as we wrote in The Rational Reason to Be Bullish on Gold back in October 2013.
About: SPDR Gold Trust ETF, Includes: PowerShares DB Gold ETF (NYSEARCA:DGL),VelocityShares 3x Inverse Gold ETN (NASDAQ: DGLD), DB Gold Double Long ETN (NYSEARCA: DGP), DB Gold Short ETN (NYSEARCA: DGZ)
Disclosure: I am/we are long GLD.
I wrote this article myself, and it expresses my own opinions. I am not receiving compensation for it (other than from Seeking Alpha). I have no business relationship with any company whose stock is mentioned in this article.