In Spanish, tesoro is a noun that means "treasure," and it is easy to be interested in a company with Hawaiian gas stations (market research trip required?). Tesoro (NYSE:TSO) has done well in its Midwest-West Coast refining and retailing niche. However, some of the factors benefiting the company during the last 18 months are changing.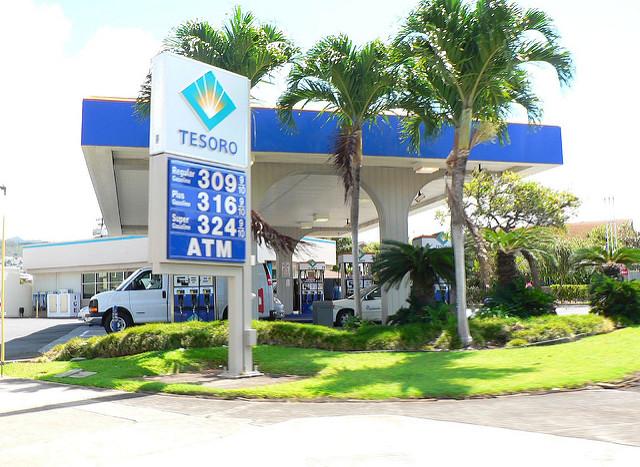 Tesoro is a refiner and marketer, not an oil producer. Thus, like Valero (NYSE:VLO), Tesoro benefits from lower oil prices. Note that refiners are well into the seasonally-higher-demand second and third quarters. The company will announce 2016 first-quarter results on May 4th. Its two California refineries have gained over the last fourteen months because the Exxon Mobil (NYSE:XOM) Torrance, Calif., refinery has been mostly offline. However, fourth quarter 2015 refining operating income was negatively impacted by $276 million due to a lower-of-cost-or-market inventory adjustment. It was further hurt by unplanned outages at the company's Los Angeles refinery.
Oil Supply and Oil Prices -- U.S., Canada, and the Middle East
Oil is Tesoro's largest cost, so continued lower oil prices help the company. While oil prices at around $40/barrel are up from their lows of $26/barrel, they are still far from recent highs of $100/barrel. The April 25, 2016 futures close for West Texas Intermediate at Cushing was $42.93 per barrel. Many factors will keep the price volatile in the short term.
Even the decline in U.S. oil production from 9.3 million barrels per day to 8.9 million barrels per day can be reversed, given the "fracklog" of discovered reserves and investors salivating to pile money back into the production business. Nonetheless, the Energy Information Administration predicts U.S. oil production will fall further to an average of 8.6 million barrels per day in 2016 and 8.0 million barrels per day in 2017.
According to Spencer Jakab in the Wall Street Journal, the high level of U.S. oil inventory compared to flat levels of consumption suggest Kuwait's 3-day oil supply shortage of 1.7 million barrels per day would have to double and continue for two years to generate an oil price shock similar to that of 1978. Another indicator of future prices is producers' willingness to lock in hedges at just over $40 per barrel when previously they had refused to consider hedges at less than $60 per barrel.
Note that while oil exports are now legal-giving producers more markets-two and arguably all six Tesoro refineries-due to historic practicalities-are near U.S. oil production. The difference is that three of the six are next to or can access land-locked MidContinent and Canadian sources (in North Dakota, Utah and to some extent Washington) while four of the six are supplied, at least in part, by on domestic sources that have declined dramatically: Alaska North Slope crude and California San Joaquin Valley and Los Angeles Basin crudes. The Anacortes, Wash., refinery is counted in both groups.
Canada, not the Persian Gulf, supplies much of the imported oil Tesoro and other U.S. companies buy. According to the Energy Information Administration, only 30% of Tesoro's imports are from the Persian Gulf. This is similar to Persian Gulf imports as a percentage of total imports for Tesoro's competitors: 37% for Chevron (NYSE:CVX) and 38% for Valero.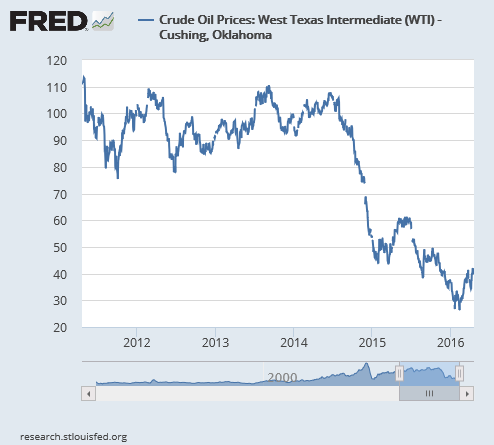 Vertical Axis is $/BBL
Exports
Refiners were formerly in a win-win because product exports, but not oil exports, were permitted. However, producers are now allowed to export oil, allowing them a wider variety of markets and requiring Tesoro to compete more against other buyers.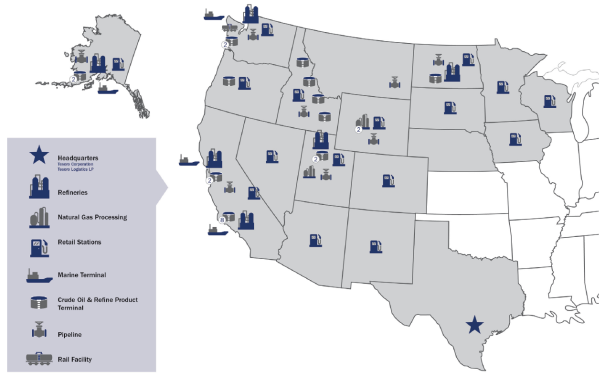 Tesoro's Refineries and Locations
Tesoro is headquartered in San Antonio, although none of its refineries nor retail stations are proximate. However, rival Valero is also headquartered in San Antonio, keeping Tesoro competitively aware.
Tesoro operates six refineries with a total combined capacity of 875,000 barrels per day. Shown on the above map from north to south and then west to east, they are:
Kenai, Alaska -- 72,000 barrels per day
Anacortes, Wash. -- 120,000 barrels per day
Martinez, (northern) Calif. -- 166,000 barrels per day
Los Angeles, (southern) Calif. -- 380,000 barrels per day
Salt Lake City, Utah -- 63,000 barrels per day
Mandan, N.D. -- 74,000 barrels per day
The company's two California refineries thus total 528,000 barrels per day, 28% of the state's refining capacity and matched only by the much larger Chevron. The regulatory and logistical challenges of operating in California have been offset by higher-than-normal margins there due to its tight market, difficult-to-meet gasoline specifications, and the loss since February of the 155,000 Torrance refinery, just sold by Exxon Mobil to PBF.
However, as noted, Tesoro's fourth quarter 2015 operating income was hurt by unplanned downtime of both of its Los Angeles refinery catalytic crackers.
Torrance Refinery Factor Will Change
A longer-term "temporary" factor has been the loss of most of the capacity of Exxon Mobil's 150,000 barrel-per-day Torrance refinery. In February 2015 an explosion damaged much of the refinery. The company's early repair proposals met with delay and resistance from the state of California; however, Exxon Mobil has received restart process permission from the South Coast Air Quality Management District through the end of July 2016. No surprise, West Coast refinery utilization in the first three months of 2016 was 83-90%, as much as 5% above the five-year average for the typical first quarter. The Torrance refinery, accounting for 8% of California's operable refining capacity, is expected back online in the next few months. This will pressure the margins of all other California gasoline refineries.
In the meantime, Exxon Mobil has sold the Torrance refinery to PBF. The sale will be completed once the refinery is operational.
Tesoro's Retailing Operations and Demand
While overall global petroleum product demand is not expected to increase as much as in other years due to a slowing of China's economy, U.S. gasoline is another story. Cheap gasoline prices have increased demand, both as a result of more vehicle miles driven and due to virtually no change (only 1.7%) in corporate average fuel economy.
Matthew Blair, refining research director for Tudor Pickering Holt, electric and hybrid car sales were only 2.4% of the vehicles sold in the first quarter of 2016. Electric cars are developing but so far their cost ($75,000+) and short range (200 miles) have limited their market penetration even in states like California that require increasing numbers of zero-emission vehicles. The video also shows that U.S. vehicle miles traveled increased 3.5% for 2015.
Low prices led to more U.S. gasoline consumption in April 2016: 9.4 million barrels per day. U.S. gasoline consumption for the same period a year ago was 9.0 million barrels per day. Tesoro is also credited as a refiner with one of the best gasoline-to-distillate yield ratios.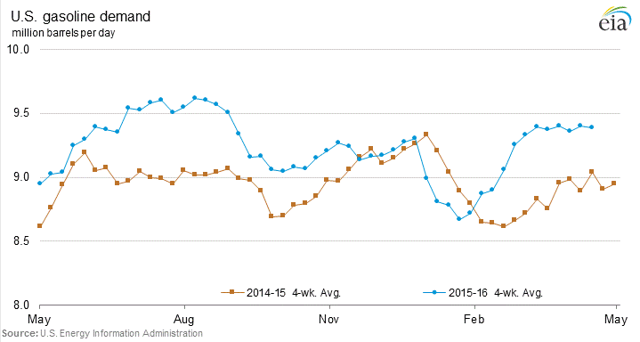 Precisely because California and the West Coast are geographically and logistically isolated from the other major gasoline-producing centers, Tesoro's retail segment-locally supplied by its refineries-is advantaged compared to new entrants. Pipelining is the cheapest method of shipment but no crude or petroleum product pipelines connect the West Coast to the country east of the Rocky Mountains.
In contrast to competitors who have pulled back from the retail business, Tesoro operates 2400 retail stations under several brands: ARCO, Shell, Exxon, Mobil, USA Gasoline, and Tesoro. About a quarter of these are company-operated and three-quarters are jobber/dealer-operated.
Market Position, Competition, and Margins
In the overall US refining market of 18 million barrels per day, Tesoro's share is about 5%, making it a mid-sized independent oil refining company. Competitors include Marathon Petroleum (NYSE:MPC), Phillips 66 (NYSE:PSX), Valero, HollyFrontier (NYSE:HFC), Delek (NYSE:DK) and a few others.
In California specifically, Tesoro competes with Chevron, Phillips, Shell, and Valero. PBF will likely soon complete its acquisition of the Torrance refinery from Exxon Mobil, so PBF will also be a competitor.
Notably, China's petroleum product exports are increasing and thus pressure on U.S. refining. China's export of oil products means another gasoline and diesel competitor to Tesoro, and one motivated by national-policy aims of capturing market share rather than the commercial one of maximizing profitability.
Nonetheless, the tough California and West Coast (including Hawaiian) gasoline specifications mean the barriers to entry are higher than in other parts of the world and even than in other parts of the U.S.
For 2015, Tesoro's two California refineries generated a gross refining margin of $17.44/throughput barrel, its Alaska and Washington refineries generated a gross refining margin of $12.17/throughput barrel, and its North Dakota and Utah refineries generated a gross margin of $16.88/throughput barrel.
For the first quarter of 2016, Tesoro estimated its refineries would run at 88-94% of capacity, averaging 775,000-820,000 barrels a day of throughput. The company estimated its manufacturing cost would average of $5.20-$5.45/throughput barrel. Notably, these costs ranged from a low of $3.60/barrel in the Mid-Continent and Pacific Northwest to a high of $6.55/barrel in California.
Strategy and Capital Expenditures
The company's 2015 capital expenditure budget was $710 million.
Tesoro has invested heavily in refining in previous years, buying first BP's southern California refinery to combine with Tesoro's existing refinery, then Alaskan logistics assets. Tesoro is also highly levered to Bakken (North Dakota) operations with its refinery and a recent purchase of logistics assets there, as well.
Refining contributes approximately 63% of earnings, logistics 15%, and retail marketing 22%. This had changed from an 80%-20% refining-retailing mix five years ago. By 2018, Tesoro expects to get 45% of its earnings from refining, 30% from logistics, and 25% from retail marketing.
The company notes it expects to deliver $400-$500 million of improvements in 2016 operationally and via growth in its logistics and marketing segments.
Drop-down
Tesoro has a 36% interest in Tesoro Logistics (NYSE:TLLP), a master limited partnership. These assets comprise 3500 miles of pipelines, 29 truck and marine terminals, and 15 million barrels of storage capacity. TLLP partnership shares are not evaluated in this analysis since attractiveness is specific to an investor's tax situation.
Tesoro notes that it may offer its newly acquired North Dakota and Alaska marketing and logistics assets to TLLP.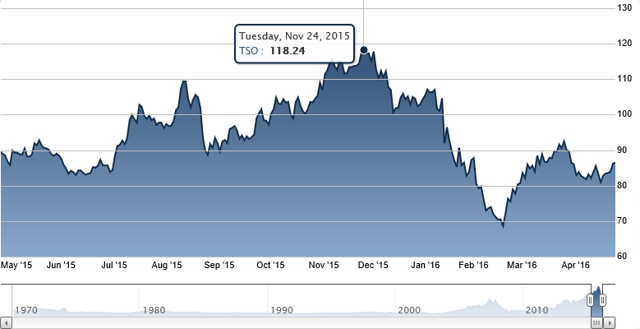 Source: The Motley Fool
Stock and Financial Highlights
Tesoro's enterprise value is $13.4 billion and its market capitalization is $10.4 billion. Its six thousand employees helped the company generate $28 billion in revenue in 2015. As a regional refiner, it is on the smaller side, and is often compared to Delek and HollyFrontier as well as the much larger Valero, which has a market capitalization of $29 billion.
Based on the April 25, 2016, stock closing price of $86.53 per share and trailing 12 months earnings per share of $12.36, the company's price-to-earnings ratio is a relatively cheap 7.0. Notably, Tesoro's 2015 earnings were 83% higher than its 2014 net earnings. Investors should also consider the consensus estimated forward earnings per share of $7.68: the consequent forward price-to-earnings ratio is 11.3.
Tesoro's 52-week price range is $67.80-$119.67 per share so its stock is at 72% of its one-year high. The company's dividend is $2.00 per share for a yield of 2.3%.
Per its financial statements, Tesoro's liability-to-asset ratio is higher than its peers at 68%. Its ratio of current assets divided by current liabilities is 1.7. The short position in the company's stock is 4.7% of shares outstanding.
Tesoro's one-year target price is $107.96. Energy analysis and banking company Tudor Pickering is among those who rate it a buy. Overall, the company's mean analyst rating is 2.5, midway between "buy" and "hold," from the seventeen analysts who follow it. According to Market Realist, eight analysts rate Tesoro a "buy" and nine analysts rate it a "hold." Its most recent upgrade was from Bank of America/Merrill Lynch, from "neutral" to "buy."
At the end of December 2015, the company had $942 million in cash and $2.5 billion in its revolving credit facility.
Less than one percent of Tesoro's shares are held by insiders, with the largest number, 580,000, held by Chief Executive Officer Greg Goff. The top four institutional holders are Vanguard (9.6%), State Street (7.1%), D. E. Shaw (3.4%), and Black Rock (3.2%).
Potential investors should consider their oil price and gasoline demand expectations, the factors that will affect the refining sector. Within the sector, Tesoro's command of regional operational challenges makes it an attractive company.
Disclosure: I am/we are long TLLP, VLO.
I wrote this article myself, and it expresses my own opinions. I am not receiving compensation for it (other than from Seeking Alpha). I have no business relationship with any company whose stock is mentioned in this article.