Cooper is traditionally referred to as the commodity with a PhD in economics. Its use is widespread throughout industry, construction, transportation equipment, and consumer products and goes back at least 10,000 years. Surprisingly, building accounts for more use of the metal, as much as 50%, than electrical products, which utilize only about 20% of market supply. A typical new house contains hundreds of pounds of copper, a new car 50 to 100 pounds. Copper's use is so pervasive that demand for it is a good proxy for the state of the non-financial global economy.
Like almost all other commodities, the price of copper fell from 2011 until early in 2016. Also, like other commodities, a rally has been taking place for the last two to three months. The rally in copper mining stocks has been more pronounced than in the metal itself, which should be expected. So far, in 2016, copper is up approximately 10%, but miners have been up as much as 40%. The black line in the chart below shows the S&P 500 (NYSEARCA:SPY), the blue line copper (NYSEARCA:JJC), and the bronze line, copper stocks (NYSEARCA:COPX) since the beginning of 2016.
2016 Performance SPY, JJC and COPX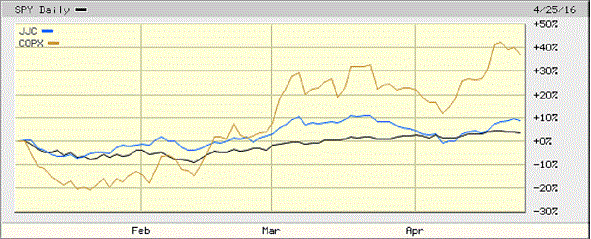 Investors, of course, have the option of buying individual copper stocks, instead of an ETF like COPX or CU. Not all major copper stocks trade on the U.S. markets, however. The largest copper miner in the world, Codelco, doesn't trade anywhere since it is 100% owned by the Chilean government. Of the remaining top ten producers. Glencore (OTCPK:GLCNF, OTCPK:GLNCY), Anglo American (OTCPK:AAUKF, OTCPK:AAUKY), and Antofagasta (OTC:ANFGF, OTCPK:ANFGY) trade in the UK, KGHM Polska Miedz (OTC:KGHPF) trades in Poland, and First Quantum Minerals (NYSEARCA:FM) trades in Canada. Only Freeport-McMoRan (NYSE:FCX), BHP Billiton (NYSE:BHP), Southern Copper (NYSE:SCCO) and Rio Tinto (NYSE:RIO) are listed in the U.S.
Southern Copper is the closest to a pure copper play. BHP Billiton and Rio Tinto are giant multinational miners that have operations involving a large number of minerals. Freeport-McMoRan's giant Grasberg copper mine in Indonesia is also the world's largest gold mine. Copper is frequently found with gold and silver, so a pure-play copper company strictly speaking really doesn't exist. Below is a comparison of how BHP (red line), RIO (bronze line), SCCO (black line), and FCX (blue line) have traded in 2016. The first three are up around 15%, while FCX is up closer to 75% (thanks to its heavy gold component).
Comparison of BHP, RIO, SCCO and FCX Stock Returns in 2016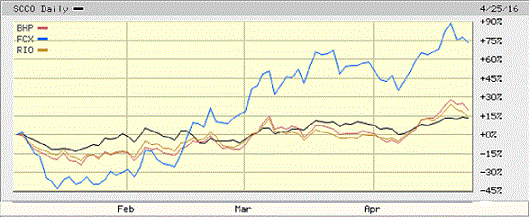 Another alternative for investors who want exposure to copper is to buy the country ETF for Chile (NYSEARCA:ECH). Chile produces around one-third of the world's copper and six of the ten largest copper mines are within its borders. Profits from its Codelco mining operations pay for 13% of the government's budget. Copper has an outsized influence on its economy. The Chilean stock market is actually a leveraged play on copper as can be seen in the chart below (the black line is copper ETF JJC and the bronze line ECH).
Comparison of Copper and the Chilean Stock Market in 2016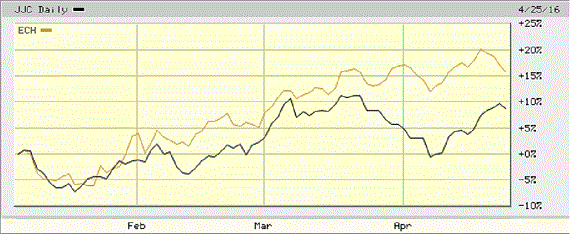 While commodity copper has done well so far in 2016 and copper miners have done much better, there is of course no guarantee that this will continue. The state of the global economy, especially the industrial sector and the housing sector, will have a strong impact on whether or not copper remains bullish.
Disclosure: I/we have no positions in any stocks mentioned, and no plans to initiate any positions within the next 72 hours.
I wrote this article myself, and it expresses my own opinions. I am not receiving compensation for it (other than from Seeking Alpha). I have no business relationship with any company whose stock is mentioned in this article.
Editor's Note: This article discusses one or more securities that do not trade on a major U.S. exchange. Please be aware of the risks associated with these stocks.