Shares of major iron ore mining companies have fallen sharply over the last few days. Vale SA (NYSE:VALE), which reports earnings this week, is down more than 16% over the past three trading sessions. Australian miners Rio Tinto (NYSE:RIO) and BHP Billiton (NYSE:BHP) are down 8.56% and 6.15%, respectively, over the last three trading sessions. The pullback is likely happening due to a bearish note on the iron ore market by Goldman Sachs.
Iron Ore Pullback Likely
The outlook for iron ore had been bearish late last year. Indeed, even this author had been extremely bearish on the global seaborne iron ore market. However, the raw material has turned out to be one of the best performing commodities this year. Prices last week hit $70.46 per ton, a level not seen since early 2015. Since December last year, when sentiment was extremely bearish on iron ore, prices have gained more than 80%.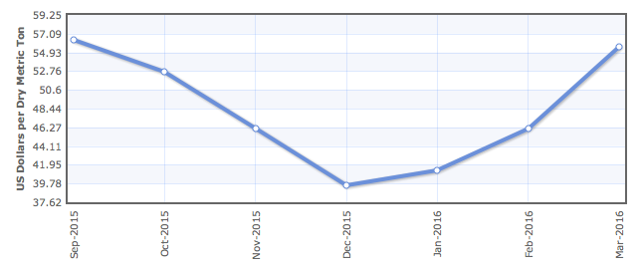 Source: Indexmundi.com
So what has driven prices higher? Chinese stimulus measures mainly. Prices have also benefited from supply disruptions, but the main reason for the rebound has been China's demand. China was the reason for the multi-year rally in most commodities markets, and its huge demand prompted major mining companies to increase supplies. But just as that supply began to come online, the world's second-largest economy began to slow down. The slowdown was mainly due to Chinese policymakers' efforts to cool down an overheating property market, and also transition an economy fueled by investments and exports to one fueled by consumption. However, a sharp slowdown in the economy has forced policymakers in China to change its path momentarily.
China has injected significant amount of cash into its banking system since early 2015, and also boosted spending on infrastructure. All these measures are starting to have an effect. Some of the recent economic data from China have been encouraging. Importantly for the iron ore market, these measures have boosted demand. According to the Financial Times, steel prices in Shanghai have surged 70% from their 2015 lows. Iron ore is a key steelmaking ingredient. The Financial Times, citing a survey from Macquarie, noted that there is continuing strengthening of steel demand.
As long as steel demand remains robust in China, one can expect iron ore prices to remain strong. However, steel demand will start to slow down. And this is because a sharp rise in prices will eventually lead to excess supply. The whole idea behind transitioning the Chinese economy was to remove excess capacity. However, the stimulus measures announced by policymakers have given breathing space to steelmakers in China. But the effects of these stimulus measures will be temporary, and if we do see an increase in steel supplies due to the surge in prices, then we are once again likely to end up with an oversupplied market, which will eventually hurt demand for iron ore and bring prices down.
In fact, this is what Goldman Sachs analysts had noted recently when they said that iron ore prices could drop back to $35 per ton during the fourth quarter. According to Goldman Sachs, the tight steel market in China is a temporary distraction and the current rally is unsustainable.
Goldman's sentiments were echoed even by Mike Henry, who heads BHP Billiton's Australian operations. According to the Financial Times, Henry told an audience at the Melbourne Mining Club that prices are unlikely to remain above $60 per ton as more low-cost volume will be coming to the market.
Pullback In Prices Not A Bad Thing For Majors
While majors have fallen sharply in recent days, the pullback in prices is actually not bad considering their long-term goals. Remember the whole idea of increasing supplies in an oversupplied market (just like what Saudi Arabia did in the oil market) was to grab market share. The current surge in prices has given high-cost miners some breathing space, which is negative considering miners' strategy.
Majors believe that lower prices will take high-cost miners out of the equation and this would allow them to grab market share. Once the fundamentals of the iron ore market improve, as much of the high cost production is taken out of the market, majors will be in a strong position. Indeed, this long-term goal if achieved could put majors such as Rio and BHP in a strong position and this is the reason why this author has bet on all three companies. While this strategy means some near-term challenges and pain (dividend cuts), it could generate significant value for shareholders in the long term.
Disclosure: I am/we are long BHP, RIO, VALE.
I wrote this article myself, and it expresses my own opinions. I am not receiving compensation for it (other than from Seeking Alpha). I have no business relationship with any company whose stock is mentioned in this article.