Company Description
Deswell Industries (NASDAQ:DSWL) is in the competitive business of contracting manufacturing - specifically, electronic manufacturing services (EMS). EMS companies test, manufacture, distribute and provide return/repair services for electronic components and assemblies for original equipment manufacturers.
Deswell focuses on the audio vertical - soundboards, speakers, pedals - and is a frequent participant of audio trade shows under the Kwanasia brand (electronics subsidiary of Deswell). It also has injection molding capabilities which most EMS companies lack. According to Deswell's 20-F, it "produces injection-molded plastic parts and components, electrical products and subassemblies, and metallic molds and accessories. The company competes with Asian-based manufacturers and/or suppliers of injection ­molded plastic parts and components, major global electronic manufacturing services (EMS) providers, other smaller EMS companies that have a regional or product­ specific focus, and original design manufacturers. Deswell also competes with current and prospective customers, who evaluate its capabilities in light of their own capabilities and cost structures. The company faces particular strong competition from Taiwanese EMS providers which compete in its end markets."
Two customers collectively account for 30.2% of sales in FY2015 (FYE 03/31/15); these two are Vtech Telecommunications Ltd. and Lenbrook Industries Ltd., per the earnings release. These are long-term relationships going back over many years. A third customer might be Loud Technologies, Inc. According to John Nesbett (Investor Relations), Deswell works on audio components that go into Peavey, Gibson and Avid products.
Investment Thesis
DSWL follows the well-trodden path of a typical industrial net-net stock. Ever since the Financial Crisis, the company has struggled with a decline in its contract manufacturing business. It has dramatically reduced expenses to meet the new reality, but continues to lose a couple million dollars every year. After years of declining net current asset value (NCAV), investors finally threw in the towel over the past year on "China" fears, leading to capitulation that drove the shares into deep value zone. (Actually, Deswell's business is driven by U.S. and European consumers and not directly affected by the slowing Chinese economy. If anything, a slowing Chinese economy may alleviate labor costs and improve Deswell's competitiveness.)
At $1.70/share, Deswell trades at an 18% discount to cash and a 33% discount to net current asset value. In other words, Deswell is priced at 66.7% of net current asset value, 79.3% of net-net working capital (NNWC), and 82.4% of its cash and securities balance. This fulfills our margin of safety requirement as NCAV would have to decline by over one-third before investors begin to lose money. Moreover, NCAV is predominantly composed of high-quality assets like cash, time deposits and investment-grade bonds.
In addition to balance sheet protection, Deswell's revenue growth of +17% in the past year suggests that it may return to profitability in the next two to four years. In fact, Deswell increased NCAV in its most recent quarter (after adjusting for the dividend paid). A continuation of this trend should lead shares to appreciate to at least its NCAV of $2.55/share for a +50% upside.
Why does the opportunity exist?
Deswell probably flies below-the-radar because (1) net-net screens found online aren't calculating its net-net working capital properly, (2) its revenue rebound which began a year ago has largely gone unnoticed.
First, DSWL is significantly cheaper than indicated by the typical Ben Graham net-net stock screens found online. Because of the way Deswell's balance sheet is arranged, these online screens fail to include more than two-thirds of Deswell's cash and cash-equivalent balance.
For example, one popular online screener calculates Deswell's price at 110% of net-net working capital versus my calculation of 79.3%. The screen only picks up Deswell's "cash" of $10.3 million and gives zero value to Deswell's cash-equivalent accounts: "Fixed deposits maturing over three months" of $6.4 million, "Time deposits maturing over twelve months" of $3.1 million, "Marketable securities" of $11.7 million, and "Available-for-sale securities" of $1.6 million. According to John Nesbett (Investor Relations), the securities are primarily investment-grade bonds of established Hong Kong companies. Clearly, these time deposits and securities have real value. Fundamental analysts who check the balance sheet could exploit this potential blind spot in computer net-net trading.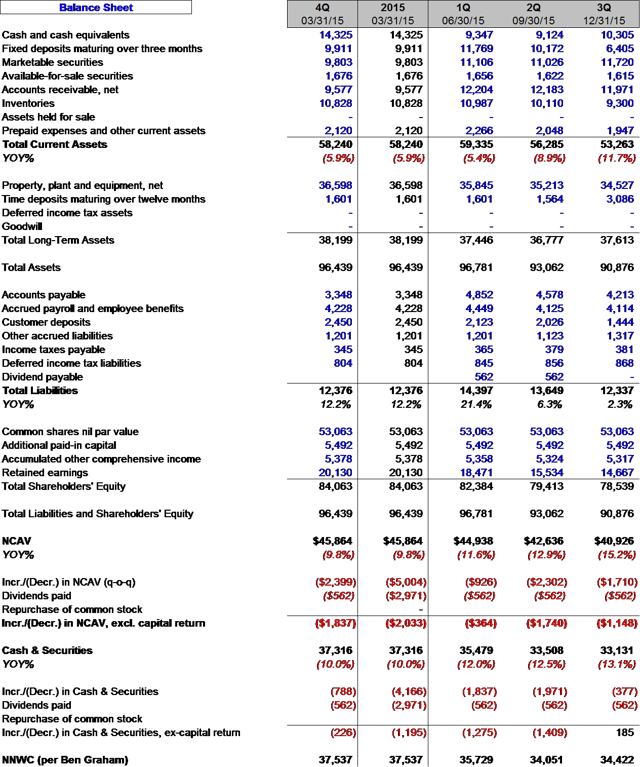 Second, revenue finally troughed in 2014 after several years of decline and has grown by +17% over the past year. What happened here? At the end of 2013, Deswell installed long-time executive and star salesperson Edward So as CEO to resuscitate the company. He replaced long-time CEO Franki Tse. 42-years-old Edward brought fresh energy to the organization. Within a year, he had stabilized Deswell's revenue. By the second year, he achieved revenue growth. Meanwhile, gross margins recovered from 7.7% to the current 9-10%. Lower oil prices should also boost margins by decreasing costs for plastic resins, which are 12-15% of total COGS. I believe gross margins could rise towards the 14-15% experienced in prior years, as revenues recover from its current run-rate of $50 million to $65 million.
| | | | | |
| --- | --- | --- | --- | --- |
| Gross Margins | FY13 | FY14 | FY15 | FY16 (F9M) |
| Plastic Molding | 14.1% | 11.7% | 16.9% | 15.4% |
| Electronics | 12.9% | 6.4% | 4.9% | 3.8% |
| Total | 12.6% | 7.7% | 9.0% | 9.7% |
Note: Deswell has a 03/31 fiscal year-end
As Edward continues the momentum in revenues, factory utilization increases to expand gross margins, which in turn delivers positive operating leverage. This will reduce cash burn and return the company to profitability within the next two to four years. I believe Deswell's revenue progression has gone unnoticed, given that the stock price is still trading at a one-third discount to net current asset value.
Insider Purchases
Meanwhile, Chairman Richard Lau (71 years old) has been buying shares. As of 02/04/16, he owns 31.4% of the company, up from 23.6% a year ago, 14.1% from two years ago, and 11.5% from three years ago. Even if Edward is unsuccessful in growing revenue, I believe Richard would preserve shareholder value by liquidating the company given his large and growing ownership. If the discount to intrinsic value is wide enough, he may try to take the company private followed by liquidation.

Note: As of 02/04/16, Richard now owns 31.4% of Deswell Industries
Deswell is paying an 8.2% dividend yield, so shareholders are already getting some value while waiting for either a return to profitability or a full-liquidation event. In either case, shareholders have a large margin of safety where net current asset value needs to decline by one-third before they lose money. This scenario seems less-and-less likely as the recovery in revenue drops to the bottom line and reduces cash burn.
As Ben Graham suggested many years ago, net-net stocks typically represent an unattractive business, but they can yield handsome profits when purchased at a bargain price because the business would occasionally run into a burst of fortune that runs the stock price up. That burst of fortune started a year ago and looks set to continue for a while.
Looks Legitimate
Deswell was founded in 1987, went public through the standard IPO channel in 1995, and has been paying a dividend since 1996. This pattern suggests that Deswell isn't in the same category of fraudulent reverse-merger companies that were prevalent in the markets several years ago. The company and its management - with many decades of experience working in the industry - look legitimate.
Conclusion
On the upside, Deswell presents a +50% opportunity as rising revenues and a return to profitability take the stock up to its net current asset value of $2.55/share. The fat 8.2% dividend provides some value while shareholders wait - it is effectively a partial-liquidation. Protecting the downside is the bargain stock price with a one-third margin of safety. Also, the engaged Chairman with a large and growing ownership stake defends the downside with the option to liquidate the company at a value higher than the current stock price.
Disclosure: I am/we are long DSWL.
I wrote this article myself, and it expresses my own opinions. I am not receiving compensation for it (other than from Seeking Alpha). I have no business relationship with any company whose stock is mentioned in this article.
Additional disclosure: This article expresses the views of the author as of the date indicated and such views are subject to change without notice. The author has no duty or obligation to update the information contained herein. Further, the author makes no representation, and it should not be assumed, that past investment performance is an indication of future results. Moreover, wherever there is the potential for profit there is also the possibility of loss. This article is being made available for discussion purposes only and should not be used for any other purpose. The information contained herein does not constitute and should not be construed as an offering of advisory services or an offer to sell or solicitation to buy any securities or related financial instruments in any jurisdiction. Certain information contained herein concerning economic trends and performances is based on or derived from information provided by independent third-party sources. The author believes that the sources from which such information has been obtained are reliable; however, it cannot guarantee the accuracy of such information and has not independently verified the accuracy or completeness of such information or the assumptions on which such information is based.
Editor's Note: This article covers one or more stocks trading at less than $1 per share and/or with less than a $100 million market cap. Please be aware of the risks associated with these stocks.