Around a month ago, I published an article on Seeking Alpha regarding the Bakken, one of the seven largest oil-producing regions in the continental United States. In that article, I made the case that, given current trends, oil production in the region should fall materially this year and likely by an amount that is greater than I had previously anticipated. Now that fresh data is out, courtesy of the EIA (Energy Information Administration) through its Drilling Productivity Report, I decided that now might make for a good opportunity to revisit the picture and see how things might have changed, as well as to see what this means for oil-oriented investments like the United States Oil ETF (NYSEARCA:USO), other long-oriented oil ETFs, and oil-related companies like Breitburn Energy Partners (NASDAQ:BBEP), Linn Energy (NASDAQ:LINE) / LinnCo (NASDAQ:LNCO), Memorial Production Partners (NASDAQ:MEMP), and Approach Resources (NASDAQ:AREX).
Looking into the past
In my last piece, I had to look at three indicators to see what the future might hold for Bakken oil production. The first of these was the rig count. By looking at the historical trend in rig counts in the current low-priced energy environment, I concluded that it wouldn't be unreasonable to anticipate a decline of about 5 units per month. Between February and March of this year, the actual drop was 6 units from 38 to 32 but since this is not materially different, I am going to stand by the 5 unit drop moving forward unless something changes.
The second indicator of significance regarding this was the change in month-to-month rig productivity. In the graph below, you can see the historical trend that this has taken. If the EIA's forecasts are accurate, the one month productivity improvement rate in April compared to March will be about 1.36%. Previously, I had estimated an improvement of 1% each month but I now believe, given some revisions that have developed, that a rate of more like 1.5% is warranted for the foreseeable future. For obvious reasons, if the rate of improvement is growing, the picture should be more bearish than bullish, ceteris paribus.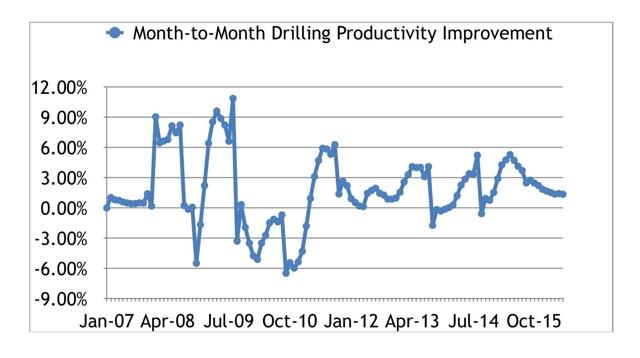 *Source: Created by author with data from the EIA's Drilling Productivity Report
Finally, I had to determine what makes sense from a decline rate perspective. In the graph below, you can see the historical trend that the rig decline rate has taken since January of 2007 and, as you can see, the number is hovering over 5% right now (5.31% for the most recent forecast). This revision by the EIA has forced me to increase my expectation for the decline rate in the Bakken, moving my moderate scenario up from 5% to 5.25%. Likewise, this has forced my hand in moving the conservative scenario from 4.5% each month to 4.75% and the liberal scenario from 5.5% to 5.75%. Unlike in the case of the rig productivity improvement, this is a bullish change.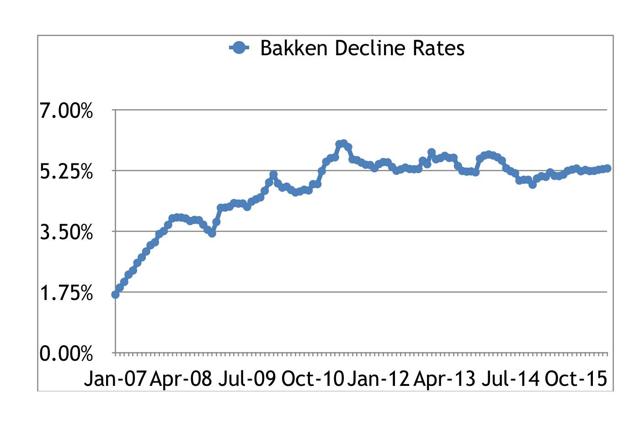 *Source: Created by author with data from the EIA's Drilling Productivity Report
Based on the results of my prior data, I was able to create the table below. In it, you can see that oil production this year, given the current trends, should fall materially if nothing changes. In December of 2016, for instance, investors could expect production of 823,777 barrels per day under the conservative scenario, while the moderate and liberal scenarios would yield output of 791,099 barrels per day and 759,578 barrels per day, respectively. This all compares very, very favorably when stacked up against revised data for December of 2015, which stands at 1.16 million barrels per day.

*Source: Created by author with data from the EIA's Drilling Productivity Report
The picture has improved
Looking at the results of my new analysis, which can be seen in the table below, the picture looks a bit better than it did even a month earlier. Despite seeing a negative impact caused by the change in rig productivity, the one additional rig coming offline and the increase in decline rates in the region suggests that we should see output hit, under the conservative scenario, 800,603 barrels per day by December of this year. Meanwhile, the moderate and liberal forecasts point to output of 772,392 barrels per day and 745,046 barrels per day, respectively.

*Source: Created by author with data from the EIA's Drilling Productivity Report
To put things in perspective, I decided that it would be a wise idea to create the following table, which shows my new forecast compared to my previous one. In it, you can see that the conservative forecast calls for oil production in the Bakken to be about 23,174 barrels per day lower than it was in last month's estimate. The moderate forecast calls for an added decline of 18,707 barrels per day, and the liberal forecast calls for a drop of 14,532 barrels per day should nothing change.

*Source: Created by author with data from the EIA's Drilling Productivity Report
Takeaway
Based on the data provided, it appears as though the picture in the Bakken will not only improve drastically but should improve to a greater extent than I previously anticipated. Ultimately, we will have to see how the picture turns out for other regions in the U.S. but this is a promising sign and seems to indicate that oil production declines in the country will be larger than analysts have expected. Moving forward, I believe this to be a bullish sign for long-term oil investors like myself.
Disclosure: I am/we are long BBEP, AREX, MEMP.
I wrote this article myself, and it expresses my own opinions. I am not receiving compensation for it (other than from Seeking Alpha). I have no business relationship with any company whose stock is mentioned in this article.
Editor's Note: This article covers one or more stocks trading at less than $1 per share and/or with less than a $100 million market cap. Please be aware of the risks associated with these stocks.