After a three-week rally that has pushed both WTI and Brent Crude up, investors are trying to gauge whether or not this rally will continue into the summer months.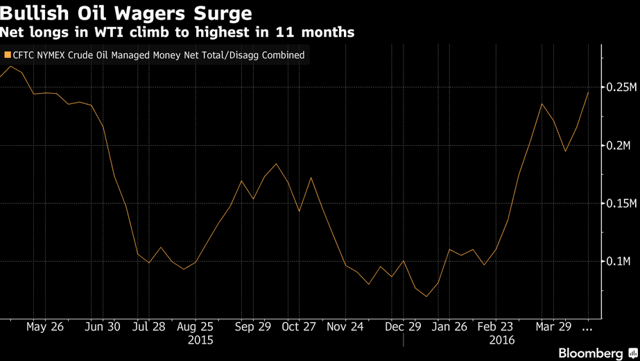 Source: Bloomberg
A key argument oil bulls are positing is that the oil supply/demand gap will continue to close in the months ahead. In particular, growing gasoline consumption in the U.S., solid demand in China, and growing demand from India are cited as indicators of an oil rebound.
But taking a closer look at the apparent growth in demand obscures larger headwinds ahead. Even though oil investors continue to make bullish bets, higher demand will not be able to stem oil's downward trajectory.
Growing Demand
One key driver for higher demand is growing U.S. gasoline consumption. As gas prices continue to remain low and demand is projected to increase during the summer, oil bulls expect this to help close the supply/demand gap.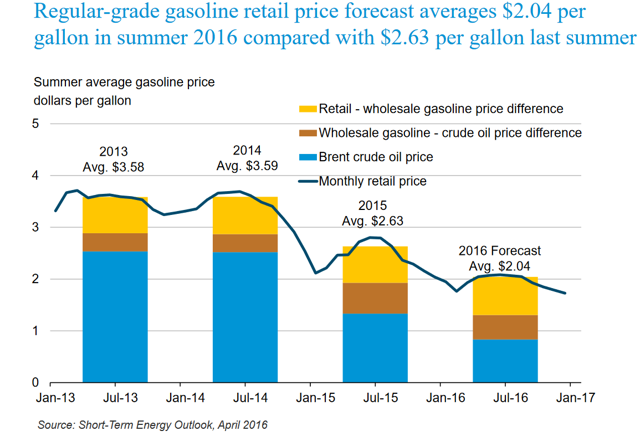 Source: EIA
Chinese demand remains solid and March saw imports of 7.7 million barrels a day. Although domestic demand is not significantly growing, China is storing as much crude as it possibly can. It has added 787,000 barrels a day to its record-high stockpiles in Q1.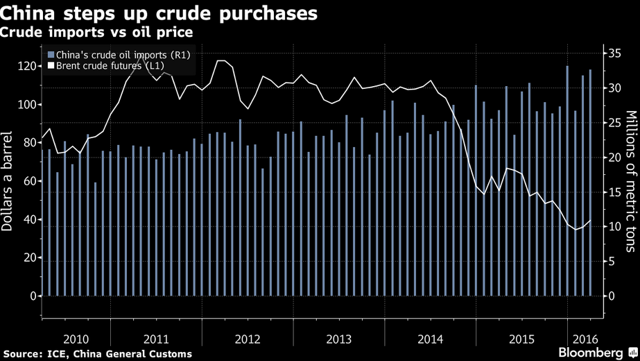 Source: Bloomberg
A lot of bullish oil investors are expecting India to be the next engine for global growth. In fact, India's oil demand growth will match China's for the first time in nearly a decade. Current data indicates that oil demand in India will be 8 percent higher this year than in 2015, an increase of about 300,000 b/d.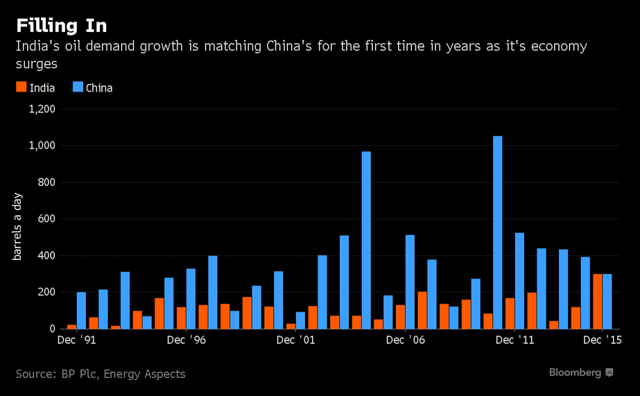 Source: Bloomberg
Short-Lived Rally
Earlier this month I explained the problems driving the current oversupply glut. I noted how oil production outstripped demand by an average of 1.5 million barrels per day since the end of 2014. This excess production is causing oil storage problems, with record amounts of oil being held in storage facilities across the world. In addition, millions of barrels of oil are being held in massive offshore tankers.
On top of all of these problems, OPEC's much vaunted summit in Doha failed to achieve an oil production freeze. With its failure to achieve an oil production freeze, it is a distinct possibility that oil will head back below $30/bbl.
All of this makes it appear that the current oil rally will be short-lived. Although demand is increasing, it will not be high enough to offset the supply glut. Demand from China could slow as weaknesses continue to mount in its economy. Indian demand will not significantly ease the oil current oversupply problem. In addition, it remains likely that Saudi Arabia will increase its production in the months ahead. Therefore in spite of some indications of an increase in demand, the supply glut will continue and this will keep oil prices low.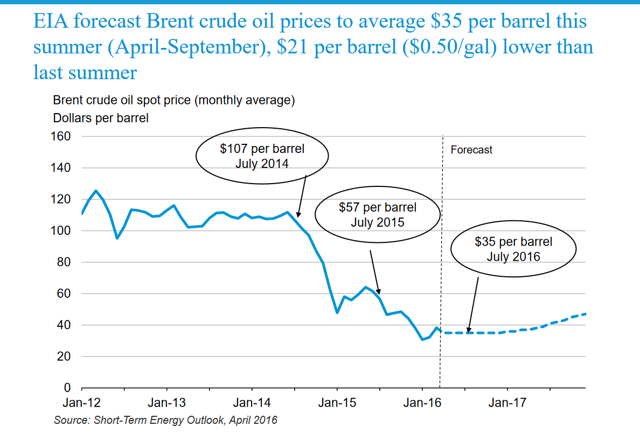 Source: EIA
Conclusion
With oil having sold off on Monday, the oil rally might be starting to run out of steam. Looking forward to the months ahead, oil prices will continue to face serious headwinds in spite of growing demand. Commodity investors should continue to tread carefully as oil prices will likely see further declines in the coming months ahead.
Disclosure: I/we have no positions in any stocks mentioned, and no plans to initiate any positions within the next 72 hours.
I wrote this article myself, and it expresses my own opinions. I am not receiving compensation for it (other than from Seeking Alpha). I have no business relationship with any company whose stock is mentioned in this article.