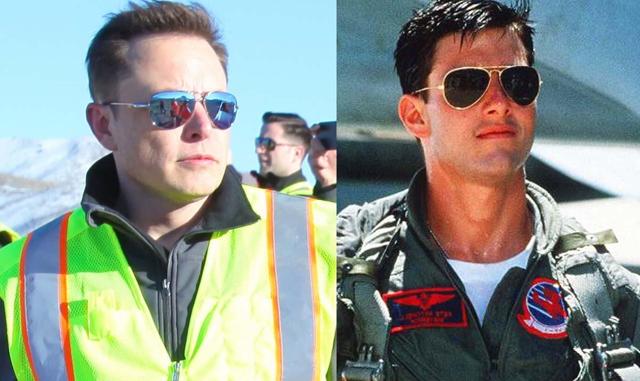 Elon Musk flies by the seat of his pants when disclosing information
I didn't expect to be writing another Tesla (NASDAQ:TSLA) piece so soon after publishing an article yesterday. But such is Tesla, there is a lot of stuff going on, a lot of stuff to write about. Indeed, I have material for yet another article that I'll be delaying to avoid an overload of such articles.
However, something came to my attention that does require an urgent article. This information came in the sequence of my latest article titled, "Honey, I Shrunk The Gigafactory II", and it, too, concerns the Gigafactory.
So What Came To My Attention?
Basically, Tesla has disclosed a new timeline for building the Gigafactory. And it did this selectively, to just a few people. Let me explain.
Old Timeline
As far as a regular investor can know, the only timeline that was ever made public regarding the building of Tesla's Gigafactory was the one included in its Incentive Agreement with Nevada. I have already shown this timeline in my previous article, but I'll repeat it here since it's part of the thesis: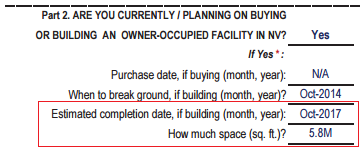 Source: Tesla's Incentive Agreement With Nevada, October 2014; red highlight is mine
As I said in my past article, this timeline implied that the whole Gigafactory building would be complete by October 2017, and would amount to a 5.5-5.8 million sq ft footprint, which is consistent with the 800,000 sq ft building existing today, and its relationship to the overall announced footprint: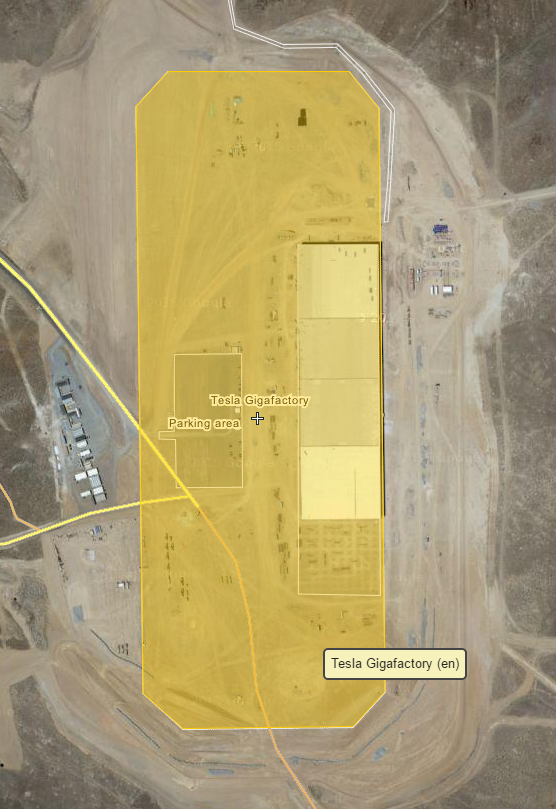 Source: Wikimapia
Material Information
So what material information did Tesla disclose, to whom and when? It all happened as follows:
On March 14, Tesla had a meeting with Nevada lawmakers at the Nevada Gigafactory.
This meeting was reputedly about the rooftop solar energy "problem" in Nevada, but it also versed on the Gigafactory.
Present at this meeting were 10 Nevada lawmakers, Elon Musk, JB Straubel (Tesla's CTO and co-founder), Lydon Rive (SolarCity's (SCTY) CEO) … and Nancy Pfund (Managing partner, DBL Parners, TSLA and SCTY investor), an investor. So basically, there were lawmakers and investors (even if just one) present.
The presentations included one by JB Straubel.
It was this JB Straubel presentation that included new and material information regarding Tesla's Gigafactory. This information was disclosed, as we saw, to lawmakers and investor(s). Thus, there was at least one investor who got to know about this information selectively while it was never released to the general public (and other investors).
The material information included a significant change to the Gigafactory building schedule.
How do we know this? Several ways:
First, the investor, Nancy Pfund was named as one of the attendees by Vegasinc.com.
Second, Nancy Pfund herself tweeted about the event and shared a picture of it: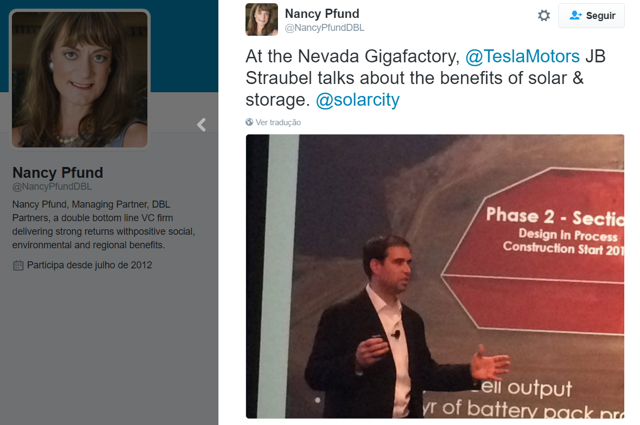 Source: Twitter.com
Third, that very tweet shows that a large part of the Gigafactory is still in the design phase - though the photo is conveniently cropped exactly where the initial construction date was revealed!
Fourth, a few days later rumors started emerging that the Gigafactory's full construction had been postponed to ~2020, in line with the new (but undisclosed to the general public) material information.
Moreover, Tesla sought to dispel these rumors even as the company had presented new material information to several people, including investors. It's relevant here to say that Tesla dispels the rumors by saying that construction and production is ahead of schedule. While production can subjectively be said to be ahead of schedule (Tesla is assembling battery packs, but not building battery cells or taking the whole process from materials to end-product), construction is obviously behind. Tesla conflates "production" with the October 2017 deadline, but the deadline is for the construction of the building, not its operation. The slide above now shows construction in phases, with most of the factory still in the design phase (and thus not done by October 2017, versus the initial statements made by Tesla to Nevada and never changed in public).
Implications
As I have written both in September 2015 and yesterday, I believe TSLA is no longer building its Gigafactory to its previous plans. The factory will no longer attain a 5.5 million sq ft footprint by October 2017. Yet, Tesla continues to release statements saying it's ahead of schedule on such construction, while privately making presentations that seem quite incompatible with it.
I believe Tesla has already selectively disclosed its construction plans to some people in this presentation. While disclosing them to Nevada lawmakers might not be a problem, the fact that Tesla also disclosed them to other investors does make it selective disclosure and puts me and other investors at a disadvantage.
Conclusion
Tesla should inform the market about what it disclosed to this investor. I believe Tesla disclosed that the Gigafactory building won't be complete by October 2017. The market ought to be a level playground, and Tesla cannot have a set of information for some investors and another set for others.
I've also reached out to Tesla's IR requesting the same presentation slides JB Straubel gave to this investor. I don't know if Tesla will disclose the slides in spite of this investor having had access to them (as photographic evidence shows). If Tesla does disclose the presentation, I will update this article or write a new article including it.
Disclosure: I am/we are short TSLA.
I wrote this article myself, and it expresses my own opinions. I am not receiving compensation for it (other than from Seeking Alpha). I have no business relationship with any company whose stock is mentioned in this article.