Securities in Question:
Investors can invest in silver production via the Global X Silver Miners ETF (NYSEARCA:SIL) or (NYSEARCA:SILJ) for junior miners, and the MSCI Global Silver Miners (NYSEARCA:SLVP).
There are also silver streaming companies, such has the well known Silver Wheaton (NYSE:SLW), and pure silver plays like Pan American Silver (NASDAQ:PAAS) and First Majestic (NYSE:AG) - the latter of which is the purest silver play available with 69% of revenue coming from production of the metal.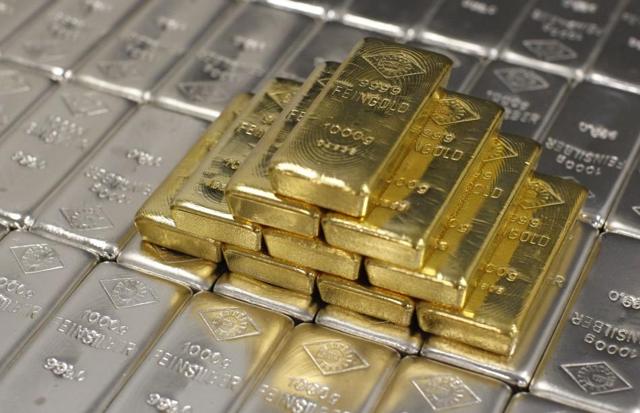 Unlike with gold mining stocks, investments that usually underperform the physical mental, it is not unusual for silver mining stocks and ETFs outperform both gold miners and physical silver over the long term.
Silver is a Commodity:
The vast majority of silver is used for direct industrial applications, only a small fraction is used for investment. And silver is not commonly held as a monetary asset in central banks.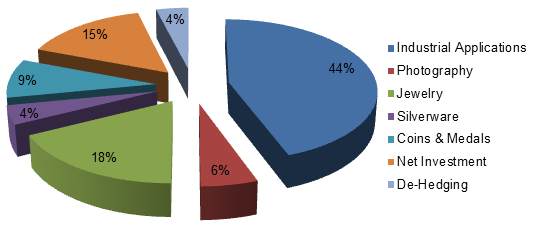 The metal closely follows the commodity cycle along with other materials like copper, oil and zinc. As with these other commodities, the value of silver is derived from supply and demand. Speculative forces like inflation or hedging against a weakening dollar do not affect the silver price as much as they affect the gold price.
I believe investing in a silver producer is more similar (economically speaking) to investing in an oil or base metal producer. And this is a good thing for the investment.
The Economics of Silver Mining:
Silver is a commodity first and a precious metal second. The economics of silver production are completely different from the economics of gold production.
First off, there is a lot of silver in the world. Over 800 million ounces were produced in 2014, and production increases dramatically over time. This allows silver producers to take advantage of economies of scale to a greater extent than their gold mining counterparts.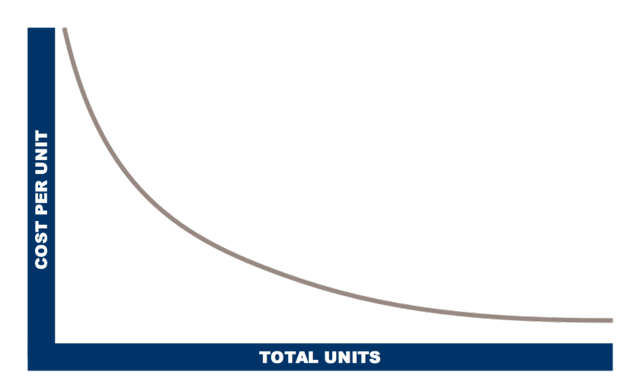 According to economics of scale, the more output a producer is able to produce, the lower their fixed cost per unit. This is because while variable costs increase with greater production, fixed costs stay the same.
Fixed cost in this case would be selling and administrative expenses such as employee salaries, rents, interests payments. Even some components of All in Sustained Costs (AISC) - exploration and capex, that are not fixed can still benefit from the economy of scale advantage silver producers have over their gold producing counterparts.
Because silver producers are better able to take advantage of economies of scale, they should be a much safer bet when the price of the commodity goes down. These companies are better able to make profit when prices fall near cost of production. Gold miners, on the other hand, are in much greater danger because fixed costs and expansion costs represent a much greater percentage of the total cost of each ounce of metal produced.
The Performance of Silver Miners:
The silver mining ETFs, like gold mining ETFs, underperform the physical metal in the long term. However, the underperformance of silver miners is not as severe when compared to gold miners:
The silver miners ETF actually beat the physical ETF in the 5 year: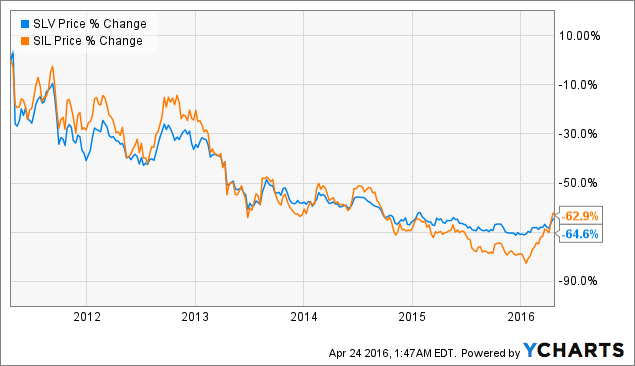 (NYSEARCA:GDX) vs (NYSEARCA:GLD) 5 year: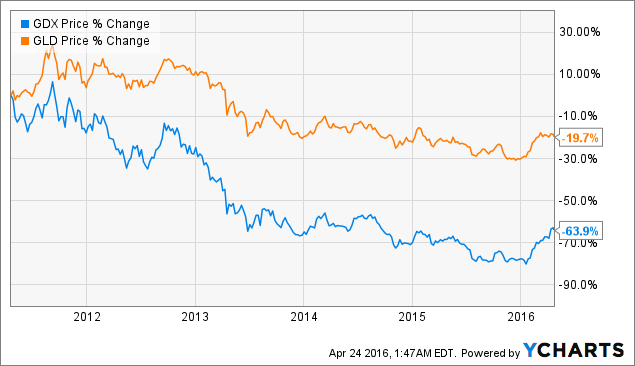 The silver mining ETF tracks the physical silver price much better than GDX does for gold.
Over the ultra long term both will under-perform physical metal, and are more useful for day-trading or swing trading. However, when it comes to individual mining companies, the performance of silver producers can be better than the physical metal, this is especially so with the streaming companies.
First Majestic AG, Silver Wheaton SLW and SLV: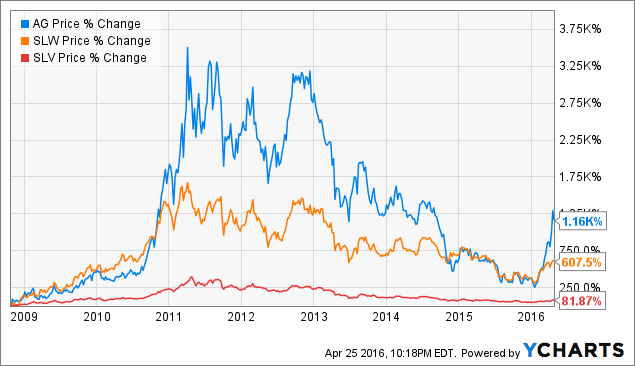 Why are streaming companies the best bet in the precious metal mining industry?
Streaming companies are mine financing companies. They provide cash to miners in return for the right to purchase a percentage of the mine's production at a discounted price. They can be thought of as the venture capital firms of the mining industry.
Because these companies lack the direct exposure to mining they are a much safer way to invest in the industry. Streamers do not have to worry about exploration costs, accidents or environmental regulations, and most of their costs are fixed. In addition, the majority of streaming companies are diversified - not only in their revenue streams but in the different types of resources their partner mines produce.
Gold streaming companies like Franco Nevada (NYSE:FNV) and Royal Gold (NASDAQ:RGLD) often outperform the physical metal also, although not as convincingly as the silver streamers do: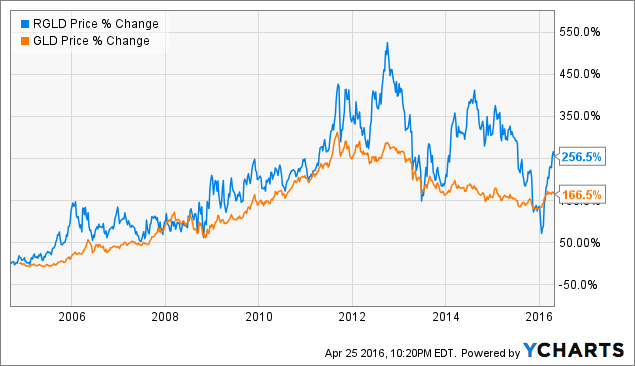 Warning:
Many silver stocks and ETFs have jumped upwards of 70% this year alone. Many silver miners are still posting losses at current silver prices, and so the recent performance of the stocks cannot be justified by fundamentals only.
Conclusion:
Silver mining ETFs do a better job of keeping pace with the price of the metal over the long term. This is because silver is a more typical commodity than gold is, and production volume is much higher. These companies are able to take advantage of economies of scale to maintain profitability - or limit losses during times when prices are falling.
Silver is a commodity, so its prices are cyclical - while prices are low now they will recover at some point. It is also likely gold and silver will recover at the same time. In this case, an investor who wants to make a bet on the precious metals recovery through resource sector equities would be better served with silver miners or streamers instead of gold miners.
Article of interest for holders of: (NYSEARCA:IAU), (NYSEARCA:GDXJ), (HUI)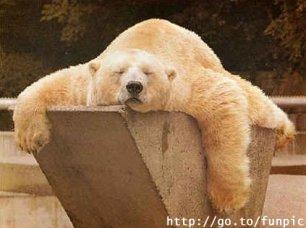 - Be sure to follow Gold Bug for coverage of the precious metals market, we are now the #1 opinion leader on SeekingAlpha.
Become a part of the team by clicking on my name next to the polar bear at the top of the article. Thank you, and I look forward to your feedback and suggestions.
Disclosure: I/we have no positions in any stocks mentioned, and no plans to initiate any positions within the next 72 hours.
I wrote this article myself, and it expresses my own opinions. I am not receiving compensation for it (other than from Seeking Alpha). I have no business relationship with any company whose stock is mentioned in this article.