The unsolicited offer by Gannett (NYSE:GCI) for Tribune Publishing (NYSE:TPUB) is being viewed as a likely winner, even though management would prefer to remain independent.
The market apparently thinks the deal will go through, sending Tribune stock soaring 53 percent Monday to $11.49, within hailing distance of the $12.25-a-share offer. The offer totals $815 million, including a $390 million assumption of debt.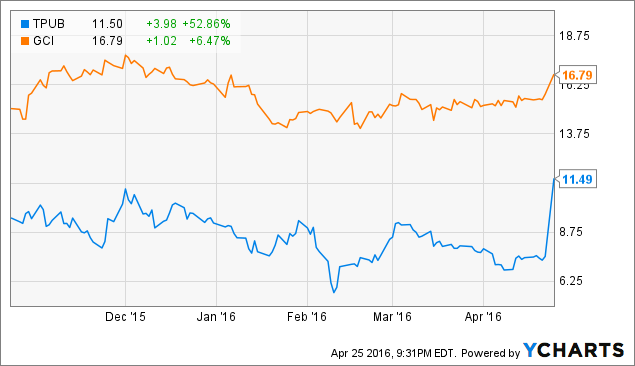 Tribune management has had less than two years since it was spun off from its former parent's more profitable television properties. Management does not believe it has had enough time to put its new strategy into effect, a source told the Chicago Tribune.
Gannett referenced Tribune's attempt to "delay constructive engagement" as the reason it made its offer public, taking its case directly to outside shareholders. Under a decision by the Delaware Supreme Court, directors of publicly owned corporations have a fiduciary responsibility in merger situations to act in the best interest of shareholders rather than their own interests, such as trying to keep their jobs.
Does this mean the board has no real alternative to acceptance? Maybe not.
True, on an economic basis, it's likely the newspapers are worth more to Gannett than any other company. Gannett, with its tight focus on costs, is the most efficient operator in the business. Its 9.6% operating margin dwarfs Tribune's 3.2%, or New York Times' 4.0%. GCI's return on assets of 7.2% compares favorably with 4.5% for TPUB and 4.8% for NYT.
Given Gannett's strategy of owning mostly smaller and mid-size newspapers and bundling national news from USA Today in standalone sections, the Tribune acquisition makes sense. According to the Poynter Institute's Rick Edmonds:
Gannett is thought to especially covet Tribune's Sun-Sentinel in Fort Lauderdale and the Orlando Sentinel. They would join a Florida group that already includes Tallahassee, Pensacola, Fort Myers and now, with the Journal Media Group addition, Naples and the Vero Beach markets.

The Baltimore Sun and Morning Call of Allentown, Pennsylvania also fit a mid-Atlantic Gannett footprint that includes papers in Wilmington, Delaware and York, Pennsylvania and is up the road from company and USA TODAY headquarters in McLean, Virginia.
As Edmonds notes, the Los Angeles Times, with its mammoth 500-person editorial staff, doesn't really fit. Gannett has to get the $50 million in synergies it expects out of the deal somehow, and it's hard to imagine the Times newsroom being spared. Despite Gannett's promises of continued editorial quality, the company has a reputation for making major cuts.
If Gannett gutted the Times' renowned national and international staff in favor of USA Today content, it could expect a serious backlash from readers in the nation's second-largest city, who expect a newspaper competitive with the East Coast's finest.
Beyond their economic value, newspapers carry prestige value for certain buyers. That could give Tribune management an alternative.
Last year, L.A. builder-philanthropist Eli Broad, at Tribune's request, made an offer to buy the Times and the co-owned San Diego Union-Tribune. Broad told the L.A. Business Journal: "I've always believed that the Los Angeles Times and the San Diego papers ought to be owned by Californians."
We don't know the value of Broad's offer, but conceivably it could have topped whatever share of Gannett's offer is attributable to the Southern California newspapers. Under a "white knight" arrangement, Broad could keep parts of the current management in place.
The Chicago Tribune might also attract a local buyer. The rest of the Tribune Publishing properties presumably would be sold, to Gannett or another buyer.
As a veteran of the newspaper industry, I believe the largest regional newspapers have futures as prestige properties, not as parts of publicly owned investments with returns competitive with other media. Advertising revenue keeps declining, and Internet sales have migrated away from publishers to Alphabet (NASDAQ:GOOG) and Facebook (NASDAQ:FB).
Local reporters have been largely insulated from the inevitable cuts, and consolidation of functions among jointly-owned properties has helped, but one can only chop so many newsroom personnel (copy editors and photographers are often the first to go) before readers notice the decline in quality.
Still, ownership of a hometown newspaper is a great way for a magnate to wield influence, driving a city's agenda through an editorial page read by all the power brokers in town. Las Vegas Sands CEO Sheldon Adelson's $140 million purchase of the Las Vegas Review-Journal last year falls into this category.
No one accuses Adelson of being civic-minded, but the 82-year-old Eli Broad is something else again. He is known for his huge donations, may of which aim to turn Los Angeles into a cultural capital. A rescue of the Times would probably make him, at least briefly, the most popular Angeleno not named Magic or Kobe.
The Southern California papers provide an estimated 40% of TPUB's revenue, but likely a smaller share of profits given the high expenses of the Times. The Gannett offer is 5.6 times EBITDA, a low multiple consistent with a declining industry. By contrast, a friendly prestige-property takeover, the Washington Post's 2013 purchase by Amazon's Jeff Bezos, was done for 17 times EBITDA.
Let's say Broad bought the Times for $300 million, which would include reimbursement for the $85 million Tribune paid for the San Diego papers last year. Would Gannett pay more than $515 million for the remainder? Possibly, because the strategic value lies with the smaller papers that can be integrated with USA Today. If not, Tribune could seek one buyer for the Chicago Tribune and another for the rest of the properties. That, in turn, could cause Gannett to raise its bid.
Bottom line: TPUB shareholders may wind up with more than $12.25 a share, but there are risks involved. I would rate the stock a hold, and if it's below $11 after my 72-hour disclosure window expires, I would consider initiating a position.
Disclosure: I/we have no positions in any stocks mentioned, and no plans to initiate any positions within the next 72 hours.
I wrote this article myself, and it expresses my own opinions. I am not receiving compensation for it (other than from Seeking Alpha). I have no business relationship with any company whose stock is mentioned in this article.