US coal is currently undergoing one of the most dramatic industry implosions in history. What was once one of the country's largest and most influential industries is now on the verge of collapse. Despite the fact that coal still accounts for approximately one-third of the United States' electricity consumption, US coal companies are now being valued at far less than even US solar companies. To put some perspective on this, solar accounts for approximately 1% of the United States' electricity consumption.
Not surprisingly, coal bankruptcies have become prevalent in the current environment. In fact, historical US coal standout Peabody Energy (BTUUQ) just filed for Chapter 11 bankruptcy after many efforts to turn things around. Peabody Energy is just one among many major US coal companies that have filed for bankruptcy over the past year alone. Unfortunately for coal investors, coal stocks like Alliance Resource Partners (NASDAQ:ARLP) and CONSOL Energy (NYSE:CNX) will likely continue to plummet given current trends.
Peabody Energy's recent bankruptcy highlights the massive problems facing the coal industry.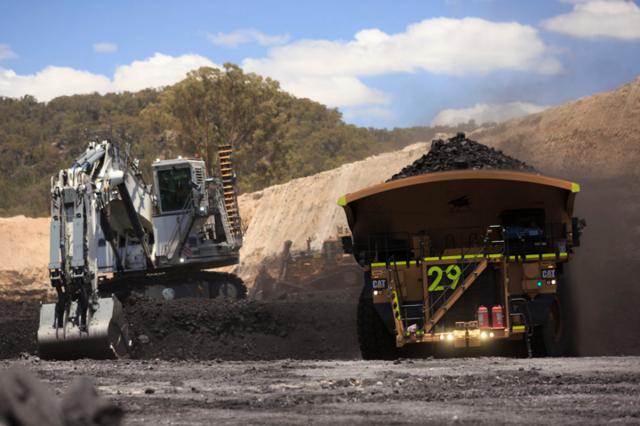 Source: Peabody Energy
Losing Ground
There are few industries in as desperate a situation as US coal. The US coal industry is facing major headwinds from virtually every single angle. On the technology front, coal increasingly appears to be outmatched. In addition to the highly cost competitive natural gas technologies that have emerged over the past decade, coal is facing rapidly advancing renewable technologies. On the policy front, coal is losing support at an unprecedented pace. In fact, anti-coal policy has been one of the main contributors to coal's collapse. President Obama's Clean Power Plan in particular appears to be devastating the industry.
What is perhaps most surprising is the plummeting global demand for coal, especially from large coal consumers like China. While China has a reputation as being an unapologetically heavy coal consumer, the country is actually taking great pains to reduce its reliance on high pollutant energy sources like coal. In fact, China's waning coal demand has played a sizable role in Peabody Energy's bankruptcy. With the world's largest economies starting to pursue far more aggressive anti-pollution policies, global demand for coal should continue to decrease.
Little Hope for a Turnaround
While the coal industry is doing everything in its power to innovate, it is already too late for a major turnaround. Even some of the most promising new coal technologies will take far too long to become viable. Although new carbon capture technologies like the Allam cycle are being heavily researched, such technologies are decades away from becoming cost-effective (by current standards). By then, it will likely already be too late for such technologies given the rapid technological advancements being made in areas such as fracking, wind, and solar.
Given the growing urgency surrounding environmental issues, coal will likely be disproportionately penalized moving forward. As coal is one of the most polluting forms of energy even among fossil fuels, almost any broad anti-pollution policy will have a disproportionately negative impact on the coal industry. Despite the best innovative efforts of major US companies like Alliance Resource Partners and Foresight Energy (NYSE:FELP), these companies will have the nearly impossible task of producing far cleaner coal at a far more competitive price.
Technologies such as hydraulic fracturing, photovoltaics, and wind turbines are advancing at an incredibly fast rate. While coal is still cost competitive in a large number of regions, emerging technologies will likely supplant coal in such regions faster than most expect. After all, it was almost unfathomable a decade ago that coal would experience such a pronounced and dramatic downturn as a result of newer technologies. Despite the coal industry being at an all-time low, there is still far more downward pressure to come.
Although renewables like solar and wind still need cheaper batteries in order to be truly cost competitive with coal, there are many more promising energy sources that can provide baseload power. As was mentioned before, natural gas will be a huge near-term threat to coal given its cleaner nature and the rapid technological advancements being made in the industry. Even nuclear energy is a viable near-term threat to coal, although there are still many unique factors hindering its growth in the US.
Conclusion
Coal faces daunting near-term and long-term threats in the form of cleaner fossil fuels, promising renewable technologies, and policy. The coal industry is even facing a growing societal pushback in the form of rapidly growing divestment movements, which are starting to have a larger-than-expected impact on coal investments. While coal still plays a prominent role in energy generation at approximately 32% of the United States' generating capacity, investors should avoid coal even at current company valuations.
The coal industry is clearly on a downward spiral given the major US coal company collapses over the past year alone. With historical powerhouses like Peabody Energy and Arch Coal going bankrupt, it would be wise to avoid other major US coal companies like Alliance Resource Partners and Foresight Energy. Investors would likely be far better off buying major solar companies like First Solar (NASDAQ:FSLR) and SunPower (NASDAQ:SPWR) given the promise of solar energy. The US coal industry is facing insurmountable headwinds on nearly every major front and is set to continue its downturn.
Disclosure: I/we have no positions in any stocks mentioned, and no plans to initiate any positions within the next 72 hours.
I wrote this article myself, and it expresses my own opinions. I am not receiving compensation for it (other than from Seeking Alpha). I have no business relationship with any company whose stock is mentioned in this article.
Editor's Note: This article discusses one or more securities that do not trade on a major U.S. exchange. Please be aware of the risks associated with these stocks.