Of the two transportation and logistics stocks - UPS (NYSE:UPS) and FedEx (NYSE:FDX) - FedEx has been lagging behind the former on several fronts for a long time. Though the revenue gap has been narrowing every year and could easily vanish after the dust settles from FedEx's acquisition of TNT (OTCPK:TNTEY), there is still lot more that FedEx needs to achieve before it can give UPS a run for their money.
A quick look at their operating margins is one of the biggest clues to how the product mix and operational efficiency of UPS has pushed them into a higher position than FedEx in the pecking order.
FedEx's operating margins over the past few years tells a story in itself. Since 2007, they've found it extremely hard keeping that metric within the 6-8% level. On the other hand, UPS has almost never been below the 8% level in the same period.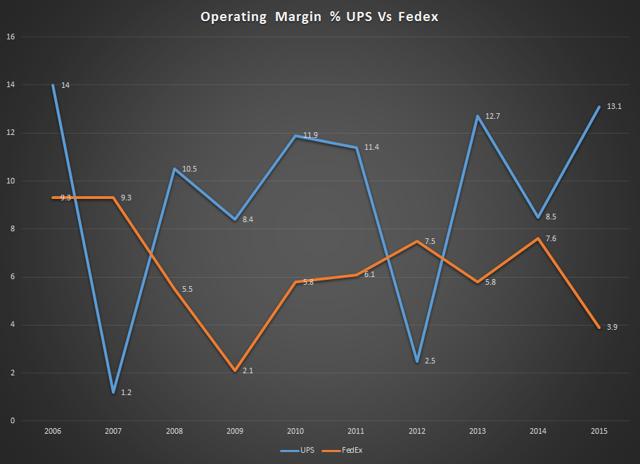 Both companies are guilty of not being able to show any consistency with respect to operating margins, but the problem for FedEx right now is that you can easily send one of their trucks through the yawning gap between their numbers vis-à-vis UPS. UPS has been easily topping 10% margins, while FedEx hasn't managed to breach that level in the past 10 years.
The Problem
The real issue with margins arises from the fact that FedEx's core revenues primarily come from the Express segment, which is low-margin by nature. On the other hand, UPS's primary volume goes through ground-express hybrid networks that are basically more efficient.
According to Morningstar:
"In the U.S. parcel market, FedEx's Express and ground units together handled about 11.0 million average parcels daily in fiscal 2015, but UPS moved 15.3 million in calendar 2014. Within this total, the disparity is even greater in U.S. ground, where UPS moved on average 12.9 million parcels per day and FedEx on the order of half of that: 6.9 million including SmartPost."
Another major difference underlines why UPS is more efficient than FedEx: while the latter uses separate networks of trucks to deliver Express and ground parcels, UPS has already integrated the two - so, the same delivery network is used for both Express as well as ground shipments. Granted, FedEx's system gives customers the benefit of variable cost during high-volume periods, but that's only at peak times. The system UPS has in place makes it convenient for clients because the same driver and the same truck are used for both ground and Express delivery.
The margin problem highlighted by Morningstar's analyst is a very real one, and FedEx has been trying to rectify that problem over the past few years. In fact, they've had a fair amount of success, but there's still a long way to go. Nearly 57% of their overall sales volume of $47.5 billion in 2015 came from the Express segment. As such, their margins are still dependent on this volatile segment. Integration with ground will take time, but that's the direction they need to go.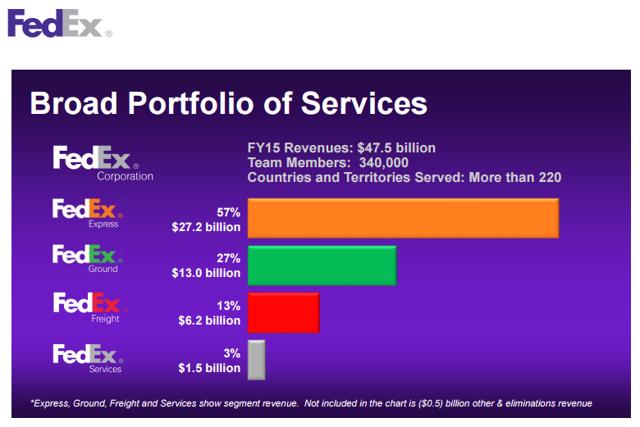 FedEx Express margins have been slowly rising in the last three years, thanks to FedEx for aggressively focusing on reducing costs and improving efficiency. Their efforts are slowly starting to pay off, and this is extremely crucial for the company to shore up the bottom line as they move forward to the next round of their battle with UPS.
During the first nine months of FY 2016, FedEX Express reported revenues of $19.736 billion with an operating income of $1.762 billion, resulting in an operating margin of 8.93%, a full 2.78% higher than the margin reported during the same period last year. This is the highest margin reported ever by the Express segment, which still accounts for more than 50% of their total sales.

Investor-speak: The Outlook and the (Non-)Threat
"Express segment margins in the current fourth fiscal quarter will be approximately 12%. Likewise FedEx Ground including SmartPost margins will increase in the 16% plus this quarter while the FedEx Ground and supply chain segment will be 15%." - Fred Smith, Chairman, FedEX
Great news from their earnings call, but FedEx can't afford to sit on those laurels. Even if they do grow efficiencies within segments, their overall operating margins are still a long way from those that UPS keeps putting out quarter after quarter. They need to be moving more volume through their high-margin segment, Ground, while gradually increasing efficiency on Express shipments the way UPS has been doing.
On a side note, the threat to FedEx and UPS from e-commerce players encroaching on their volumes has been exaggerated. I've covered this in one of my earlier articles titled Amazon's Pursuit of Shipping Excellence where I called it " imaginative speculation."
I now offer up my comments from that article so you can compare it with what Fred Smith is saying…
Shudeep Chandrasekhar:
"There have been several reports on how Amazon is trying to get into the delivery business and topple UPS, FedEx and DHL, but I think that's just imaginative speculation. In fact, I'm surprised that highly respected publications would even buy into that sort of faulty deductive reasoning."
Fred Smith, Chairman, FedEx:
"The concerns about industry disruption continue to be fuelled by fantastical and let me emphasize I chose this word carefully articles and reports which are devoid of in-depth knowledge of logistic systems and the markets which FedEx serves. As we have previously noted, network design technology, facilities capabilities and route/stop density are the key elements in the FedEx UPS and postal service systems. These entities will remain the primary carriers for e-commerce shipments in the U.S. for the foreseeable future."
While I agree with the "foreseeable future" part, it's not a stretch to assume that Amazon is continuing to improve its competencies in areas that most affect customer experience - and that includes timely delivery at the lowest possible cost. The long-term effects of that cannot be foretold, but suffice it to say that, for now, FedEx and its key competitor in the United States are going to benefit more from the growth of e-commerce than be affected by a customer in that segment becoming a potential competitor.
On that note, I would recommend investing not only in the more efficient and continually improving FedEx, but also the efficiency leader, UPS. This duopoly is here to stay, and both stocks can only grow stronger from here.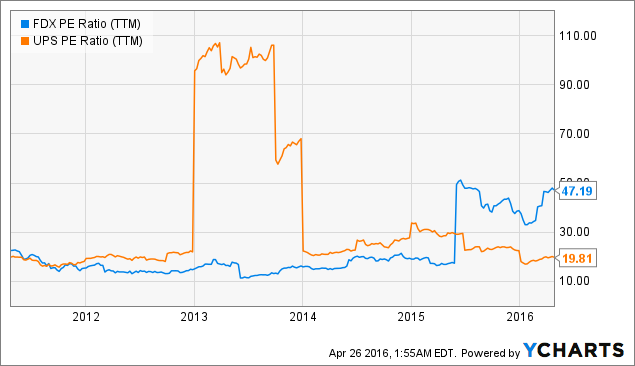 FDX PE Ratio (TTM) data by YCharts
Disclosure: I/we have no positions in any stocks mentioned, and no plans to initiate any positions within the next 72 hours.
I wrote this article myself, and it expresses my own opinions. I am not receiving compensation for it (other than from Seeking Alpha). I have no business relationship with any company whose stock is mentioned in this article.