Water has become a highly precious resource. There are some places where a barrel of water costs more than a barrel of oil. -
(Lloyd Axworthy, Foreign Minister of Canada, 1999 News Conference)
Recently I've covered 2 of the largest water-related firms in France which happened to be two of the largest water related firms on Earth: Suez Environment and Veolia. Both share very interesting fundamental characteristics for investors, even though currently I consider them too expensive, they are worth investing in if they continue their path as I discussed in the article. For now, the search to the perfect water stock continues.
In this article, I will cover Kurita Water Industries (OTCPK:KTWIF) which is a Japanese manufacturer, providing water treatment chemicals and facilities as well as process treatment chemicals.
This is part 8 in the series I've written on Seeking Alpha covering water related investments. The previous parts are the following: Part 7 ( Suez Environment (OTCPK:SZEVF) Part 6 (Veolia ( OTC:VEOEF)), Part 5 (American Water Works (NYSE: AWK)), Part 4 (ETFs), Part 3 (PowerShares Global Water Portfolio ETF (NYSEARCA: PIO)), Part 2 (First Trust ISE Water Index ETF (NYSEARCA: FIW)) and Part 1 (PowerShares Water Resources Portfolio ETF (NYSEARCA: PHO)).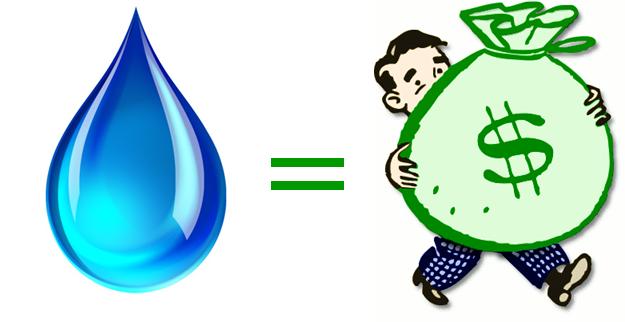 Kurita: The Japanese have converted very well to water related issues.
The issue of water scarcity is not only related to one continent in the world. It is a worldwide problem. As part of doing research on water, I've covered toilet-manufacturers Geberit (OTCPK:GBERY) located in Switzerland and the Lixil Group (LIXL), located in Japan. The latter, Japan, is one very specific country when it comes to water-related issues. The last issue is was the meltdown in Fukushima which tainted water for some time.
"Itoshiro Dam in Japan"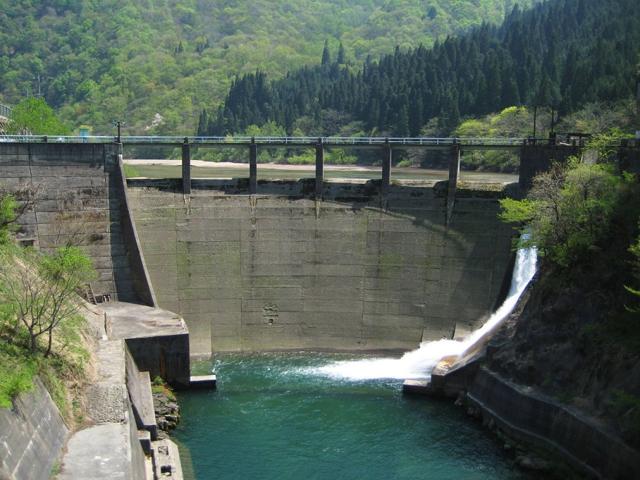 Japan has achieved universal access to water supply and sanitation. It furthermore has one of the lowest levels of water distribution losses in the world. This brings the focus on Kurita Water Industries.

Operating Performance Kurita
The firm operates in the following segments, water treatments chemicals and water treatment facilities: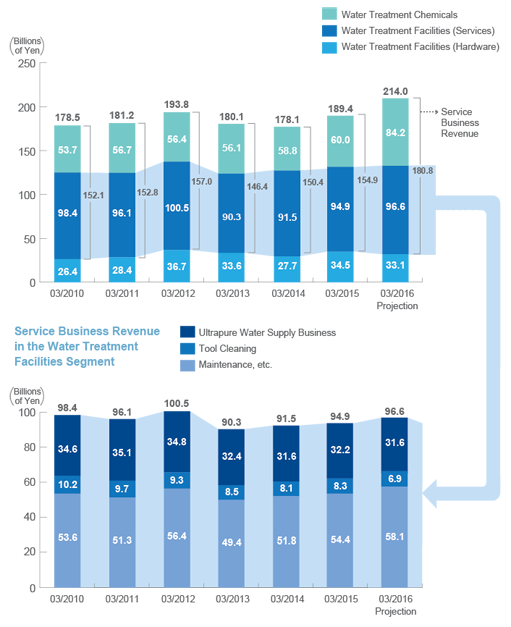 Source: Kurita
As one can see in the histogram, the largest part of revenue is the segment of water treatment facilities with almost 70% of total revenue. Their corporate strategy for until 2018 can be found here which is not very detailed but easily to understand for layman investors. Furthermore, historical performance of a variety of metrics can be found here since financial data on Japanese firms is not easily found on the internet.
In short: the firm is expecting continuation of revenue growth and is cultivating new markets at a high double digit rate: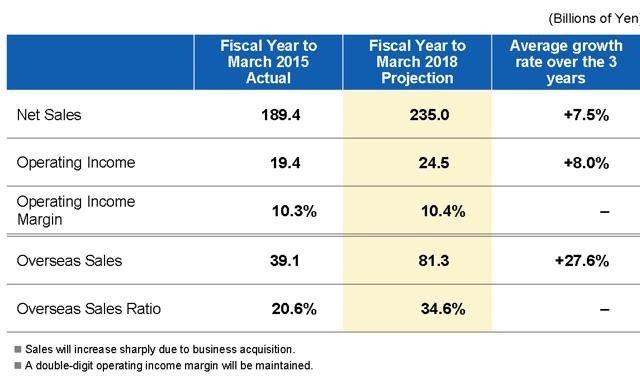 Source: Kurita
These numbers seem all very solid, yet growth is anticipated based upon acquisition. Acquisition is a bit tricky, as in case valuation for a deal goes wrong, an impairment charge will jeopardize this firm and investors will be hurt by potentially decreasing dividends and less buy-out of stocks. And the current margins don't leave much room for error.
Considering the amount of issues Japan is facing: a decreasing population, declining investment, fiscal constraints, aging facilities, an aging workforce, vulnerability of parts of the country to droughts that are expected to become more frequent due to climate change the firm is aggressively expanding outside its borders: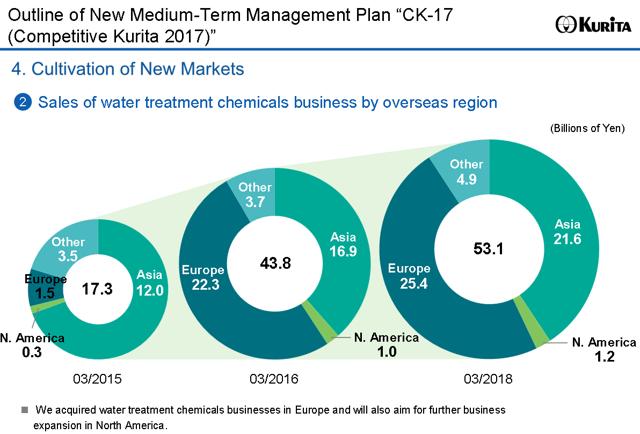 Source: Kurita
Looking at purely operating results, the firm has been functioning quite reasonable year over year: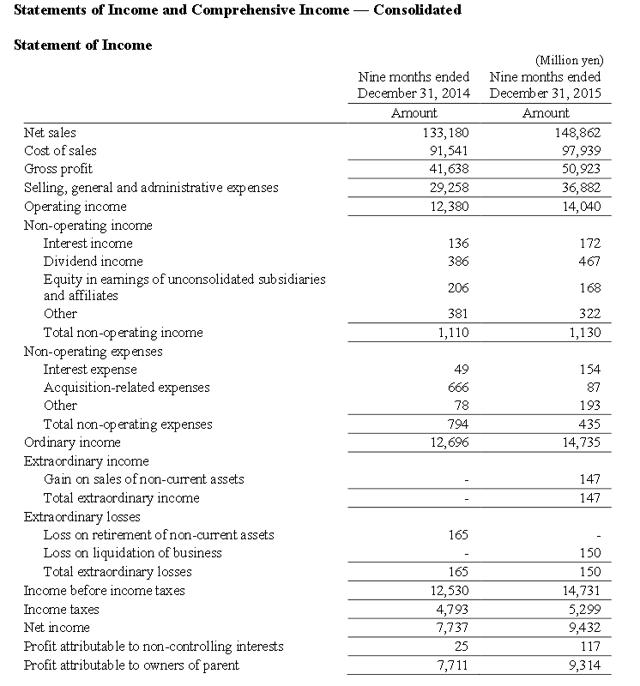 Source: Kurita
Analyst Consensus
Kurita is currently considered by analysts as a buy: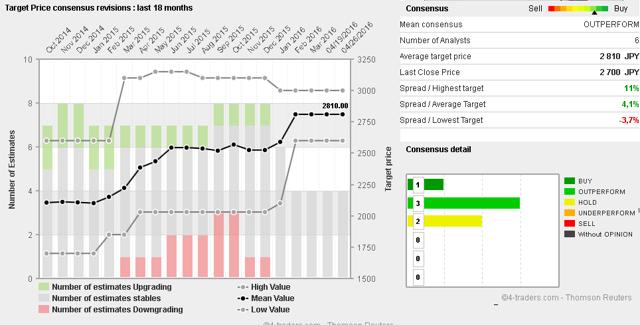 Source: 4-traders.com
Analysts are, in line with management, expecting higher revenue in line with higher margins overall: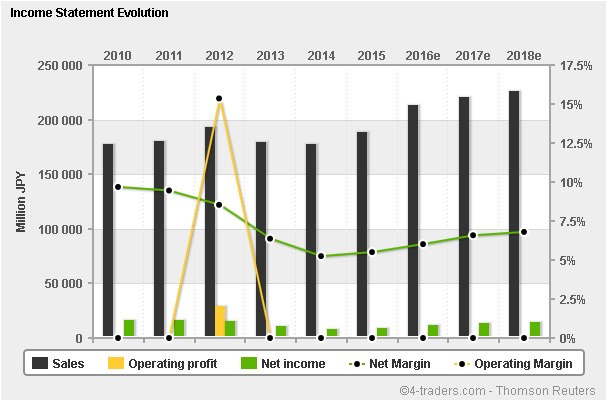 Source: 4-traders.com
As one can see in the charts above, Kurita has suffered when looking at margins alone, especially the previous years. In the latest Q&A conference call, profitability issues were discussed but as management pointed out:

Source: Conference Call Kurita
I do believe in the solid picture Kurita's management has put together. Issues in Japan will not go away, and the firm has expanded internationally while maintaining focus sales growth & margin restructuring.
The forward P/E of Kurita around 20 for 2018.
Kurita: Will Kurita Continue Dividend Increase?
Considering the growth of Kurita, it's not a surprise that the firm has been able to maintain a consecutive growth for 11 years in a row:

Source: Kurita
I also agree with management on how they expect to distribute cash for the coming years: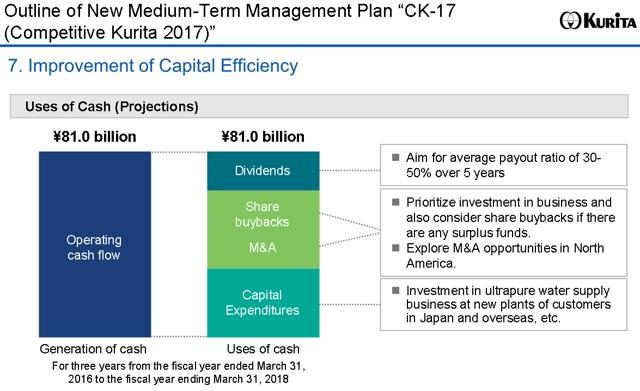 Source: Kurita
I have to admit that I've seen many management presentations before, but the overall message remained relatively vague. In this case, Kurita's management brings very clear language to the table which I think will be essential to attract (future) investors. So far investors have not been unhappy year to date: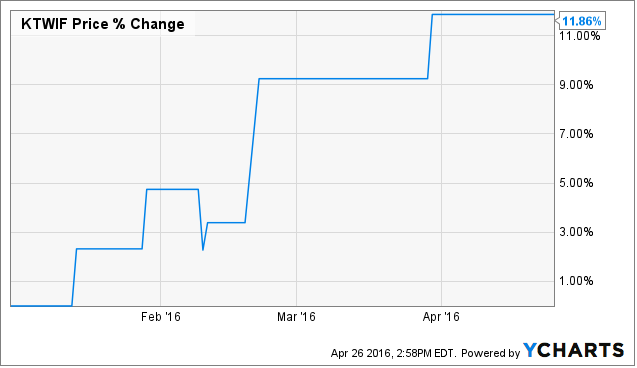 Conclusion
Kurita derives a lot of revenue out of Japan as of now. As the country faces many issues, the firm needs to exploit sales outside their waters at an expanding rate. Same as Lixil, the firm can try to exploit more internationally, but in contrast to Lixil I believe Kurita actually expands much more successfully.
An investment in Kurita is also a bet on better than expected synergies of the Japanese manufacturer and its European acquired counterparts.
At a P/E of 26 (and forward P/E of 20) it's definitely not cheap and it from this valuation perspective it falls under the umbrella as American Water Works, Veolia & Suez.
Disclaimer: This article provides opinions and information, but does not contain recommendations or personal investment advice to any specific person for any particular purpose. Do your own research or obtain suitable personal advice. You are responsible for your own investment decisions. This information is not a recommendation or solicitation to buy or sell securities, nor am I a registered investment advisor.
Disclosure: I/we have no positions in any stocks mentioned, and no plans to initiate any positions within the next 72 hours.
I wrote this article myself, and it expresses my own opinions. I am not receiving compensation for it (other than from Seeking Alpha). I have no business relationship with any company whose stock is mentioned in this article.
Editor's Note: This article discusses one or more securities that do not trade on a major U.S. exchange. Please be aware of the risks associated with these stocks.