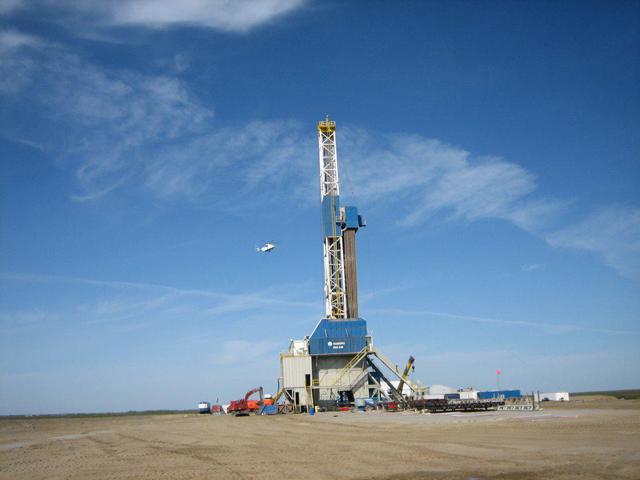 Source: Nabors Rig 536. NBR website.
This article is an update of my recent article on Nabors Industries (NYSE:NBR) published on February 28, 2016 about the 4Q'15 and full year 2015.
For Nabors Industries 1Q'15 Presentation, click here.
Description of the Fleet
Nabors can be divided into different segments (actively marketed rigs):
Offshore drilling: Nabors owns seven jackups and 37 offshore platforms (19 in the USA).
Land drilling: Nabors owns 449 rigs as of 3/31/2016. Including 4 rigs under construction and 19 offshore in the US, with a total average utilization of 42% in 1Q'16.
Nabors owns and operates approximately 428 land drilling rigs throughout the world. Nabors's actively marketed offshore fleet consists of seven jackups and 37 platform rigs in the United States, and multiple international markets.
Q1 2016 Earnings Results Snapshot
You can find an important link to the conference call transcript here.
Financial Snapshot: (Five Consecutive Quarters)
Q1 2016
Q4 2015
Q3 2015
Q2 2015
Q1 2015

Total Revenue

$ Billion

0.4308
0.6937
0.8124
0.8637
1.421

Total Revenue from drilling (excluding rig services)

$ Billion

0.5976
0.7389
0.8476
0.8631
1.4154

Adj. Net income from operations

Adj. Income

$ million

(396.6)

(53.77)

(161.1)

(7.81)

(250.9)

7.52

(41.89)

70.30

124.4

86.95

Non-cash impairment + other charges

$ million

308.9

("CJES")

123.56
245.41
-
-

Cash and Cash equivalent and short-term invest.

$ million

221.50
274.59
276.56
469.90
621.17

Long-term debt

Net debt

$ billion

3.5844

3.369

3.6552

3.387

3.738

-

3.691

-

3.817

-

Net debt to Capitalization

46%
44%
-
-
-

Adjusted

EBITDA

$ million

162.05
223.33
247.63
288.49
367.96

Earnings from continuing operations

Adj. $/s

basic $/s

(1.41)

(1.41)

(0.57)

(0.58)

(0.86)

(1.02)

(0.14)

(0.13)

0.43

0.43

Shares outstanding

in million

275.851
276.371
284.112
286.17
285.36
Cash available (liquidity) is $2,382 million.
Detailed Operating Revenues Q1 2016 and comparison
Q1 2015

$ million

Q4 2015

$ million

Q3 2015

$ million

Q2 2015

$ million

Q1 2015

$ million

Q4 2014

$ million

Q3 2014

$ million

US
148.68
222.06
259.94
321.2
453.8
544.9
571.7
Canada
17.49
28.31
29.93
21.41
57.84
88.2
80.5
International
401.06
448.51
516.18
458.55
445.4
432.1
424.7
Rig services
53.85
72.86
73.52
100.60
144.08
190.4
191.4
Total Operating Revenues
621.08
771.74
879.6
901.8
1,101
1,256
1,268
Completion and Production services
Completion
-
-
-
-
(55.2)
361.8
254.0
Production
-
-
-
-
(3.3)
239.9
259.9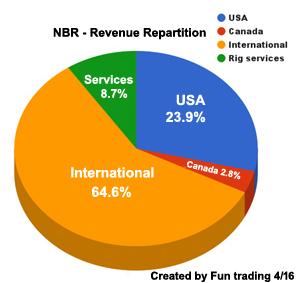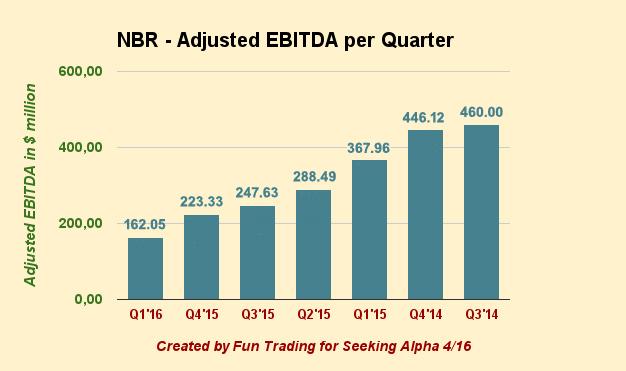 Commentary:
Nabors Industries released its 1Q'16 results on April 25, 2016. NBR on Monday reported a first quarter loss of $398.3 million or a loss of $1.41 per share, and revenue of $597.6 million.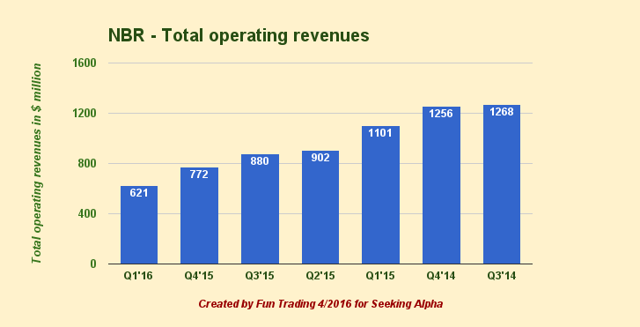 This graph above is showing the severity of the downturn, that the company is actually facing. Operating revenues were slashed by half in 5 quarters.
Now, the important question, again, is whether this decline finds a real bottom or not?
The answer is both easy and extremely difficult to formulate, and depends on the future oil prices mainly. Oil prices seem to get some positive support recently. However, it is still insufficient to change the trend and rig count continues to drop, which means that NBR will probably continue to release dismal operating revenues until probably 3Q'16. At which point, we may finally reach a bottom.
The U.S. land rig count, per Baker Hughes, for the week ending April 22, 2016, fell 9 to 431 (April 2015 was 976).
Canada land rig count for the week ending April 22 was 40 and International rig count for March 2016 was 985 (April 2014 was 1,202).
Anthony Petrello, Nabors's Chairman, President, and CEO, commented:
Despite a recent upturn in the price of oil, at its current level, we anticipate further near-term reductions in rig count both internationally and in the U.S. We also expect margins to deteriorate, particularly in the Lower 48 market.
To make the situation even worse, NBR is now paying the price of this ill-timed acquisition of C&J.
I wrote in my preceding article the following about the C&J Energy Services acquisition:
First, Nabors completed the merger of its Completion and Production Services operation with C&J Energy Services. Looking at this acquisition, it is clear it was a mistake in retrospect, in my opinion. I really do not see any interest in this merger and any synergy whatsoever. Time and energy have been wasted on this issue that could have been allocated to the main business.
The effect of this acquisition came very fast. NBR has been forced to impair the value of C&J Energy by a non-cash value of over $300 million.
Conclusion:
NBR's balance sheet will continue to deteriorate, probably one or two more quarters, despite some positive momentum in oil prices which had a strong positive effect on the price per share since January.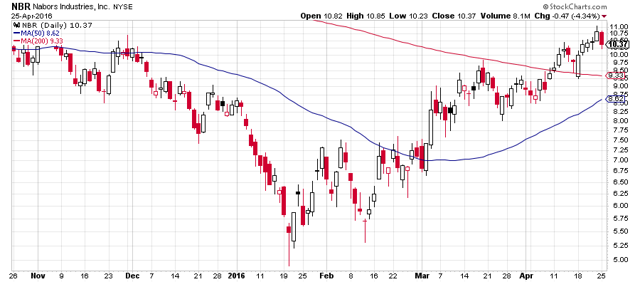 However, the situation is quite difficult, and when I look at the chart, I see a bullish technical signal - Golden cross or a crossing of the 200MA by the 50MA - that contrasts with the weak fundamental aforementioned. This will create increased volatility.
In other circumstances, I would have recommended a buy, but I believe, we might be on our way to change the trend again, and I see NBR going down around $8.75 first, and eventually re-test the $6.50. Oil prices are of a paramount importance here. They have been the main reason for this unexpected boost in price per share, but the momentum will be hard to keep going. It is time to take some profit and wait for 2Q'15 results to decide the next most appropriate move.
Disclosure: I/we have no positions in any stocks mentioned, and no plans to initiate any positions within the next 72 hours.
I wrote this article myself, and it expresses my own opinions. I am not receiving compensation for it (other than from Seeking Alpha). I have no business relationship with any company whose stock is mentioned in this article.
Additional disclosure: I trade NBR