In the past several years, the long-haul/low-cost airline business model has taken off, and is popping up in more and more places around the world. The long-haul/low-cost model is by no means new, but it has come and gone over the years.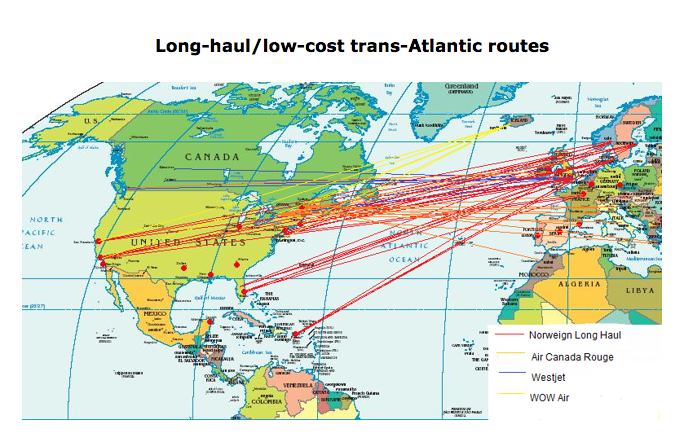 Image 1: Source
Traditionally, the low-cost model, which airlines like Spirit (NASDAQ:SAVE) and JetBlue (NASDAQ:JBLU) operate, was focused on short-haul flights under 5 or 6 hours in duration and typically did not fly trans-Atlantic or trans-Pacific. With the advent of ultra-fuel-efficient aircraft such as the Boeing 787, along with a decline in the cost of long-haul aircraft, long-haul/low-cost has once again taken off.
Trans-Atlantic Low-Cost Airlines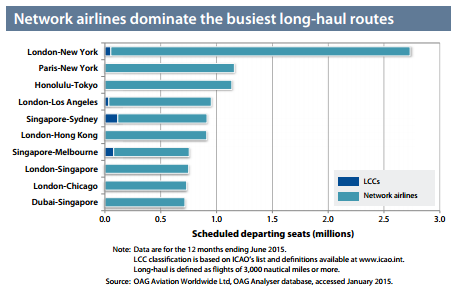 Image 2: Low-cost carriers' market share of busy long-haul routes.
The trans-Atlantic market has been where much of the long-haul/low-cost activity has taken place so far. Norwegian airlines has inaugurated routes from several European cities to Boston, Fort Lauderdale, Las Vegas, Los Angeles, New York, Oakland, and Orlando. The route map in image 1 shows Norwegian routes in red, and despite the already broad coverage, within a few years the operation will be almost 4x as large based on current aircraft orders and the same size or larger than Virgin Atlantic, Delta Air Lines' (NYSE:DAL) UK-based partner, of which Delta owns 49%.
In addition to Norwegian, startup WOW air now offers flights from Europe to the USA and Canada with one stop in Iceland along the way. These flights are selling for as little as $99 to Europe each way. Westjet in Canada, an airline very similar to Southwest has started flying to several cities in the UK and Ireland from Canada using 737 aircraft and noted the routes were its most successful launches ever. Westjet is now reported to be looking at making a large purchase of dedicated long-haul aircraft to make an even bigger push into this space and is also examining Asian destinations. Air Canada has noted the potential threat and worked to set up a low-cost subsidiary to compete with Westjet and low-cost trans-Atlantic airlines.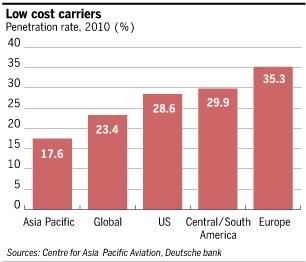 Image 3: Low-cost carriers' penetration rates worldwide
Low-cost airlines altered and grew the air travel landscape drastically within North America and around the world and long-haul/low-cost travel will undoubtedly alter it just as much. The trans-Atlantic market is among the most profitable regions for most U.S airlines so any substantial growth by long-haul/low-cost airlines in this space over the coming years could have a large effect on U.S airlines. While the chart above shows the market share of low-cost airlines around the world, when it comes to long haul, they have a mere 3% market share currently, showing the infancy and potential growth ahead.
Delta Air Lines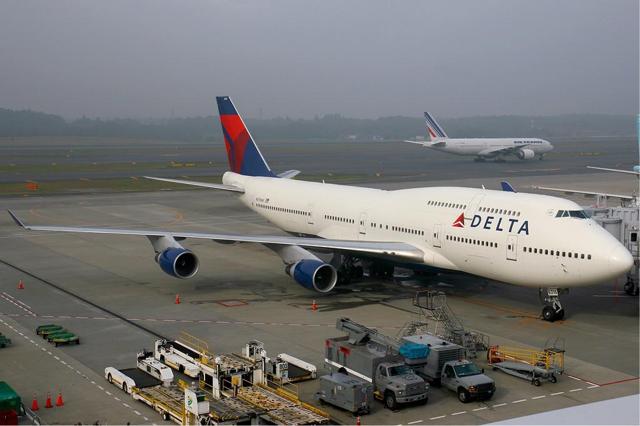 Image 4: A Delta Air Lines aircraft
Delta is undoubtedly watching the long-haul/low-cost space with interest. For Delta, the trans Atlantic market is its best performing with above average margins compared to the rest of its network and the region also compromises the same amount of revenue as Latin America and the Pacific network combined. Delta tried but failed along with the ALPA and many other U.S airlines in trying to shut Norwegian out of the U.S market. Delta in its complaint was concerned about Norwegian's plan to base its long-haul operation in Ireland, rent pilots through a Singapore employment company and cabin crew from Thailand with wages and benefits substantially below those of the Norway based pilots.
It was reported yesterday by Routes Online, an organization that works with airlines and airports around the world to establish air links, that Virgin Atlantic is looking to launch a long-haul/low-cost product. Delta owns 49% of Virgin Atlantic and has a joint venture with the airline. The new venture would reportedly use aircraft handed over from Delta and operate out of London-Gatwick in the UK.
The venture would retain the Virgin brand but would operate leaner, and would operate with different crew on a different employment contract. Nat Pieper, senior vice president for Europe, Middle East and Africa at Delta Air Lines said "I would expect that in the next six to eight months we will know" (whether or not the venture will go ahead). He added the operation would use efficient, yet cheaper to buy hand me down aircraft from Delta Air Lines that would result in an operating cost advantage versus Norwegian Airlines who uses fuel efficient but expensive brand new Boeing 787 dreamliners.
Such an operation would give Delta full access to the fast growing long-haul/low-cost market. Delta would then be able to offer such a product to its customers without diluting its brand, affecting its own PRASM, and revenue figures, instead reaping the rewards via an appreciation and/or dividends from its Virgin Atlantic stake. Delta could offer the low-cost Virgin product as an alternative to its passengers who would likely book Norwegian, WOW air, or a similar offering instead. The offering could eliminate Delta reward miles, and do what Air Canada has done, opening up secondary markets such as London to Oakland for instance rather than competing with Delta and Virgin Atlantic on existing routes such as London to San Francisco.
Such an offering still would have several hurdles to get past, one of which would most certainly be getting the U.S Delta pilots onboard. However, Air Canada was able to get its pilots onboard with its low-cost subsidiary as was Qantas in Australia. Delta could make the argument that without such an offering, the airline may be at risk in certain markets in the long run and may be forced to cut them which could result in future job losses. Another hurdle may be the reaction of Air France and KLM who Delta works closely with in a trans Atlantic joint venture but has no stake in. These partners may be concerned about the effect on them by any long-haul/low-cost trans Atlantic operation.
If such an offering does come to fruition I believe it would be very positive for Delta. It would give the airline indirect access to the long-haul/low-cost market without negatively affecting its own financial metrics. Long-haul/low-cost is likely the largest upcoming competitive threat faced by legacy U.S airlines today so a plan by Virgin Atlantic to enter the space would show leadership on behalf of the team at Delta and Virgin Atlantic. Norwegian along with other trans Atlantic low-cost airlines have to date seen little competitive response from any major airline so this would be a true test of their resiliency. Meanwhile, American (NASDAQ:AAL) and United (NYSE:UAL) would still have no plan in place to deal with such competition. If this operation does come to light I believe it would be one more reason to buy Delta, eliminating a major risk from their operation and reinforcing their leadership position in the U.S airline industry.
Disclosure: I/we have no positions in any stocks mentioned, and no plans to initiate any positions within the next 72 hours.
I wrote this article myself, and it expresses my own opinions. I am not receiving compensation for it (other than from Seeking Alpha). I have no business relationship with any company whose stock is mentioned in this article.