This has not happened since February, 2006, when one net producing well was lost compared to the previous month. This time around 20 net wells were lost in February of this year, compared with the month of January, which tells us many things about the Bakken shale industry and perhaps the shale industry overall. If this is more than just a fluke, it may be a first signal that many things we thought to be given about the industry are in fact highly questionable.
Shale not as profitable as thought.
Given that more wells were decommissioned than brought on line, it is reasonable and obvious to point out that at current price levels we have seen in past months, most shale plays are not profitable, even though many claimed that they are profitable back in the shale boom days. If we would be anywhere near breakeven for the industry as a whole then we would most likely see a continued net increase in producing wells, because after all, there are still plenty of potential drilling locations all over the Bakken area.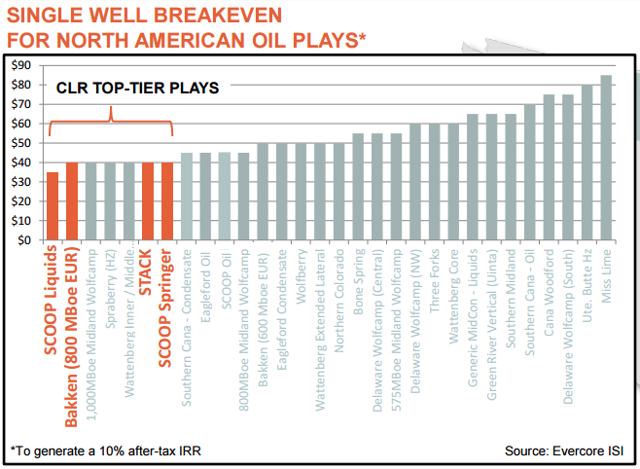 Source: CLR presentation.
As we can see, we still have claims of roughly half of all plays being on average at breakeven or profitable at $50/barrel and under, as is the case with Continental Resources (NYSE:CLR), which claims for itself a breakeven cost of $40/barrel or under in its plays, even though we are yet to see those claims be confirmed by the quarterly numbers.
In past years, we have been hearing of estimated ultimate recovery, or EUR estimates, per well, which is often used as a way to gauge the profitability of a well. Most of these estimates have most wells producing for many decades into the future. This latest data from the Bakken, which shows a net decline of 20 wells in February casts some doubt on those assumptions. While we have no way of knowing for sure, we can assume that significantly more wells were decommissioned in February than the net decline that was registered. In past months, there were dozens of rigs operating in the field and we can assume that on average two wells are drilled each month for every rig. One estimate of well completions for February puts the number at 63, but we cannot be certain of the accuracy of the estimate. The announcement by Whiting Petroleum (NYSE:WLL)that it will suspend completions in April due to low prices, is very telling in regards to the overall mood in the shale patch, therefore I expect such relatively low completion numbers will be seen in coming months as well.
If the estimate of 63 wells completed in February is accurate within plus or minus 20, the number of wells that were decommissioned in February must have been in the 60-100 range. If this is a glimpse of what might be a typical pace of well abandonment, rather than just perhaps some kind of a fluke, it most certainly casts some doubt on many shale wells producing far beyond a decade. The average age of all Bakken shale wells is only about 3-4 years, therefore losing roughly 5-10% of currently producing wells every year is consistent with expectations of a much shorter well life than previously claimed.
A much shorter life of these wells means that EUR for most wells has to be estimated over the lifespan of a decade or less. What this means is that expected revenue from older wells is simply not going to be there down the line as was expected, which is a great blow for many companies, most of which are yet to show a steady run of profitability almost a decade into the shale boom.
Average Bakken well decline rate and well productivity worse than we thought.
If we look at the North Dakota monthly Bakken data, we see among other things the total average production per producing well.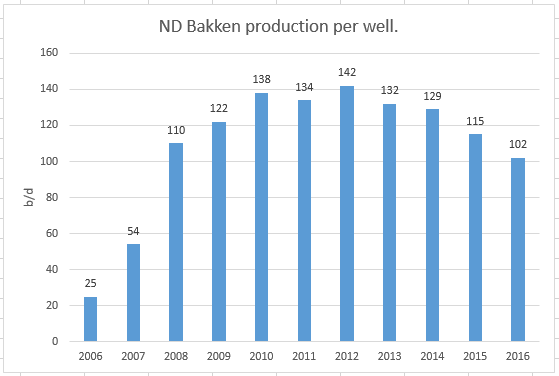 Data source: ND Bakken oil production statistics.
As we can see, average production per well in the Bakken peaked in 2012. There has been a steady decline since then. The 2016 numbers are only representing the first two months of the year, and by the end of the year, we are likely looking at average production per well declining to well bellow 100 b/d for the whole year average. While this may seem bad, it is actually worse if we are to consider the fact that far more wells, presumably most of them drilled and completed years ago are being decommissioned than thought. What this means is that the numbers we are seeing represent newer wells to a greater degree than most of us might have presumed in the past. Within this new context the rate of decline in average production per well in the Bakken is in fact a data point which suggests newer wells are not doing as well as claimed by industry and other shale bulls.
Shale industry production and longevity has to be re-assessed.
It used to be that the conversation over the future of shale production revolved around well decline rates and potential drilling opportunities in function of technology and geology. We all remember shale well decline rate assumptions, most of which had a timeline horizon of decades.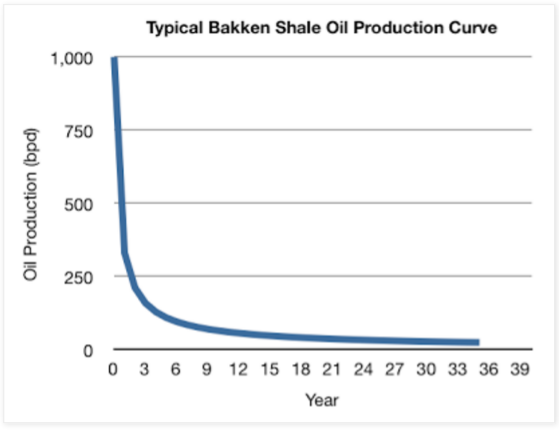 Source: Peakoilproof.com.
As the name of the site I cited above suggests, it is by no means a shale industry cheerleader. Yet the graph which was used to make the negative point in regards to the future of shale production, may now have to be seen to be in fact comparatively positive, given what the seemingly large number of wells being retired in the Bakken means.
It is true that since the appearance of the graph I provided above, there have been many technological improvements which changed initial production per well, it changed the rate of initial decline, with some companies now claiming almost no decline for almost the first two years, followed by an almost straight drop, rather than the more gradual curve seen above.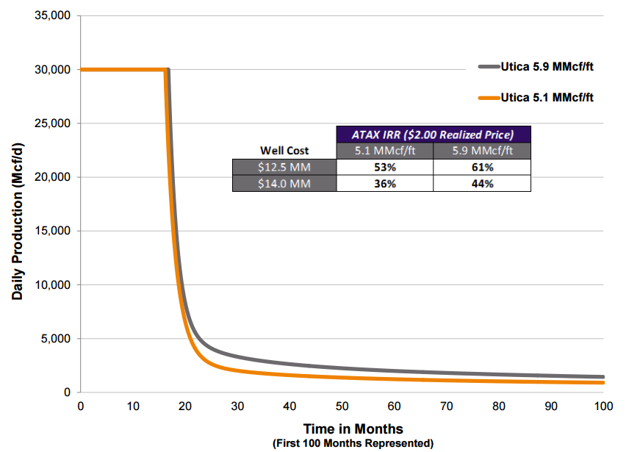 Source: EQT presentation.
I should note that I was directed to take a look at this graph for EQT (NYSE:EQT) production in the Utica shale, by a fellow SA contributor named EnergyProfitProphet. It most certainly does not fit the typical shale decline curve we are accustomed to seeing. Nevertheless, even though the expected immediate drop in production of these EQT gas wells does not seem to occur, after the initial twenty months or so, we still see a very steep drop in production, which would suggest that many such wells might also be abandoned after less than a decade of production. So in effect, the gains we have seen in terms of production early on in a well's life in the past few years due to technological change, might be largely cancelled out by the loss of production from the assumed longevity of production life of shale wells.
If the high rate of well abandonment we saw in the Bakken in February will in fact turn out to be a widespread trend throughout the industry, all assumptions in regards to what we should expect in terms of the overall shale industry production outlook, as well as individual company production, profitability and viability profiles going forward will have to be re-assessed. While up till recently we might have expected that companies that drilled shale wells five years ago or even before might now benefit from the original investment and be able to sit back to some extent and continue watching those wells producing and providing revenue, in reality we may be seeing an end to revenue from many older wells and much higher well decommissioning costs on the horizon instead. Such costs could not come at a worst time, given that in a few years we will be entering the time period when the bonds that were issued to cover the drilling costs from years ago are now increasingly coming due.
Disclosure: I/we have no positions in any stocks mentioned, and no plans to initiate any positions within the next 72 hours.
I wrote this article myself, and it expresses my own opinions. I am not receiving compensation for it (other than from Seeking Alpha). I have no business relationship with any company whose stock is mentioned in this article.