This article is a follow up to a post from last week about three companies you won't find in our portfolio. I thought I needed to share some additional thoughts about Chevron (NYSE:CVX). So, without further ado, my thoughts on Chevron's troubles.
Chevron has a big problem. It's burning cash at an astounding rate. Chevron's cash flow has declined substantially over the past two years, as the price of a barrel of oil has declined. Look at Chevron's net income and cash flow plummet in the Gurufocus chart below. Management has been forced to make substantial cuts to planned capital expenditures, take on additional debt and sell off assets in an effort to keep the company afloat. I recently sold all of my Chevron shares because I believe the company is headed down a dangerous path. The company's characteristics aren't good enough to qualify it as one of my long-term holdings, and my investment thesis for the company was busted.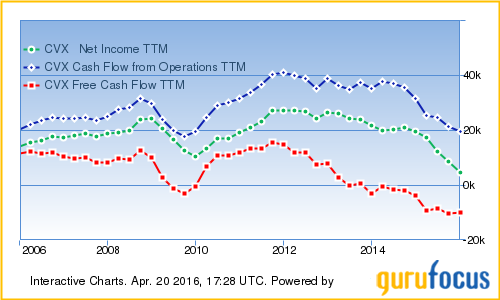 Recently, things have only been getting worse. Chevron Corporation reported a loss of $588 million in the 4th quarter of 2015, compared to earnings of $3.47 billion in the 4th quarter of 2014. The company swung from a profit of $2.67 billion to a loss of $1.36 billion over that time period. I expect the losses from operations to be even worse for the 1st quarter of 2016, as the price of oil continued to decline for most of the quarter. So how does management plan to both keep the company afloat and maintain the (current) generous dividend, until oil prices rise substantially? Through a combination of cuts to capital expenditures, selling additional bonds and selling off company assets. Management told us as much when they reported 4th quarter 2015 earnings back in February. At least they are honest about it, I guess.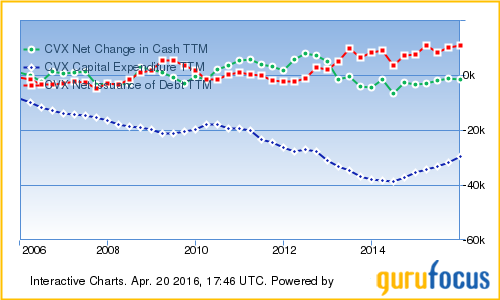 You can see these trends in the Gurufocus chart above. A big warning flag for me was that management has been issuing more debt and reducing the cash on hand since the third quarter of 2012. I'll grant them that part of the reason was because the company was on a Cap Ex binge, but it has still put shareholders in a precarious spot. Oil prices were still comfortably over $100 per barrel until late 2014, a full 2 years after Chevron's management began consuming more cash than the company was bringing in. One of the reasons you don't find commodity businesses among my long-term holdings, is because they tend to do exactly what Chevron has done. They think the good times will never end, and invest in additional projects accordingly. When commodity prices are high, they go on a Cap Ex binge, which consumes too much cash and leaves shareholders with a debt hang over - just as more supply comes on the market and prices fall.
The company's available cash has now fallen each of the past 4 years, from about $20 billion (in 2012) to a little over $11 billion today. That doesn't sound so bad, except that the current dividend requires $8.1 billion annually. In 2015 alone Chevron's management increased the company's debt load by $10.7 billion. Some of that money did go to completing upstream projects, and the completion (or partial completion) of those projects will help by reducing the amount of new capital expenditures required by the company, but I believe Chevron's cash flow position remains precarious. Look at the relationship of debt to cash in the Gurufocus chart below.

Management even decided to dilute existing shareholders by becoming a net issuer of new shares in 2015, after years of billion dollar buybacks. Buy back stock at higher prices, and then issue more shares at lower prices, now that sounds like a brilliant strategy! (I acknowledge that we currently have the advantage of hindsight, but you have to recognize that a tremendous amount of shareholder value has been destroyed by management.) I also don't think it's a good sign that Chevron's executives have not bought a single share on the open market since August of 2015.
Chevron's management appears to be afraid to cut the quarterly dividend, because the shares are so popular with yield-starved investors. I get that, and understand why they don't want to alienate a large group of the company's shareholders. I think shareholders should be more concerned with the company's long-term prospects, and supplementing an unsustainable dividend runs counter to that goal. The current dividend payout ratio stands at 175%, meaning that (if the current dividend remains intact) Chevron will pay out nearly twice as much in dividends as the company earned last year. I recognize that 2015 was a tough year, but who's to say 2016 won't be a tough year also. While the Gurufocus chart below shows the dividend growth over last 10 years, I believe the years of tremendous growth are coming to an end.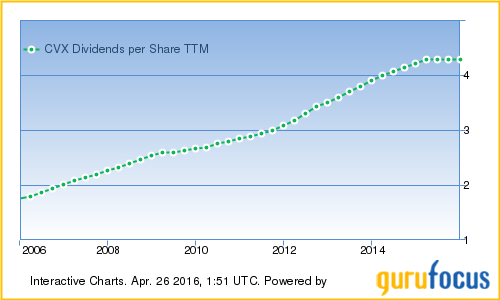 The collapse in Chevron's profitability, in the latter half of 2015, has reduced the usefulness of most of the typical valuation metrics (like the prices to earnings ratio). The trends however are not encouraging, as you can see in the Gurufocus chart below. You can see that revenue per share peaked in 2012, while earnings and free cash flow have struggled ever since.
I don't doubt that management can keep the company afloat for years to come, but I think shareholders need to ask themselves what will be left of the company at that point. Management spoke pointedly about additional asset sales in the February 2016 earnings release. They said they intended to sell an additional $5-$10 billion in assets, while refocusing the company as an offshore production company. As part of this strategy they aim to sell off valuable assets that are currently productive, such as shallow water operations in the Gulf of Mexico, and invest more capital in the developing deep water facilities. While I don't know the exact costs for the two types of facilities, it's easy to assume that the offshore operations will have a higher cost of production than the shallow water operations do. I question this strategy at a time when a barrel of oil is selling near multi-year lows, and the current supply glut suggests that oil prices will stay depressed for the near term. Such a move will further constrain the company's cash flow, keep pressure on the dividend, and leave the company with fewer profitable operations… but an increased amount of debt. The outlook looks cloudy for Chevron, and for these reasons I sold all of my shares.
Disclosure: I have no position in CVX. This article is for informational purposes only and should not be considered a recommendation for anyone to buy, sell or hold any equities. I am not a financial professional. The information above is provided by Yahoo Finance, GuruFocus.com and Investor.Chevron.com.