Overview
Advanced Micro Devices (NASDAQ:AMD) reported first-quarter 2016 results on Thursday, April 21st, and there were plenty of pleasant surprises in CEO Lisa Su's presentation. First of all, AMD announced a $293 million JV licensing agreement with Chinese firm THATIC (Tianjin Haiguang Advanced Technology Investment Co. Ltd.). The agreement includes an upfront payment of $52 million.
CEO Su also confirmed 3 semi-custom SoC (System on a Chip) deals totaling at least $1.5 billion over the next 3 years.
On the financial side, the company projected a 15% sales increase for the 2nd quarter, to be non-GAAP profitable in the 2nd half and to be cash flow-positive for 2016.
All the good news supports my argument that AMD is on the cusp of big share price gains by the end of 2017, as I wrote in the following articles:
In this article, I will continue my argument that AMD is one of the best investments available in the tech market over the next 2 years.
"To a journalist, good news is often not news at all."

- Phil Donahue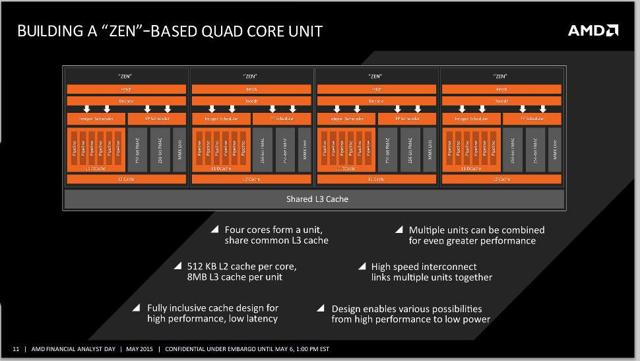 THATIC agreement opens huge opportunities in China.
The joint venture agreement is worth at least $283 million and probably much more long term. And a licensing agreement with one Chinese company opens the doors for similar agreements with other Chinese organizations.
Not only is the Chinese server market potentially much larger (the country's 1.2 billion population is more than that of US and Europe combined), it could move forward at a much faster rate than other markets. That is because the Chinese do not have the desktop presence that the US does. Therefore, prying full-size keyboards and monitors from the cold, dead hands of desktop users will not be the problem it is in the US. Chinese users are by and large mobile users with cell phones and/or tablets, both of which lend themselves to cloud-based services more than desktops do. More users and fewer desktops mean much larger and faster adoption.
Note also, this agreement is for both ARM and x86 chips, thus belying some people's belief that AMD cannot license x86 without Intel's (NASDAQ:INTC) approval.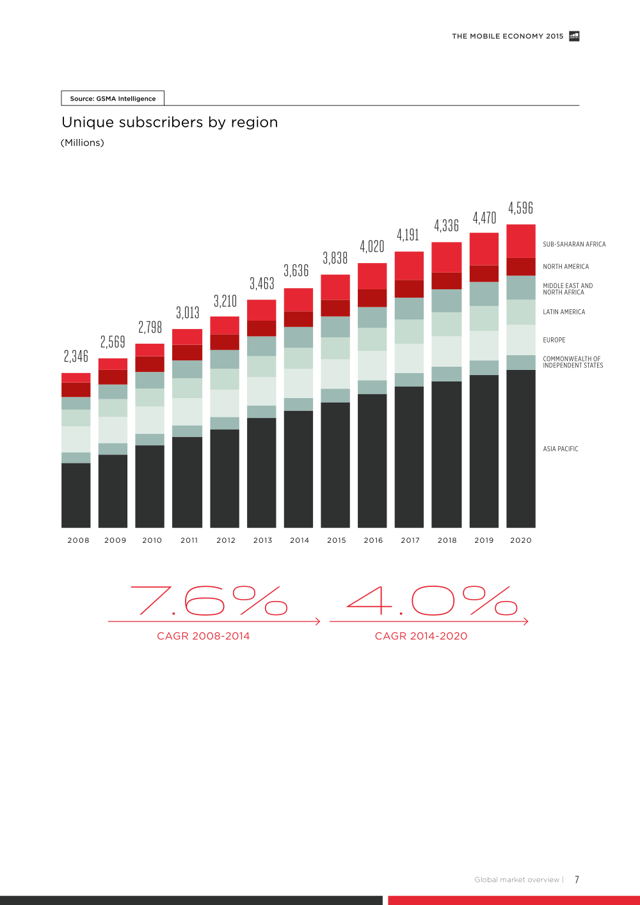 Source: GSMA Mobile Economy Report
$1.5 billion in SoC contracts is a big deal for a company with $832 million in sales last quarter.
Sometimes, investors forget that AMD is a relatively small company. Intel sells more in a month than AMD does in a year. And Intel's recent 12,000-employee layoff was 1/3rd more than AMD's entire workforce of 9,000.
This means incremental sales improvements and new products such as Polaris and Zen can have outsize influence on the company's sales and profits. A small market share improvement by AMD can also have outsize effects on its bottom line. And when it comes to servers, its market share is effectively zero, which is why Zen and China are so important to AMD's future.
Here is Forbes, speaking of Intel:
"In 2015, its data center division contributed $16 billion in revenue with $7.8 billion in profit. Its processing chips for the data center has a 99% market share, and for that, Intel can charge huge price tags for companies to get hold of that silicon."
VR (Virtual Reality) is a huge, growing market that should help AMD considerably in the future.
If there is a market that fits AMD's core capabilities, it is VR. Projected to grow at a CAGR of 96% by 2019, VR needs low-power, high-capability GPUs and CPUs such as Polaris and Zen. Even without these two advanced products, AMD is making inroads to the VR market.
"We believe VR will be a key long-term demand driver for AMD, across both our consumer and Professional Graphics offerings, especially as content creators require more powerful GPUs to create fully immersive VR experiences. To capitalize on this trend, I'm proud to share that we plan to launch the industry's most powerful platform for VR creation and consumption at the end of this month, when we introduce the $1,500 Radeon Pro Duo."

- CEO Lisa Su
Game consoles upgrade to VR adds years to their production schedules.
Speculation around a PlayStation (NYSE:SNE) upgrade continues. Does AMD's announced $1.5 billion in SoC contracts include game consoles or other products? Lisa Su was particularly evasive when it came to a question about the semi-custom SoC wins:
"I don't believe that we've gone through any detail about what those wins are. So I would prefer to let that come out as our customers are ready to launch."
If the three announced $1.5 billion worth of SoC contracts are not all game consoles, then that means two things:
Other large markets for semi-custom chips are opening up.
There may still be another console contract or two out there to be had as everyone upgrades to VR for competitive reasons.
Announcing the company will be non-GAAP profitable in the second half is a very big deal.
Lisa Su, a usually cautious and circumspect CEO, did not hesitate to announce profits are coming much sooner than expected:
"For the full year, we are confident that our product portfolio and business execution can further strengthen our financial results and enable us to grow annual revenue and return to non-GAAP operating profitability in the second half of the year."
That is an amazing statement, because by the second half of this year, neither Polaris nor Zen will have made any meaningful contribution to profits. In fact, they will be generating costs without sales for most of that period. That can only bode well for 2017 results.
Increasing sales and margins will generate at least $1.00 in 2017.
Here is how I get to $1.00 share earnings in 2017.
Revenue: In 2015, AMD did $4 billion, down from $5.5 billion in 2014. But management has already projected a 15% increase for the second quarter. Plus, we have the THATIC deal recognizing some revenue, the new semi-customs kicking in at about $250 million and some added VR sales, Polaris uptick. So let's say $4.5 billion for 2016.
I project 2017 at $6.7 billion (2011 sales $6.6 billion), with Zen picking up an $800 million share from Intel's x86 server market and $1 billion market share increase in x86 desktop/laptops by Zen. Add in increased sales from Polaris and other VR sources at $200 million, and another $200 million from licensing/semi-custom sales, and you get $6.7 billion. Compared to Intel's 2015 sales of $55 billion, those seem like modest increases. And of that $55 billion, $25 billion was from just 3 customers all of whom are also customers of AMD: HP, Dell and Lenovo.
Margin: Assuming margin will expand as a bigger percentage of sales comes from Zen and Polaris products. The spreadsheet uses 40%, 38% and 36% versus the current 32%.
SG&A expense: Rises slightly from $1.4 billion to $1.6 billion. Su has kept a tight rein on SG&A, and I do not expect it to run away like it did under Rory Read.
Unexpected expense: This is actually falling and was only $3 million in the last quarter, but I kept it level at $132 million to be conservative.
Interest: I kept interest level at $160 million.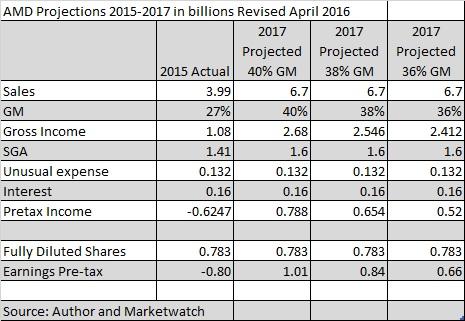 Caveats and warnings
AMD is not a company without problems. Cash has been a constant concern, and this past quarter was no different. According to my back-of-the-envelope calculations, it burned through $121 million in the first quarter. From CFO Kumar:
"Turning to the balance sheet, our cash and cash equivalents total $716 million at the end of the quarter, down $69 million from the end of the prior quarter"
So, the company was down $69 million, but that was after banking $52 million from the THATIC deal, so the total used was $121 million. This emphasizes the importance of closing the Nantong-Fujitsu deal this quarter. With sales and new contracts ramping up, inventory requirements will be going up too, as would working capital requirements. Plus, neither Polaris nor Zen will be generating any positive cash flow this year, so cash is king, as I discussed previously here and here".
Another concern is that Zen and/or Polaris do not hit their target ship dates. According to Su, Zen is sampling this quarter, which is good news, but if cash does not show up on time, delays could be imminent.
Conclusion
AMD's latest earnings release was the most positive I have seen from the company in years. New semi-custom contracts are being readied for production, IP and licensing is generating revenue, Zen is sampling, 2016 will be cash flow-positive and earnings will be positive in the second half. The company is not completely out of the woods yet, but if the Nantong deal does close this quarter, then I would be very confident 2017 will be a very big year for AMD.
My $10 price target for AMD does not require $1 per share earnings, even though I do think the company will reach that target easily. All the market needs to see is Zen taking market share in desktops and servers, and the stock will rise accordingly. And that will happen because big customers like HP (NYSE:HPQ), Dell and Lenovo (OTCPK:LNVGY) are eagerly awaiting for competition in those semi-monopoly markets. AMD does not need a superior product to make that happen, but just a competitive one. After all, the company is selling millions of chips with inferior capability (28NM GPU and CPU products). How many more millions will it sell when it has competitive 14NM products? I think a lot more, and at higher margins too.
Another positive for the stock is that it is uncorrelated to the market. If the doomsayers are correct and the market falls 20-30% in the next two years, it will not affect AMD much if at all. Cloud and enterprise servers in China and elsewhere will continue to sell and upgrade, desktops have a renewal cycle all of their own and VR is headed up no matter what.
Disclosure: I am/we are long AMD.
I wrote this article myself, and it expresses my own opinions. I am not receiving compensation for it (other than from Seeking Alpha). I have no business relationship with any company whose stock is mentioned in this article.