Chipotle Mexican Grill (NYSE:CMG) announced Q1 earnings after the bell on Tuesday, April 26, and the company's sales figures disappointed more than we even expected them to. In our earnings preview on April 7, we cautioned investors that CMG shares had significant near-term downside, as the consensus revenue estimate of $874 million seemed too high. We expected Q1 comps of -28% to result in $860 million in sales. In actuality, Q1 sales came in just shy of $835 million, dragged by comps of nearly -30%. As of this report, the shares are down 7% in after-hours trading, and we think further downside remains.
Will things get better for CMG from here on out? Unequivocally yes. But does that make CMG stock a buy here after falling a few percentage points in reaction to an anomalously poor quarter? We do not think so. The bull thesis here is that E. coli headwinds are ephemeral, sales momentum will be reignited once these headwinds pass, and the stock will move higher as a result.
The problem with this thesis is it does not consider the increasingly competitive health-oriented quick service restaurants (QSR) landscape or the stock's rich valuation. Investors should remember that even before the E. coli outbreak, Chipotle experienced back-to-back quarters of low-single digit (LSD) to mid-single digit (MSD) comps in Q2 and Q3 of 2015. This is important because the company was consistently comping in the low-double digits (DD) to mid-teens range before the fall to 4.3% comps in 2Q15 and 2.6% in 3Q15. Average revenue per sale (ARS) appeared to be peaking around $2.53 million in mid-2015.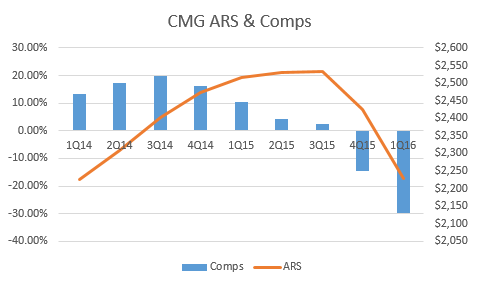 ARS came in around $2.23 million this quarter, which is only 14% upside to the $2.53 million peak in mid-2015. In essence, we do not see significant upside in unit sales. We believe the trends indicate unit sales were maxing out pre-E. coli scare around $2.53 million.
We further contest that it will be difficult for post-E. coli scare ARS to surpass that $2.53 million level. It seems the competitive landscape in the health-oriented QSR space is intensifying. Alternative, health-oriented burger chains Shake Shack (NYSE:SHAK) and The Habit (NASDAQ:HABT) are rapidly expanding beyond their heritage markets. The LeBron James-backed Blaze Pizza, which sports a similar self-service style as Chipotle, is aggressively expanding across the country. Blaze is only the most notable name in a category of self-service, quick-fire pizza places, all of which are expanding rapidly due to increasing demand and surging popularity. Meanwhile, Panera (NASDAQ:PNRA) continues to surprise investors and benefit from CMG weakness. Perhaps the most unlikely competitor, McDonald's (NYSE:MCD), is on a rebound, which most of the Street seems to be bullish on.
At the end of the day, there is only so much money consumers can spend on fast food. The E. coli scare, while ephemeral, has pushed them to other QSR chains. These other QSR chains are the rapidly expanding self-service pizza eateries and health-oriented burger chains, a new-look Panera that is digitizing its whole ordering process, and a revamped McDonald's that is offering breakfast all day. We believe it will be difficult for Chipotle to recapture all of these customers. We argue that while many consumers will return to Chipotle, their QSR spending will now be more diversified to include chains like Blaze, Shake Shack, and The Habit. This ultimately implies that the $2.53 million ARS peak in 2015 is actually a near-term ceiling.
Moreover, the stock is far from cheap enough to gamble on. We contest that even if the company did not suffer from an E. coli scare, the valuation remains rich. Prior to the E. coli scare, Chipotle was growing diluted EPS at a ~25.6% Y/Y rate through the first 9 months of 2015. The company reported 4Q14 diluted EPS of $3.84, so if we assume the E. coli breakout never happened and apply the the 9 months ended September 2015 growth rate to 4Q14 EPS, that is 4Q15 EPS of $4.82. Adding this to the 9 months ended September 2015 diluted EPS of $12.92, we arrive at a hypothetical fiscal 2015 EPS of $17.74. That means a $425 quote still puts the stock at ~24x a hypothetical fiscal 2015 EPS ex E. coli headwinds. This isn't cheap, and it assumes the negative event which has destroyed the comps never occurred.
We think there is more volatility ahead for CMG shares. The simple thesis that E. coli headwinds are ephemeral and shares will surge once comps turn positive ignores the fact that the company had decelerating sales momentum prior to the E. coli scare. Things have only grown more competitive since then, and we believe CMG has a difficult road ahead of it to justify the current valuation.
Disclosure: I am/we are short CMG.
I wrote this article myself, and it expresses my own opinions. I am not receiving compensation for it (other than from Seeking Alpha). I have no business relationship with any company whose stock is mentioned in this article.