As you may recall, I warned you over two years ago when I decided to take a position in The Blackstone Group (NYSE:BX). I opened my BX position at $31.36 knowing that I was not buying a "sleep well at night" company, but instead, investing in a more volatile private equity juggernaut.
I'll be the first to admit that I'm not a private equity analyst; I'm a real estate analyst, but I believe that I'm qualified to check under the hood of one of the largest real estate owners in the world. Although REITs and private equity are remotely different (I get K1's for owning shares in BX), there are some similarities, mainly they are both looking for bargains.
But, the biggest difference, as illustrated below, is that private equity is often associated with higher leverage in which the companies foster hefty remunerations paid out to managers and partners. There's a strong incentive for private equity firms to generate outsized returns, rather than focusing on earnings and dividend growth. (The green star is the date I purchased shares in BX).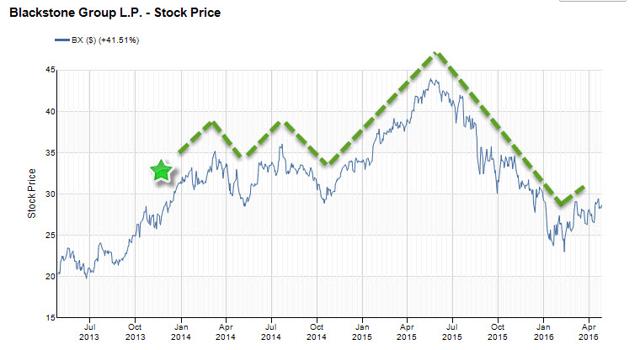 But so far in 2016, Equity REITs have rebounded (+5.4%) while shares in BX have under-performed (.32%). Year-over-year, Equity REITs are up 5.74% and BX has returned -25.39%.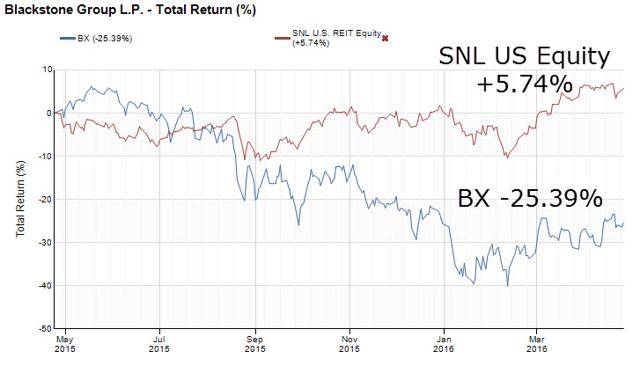 BX is not the only private equity firm with sagging profits, most all have seen shares getting hammered over the last year: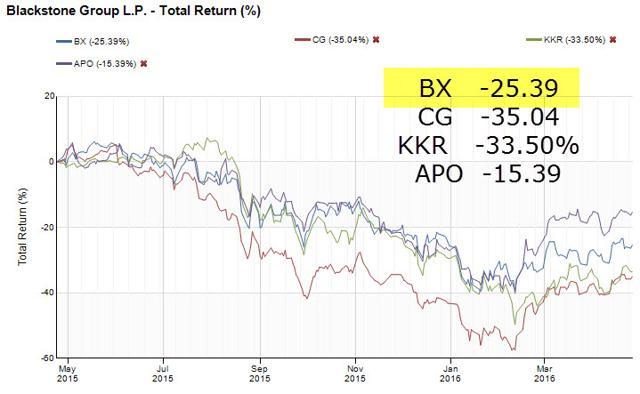 As you know, understanding risk management is the backbone for evaluating REITs, and that's also how I intend to break apart BX. Managing risk is a core of competence that is critical to investment success, and whether or not I intend to continue my journey as a shareholder in Blackstone…or as the title to my article suggests, "Caveat Emptor."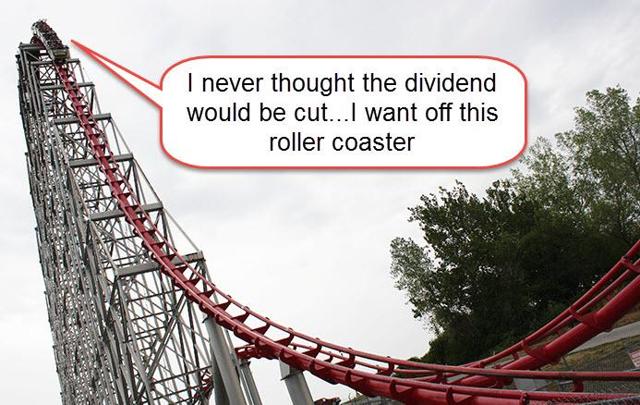 Let's Start From The Beginning
The Blackstone Group was founded in 1985 as a mergers and acquisition boutique investment bank by Peter G. Peterson and Stephen A. Schwarzman. The two named the company as a cryptogram derived from their names - Schwarz is German for "black," and Peter (also Petra) means stock or rock.
Over the last three decades, Blackstone has evolved from a start-up into one of Wall Street's most dominant players. Based on rankings, Blackstone is the world's largest private equity firm (based on committed capital) and the largest alternative investment firm (in the world), with total assets under management (or AUM) of around $343.7 billion (as of Q1-16).
Blackstone went public in June 2007, and the company was the first private equity firm to open up the once secret world of private equity to "mom and pop" retail investors.
Listed at $31 per share (on the NYSE), Blackstone became the first private equity firm to list shares in its management company on an exchange. The timing could not have been worse, as Blackstone fell hard to the forces of the Great Recession - shares fell over 90% to a low of $3.00. Yet, Blackstone roared back after the recession as shares have returned over 58% since the IPO.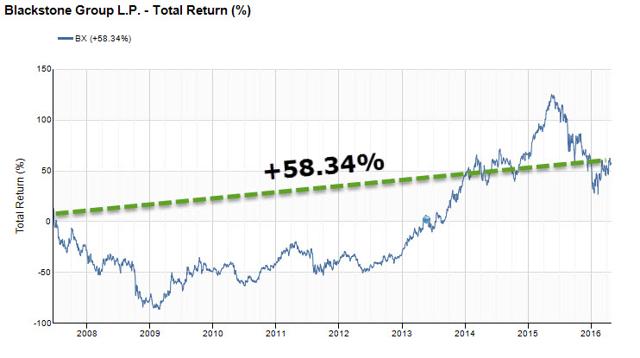 Let's Examine Blackstone
Blackstone's array of investments today are wide-ranging and complex, and unless you're well-versed in the technical aspects of law and finance, this company may seem like Latin. The company operates in 4 segments: Private Equity, Real Estate, Hedge Fund Solutions, and Credit.
Private Equity: BX's Private Equity Funds appreciated 1.7% in the first quarter with the key drivers being increases in the company's public holdings and a number of private companies, partly offset by unrealized marks primarily in certain private oil-and-gas-oriented energy investments. In Q1-16, BX raised $3.5 billion in capital for Private Equity and total AUM stands at $95.5 billion.

Real Estate: Blackstone began building its real estate investment business in the early 1990s. With a massive real estate portfolio, Blackstone today is one of the largest real estate investors in the world. In Q1-16, investment pace was strong as BX closed on $3.8 billion, including the closing of the BioMed Realty acquisition.
Overall carrying value of the Real Estate Funds appreciated 1.8% for the first quarter and total AUM was up 9% year over year.
BX pursues what it calls a "core-plus" strategy that means buildings that might require modest renovation or lease-up to boost values. Last year, BX purchased Manhattan's Stuyvesant Town Peter Cooper Village apartment complex for $5.3 billion and in 2015 the "core-plus" platform outperformed all of BX's other real estate vehicles (the carrying value for the core-plus business was up 4.4% in Q1-16).
BX said that its core-plus holdings could reach $100 billion in 10 years. The core-plus strategy currently has around $12 billion (in just two years) and one of the advantages (for BX and investors) is that it is an open-end fund which means investments are held in near-perpetuity (eliminates selling pressure associated with a close-end private equity fund).
BX's total real estate under management is in excess of $100 billion.

Hedge Fund Solutions: While the equity markets were flat to down in the first quarter, BX's funds mostly saw appreciation with the exception of the Hedge Fund Solutions platform. It has obviously been a difficult time in the hedge fund industry and BX's Q1-16 performance (-2.9% gross returns) was an indication of the challenging environment.
BX went from the fifth largest Hedge Fund Solutions business before the financial crisis to the largest after the crisis. BX was able to grow AUM by 3% year over year (to $68.5 billion), but there is still considerable pressure in this fragile sector that is characterized by macro and political elements that will weigh on the "Wall Street reform" debate. In regards, the carried interest loophole looming over private-equity firms, Donald Trump recently said:
They're paying nothing (in taxes). And it's ridiculous…the hedge fund guys didn't build this country. These are guys that shift paper around and they get lucky.
Keep in mind, BX shifts "more than paper" - this massive private equity firm owns over $100 billion in real estate too.

Credit: In addition to its Hedge Fund business, BX's credit business has also been navigating a particularly challenging market environment. In Q1-16, the company's distressed oriented vehicles (such as the rescue fund) and the liquid hedge fund saw further mark-to-market declines. These marks were concentrated in BX's energy-related holdings, which obviously offer a difficult backdrop.
On the bright side, energy has begun to rebound and BX sees a robust deal pipeline for rescue lending and mezzanine strategies (high risk). As of Q1-16, BX deployed around $569 million in credit and currently has around $78.7 billion of credit products under management.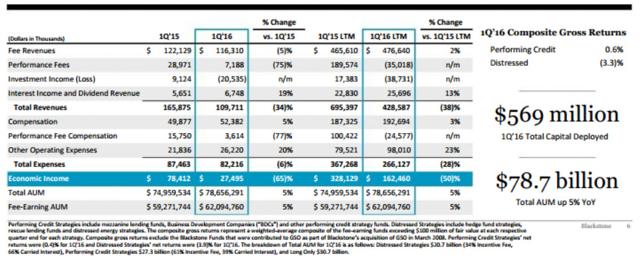 The Sum of the Parts
As Blackstone's Chairman, CEO, and Co-Founder, Stephen A. Schwarzman, explained, "the company is viewed as a safe pair of hands, really the gold standard in the alternative space. We are a trusted partner in every area, Private Equity, Real Estate Equity and Debt, Credit, Hedge Fund Solutions, Secondaries, Tactical Opportunities, and more. That's where our limited partners entrusted us with $17 billion of capital in the first quarter alone and over $100 billion since the beginning of last year." He went on to say:
A hallmark of Blackstone from our inception is the ability to take some of our best people and put them on new opportunities and build those to scale businesses to the benefit of our public investors, as well as most importantly, our limited partners.
BX's forward pipeline for fund-raising remains very healthy as evidenced by the war chest of dry capital. The company has undrawn capital in excess of $89 billion, up 37% year over year.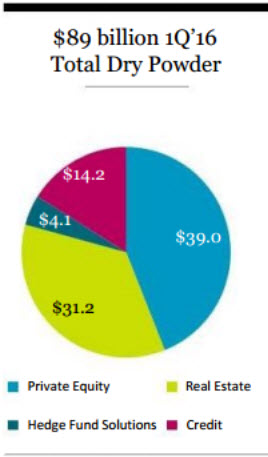 BX's diversification, global presence and ability to use intellectual capital across asset classes allows the dominating private equity firm to quickly move on pockets of dislocation when it develops pretty much anywhere in the world. In Q1-16, BX's performance fee eligible AUM reached $257.4 billion, up 14% year over year.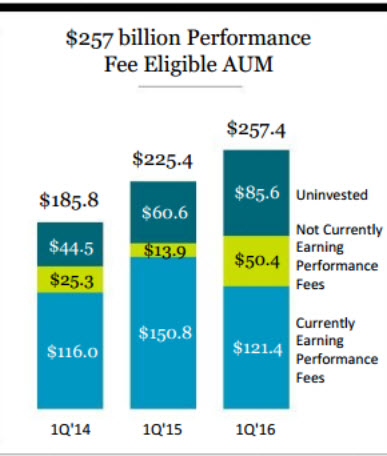 In November 2015, Fitch Ratings affirmed BX's long-term issuer rating at A+. The rating outlook is stable. Approximately $2.8 billion of unsecured debt is affected by these actions.
The rating affirmation for Blackstone reflects its strong competitive position as a global alternative IM, experienced management team, solid investment track record, significant fee-earning assets under management (or FAUM), strong operating margins, incentive income-generating capability, ample liquidity, relatively low leverage, and subordination of general partner interests to outstanding indebtedness.
As evidenced by the Fitch affirmation, Blackstone has a solid liquidity profile. Performance fees can be highly volatile and could be virtually zero when market conditions are stressed. At Q1-16, BX's balance sheet cash amounted to $3.3 billion in cash management strategies and $8.8 billion of total net value (or $7.39 per unit).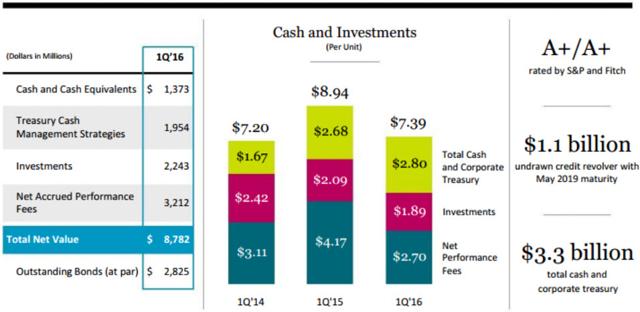 In Q1-16, BX's net accrued performance fees were $3.2 billion ($2.70 per unit) despite high net realized performance fees on $1.8 billion over the last 12 months. The company realized 36% of the $4.9 billion of net accrued performance fees balance from one year prior.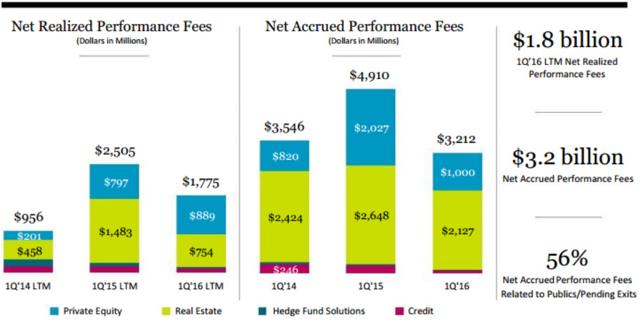 BX's distributions in 2015 were $2.73 per common unit, while distributable earnings were $1.82 per unit, yielding a payout ratio of about 150%. That's concerning and while I was glad to see the 3-year dividend growth projectory, I am somewhat alarmed that current distribution may not be sustainable. I see 17 analysts covering BX (as per FAST Graphs), and the 2016 guidance doesn't look good: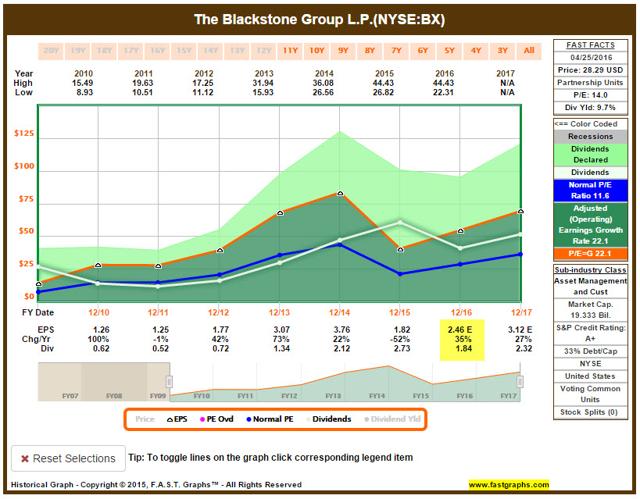 Peeking back the Q1-16 supplemental, we see that BX generated just $0.33 of distributable earnings per common unit in Q1-16, down 69% compared to the same period last year. The actual distribution per common unit was $0.28 per unit (payable May 9, 2016), down more than 50% from the previous quarter and down 69% from Q1-15.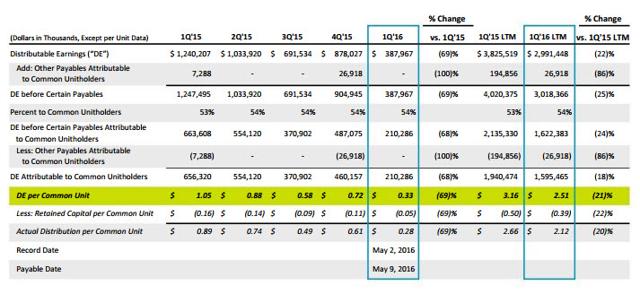 Ouch. I told you at the outset, you might need to learn Latin to understand Blackstone, I'll teach you the first two words: caveat emptor ("Let the buyer beware").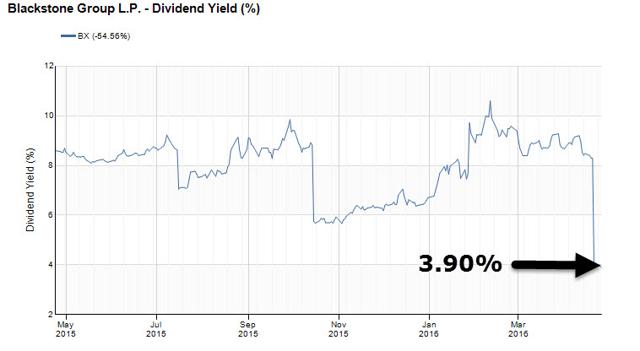 In conclusion, now you know why I don't cover private equity. This asset class is meant for the big boys who own lots of toys. For most of my core readers, you now that I focus on the safest form of wealth creation; investing.
It's rare that I write (or even own) speculative stocks, and now that I have completed the research on BX, I am preparing to sell all of my shares. I'm essentially at a breakeven and I see absolutely no catalysts that supports the case that my BX shares will appreciate this year. In other words, I'm not looking to own an empire builder, like BX, but instead I prefer to grow my net worth by investing in REITs that are managed by dedicated professionals.
As BX's CEO said on the earnings call, "the first quarter was a roller-coaster for equity and debt markets" and while that may be true, most of my REITs did just fine. I'm getting off this roller coaster ride, and maybe I'll take a closer look at the less volatile little brother, Blackstone Mortgage (NYSE:BXMT), a simpler story (and I don't need to understand Latin).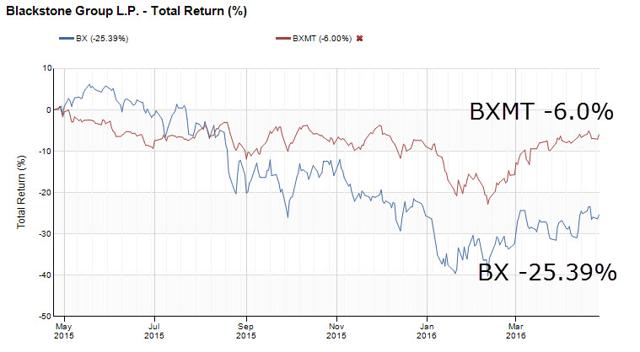 BXMT Update: Earnings released last night - Q1-16 core earnings of $61.2M or $0.65 per share vs. $64.1M and $0.68 in Q4-15. Dividend is $0.62. I plan to write an update for premium subscribers today.
Author's Note: I'm a Wall Street writer, and that means that I am not always right with my predictions or recommendations. That also applies to my grammar. Please excuse any typos, and I assure you that I will do my best to correct any errors if they are overlooked.
Finally, this article is free, and my sole purpose for writing it is to assist with my research (I am the editor of a newsletter, Forbes Real Estate Investor) while also providing a forum for second-level thinking. If you have not followed me, please take five seconds and click my name above (top of the page).
The only guarantee that I will give you is that I will uncover each and every rock I can, in an effort to find satisfactory investments that "upon thorough analysis promises safety of principal and satisfactory return. Operations not meeting these requirements are speculative." (Ben Graham).
Sources: SNL Financial, FAST Graphs, and BX Filings.
Disclaimer: This article is intended to provide information to interested parties. As I have no knowledge of individual investor circumstances, goals, and/or portfolio concentration or diversification, readers are expected to complete their own due diligence before purchasing any stocks mentioned or recommended.
Disclosure: I am/we are long O, DLR, VTR, HTA , STAG, GPT, ROIC, HCN, OHI, LXP, KIM, WPC, DOC, EXR, MYCC, TCO, SKT, UBA, STWD, CONE, BRX, CLDT, HST, APTS, FPI, CORR, NHI, CCP, CTRE, WPG, KRG, SNR, LADR, HCP, PEB.
I wrote this article myself, and it expresses my own opinions. I am not receiving compensation for it (other than from Seeking Alpha). I have no business relationship with any company whose stock is mentioned in this article.