Skyworks Solutions (NASDAQ:SWKS) fell along with other Apple (NASDAQ:AAPL) suppliers in after-hours trading on Tuesday, after Apple reported a weak Q2, which saw a quarterly revenue decline for the first time 13 years. Every one of Apple's established products saw year-over-year revenue declines in Q2. Most importantly, revenue from iPhone sales fell 18% YoY for $32.9 billion.
Apple boosted its dividend and its stock repurchase program, but this was not enough to stanch the bleeding, as the stock fell 8% in after-hours trading. The negative price movement seems strange for a company that earned $10 billion in the quarter, but such is AAPL. I am less concerned about Apple and more concerned about how the company's perceived weakness is affecting the stock prices of its suppliers. Let's see where Skyworks come into the equation.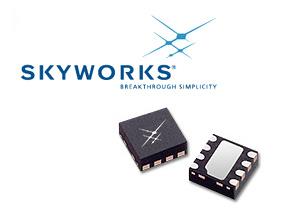 As I'm sure most Skyworks investors know, Apple is almost certainly the company's largest customer. So, it should come as no surprise that the stock prices of both companies are linked. Skyworks depends on supply orders from Apple to maintain its robust revenue and earnings growth, which has been very strong indeed: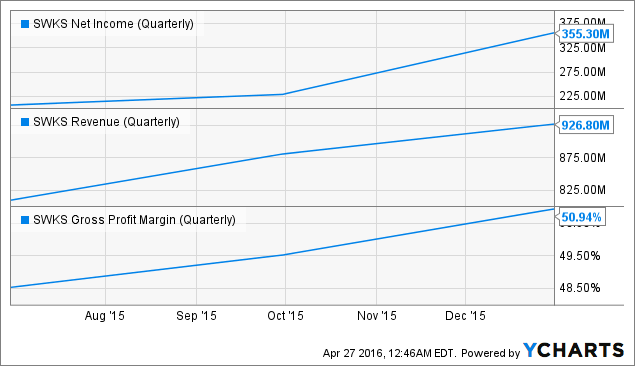 SWKS Net Income (Quarterly) data by YCharts
Having one large customer like Apple also optimizes the supply chain, which boosts gross margin. Those three charts show that Skyworks' performance has been outstanding over the past four quarters. Apple giveth, and Apple taketh away. At least, that's what the market sees. However, that is not what I see.
With Apple, the market sees a company that can do no right: if revenue growth is strong, investors shrug, and if revenue growth is weak, the stock gets punished. Growth is great! When a company is growing revenue and earnings that's just dandy. But I think, in the short-term, the market is hyper-obsessed with growth, to a fault.
The goal of a corporation is to profit and return value to shareholders. Continuous, non-stop, never-ending, perpetual, ceaseless, constant growth is great, but should not be the measuring stick with which we judge the success of a company. It is not necessary for a company to grow indefinitely in order to achieve its goal: returning value to shareholders.
In light of this, it is my opinion that Apple's results were fine. Yeah, revenue and earnings slowed down, but that's like saying K2 (the second highest mountain in the world) isn't tall because you've seen Mount Everest! Apple will still provide plenty of iPhones to consumers, and Skyworks will still receive enough orders from Apple to continue its revenue and earnings growth. Arguing this point is almost useless anyway, considering the impending release of the iPhone 7 will boost Apple's revenue and profits right back to the top, with Skyworks caught in the tailwind.
And even if Apple were experiencing major problems, Skyworks has been busy diversifying its revenue streams with design wins for Samsung (OTC:SSNLF) and smartphone suppliers in China. Skyworks management also emphasizes that the company is well positioned to reap the benefits of the Internet of Things revolution. Radio frequency devices will be key to make the revolution a reality, and there will be plenty of opportunity to go around for the company to grab a piece of the pie.
SWKS will likely open Wednesday's trading session lower, and I will probably add to my long position if this is the case. Skyworks has long-term growth potential, a flawless balance sheet, and an undervalued stock. Count me in!
My question to you, the reader, is: What do you think about Skyworks stock and its likely movements in 2016? Are there any headwinds/tailwinds you're looking at? Any significant dates or events to keep an eye on? Feel free to leave a one-word answer or long-winded tirade in the comments section below.
If you want to stay up-to-date on my articles, you can Follow me by going to my author page or by clicking "Follow" at the top of this page.
Thanks for reading!
Disclosure: I am/we are long SWKS.
I wrote this article myself, and it expresses my own opinions. I am not receiving compensation for it (other than from Seeking Alpha). I have no business relationship with any company whose stock is mentioned in this article.