Yesterday, on April 26, 2016, Goldcorp Inc. (NYSE:GG) closed at $17.56 per share from $16.93 per share of the day before, +0.63 (3.72%), with 8,070,419 shares traded.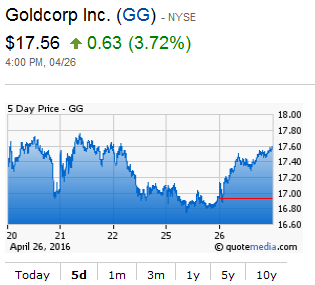 The gain anticipates GG's earnings report after close today.
Analysts expect EPS being between $0.09 (High) and -$0.02 (Low) or between 800% ($0.08 ) and -300% (-$0.03) from last year's $0.01 per share.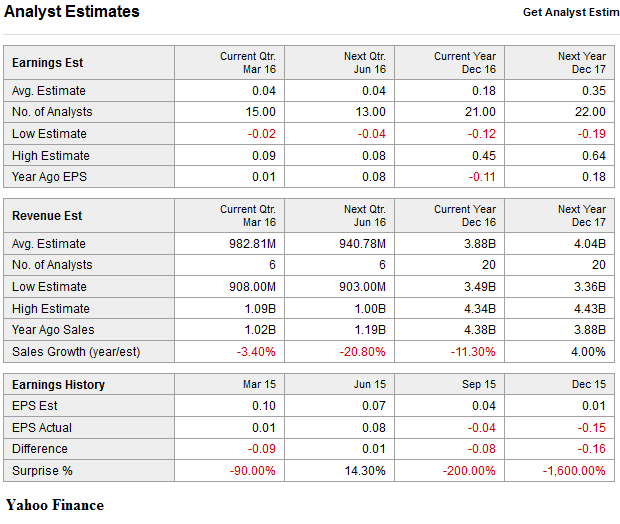 The company has 830.55M shares outstanding.
GG's profit will range between $74.7M and -$16.6M if the EPS becomes reality.
After -$0.15 actual earnings per share reported by Goldcorp Inc. for the previous quarter, analysts now forecast +300% growth for the current quarter and -50% for the next quarter.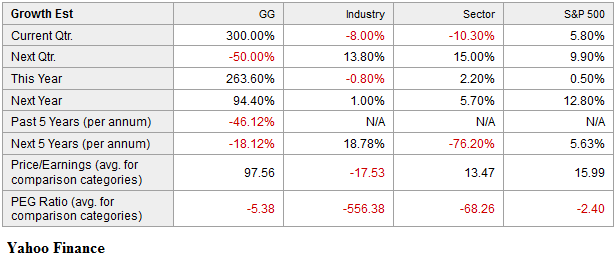 My point of view
In my opinion, the company is not well positioned because as I previously wrote, Goldcorp Inc. has a lower average grade of gold proven reserves (Au g/t), which involves more effort (more operating costs) to extract the metal. Moreover, the company has problems at Cochenour and at Éléonore. These operating issues may result in a further deterioration of the business of the company and in the generation of negative EPS. I think that Goldcorp will likely continue missing analysts' expectations on EPS.
Today, Goldcorp will release the first quarter of 2016 results: the average estimate of EPS by analysts was $0.02 on April 6 and today is $0.04. Meaning that missing analyst's expectations on EPS may have a significant impact on the value of the stock that has recently climbed on higher gold prices.
Disclosure: I/we have no positions in any stocks mentioned, and no plans to initiate any positions within the next 72 hours.
I wrote this article myself, and it expresses my own opinions. I am not receiving compensation for it (other than from Seeking Alpha). I have no business relationship with any company whose stock is mentioned in this article.