Prospect Capital (NASDAQ:PSEC) is facing a lawsuit from shareholders as a result of its extremely high fees. While many retail investors have remained attracted to this stock thanks to its high yield (currently nearly 13%) and tremendous discount to NAV (currently about 19.9%), institutional investors, analysts, and management are steering clear (more on the last bit later).
Of the reasons why alarm bells keep ringing about Prospect Capital, its high fees are a major part. Management has structured the BDC in a way that makes their management fees rise even as NII per share falls. This creates a conflict of interest that analysts have been warning about for years.
This was the cause of a particularly tense moment during the Q3 2015 earnings call, in which Investors First President Allen Morford squarely criticized Prospect's management for the fee structure:
"And there have been some situations here recently where some very, very large investors have come in and in effect done a proxy to either have the management reorganize their fee structure or take them out. And your fees are just incredible it just doesn't make any sense to me. I do not believe you're acting as a fiduciary because of these fees and I'd like you to comment to that?"
After Prospect's answer and a request for a follow up, COO Grier Eliasek quickly moved on to the next analyst with this gruff response: "Allen, in the interest of time, we're going to go into the next question. So, thank you, sir."
The next analyst, however, didn't let Eliasek off the hook, saying, "It just seems like, it's like whatever you can get away with… you [have] done it... And I think that you need to correct that."
After Eliasek's response, which focused mostly on the discounts that most BDCs were facing, CEO John Barry cut the call off short:
"Okay thank you. We need to go onto the next question. Okay. I think we are all set now. Thank you very much. Have a wonderful lunch."
Fun drama to watch from afar, but not fun to have a financial stake in. This was when I sold out of Prospect Capital.
The Legal Response
Before this interchange, several large investors and lawyers were already preparing a legal response. While the suit is ongoing, a recent filing with the SEC makes it clear why the company is being sued. Among the complaints, one of the most egregious abuses being alleged is that "Prospects overall fees significantly exceed the average" of all other externally managed BDCs.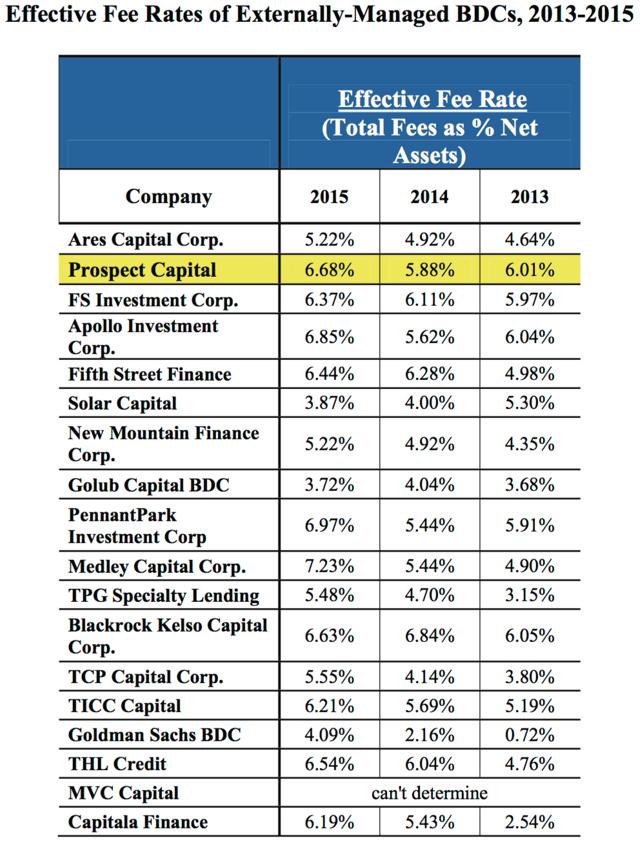 Source: SEC.gov
One of the challenges for BDC investors is that fees can be calculated in a variety of ways and are not easy to understand. Instead, the company likes to focus on its size: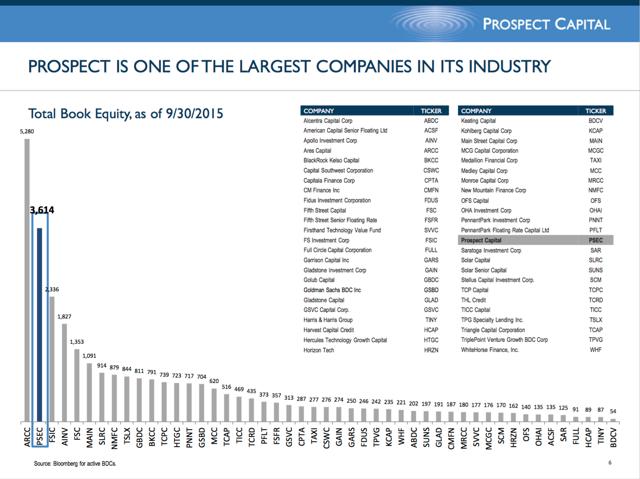 Source: Prospect Capital
When focusing on size, its total net investment income looks impressive: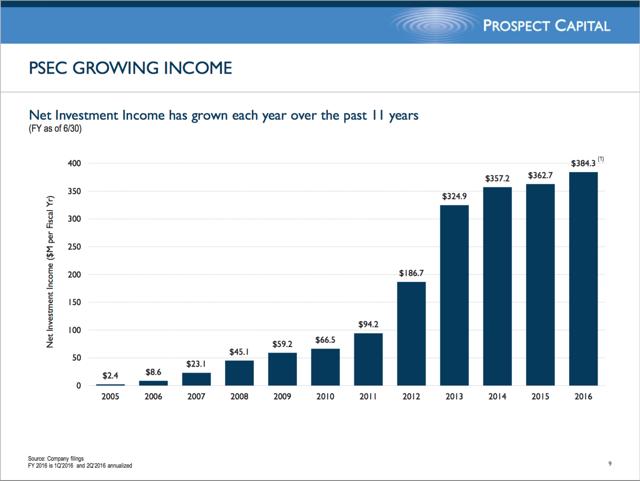 Source: Prospect Capital
The Important NII Metric
However, the company's trailing 12-month NII per share has plummeted: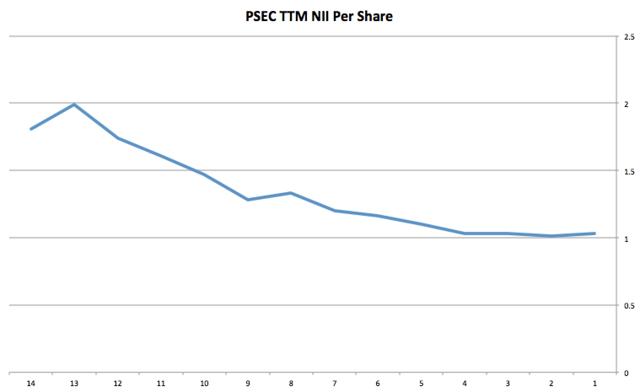 Source: Seeking Alpha earnings releases
As a shareholder, I am only concerned with the NII per share - total NII does not benefit me. If total NII goes up because the company expands by issuing more shares, thus diluting the NII per share, I will not get more income. However, management will. Since their fee depends on net assets, more deals and more activity by diluting shareholder ownership is great for the board and horrible for shareholders.
This applies to all BDCs in theory, but PSEC is arguably one of the most egregious offenders since it aggressively increased share count and has lobbied shareholders for the right to issue shares below book value for years. The company only gradually acquiesced to demands for a share buyback program, although its actual execution on that program has been disappointing.
What's even more distressing is that some BDCs use various methods of ensuring that fees do not become an inordinate amount of available income. However, PSEC's operating costs, including payment to managers, employees, and other G&A costs, is the highest in the industry.
The Insider Buying Mirage
PSEC bulls love to point to heavy insider buying from Prospect's management as a reason to buy the stock. In fact, insiders have bought nearly $93.7 million of shares since the beginning of 2015, according to Insider Monkey. The bulk of those shares were bought by Barry; Eliasek is a distant second. Interestingly, there are only two other insider buyers: CFO Brian Oswald, who has 475,000 shares in total, and independent director Eugene Stark, who has just 30,000 shares.
This doesn't impress me at all. One could easily consider these purchases a cost of doing business - a needed expense to entice retail investors with the mirage of insider buying. That $93.7 million is offset by the near $225.4 million in management fees Prospect earned for the fiscal year 2015, which itself was a 13.6% year-over-year increase even as NII per share went down 15.5% in the same period.
Also, one should remember that the $93.7 million expense of buying those shares was offset in 12 months by over $12 million in dividend payments, meaning the actual cost to management to fund the mirage was more like $81.7 million, or 36.2% of total management fees.
CEF Alternatives and Their Fees
To avoid buying a fund that is sued because of accusations of egregious fees, I much prefer focusing on closed-end funds whose management fees are around 1% while also purchasing more diversified and higher quality debt instruments. A couple of my current favorites remain PIMCO Dynamic Credit Income Fund (NYSE:PCI) and PIMCO Dynamic Income Fund (NYSE:PDI), although their management fees are a bit over 1% (PDI). PIMCO's Corporate & Income Opportunity Fund has a much lower management fee, Allianz's AllianzGI Equity & Convertible Income Fund (NYSE:NIE) is also a fond favorite and has just a 1.06% expense ratio. I also like these funds because they're quite easy to time purchases due to their premium/discount to NAV and their payouts are sustainable.
Most crucially, though, these funds are structured in a way that cannot incentivize skyrocketing management fees that are obfuscated by insider purchases and confusing charts, as can be the case with BDCs. To read more about my thinking on the high yield world, please subscribe to my newsletter.
Disclosure: I am/we are long PCI, PDI, NIE.
I wrote this article myself, and it expresses my own opinions. I am not receiving compensation for it (other than from Seeking Alpha). I have no business relationship with any company whose stock is mentioned in this article.