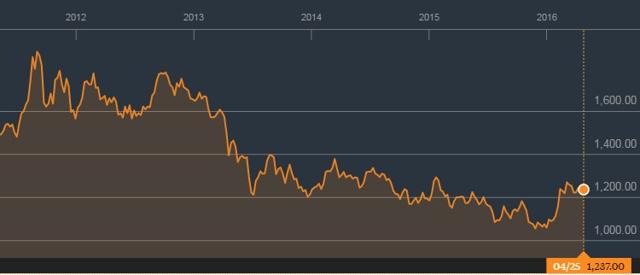 Source: Bloomberg
Gold prices have been hovering around $1,230 per ounce in the last few sessions. Long positions on gold have touched 21.9 million troy ounces as traders await the outcome of the Fed meeting later today. The Fed is unlikely to hike interest rates this year as the job market may lose steam, the U.S. national debt keeps ticking, and the global slowdown risk persists.
Job additions
Retail spending has been declining despite strong job additions, wage growth, and the unemployment claims touching 42-year low. This also indicates that a large chunk of the recent additions includes temporary and low paid jobs.
There is increased demand from workers to increase wages. The states of California and New York have enacted a bill to gradually increase wages to $15 per hour. Retail workers in other states have been protesting to increase the minimum wages to $15 per hour. This will force enterprises to cut temporary jobs. Retailers have announced the closure of more than 2500 stores as they switch to online platform. The job additions could slow down in the next few months.
U.S. national debt
The U.S. national debt has surpassed $19 trillion or 110% of GDP. Hiking interest rates by 0.25% would mean increasing the interest rate burden by $47.5 billion annually. The burden will be passed to corporates and middle income class in the form of taxes. This could affect investment and consumer spending. The GDP growth estimate for Q1 2016 is as low as 0.2%. The consumer confidence index has declined in the last four months. The Fed cannot afford to weaken a slowing economy.
Global growth
The IMF continues to lower its global growth forecast, with the recent one at 3.2% in 2016. The Chinese economy and oil prices haven't settled down. A rate hike would lead to more weakness in emerging markets and lower global growth. U.S multinationals have reported revenue decline in Q1 2016. The trend will continue in the coming quarters.
Final Thoughts
No rate hikes this year is a bullish signal for gold. My current year-end price target for gold is $1,400 per ounce.
Disclosure: I/we have no positions in any stocks mentioned, and no plans to initiate any positions within the next 72 hours.
I wrote this article myself, and it expresses my own opinions. I am not receiving compensation for it (other than from Seeking Alpha). I have no business relationship with any company whose stock is mentioned in this article.