Baxter International Inc. (Baxter) is a diversified healthcare company. The Company operates in two segments: BioScience segment, which include three commercial franchises: Hemophilia, BioTherapeutics and BioSurgery, and Medical Products segment, which include four commercial franchises: Fluid Systems, Renal, Specialty Pharmaceuticals and BioPharma Solutions. Its BioScience processes recombinant and plasma-based proteins to treat hemophilia and other bleeding disorders; plasma-based therapies to treat immune deficiencies, alpha-1 antitrypsin deficiency, burns and shock, and other chronic and acute blood-related conditions, and biosurgery products. Its Medical Products manufactures intravenous (IV) solutions and administration sets, premixed drugs and drug-reconstitution systems, pre-filled vials and syringes for injectable drugs, IV nutrition products, infusion pumps and inhalation anesthetics. Its products are used in hospitals, kidney dialysis centers and nursing homes, among others.

*Taken From a proprietary trading software*
The overall markets are wrong about Baxter International Inc. (BAX) for a number of reasons. Due to this, we believe that BAX is noticeably undervalued when compared to its peers and the industry as a whole. Although BAX has made a strong run off of its January lows, it still has the potential to add a significant amount of value to its stock. A number of fundamental ratios demonstrate that BAX is undervalued, and this is confirmed to us due to its margins and overall outperformance when compared to the industry. Its market capitalization of $24.1B gives it a value of about $44.30/share as of April 26th, 2016. Its P/E, P/S, P/B, and PEG ratios all show that BAX is undervalued, and we believe that this hidden value can be available to investors in the long run.
BAX is currently trading at a P/E of 26.54x, which is well below the industry average. This being said we see this as one of the safest plays to play the volatile and extremely risk prone healthcare industry. Its P/S of 1.64x and P/B of 2.49x confirm our analysis that the market is still undervaluing BAX even at a market cap of $24.1B. BAX has the potential to expand its P/E to the industry average and then some due to its PEG of 2.41x. Although its PEG is also below the industry average, it has been increasing in recent quarters. In the long run, we believe its price can significantly increase through the 50, even 60/share level. We see this as a value play, however there is still growth opportunity given the state of the healthcare sector.
BAX, unlike a number of companies within the volatile and speculative healthcare industry, has a very consistent and steady gross profit margin. Although its gross profit margin of 44.67% is below that of its peers, we do believe that as the industry continues to (rapidly) change BAX will be able to maintain its strong margins. It currently has an operating profit margin of 7.50% and a net profit margin of 6.20%. Both of these margins are above the industry average oddly enough. This clarifies BAX as one of the most profitable companies in the industry, and by far the most consistent from an investor's perspective.
When compared to its peers BAX appears to be overemployed at 50,000 employees. They have had a few small job cuts, but nothing major or detrimental to its price per share. Its revenue is noticeably strong when compared to its peers and the industry on a relative basis. Even though Becton, Dickinson & Co. (BDX) has a larger revenue, its market cap is almost $10B more than that of BAX. The chart below illustrates even further that BAX has room to increase its market cap and that it is undervalued when compared to its peers and the industry.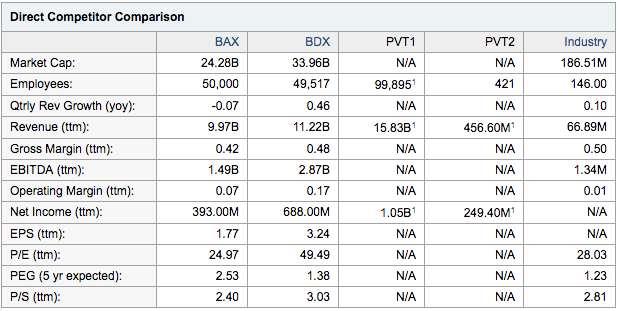 Its dividend yield of 1.05% is relatively small, but in the healthcare industry we see this to be a huge bonus to value investors. In terms of its management, we see this dividend to guarantee investors that they are working hard and focusing on giving back to its shareholders as opposed to a number of healthcare companies that are pumping all their money into R&D to promote the potential for strong future growth. This is a very risky strategy, and more often than not this is why a number of companies within the healthcare industry fail. Whether it is a failed drug test, FDA lawsuit, or meaningless R&D we believe that these are all crucial factors that cause companies to fail. On top of this a number of companies within the industry would not be able to maintain a dividend in the long run like BAX has, despite the dividend yield being small on an absolute scale.
Its ROE, ROA, and ROI are all above its peer and industry averages. We comprehend this as a sign that management does an incredibly efficient job at controlling its equity, assets, and investments in the short and long run. Its revenue per employee however is below the industry average. Its revenue per employee is about $200k where the industry average is about $300k. This being said we believe BAX is overemployed, and although it has been slowly cutting jobs from its less lucrative departments we see one of the risks going forward being a major workforce cut. In the long run we see a job cut to be very effective and definitely a positive factor for investors. However in the short run we see the potential for this news headline to be exaggerated. Its debt to capital of 46.17% and quick ratio of 1.58x demonstrate that BAX is very effective when managing its debts in the short and long run. It has an interest coverage ratio of 10.86x, which means it will have little issue repaying its debts and we believe that BAX even has room to issue more debt. However issuing more debt may result in BAX being overleveraged and it could trade more like some of the more volatile names within the healthcare industry. Another risk we see with BAX from an investor's' perspective is the potential for a dividend cut in order to increase its cash balance. As long as BAX maintains its debt and continues to manage its equity, assets, and investments properly and effectively we don't see this as highly probable going forward.
BAX has been maintaining a very strong uptrend since its lows in January of about 34/share. Since then it has traded through its previous highs between 40-42/share and pushed through to a high of 44.75/share. To the downside we see its previous high of 42/share to act as a key level of support, with the 38/share level acting as its next support level. As volume continues to increase we believe that BAX has the potential to maintain its current uptrend with little risk of breaking down through its key levels of support.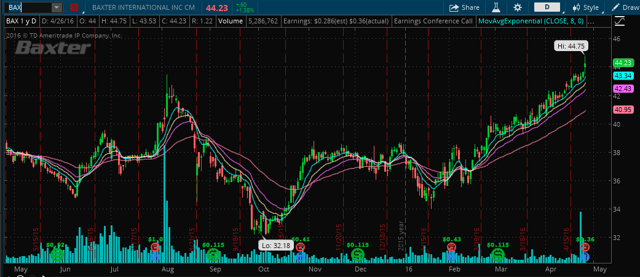 The ways that BAX can unlock its hidden value potential to investors without exposing itself to risks related to the volatile healthcare industry include simply maintaining its consistent and lucrative margins, increasing its cash balance, and efficiently reducing its workforce. In terms of the risks involved in these tactics, we see cutting its workforce to only be a short term risk. This news is likely to be over exaggerated if there is a major workforce reduction in the near future. The risks in regards to increasing its cash balance include reducing or completely cutting its dividend yield, however we do not see management going through with this tactic as it may discredit them in the eyes of its investors. Management also boosted its forward guidance after topping its profits in its most recent earnings report. This is a very strong sign to investors going forward even with BAX trading near its highs. In the long run, we have confidence in the management team's ability to effectively and efficiently monetize its equity, assets, and investments to unlock a substantial amount of hidden value to its investors.
Disclosure: I/we have no positions in any stocks mentioned, but may initiate a long position in BAX over the next 72 hours.
I wrote this article myself, and it expresses my own opinions. I am not receiving compensation for it (other than from Seeking Alpha). I have no business relationship with any company whose stock is mentioned in this article.