The American car manufacturer General Motors (NYSE:GM) has largely been stuck in neutral since emerging from its tax-payer funded bailout, but I believe a number of signs are converging to point in a positive direction. I intend to lay out some of those signs, and then take a shot at establishing a fair value range for GM's common stock.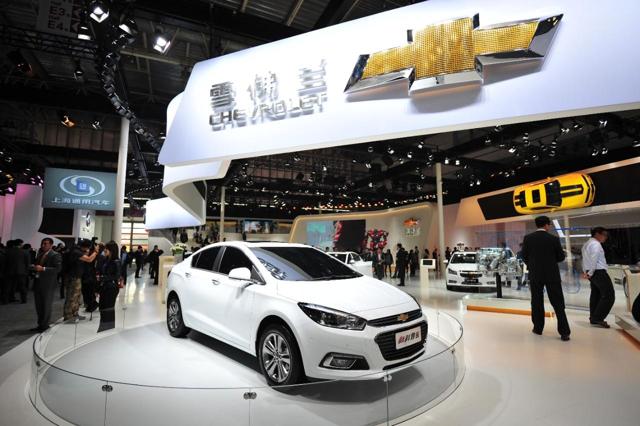 So what specific indicators are there that General Motors is not the slow-moving entity of the past? The following may not be exhaustive, but points making me think GM is gearing up to be ready for the next quarter century.
I see a change in GM's culture, with a real bent towards decisiveness. Mary Barra, the CEO, has not hesitated to push for changes and expect execution. She exudes a certain intangible kind of confidence, and has held up well under the tragic conditions of the ignition switch fiasco, where weaker CEOs may have let themselves be scapegoated already. Many of the points to come result from her and her team's decisions.
GM has decided to whom it wants to sell its products, as well as to whom it does not want to sell them. Exiting the fleet sales, while perhaps opening more room for Ford (NYSE:F), is without a doubt a move to support margins. Speaking of margins, the goals are clear and unambiguous - to achieve 10% or greater operating margin in North American sales, including the newly released goal specific to Cadillac to get to 11% in the next decade. Nobody will get there by selling en masse as large fleet sales.
Meaningful amounts of capital are being spent on technologies that appear to be congealing as the next steps for the industry:
$0.5B to partner with Lyft in ride-sharing, which in addition to some marginal extra sales of vehicles, likely provides some very useful data, in terms of feedback on the vehicles themselves, but more so in terms of understanding trends and patterns in how people are using the vehicles.
While the price has not been confirmed by management, likely somewhere in the range of $1.0B for acquiring start-up Cruise Automation, which had developed a way of retrofitting certain Audi (OTCPK:AUDVF) models to have a level of self-driving capability. The race is on here, and I think it is likely that all the major car manufacturers, and even Tesla (NASDAQ:TSLA), will be able to offer this kind of functionality within the next 5 years, although the regulatory hurdles for getting them on the road may well slow down that process.
The all-electric, 200-mile range Chevy Bolt (Opel Ampera-e in Europe) has been in pre-production for about a month now, and should be available to consumers by the end of the year. Whether or not the Bolt is a commercial success, I find myself in agreement with Alex Davies of Wired.com, who wrote in February (a terrific article on the whole, IMO, about the history of the Bolt within GM):
For GM, the Bolt stands to offer a head start in a new kind of market for electric cars. But for the rest of us, there's a broader significance to this news. It's not just that Chevy will likely be first. It's that a car company as lumbering and gigantic as GM, with infrastructure and manufacturing capacity on an epic scale, has gotten there first-and is there now.

The importance is less the bottom line for GM, but an indication that the culture of the company is changing. If the Bolt is a bust, I believe GM engineers will go back to the drawing board and work tirelessly to produce a winner.
I have no doubt that GM will continue to sell a hefty number of SUVs and trucks, but even here change is apparently coming, with reports that it will follow Ford into the use of aluminum, even if they have to eat their words from the marketing campaign targeting Ford's aluminum F-150s.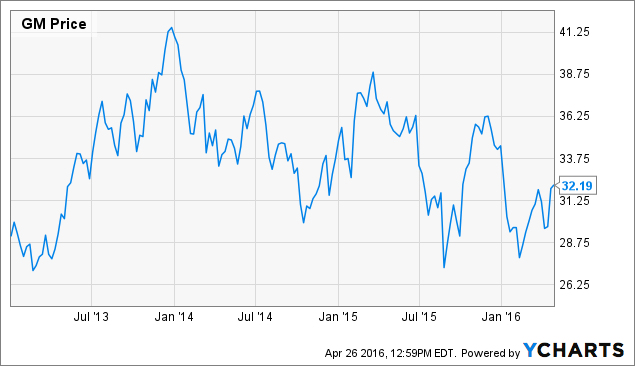 GM data by YCharts
In the end, while not exploring all the aspects of the General Motors puzzle, I have the feeling that the pieces are coming into focus, overlapping in a consistent way that looks really promising.
GM's stock price has gotten little love, perhaps deservedly, but I think the elements merit taking a deeper look at the value of the equity, using a discounted cash flow model.
In putting the first model together, I've made a major assumption on GM's revenues - the near record-level sales will drop 10% in 2017 and 5% again in 2018, with sales growth returning in 2019 and 2020. Why this assumption? It is primarily to give a little credence to the bear case of (take your pick) that auto sales are peaking, that a recession is coming, there is a bubble in sub-prime auto loans, China will implode any day, or oil prices will rise. Here are the other key assumptions:
WACC is figured at 11%
Terminal growth rate of 1.5%
Cash on hand does not factor in the acquisition of Cruise Automation (all data is sourced from the 2015 10-K)
GM does have a significant deferred tax asset, so I have assumed its annual cash payouts for taxes to be relatively in line with its reported cash payments from 2013-2015
I attempted to prevent the changes in working capital requirement from swinging too wildly, and assuming the changes were in line directionally with revenue growth or decline
The results I came up with are here:

The obvious result is that the discounted value of the equity is going to be paltry relative to even its current share price, and indeed it comes out to less than $27/share. No real surprise here, and this result is well within the trading range over the last 52 weeks. GM has said it can survive a major downturn in car sales, so long as it is not sustained over several years, and a modest slowdown can be absorbed. But what if the bears are wrong?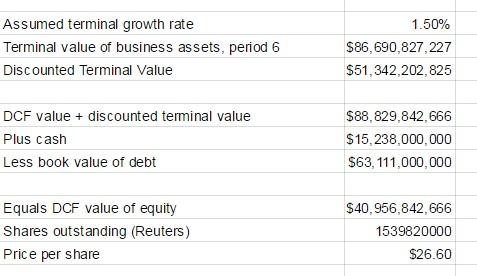 In an alternate version, sales still fluctuate, but the annual ups and downs are only by 1%-2%. On the whole, this scenario still forecasts small declines, so calling it a bull case may not be appropriate. However, given the average age of cars in the double digits on American roads, it is not implausible that sales remain stable, which keeps GM's Finance arm healthy as well. Even with declines in sales, GM has managed to increase margins steadily; so long as sales don't fall through the floor, volume declines may not make a great difference.

With a kind of "steady as she goes" forecast, the cash flows are certainly higher, and it yields a share price rather close to GM's recent range in the mid-$30s. At $35/share, this would be already a nearly 10% increase over the current price, excluding dividends, which are an attractive 4.8% or so at the moment. This does not make an air-tight case for GM being undervalued of course, but perhaps gives a rationale why some people believe the story that it has room to run yet (including several other SA contributors, such as Achilles Research, Rajendra Acharya and Josh Arnold).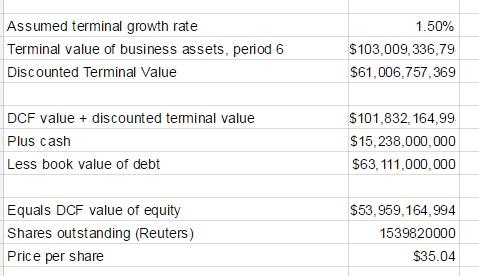 Conclusion
General Motors is having a sort of renaissance, in terms of responding to the market globally and investing in promising technologies for the future. While these represent significant uses of capital, GM is committed to giving shareholders a return on their investment that should be secure in the short and medium term, all while buying back shares. All in all, I believe GM is poised to generate handsome returns, and I hope to initiate a long position within the next seven days.
Supporting Documents
Disclosure: I/we have no positions in any stocks mentioned, but may initiate a long position in GM over the next 72 hours.
I wrote this article myself, and it expresses my own opinions. I am not receiving compensation for it (other than from Seeking Alpha). I have no business relationship with any company whose stock is mentioned in this article.