On December 21st, 2015, I entered my submission for the Seeking Alpha contest, "Top Long Idea for 2016". The article presented a very detailed analysis explaining why the shares of Athersys Inc. (NASDAQ:ATHX), a leading company in the beaten down stem cell sector, were poised for a turnaround. For those unfamiliar with Athersys, the company's main product is an off-the-shelf allogeneic stem cell therapy called MultiStem that is manufactured from proprietary Multipotent Adult Progenitor Cells (MAPCs) that are derived from donor bone marrow.
The entire analysis can be found here but the main thesis of the article can be summarized in a few bullet points:
The company's Phase II clinical 90 day results in stroke, its leading program, were very promising despite the market's negative reaction to the failure to meet endpoints. An evaluation of the post-hoc analysis performed by Athersys was legitimate and demonstrated multiple indications that the therapy was having a therapeutic effect within a treatment window of 24-36 hours.
Chugai Pharmaceutical Co., Ltd's disappointing decision in October 2015 to end its stroke partnership with Athersys was more about Chugai's desire to negotiate better terms, at the expense of Athersys shareholders, rather than a reflection on MultiStem's potential as a viable therapy for stroke.
The economic benefits of Japan's new regenerative medicine laws, designed to streamline the approval of stem cell treatments with reimbursement, have been unequivocally validated with two recent examples of expedited approvals. Mesoblast (NASDAQ:MESO), through its Japan partner, obtained full approval for its allogeneic stem cell treatment for Graft versus Host Disease and Terumo received conditional approval for its HeartSheet Autologous Skeletal Myoblast Sheets designed to improve the function of a failing heart.
Based on the above points, Athersys would soon sign a new partnership agreement in Japan that would replace Chugai Pharmaceutical Co., Ltd., revalidate the potential of stroke program and set the stroke therapy on a course towards streamlined approval in Japan for this very large unmet medical need.
Much has transpired in the few short months since the publication of that article and it's all been good.
The first significant news item came on January 8th when Athersys officially put the Chugai saga behind it with a new, expanded agreement with Healios K.K., a recently listed Japan based company focused on regenerative medicine using induced pluripotent stem cells. The agreement brought Athersys $15,000,000 in upfront cash and gave Healios the exclusive rights to develop and commercialize MultiStem for stroke therapy in Japan. In addition, Healios obtained an exclusive option for the development of two additional MultiStem clinical indications in Japan, including the treatment of Acute Respiratory Distress Syndrome (ARDS) and another undetermined indication in the orthopedic area. Healios also obtained an exclusive license to incorporate Athersys technology in the development and commercialization of its proprietary, "organ bud" technology. Healios is responsible for all development costs in Japan as Athersys maintains a lucrative portion of the upside. Specifically, development and approval milestones for stroke could total $30 million, in addition to sales milestones that could reach $185 million based on successful commercialization and the achievement of substantial sales of an approved product for treating stroke in Japan. Athersys will also receive tiered, double-digit royalties increasing into the high teens on product sales, and will be responsible for providing manufactured product to Healios subject to receiving reimbursement under a manufacturing supply arrangement.
While this partnership catalyst was extensively discussed in my previous article, some unexpected "excellent" news came on February 17, 2016 with the release of follow-up Phase II 365 day stroke data. Surprisingly, the MultiStem treated group of patients continued to improve above and beyond the placebo group for a measurement called "Excellent Outcome", the same measurement used by Genentech to obtain FDA approval for tPA for stroke in 1996. At 365 days, statistical significance was achieved for "Excellent Outcome" without the need for the post-hoc analysis that was required in the 90 day results in both the 36 and 48 hour treatment windows. There were several other indications that MultiStem was providing a substantial benefit to stroke victims that are detailed in this press release. This news was very significant as it helped further validate the legitimacy of the 90 day post-hoc analysis.
It should be noted that, if approved, Multistem would be a complementary treatment to tPA as their administration windows do not overlap and both can be used on the same patient. While MultiStem has shown no significant safety issues at all, tPA can only be used safely within the first few hours following a stroke.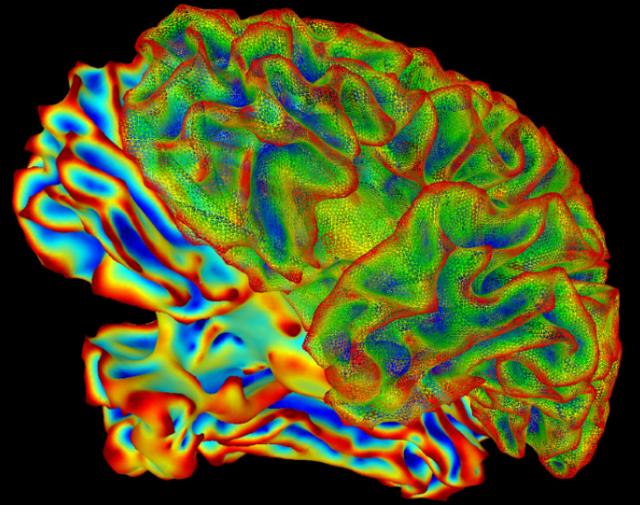 Source: National Institute of Health Multi-color image of whole brain for brain imaging research
On February 4, 2016, two weeks before the release of these one year stroke data, I attended the Athersys and Healios R&D Partnership Day conference in New York City organized to discuss the partnership and the path forward in Japan with the investment community. The excitement in the room palpable and, in retrospect, some of this excitement was likely related to the, then undisclosed, one year stroke results. Highlights of the conference can be found here.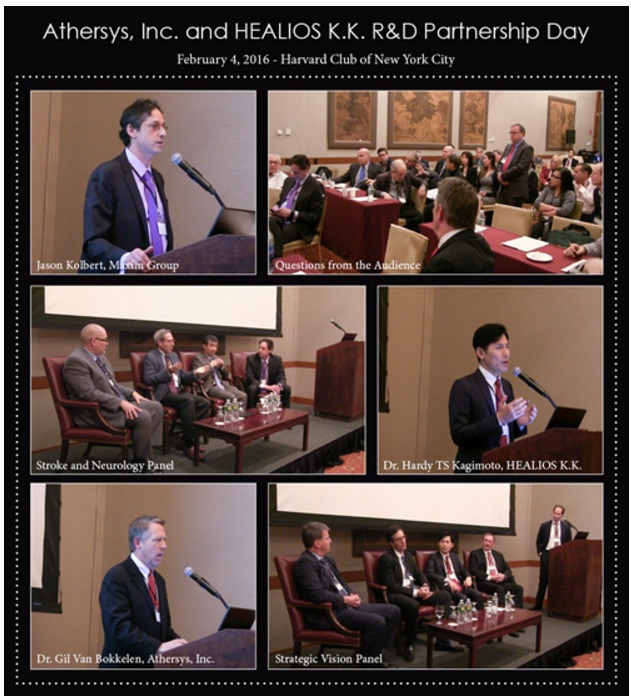 Source: Athersys Inc.
At the conference I had the opportunity to speak to Athersys CEO, Gil Van Bokkelen and Healios CEO, Hardy T S Kagimoto, M.D. Those discussions eventually lead to this joint interview that took place by email over an extended period as both companies continued to work feverishly to move forward in Japan:
WST: Hello Gil and Hardy. Congratulations on your new partnership. Given the significance of the joint commitment as a catalyst in Japan and the recent developments in stroke program, I thought it would be interesting to hear from both of you in a joint interview. Let's start with the agreement on January 8th, where Healios KK made an upfront payment to Athersys in the amount of $15,000,000, primarily for the exclusive rights to develop MultiStem for stroke in Japan. Can you discuss the history of your discussions leading up to the agreement and why you believe that this partnership will benefit both companies?

GVB: Prior to entering into the partnership, we had gotten to know each other very well over a nearly two year time frame. It was quite clear that we share a common view of the potential of regenerative medicine, and how it can address some major areas of unmet medical need. We also share a common vision for how the new regenerative medicine regulatory framework in Japan can help accelerate the development and clinical implementation of these types of technologies. From the Athersys perspective, we believe that by working together with Healios, we are fully aligned and can more efficiently conduct clinical development in Japan, and it sets us both up for success.

HK: Healios is committed to becoming the leading regenerative medicine company and is developing new cell therapy treatments with the potential to address major areas of unmet medical need in Japan and other parts of the world. As Gil said, I am convinced that Athersys is the best partner with such same vision. I am very excited to be working with Athersys. In addition to our partnered program in stroke and other opportunities we may pursue together, Healios is committed to the development of a fundamental therapeutic approach for treating age-related macular degeneration (AMD) with retinal pigment epithelium (RPE) cells differentiated from human induced iPS cells. The synergy between our experiences and Athersys' technologies will accelerate efforts in the field of developing new cell therapy treatments.

WST: Hardy, Healios saw the same 90 day post-hoc analysis that Chugai had ample time to study, yet Chugai chose not to proceed under the original terms of their agreement after committing $10,000,000. Did Healios have the advantage of viewing the 365 day results before making its commitment and if not how did you convince your board to go forward with a transaction, that committed a substantial portion of your balance sheet, to a program that Chugai passed on?

HK: No, Healios was not informed the positive results from the analysis of one-year follow-up data from Athersys' Phase 2 clinical study. While we, of course, took the result of 90 day post-hoc analysis into consideration, we made the decision after thorough discussions among our management members. Particularly, as the safety of MultiStem was confirmed by the result of the past study, we think that this treatment may be applied to new regulations revised by Japanese government ('Early Approval System'). In addition, the marketability of cellular therapy for ischemic stroke and the possibility of a material for the manufacturing of "organ bud" products for regenerative medicine were also taken into account.

WST: One of the unique aspects of the agreement is the distinct regenerative medicine technologies each company is focused on. MultiStem is cultured from naturally occurring bone marrow derived adult progenitor cells, while Healios is focused on induced pluripotent stem cells that are genetically reprogrammed from adult tissue. The "organ bud" technology is one application where you feel the cells can work together. Hardy, what is the ultimate goal of the "organ bud" program and how do the cells work together? Do you envision any other potential applications that would involve both cells or is this just an unusual application?

HK: As a future outlook of regenerative medicine, I believe that the concept of new cell therapy treatments will be changed, in short, by replacing the diseased part with not only healthy "cells" but also parts of "organ". For that, we believe the "organ bud" platform which we are developing will be a leading technology. Briefly, we focus on a technique to generate a rudimentary three-dimensional vascularized organ by co-culturing iPSC-derived organ progenitor cells, that can differentiate into hepatocytes and renal cells; mesenchymal stem cells, that have the ability to develop into various types of connective-tissues; and vascular endothelial cells, that form the blood vessels. MultiStem can be examined as a material playing a role of mesenchymal stem cells, but with additional benefits, including as an important premise that a system of mass production of it has been established. The patent regarding "organ bud" is very basic for culturing "organ" tissue and we believe it has a wide range of applications.

WST: As part of the agreement, Healios also obtained an option for the Japan development rights to MultiStem therapy for Acute Respiratory Distress Syndrome (ARDS) with an additional payment of $10,000,000 and the Phase I/II trial is currently enrolling. I suppose that Healios is awaiting these data to determine whether to move ahead. Gil, can you tell us a little about the ARDS program and how enrollment is progressing in the UK? Also, your 10-K states that the ARDS study will also be conducted in the U.S. yet there are no U.S. sites listed at clinicaltrials.gov. Can you explain?

GVB: We believe that ARDS is another great example of where we can make a difference in treating serious and life threatening medical situations where current standard of care is largely ineffective. ARDS is a pretty devastating condition, and these patients are typically cared for in the Intensive Care Unit, maintained on a ventilator because their bodies are not getting enough oxygen. Unfortunately, even with ventilator assisted breathing many patients are not getting enough oxygen, and suffer severe tissue damage, sometimes leading to amputations, or organ failure and even death. However we have published work from studies that show that MultiStem can effectively address the severe pulmonary inflammation that causes ARDS, and based on that and other data we are optimistic we can meaningful improve outcomes for these types of patients, which would be a big step forward.

The trial we are currently conducting includes sites both in the U.K. and the U.S. and is funded in part by a meaningful grant that we received from the U.K. We are in the process of getting a couple of sites in the U.S. up and running as well, and will list them on ClinicalTrials.Gov at some point. We typically don't update in real time, we just do it periodically.

WST: The other option in your joint agreement gives Healios the rights in Japan for an orthopedic application using MultiStem. Recently, Mesoblast reported encouraging clinical trial results for rheumatoid arthritis and, in a separate trial, reported encouraging results for osteoarthritis of the knee following ACL surgery. The osteoarthritis of the knee trial actually showed cartilage thickness improvement, a very exciting prospect. Both of these indications represent large unmet medical needs. Have you had the opportunity to jointly explore any orthopedic application to target in Japan and, if so, are RA or OA indications you are considering?

GVB: The agreement we have entered into includes the option to develop a specific orthopedic indication, but we haven't yet disclosed what that indication is, and don't intend to for the time being for competitive reasons. However, it's fair to say we both see a lot of opportunity across multiple therapeutic areas, and we believe the regenerative medicine regulatory framework in Japan will be broadly relevant, which provides some exciting opportunities for both of us.

HK: As Gil indicated, we have not disclosed the concrete situation about other indications at the present moment. In addition, we are evaluating opportunities to explore new targets together, and I feel that the chemistry between Athersys and Healios sharing same vision is magnificent, as both are showing a great spirit of teamwork for developing the regenerative medicine area.

WST: Great, now let's switch topics to the 365 day stroke data recently released at the International Stroke Conference sponsored by the American Heart Association in February. MultiStem reached statistical significance in a functional measurement called "Excellent Outcome" over the placebo arm, the same measurement used by Genentech to get tPA approved to treat stroke, about 20 years ago. The 365 day results improved markedly over the 90 day results and I don't believe many were expecting this. Statistical significance was reached, not only within the 36 hour window but also when all patients were included. Were the two of you surprised by the improvement over the 90 day results and what are the mechanisms of action that may have lead to the longer term improvement?

GVB: We were certainly pleased with the magnitude of the improvement as evidenced by the one year results, and we believe it reflects a robust therapeutic impact. The Excellent Outcome is a well established clinical metric that reflects substantial improvement in all three clinical rating scales used to assess patients, which evaluate overall disability, cognitive and motor skill deficits, and ability to engage in activities of daily living. This is exactly what patients, their families, and clinicians all want, and the fact that we saw such a meaningful and durable improvement over standard of care is very encouraging.

We know from extensive work we have done with outside independent labs that has focused on evaluating the impact of administration in multiple acute neurological injury models that there are several relevant mechanisms of benefit. To put it simply, though, we believe that the clinical data and other evidence shows that administration of MultiStem mitigates the hyperinflammatory cascade that occurs following the stroke that ultimately results in the permanent loss of viable brain tissue that could be saved. This inflammation results in formation of scar tissue that inhibits or prevents healing and recovery. Furthermore, the preclinical data from studies where we examine gene expression in the brain following treatment shows that we stimulate the repair process by upregulating a number of factors and processes linked to healing and recovery. Although we can't harvest brain tissue and do that same experiment in human subjects, the clinical results are certainly consistent with those observations. So in essence, treatment with MultiStem has multiple benefits, and creates an environment that is more conducive to repair and recovery, which occurs over time. Although this was certainly evident in some respects by the recovery at 90 days, especially among the patients that received treatment within 36 hours, it seems clear that a meaningful number of patients treated with MultiStem continued to improve over time, which is very exciting.

HK: Thanks to a rapidly expanding elderly population, Japan, like other developed countries faces significant challenges over the next several decades. By 2030, nearly one-third of Japan's population will be age 65 or older. This is projected to eventually grow to nearly 40%. This will mean a dramatic increase in the impact of diseases and conditions that affect the elderly, such as stroke and other areas. Exciting technological advances and recent changes to the regulatory system in Japan reflect a national commitment to innovation and leadership in the regenerative medicine area, to address areas of significant medical need. We were actually very pleased with the evidence of the one year results, and I think our collaboration itself is very suitable for this new framework.

WST: I think the next catalyst that investors are looking forward to is the commencement of the stroke trial in Japan. I understand that the Healios and Athersys teams recently jointly met with the PMDA. Gil or Hardy, can you give us an update on where you are in this regard? Specifically, how big of a trial do you anticipate running? What will the timeframe endpoint look like? What are your expectations for reimbursement? and, of course, when will the trial commence?

HK: For some situations related to consultation with PMDA, though I can only answer the content that are generally disclosed, we recently completed some very productive consultation meetings with PMDA regarding the envisioned clinical trial design, which will focus on administration within 18 - 36 hours, and we have also established a good relationship with investigators. We had a meeting with investigators at the Stroke 2016 conference in Sapporo where there is a lot of investigator interest and enthusiasm. Our preparations for launching the clinical study, whose protocol will be agreed with PMDA, are progressing nicely.

WST: Gil, with regard to moving ahead with the stroke program in the U.S. and internationally outside of Japan, are you currently in discussion with potential partners and have the 365 day stroke data changed the level of interest? What would an ideal partnership look like?

GVB: We are in discussions with potential partners about the stroke program and other areas, and the one year data is definitely a positive. People recognize that stroke is a huge area of unmet medical need, and also represents a massive commercial opportunity. We certainly have thoughts on what an ideal partnership might look like, but we also see that there are multiple ways for us to achieve our goals. While we evaluate our partnering opportunities and development options we don't want to constrain ourselves too much, so it wouldn't really be appropriate for me to comment further. However I will say that we feel like we have a great partner in Healios, that Hardy and I are fully aligned in terms of what we are committed to accomplishing, and the chemistry between the organizations has been outstanding.

WST: Changing topics. There is one important, yet in my view, underappreciated manufacturing related characteristic that differentiates MultiStem from other adult stem cell therapies. That being the ability to obtain millions of doses from a single donor. Could you explain the evidence that supports this claim and also discuss the ramifications and competitive advantages as you move ahead towards commercialization?

GVB: We agree that the scalability of the technology is a key advantage, along with the ability to avoid having to tissue match or immunosuppress patients that are being treated, and the consistent clinical safety profile we have seen. In contrast to most other cell types that may be isolated from donors, which typically have limited growth potential outside the human body, the cells we work with that comprise MultiStem have very robust growth properties, and that is biologically enabled by certain factors the cells express. We believe this is also a reflection of their role in the body, which many people believe is to serve as a long lasting biological reservoir of protection. We've actually published on this, and compared and contrasted MultiStem to other cell types, demonstrating how we can use a cell banking and production approach that enables us to produce the equivalent of millions of doses from individual, healthy, consenting donors. This is well beyond the capacity of other, non-genetically manipulated cell types.

Having the ability to produce a well characterized, well validated product at scale is critically important. From a commercialization perspective this is key, because it will enable us to meet the demand for conditions like stroke, as well as others where there may be a large number of patients that are impacted. Other approaches that have to rely on a large number of donors, or where there poor scalability, or where there are a lot of factors that could create inconsistency are going to have a more difficult time. So we think we are in a strong position from a competitive perspective, and we intend to use that to successfully address multiple areas of substantial unmet medical need, including stroke and others, and to establish a lasting leadership position in the industry.

WST: Thank you.
As Athersys and Healios progress towards the commencement of a small PMDA approved pivotal trial in Japan for stroke, and ultimately marketing approval with full reimbursement, the importance of manufacturing scalability cannot be underestimated. This is a characteristic of MultiStem that separates it from other adult stem cell companies and Healios recognized this. While many other adult stem cell companies are technically, "Allogeneic", Athersys may be the only adult stem cell company with a cell that can be considered, "Allogeneic Ultra". Of course, this manufacturing advantage only matters if the therapy achieves regulatory approval and although the table is now seems well set in Japan, the next step is for PMDA approval to be actually achieved in Japan.
At its recent price of $2.35, Athersys has a market cap of $197,000,000, still a microcap in a sector where success in a large unmet medical need is measured in the billions. With its new partner, Healios, Athersys has turned the page on 2015 and set itself up for an exciting future. While the risks have not yet been eliminated the risk/reward equation looks very favorable for the rest of the year and beyond.
Disclosure: I am/we are long ATHX.
I wrote this article myself, and it expresses my own opinions. I am not receiving compensation for it (other than from Seeking Alpha). I have no business relationship with any company whose stock is mentioned in this article.
Additional disclosure: These are the personal views of Wall Street Titan Research and should not be relied upon for your investment decisions. All investors should always do their own due diligence.