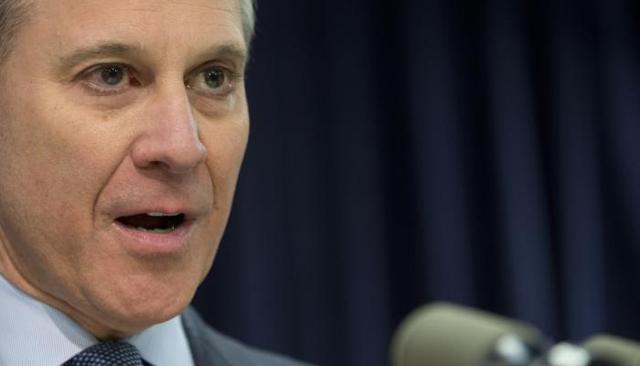 New York AG Eric Schneiderman. Source: Associated Press
New York Attorney General Eric Schneiderman threw his hat into the drug pricing debate with his investigation of health insurers' coverage of HCV restrictions. Seven insurers have now agreed to cover HCV treatment for almost all commercially insured patients in New York:
Insurers including Affinity Health Plan, Anthem (NYSE:ANTM) subsidiary Empire BlueCross BlueShield, Excellus BlueCross BlueShield, HealthNow New York, Independent Health, UnitedHealth (NYSE:UNH) subsidiary Oxford Health Plans and MVP Health Care will now cover new hep C drugs for patients who don't have advanced forms of the disease. The companies also can't deny coverage based on patients' drug and alcohol use. In return, the AG's office will drop its investigations into the plans, The Wall Street Journal reports ...

The investigation turned up some troubling information. Five of the insurers denied 30% to 70% of claims. And some insurers only covered patients with advanced stages of the disease, according to the WSJ story. EmblemHealth and Aetna (NYSE:AET) were the only insurers that consistently covered patients at earlier stages of the disease.
HCV costs and healthcare costs in general have become a hot button issue for politicians and the public. On the face of it the news appears to be a major coup for Schneiderman. I have the following thoughts on these developments.
Will War Between Gilead And Health Insurers Ensue?
At the end of the day we are all capitalists. New York health insurers were denying HCV claims due to the exorbitant costs of the regimen. Instead of attacking Gilead (NASDAQ:GILD) directly the NY AG has placed the coverage issue -- and the costs -- in the insurers' bailiwick. They must now decide whether or not to eat the additional costs and take a hit to their benefit payout ratios or demand lower prices from Gilead. If the insurers negotiate as a bloc they could potentially extract more price concessions than they could by going it alone.
Insurers also have a tremendous amount of leverage, at least in my opinion. The U.S. HCV market is large with about 3 million infected. However, According to Stat News, "there are few new cases of hep C these days," and the those that remain are "disproportionately poor, homeless or incarcerated." A bloc of insurers could potentially deliver a large enough pool of patient starts to make it profitable for Gilead to offer steep discounts.
Gilead's HCV price per start in the U.S. was trending at $53,000 in Q3 (Q4 results were skewed by the loss of VA sales). That's still 33% above the $40,000 cost that has been bantered around for the VA, and 89% above the $28,000 per regimen garnered by European governments in Q4. I believe a war will could ensue between health insurers and Gilead. The battle will potentially be over the $13,000 gap between the average cost of a U.S. regimen and that garnered by the VA.
Fight At The Bat Rack?
The NY AG originally subpoenaed 16 insurers. The capitulation by seven insurers could force several more to cover HCV. Schneiderman's success will likely prompt attorneys general in other states to pressure health insurers to cover HCV drugs as well. Eight to ten insurers in every state, lobbying Gilead for cheaper HCV prices in order to protect their benefit payout ratios -- that sounds like a "fight at the bat rack."
Will The HCV Runway Shorten?
The following quote from the Fierce Pharma article above also caught my attention, "Some insurers only covered patients with advanced stages of the disease." This implies that insurers may start to cover infecteds that are not in advanced stages of HCV, potentially accelerating HCV starts. By having HCV starts front loaded it would be a boon to Gilead's cash flow. However, valuing the company on a forward basis could be difficult given that forward earnings would decline once starts reached a crescendo. The key to valuing GILD would be based on its ability to deploy its cash flow at much higher rates of return than investors could get on their own. I doubt another homerun like the Pharmassett acquisition is in the cards. That said, I will remain on the sidelines until Gilead's starts and/or price per start reflect more normalized levels.
Disclosure: I/we have no positions in any stocks mentioned, and no plans to initiate any positions within the next 72 hours.
I wrote this article myself, and it expresses my own opinions. I am not receiving compensation for it. I have no business relationship with any company whose stock is mentioned in this article.