Sorrento Therapeutics (NASDAQ:SRNE) is a pharmaceutical company with diverse assets. It is run by CEO Henry Ji, who co-founded the company in 2006. In 2010, the company went public through a reverse merger. The company is based in San Diego and employs 50 people. Its share price has seen very volatile action in the past two years, rising from $3.10 in October 2014 to a peak of $26.80 in July 2015. Since then, it has withdrawn to a low of $4.25 in February 2016 to a closing price of $7.22 on April 25. Despite what the volatility suggests, Sorrento has an excellent outlook for a biotech company that's still in the developmental stage. A full estimate of Sorrento's value would account for the following: current drugs in development, including biosimilars and CAR treatments, the company's G-MAB antibody library, potential upcoming royalties, cash and expenses, as well as long-term partnerships and licenses. It is my belief that the complexity of Sorrento's varying assets have led to a significant value opportunity with upside of 2.5-times the current price.
Sorrento Therapeutics' platforms are based on a number of projects. According to the company's website, the G-MAB Technology platform antibody library is a collection of human antibodies collected from over 600 healthy donors, which it claims is one of the largest collection of antibodies in the world. The technology amplifies "antibody variable regions" which are present in RNA. These antibodies can be isolated, reproduced and tested against specific targets. MAB stands for Monoclonal AntiBody, the likes of which are used in immunotherapy to stimulate a patient's immune system. The two main approaches to using MABs to treat diseases are to create chimeric MABs or humanized MABs. The ability to graft these MABs onto T-Cells has enabled the CAR-T revolution in cancer treatment, which I've recently written about [specifically, ZIOPHARM (NASDAQ:ZIOP), Kite Pharma (NASDAQ:KITE), and Juno Therapeutics (NASDAQ:JUNO)]. The potential treatments for MABs include cancer and other auto-immune diseases.
CAR Platform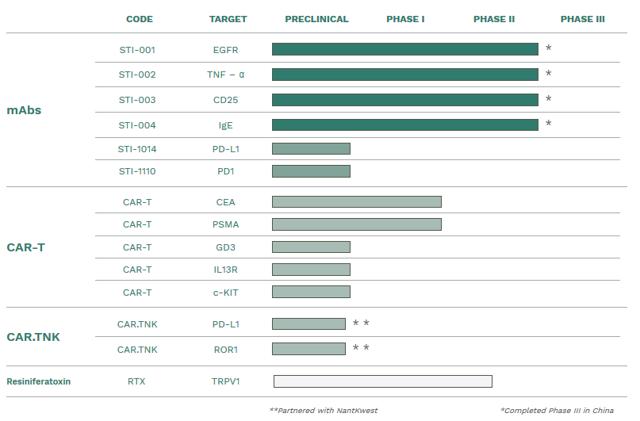 Source: Sorrento, Pipeline
Sorrento's CAR program is overlooked and rarely mentioned, with focus being on strictly CAR-T platforms. One year ago, the company founded TNK Therapeutics, a subsidiary. According to the press release, the platform focuses "on developing CAR.TNKs (Chimeric Antigen Receptor Tumor-attacking Neukoplast®) as well as other complementary cellular and immunotherapies targeting both solid tumors and hematological malignancies." Neukoplast technology is a "Natural Killer (NK) cell-line based therapy." Natural killer cells form a function analogous to T-Cells, acting within the immune system to identify threats and targets. Thus, CAR-NK is closely related to CAR-T. In 2014 Conkwest licensed Neukoplast® to Sorrento in a collaborative deal. The company is now NantKwest, part of Soon-Shiong's biotech empire; NantKwest has been a major partner to Sorrento for many years. As you can see in the following slide, available from the company's corporate presentation (January 2016), CAR.NK therapies have received scant attention from existing biotech players. The chart omits one other CAR company developing a CAR.NK technology- Celyad (NASDAQ:CYAD), a company with a market cap of $449 million. Celyad has one CAR-T trial in phase I and CAR.NK trials in pre-clinicals.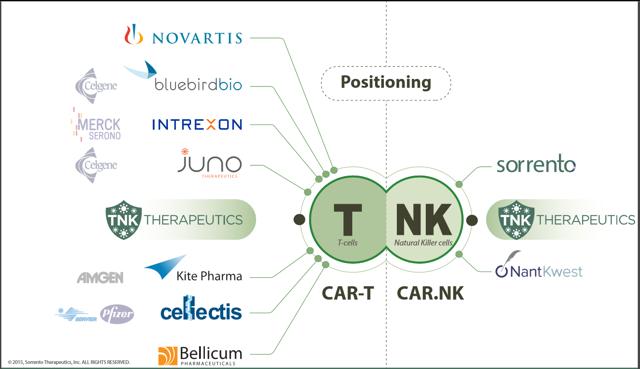 Source: Corporate presentation, January 2016
According to information available on Celyad's webpage, NantKwest's, as well as this review by Alan Hobbes, the potential for CAR-TNK treatments are somewhat limited, although they have some advantages to CAR-T therapies. From a commercial standpoint, there is less competition, and it could potentially disrupt the current favorites. Scientifically speaking, NK treatments have an advantage which is actually inherent in their names: they are natural killers. NK cells sometimes identify specific targets and kill a series of them. They also augment MAB activity by secreting cell-killing toxins, which attach to an invader. Additionally, NK cells naturally target multiple cancers, and they can be modified to promote efficacy for patients. Considering these factors and recent partnerships with NantKwest, it is clear that much of the CAR.NK universe has been revolving around Sorrento Therapeutic's G-MAB library. Sorrento has made major joint ventures with NantKwest, not to mention bio-similar efforts with MabTech in China, LA Cell, and Yuhan corporation. Sorrento is leveraging its library to gain licenses for a wide range of studies.
There are some clear reasons to discount CAR.NK versus CAR-T. These reasons include a lack of clinical development, efficacy drawbacks, and challenges modifying NK cells. However, it is also true that combining the two treatments in a CAR-TNK therapy could imply the best of both worlds. Either way, valuing the company based on potential revenue from these technologies is speculative at best. The following are Sorrento's CAR-related projects, housed within the subsidiary, TNK Therapeutics.
In August 2015, TNK Therapeutics acquired multiple clinical and preclinical CAR-T studies as well as the underlying IP for the CAR-T technology. Details were lacking from the press release, but the corresponding 8-K reveals that the specific acquisition was "NanoVelcro Circulating Tumor Cell profiling assay (the "Technology") from Cytolumina Technologies Corp. (CTC) and Fetolumina Technologies Corp. (FTC)." Sorrento paid an aggregate of $5 million, or 4.166% of each company's shares. The terms of the deal are not extremely favorable, as Cytolumina and Fetolumina are entitled to half of all future sales. It might be fair to value this acquisition at $5 million; but on the other hand, as the next cases will demonstrate, Sorrento is capable of adding substantial value to existing technologies.
In December 2014, Sorrento entered into a partnership with then Conkwest, Inc, now NantKwest, announcing an important "exclusive, global collaboration." In exchange for a license to NantKwest's Neukoplast cell line, an immunotherapy treatment using Natural Killer cell technology, Sorrento offered access to its G-MAB library, as well as $11 million. The developed CAR-TNK products are jointly owned, and costs are shared. Aside from the cash value of this partnership, it is difficult to measure the amount of leverage that the G-MAB library contributed to the deal. One way to reach a conclusion is to look at a more recent deal between the two companies.
In May, 2016, the two companies announced another global collaboration. This time, NantKwest was the one paying to use Sorrento's CAR-TNK technology-to be developed using NantWorks' "proprietary pan-omics based, precision medicine approach." In exchange for this license, NantWorks offered $10 million in cash, $100 million in NantCell's equity (10 million shares of NantCell equal to 3.03 million shares of NantKwest), and a share of all future profits. In less than two years, Sorrento went from having no CAR-T program to developing a unique, competitive and lucrative technology. For a total equity investment of $16 million, Sorrento quickly saw $110 million in return for their products. If this is the kind of development that the G-MAB library is capable of, then we might consider it to be worth $50 million a year.
Even if we discount the value of the library, assuming that this sort of turnaround is highly unusual, it could still easily be valued at $100 million over the next ten years. We can also assume that Sorrento's share in all parts of its CAR program is worth the sum of its parts: half of $5 million from the deal with Cytolumina and Fetolumina, half of $11 million for its share in the 2014 partnership with Conkwest, and half of $110 million for its share of the 2016 deal with NantKwest, or $63 million. Future revenue is practically impossible to project with the trials being in pre-clinicals. However, with a projected global market for cancer therapies reaching $35 billion over the next decade, and CAR-T companies like Juno reaching a market cap of $4 billion based on two successful applications in highly competitive areas, it's fair to attach a purely speculative value equal to the initial equity value of recent partnerships. So our running total, based on TNK Therapeutics subsidiary, is a market cap of $289 million.
G-MAB Library : $100 million
Half of cumulative base value of partnerships : $63 million
Speculative value of partnerships: $126
Cynviloq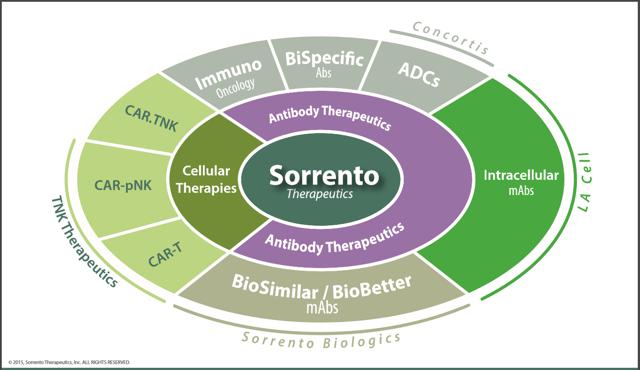 Source: Corporate presentation, January 2016
This leads us to another of Sorrento's major platforms: Biosimilar/Biobetter MABS. Unlike CAR therapy, which is yet to have a treatment approved by the FDA, MABS have been around the industry for decades. The first was a murine MAB, introduced by Janssen-Cilag in 1986. Skipping forward to 2005, Soon-Shiong's company Abraxis Bioscience, was rewarded for their efforts in developing the drug Abraxane, which was approved by the FDA for treatment of metastatic breast cancer. Soon-Shiong sold the company to Celgene (NASDAQ:CELG) in 2010 for more than $3 billion. Abraxane was approved in 2012 for non-small cell lung cancer and in 2013 for late-stage pancreatic cancer. Fast forward one last time, to May 2015, and Sorrento is announcing positive phase III data for a bio-similar version of Abraxane, Cynviloq, with an equal efficacy and safety profile. Ten days later, Soon-Shiong buys Cynviloq for $90 million, "plus the potential for more than $600 million in regulatory and $600 million in sales milestone payments."
Unfortunately, just as the phase III data for Cynviloq was lacking any specifics, the 8-K for the agreement does not specify exactly what the regulatory and sales milestones are. In addition to the up-front payment and milestones, Sorrento will have some part in the profits from the drug sales. According to clinicaltrials.gov, this study was completed in July 2015. While Sorrento had been motivated to have the drug approved by 2016, it appears that Soon-Shiong's NantWorks is in no such hurry. Naturally, this is worrisome to Sorrento's investors. Perhaps the data is not as compelling as it was made out to be. Perhaps there is an unannounced safety concern. Maybe Soon-Shiong bought the drug in order to protect his large stake in Abraxane, whose contingent value rights (CELGZ) have the potential to pay through 2025. We don't know. However, we do know that Sorrento turned around and reinvested a large portion ($20 million) of their cash payment from NantWorks in order to form another joint venture, NantCancerStemCell, LLC, or NantStem, with the NantBioScience.
Ultimately, when investing, it pays better to be on the side opposite of general sentiment. The general silence that has enveloped this promising bio-similar has the potential to spook or frustrate many investors. One can, however, reasonably conclude that the following are likely:
NantWorks bought the drug because it has a high probability of being approved by the FDA
Sorrento has rights to co-develop and co-market the drug, so there is no likelihood that Soon-Shiong has a strangle-hold on it
If something had happened to change the drug's chances for success, investors would know
If more trials are necessary, costs will be at the expense of Nantworks, not Sorrento
Soon-Shiong's NantWorks has a 19.9% stake in Sorrento, per the first joint venture agreement in 2014
Given these considerations, the bear case is hard to believe. Still, there is no easy way to value Sorrento's stake in Cynviloq, largely because the specifics of the milestone payments have not been disclosed. Does "regulatory milestones" refer to approval for one application, such as breast cancer? Or would multiple applications need to be approved for the full $600 million to be paid out? As far as probability of approval, there is risk. However, as this interview of biotech expert Chen Lin states,
The trial of Sorrento's next-generation cancer therapy, Cynviloq (paclitaxel nanoparticle polymeric micelle), was a tremendous success. … There is little risk that Cynviloq won't be approved by the FDA. It is widely used in Asia-from Korea to India. It could be approved as a bioequivalent, or the FDA could require more trials. But it has already finished phase 3 trials in Asia. It will get approved one day; it's only a matter of time.
Given such confidence, shown by all parties, 80% seems like a reasonably conservative figure. Given the vagueness of the agreement, however, we will consider a 60% chance of regulatory milestones being met and 40% chance of sales milestones being met. This would equal a total value of $600 million. So if you bought Sorrento for the CAR-TNK, you have a good chance at making two-times its value as a profit.
Mabtech-Licensed Bio-similars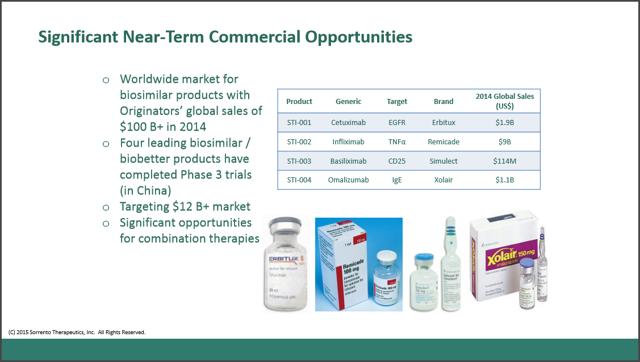 Source: Corporate presentation, January 2016
We are still leaving out an important platform, and it is Sorrento's exclusive licensing agreement with Mabtech Limited, which has completed a phase III trial for bio-similars of each of the above MAB treatments. In the agreement, dated August 2015, Sorrento obtained development and marketing rights for North America, Europe and Japan. As two of the four treatments are under review in China, approval there would be a significant catalyst for Sorrento, improving sentiment and anticipation of Sorrento's trials' commencements. Either way, Sorrento's business model presents an excellent cost/reward basis. By licensing phase III treatments, Sorrento skips years of developing costs. In addition, trail design is simplified, since treatments generally need to only meet or surpass the current benchmark. Lastly, with Sorrento's G-MAB library, they have the ability to imitate treatments which generate significant revenue. Looking at US sales for Erbitux, which is used in combinations to treat colorectal cancer and head and neck cancer, the 2014 estimate was $680 million. Sorrento licensed a late-stage developmental generic bio-similar version of this, plus three other bio-similar treatments, for $10 million.
Granted, Sorrento is expected to pay another $190 million to Mabtech over the next four years, according to Sorrento's 10-K from March 2016. Still, with a combined estimated US pharmaceutical market value of nearly $7 billion, Sorrento needs to displace only a fraction of market value in order to succeed. With trials and applications going forward in China, I expect that Sorrento will soon begin to get this platform moving as well. If the company can do with these biosimilars what it did with Cynviloq, then the premium will be generous. Making a comparison based on Celgene's 10-K (2015), Abraxane sales were $848 million, which I estimate 38% to be US sales, or $322 million. Currently, Sorrento has a license for biosimilar treatments which target brand-name treatments with US sales of $6.83 billion, more than 20 times the US market value of Abraxane. Although IND filing in the US may be years away, news from Mabtech and China will be stimulating. And while having to develop four drugs in four separate trials does increase research and development costs, it does spread the risk out. Sorrento has options going forward, and it is reasonable to expect that it could perform a repeat, netting another much more than it did for Cynviloq.
Based on data from an 8-K released in January 2016, STI-001 and STI-002 demonstrate tolerance and/or efficacy advantages over their competitors. Yet, because Sorrento has not begun its own trials, we must discount this recent acquisition. If we consider a 25% chance that each drug will be approved for treatment in the US market, and estimate that the treatment could reach 15% of the market share, then based on 2014 data, projected revenue would be $257 million.
Pricing the treatments at a multiple of eight times revenue, my rough estimate is a worth of $2 billion. The question is, why would Mabtech license their products at one tenth of their value? As there is no 8-K of the deal, it's possible that Mabtech is entitled to a portion of profits, as is often the case with such licenses. A 50/50 split would still be a value of $1 billion for Sorrento, three times the current market cap. When added to the profit of $600 million for Cynviloq royalties, there is a total of $1.6 billion premium for investors.
Cash
Granted, there is still some fine tuning to be done. What about cash, cash burn, the $190 million owed to Mabtech, as well as the benefits of other partnerships? This April, Sorrento raised $150 million in private placements. The buyers included "institutional investors and strategic partner, Yuhan Corp of South Korea." The equity was sold as common shares, priced at $5.55, well below the day's close at $6.30. Warrants with an exercise price of $8.50 were also sold. This cash will be crucial to Sorrento, as it had only $39 million in cash and cash equivalents at the end of 2015, according to quarterly information from Nasdaq. An important consideration, in light of this capital raise, in the substantial number of shares issued. According to the 8-K, Ally Bridge has the right to buy $50,000,000 in shares at $5.55, or .9 million shares, plus 3/10 warrants per share, or .3 million. Equal terms were consummated with three other buyers. If Ally decides to buy the maximum value of shares, then a total of 32,317,965 shares will be issued. This is major dilution for Sorrento, whose float was previously around 40 million shares. Based on this issuance, outstanding shares is now 72,318,000, the current market cap at a price of $0.00 is $525 million.
Considering cash flow, it's evident that Sorrento is going to need to raise more money if it is going to develop the drugs which it has paid (or will pay) so much to license. Perhaps this is why share price has not responded favorably to a slew of recent partnerships.

Other partnerships
Considering the company's recent dilution, the ongoing need for cash is certainly worrisome. However, the risk of additional financing might be partially offset by a number of partnerships where Sorrento has an equity stake, as well as rights to a share of future sales.
| | | | | | |
| --- | --- | --- | --- | --- | --- |
| Partnership | Partner | Focus | Funding | Rights/milestones | Date |
| Nantibody | NantCell | MABS : anti-PD-1, anti-PD-L1, anti-CTLA4 | $20 million | Joint venture | 12/2014 |
| | NantBioScience | Cancer stem cells | $80 million | Sorrento has 20% stake | 4/2015 |
| LA Cell | City of Hope | MABS: c-MYC, mutated KRAS, STAT3, and FoxP3 | $170 million + milestones to City of Hope | Exclusive license agreement | 9/2015 |
| | Yuhan | Hematological malignancies and solid tumors | $10 million from Yuhan, antibodies from Sorrento | Joint venture | 3/2016 |
As you can see, Sorrento has made numerous agreements over the past two years. Considering how well the acquisition of Cynviloq turned out, it's surprising that investors haven't had a warmer response to the potential of these deals, which seen worth the risk of possible dilution. If the biotech rebound continues, look for Sorrento to gain momentum. There are many catalysts ahead for the company, and sentiment could once again turn to favor this unique blend of G-MAB library, CAR technology, and bio-similar development. Those who buy today could be greatly rewarded for their foresight, as I value the company at 3.5-times market value, or $1.9 billion.
Disclaimer: I am not an investment advisor. Do your own due diligence.
Disclosure: I/we have no positions in any stocks mentioned, and no plans to initiate any positions within the next 72 hours.
I wrote this article myself, and it expresses my own opinions. I am not receiving compensation for it (other than from Seeking Alpha). I have no business relationship with any company whose stock is mentioned in this article.