The Story
I feel sorry for anyone who has owned an energy stock for the past year and a half. I initially became interested in the sector during the fall of 2014 when crude oil started its precipitous decline to $40 a barrel. I had been studying some basic Warren Buffett material and decided this was the perfect to time make a contrarian bet on the oil sector. I decided to buy EOG Resources (NYSE:EOG) because they had superior technology, the best assets, and the highest production growth. I finally pulled the trigger in early 2015 because I thought that oil had finally reached a bottom. I was proud of myself for having the guts to buy right in the middle of a bear market in the oil sector and thought that I had made a brilliant contrarian call with my first real investment. My timing turned out to be very poor and the market taught me a valuable lesson.
Obviously it has been a rough 14 months for me and anyone else that has held an oil stock. Thankfully, my unrealized losses are miniscule compared to those who have owned more highly levered companies. Using my crystal clear hindsight vision, I now realize that I was confused on what being contrarian actually meant. Buying a stock when the price is going down is not contrarian unless everyone else believes that the price will keep going down. Being a contrarian is when you take a position that differs from the popular Wall Street consensus. The truth is, the sentiment was overwhelmingly bullish when I first bought EOG. Every analyst and their mother was calling a bottom and was not skeptical of the 15 point crude oil rally from $45 to $60. The smart, contrarian, play at the time would have been to short the most speculative oil and gas companies during the brief crude oil rally. I learned a valuable lesson as I watched my EOG shares deteriorate in value: if everyone else is calling a bottom, it is not a bottom. However, I now believe we may have reached a bottom in crude and it is safe to start buying high quality oil stock like EOG for a couple of reasons.
First of all, the sentiment is much more negative than it was a year ago. During early February when oil reached $25 a barrel, it seemed like everyone was calling for $10 a barrel within the next couple of months. Secondly, production around the world is finally starting to contract because oil companies are more reluctant to produce into an oversupplied market like they did in early 2015. EOG CEO Bill Thomas said the following during the Q4 conference call: "As we start 2016, we are encouraged by the discipline operators are demonstrating around the world. This disciplined capital reduction is rapidly slowing US oil drilling and reducing significant amounts of future supply worldwide." Lastly, I believe demand will continue to slowly increase or at least remain constant as worldwide economies are not doing as bad as current sentiment reflects. Inflation remains low and job growth remains strong in the US, and Europe and China's export driven economies are benefiting from weak currencies.
EOG's Strategy and Competitive Advantage
EOG has fared better than most during the downturn because management saw the crash coming, formulated a plan, and took decisive action before their competitors. When oil was hovering around $90 - $100 a barrel, EOG was focused on growing production at all costs. However, they were able to do this without taking on too much leverage. As less competent competitors borrowed massive amounts of money and made stupid acquisitions at $100 a barrel (EXXI I am calling you out), EOG utilized its best of class assets and technology to generate substantial cash flow that was reinvested back into the business.
EOG has shifted its focus from growing production to reducing operating costs, maximizing well productivity, adding premium acreage, disciplined capital spending, and maintaining a strong balance sheet. The company has executed this strategy flawlessly during 2015. Operating costs per unit decreased 17% and production was flat compared to 2014. Amazingly, EOG maintained 2014 production while reducing capital expenditures by 40% during 2015. EOG has been able to accomplish this by utilizing superior technology and drilling techniques that competitors do not possess. For example, precision targeting has transformed good wells into great wells because EOG is able to pinpoint exactly where the best rock is and drill in a narrow 20 foot window. They have also started drilling in a W shaped pattern to minimize spacing between wells and maximize production from their most economical oil and gas fields. These techniques coupled with superior drilling and completion technology have transformed EOG into the low cost leader in the US upstream market and given the company a sustainable competitive advantage.
Not only has this wonderful management team strategically navigated through turbulent waters, they have positioned EOG to reassume its role as the fastest growing producer once oil prices recover. EOG has a vast amount of drilled uncompleted wells (DUCs) ready to bring on-line as soon as oil prices recover. This can be accomplished with a small amount of capital because the majority of costs have already been incurred during the drilling process. EOG is also permanently shifting to "premium drilling", or only drilling wells that generate an after tax rate of return of at least 30% at $40 oil. The company has identified 3200 drilling locations that meet this hurdle. This amounts to 12 years of drilling assuming that EOG does not continue to add premium inventory. However, premium locations will only grow in the future as EOG clearly stated they will continue to make strategic acquisitions and engage in organic exploration activities.
In my opinion there are 2 ways that a company can develop and sustain a competitive advantage: by selling a product that is superior and different from the competition, or being able to produce the product at a lower cost. Naturally, a competent management team with a clear strategy to maintain this advantage and maximize long term cash flow is essential. Unfortunately, it is impossible to gain a competitive advantage through product differentiation in the upstream oil and gas industry because everyone is selling a commodity. However, EOG certainly possesses superior technology and techniques that allow the company to produce the commodity more efficiently than the competition. Their management, which is the best in the industry, has successfully proven they can thrive regardless of the macroeconomic conditions. EOG is now stronger than ever and will continue to annihilate the completion.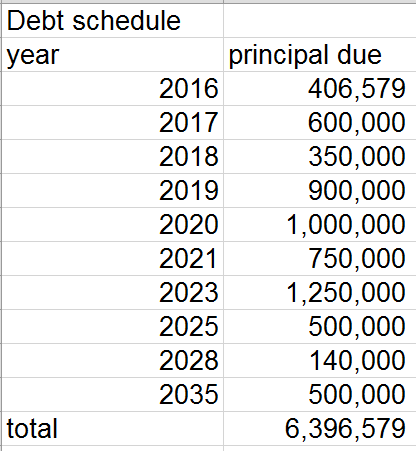 Cash Flow and Debt Service
As mentioned earlier, many of EOG's peers ignored their balance sheet as they aggressively acquired assets to increase production rapidly. However, EOG's superior assets and strong cash flow allowed the company to remain prudent and grow without too much leverage. Management clearly understands the cyclical nature of the industry and that financial flexibility is vital for survival. While competitors were producing at maximum capacity and raising equity to service debt, EOG was able to cut back spending, reduce costs, and focus on acquiring premium assets. Now the company will be able to survive, even if oil stays below $40 a barrel for multiple years.
EOG has a debt to assets ratio of 31%, which is among the lowest in the industry. Although $6.4 billion in long term debt sounds like a lot, keep in mind that the company generated $3.6 billion of operating cash flow in 2015 while producing crude oil at an average price of $47. Furthermore, this debt schedule does not fully mature until 2035. As you can see from the debt schedule above (top picture), 2015 operating cash flow could service the total principle payments of 3.2 billion due in the next five years. According to the Q4 conference call, EOG management expects operating cash flow to change by $81 million for every $1 change in the price of oil. I utilized this sensitivity analysis to see if EOG can survive during a worst case scenario. As you can see from the table that I created above (bottom picture), EOG will have excess cash of $1.5 billion in 2016 if the average selling price of oil is $30 a barrel. This excess cash can easily cover the dividend and be reinvested back into the business. EOG can easily pay off the $900 million of principle due in 2019 and the $1 billion of principle due in 2020 with oil at $20 a barrel. This analysis shows that EOG has a very small chance of going bankrupt even if the price of crude oil declines 50% from current levels.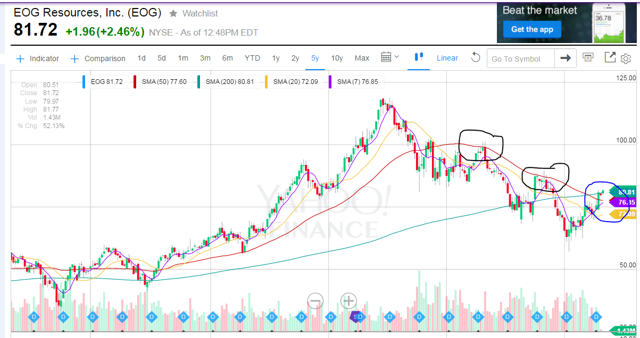 Technical Analysis
As you can see from the chart above, EOG has been in a clear downtrend, making a series of lower highs and lower lows. However, I believe this trend is now broken and a new uptrend may be starting. Every time that EOG has traded up to its 50 day moving average in the past 2 years, it has immediately reversed and made a new low (black circles). However, EOG broke through its 50 day moving average a couple of weeks ago and is now using it as support. This is the first time that EOG has been able to stay above its 50 day moving average for more than a couple of days. This indicates that the trend is broken and a new trend is forming. Obviously, EOG and crude oil are highly correlated. If crude can stay above $40 a barrel, then I think that EOG will continue to slowly push higher. As mentioned earlier, I think there is a good chance that we will not see oil under $40 again. Therefore, I recommend buying EOG on any small pullback.
Summary
I believe that the supply of crude oil will continue to decrease as US producers continue to cut back on production and demand will slowly trickle higher as macroeconomic conditions remain stable. More importantly, the general consensus on Wall Street seems to be that oil will return to previous lows and eventually make new lows. I now feel comfortable making a bullish contrarian bet on the oil sector. I believe the best way to make this bet is purchasing the best company in the industry, EOG. Sure, you can probably make higher returns by owning shares of companies that are more levered to the price of crude, but I like the fact that I can go to sleep at night knowing that the chances of EOG going bankrupt are slim to none. Furthermore, if you plan on holding for a long period of time, owning best of breed usually leads to outsized returns. If EOG can maintain its low cost competitive advantage, I believe they can eventually become a dividend aristocrat similar to Exxon (NYSE:XOM). Lastly, technical analysis shows that you can safely buy EOG now as long as it stays above its 50 day moving average. It is time to take a dive into the vast pool of black gold, just make sure you can swim.
Disclosure: I am/we are long EOG.
I wrote this article myself, and it expresses my own opinions. I am not receiving compensation for it (other than from Seeking Alpha). I have no business relationship with any company whose stock is mentioned in this article.